Oregon Coast Labor Day Weekend, Late Summer Advice
Published 08/11/2010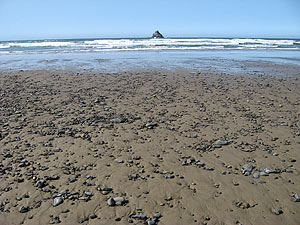 Arch Cape, one of the more hidden spots on the busy north coast, should you want to get away from the crowds a little more.
(Oregon Coast) – Labor Day Weekend, and even this last stretch of summer, can mean some trying moments while getting to and around the coast. Traffic can be messy, room prices soar, and there are half a dozen other things to watch for when it comes to bouncing around the beach, booking a room or simply getting to and from the area.
Spending the Night
It is imperative you make your reservations ahead of time during this extremely high density weekend. Finding a place as a walk-in will be few and far between.
Prices also soar in many lodgings over this weekend. Even the cheap spots that normally go for $40 or $50 can charge you $100 or so. Plenty shoot up to $300 to $400 a night, and beyond. This can be avoided by reserving ahead of time.
Camping, too, is a serious issue. Most campsites have been reserved months in advance. Some city and county parks are first-come, first-serve, so you could have a chance with those.
See the end of this article for a list of those indicating openings on Labor Day Weekend.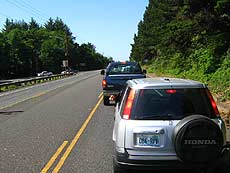 Traffic jam near Newport
Traffic Jams and Warnings
With everyone getting away from it all, they actually bring "it all" with them because of their great numbers. Traffic will be thick and heavy on the roads to the coast and on 101, so make sure you leave earlier and give yourself more time to get there.
Heavy police patrols will be out in full force throughout the weekend, so don't even consider speeding. Not just because of the possibility of a ticket, but the larger numbers of cars on the road make for much more dangerous conditions.
Everyone on the coast wants you to get there and back safely, because as the Seaside Aquarium puts it: "Studies show that 100 percent of deceased tourists never return."
Once out on the coast, there are numerous hot spots to be especially careful because of police presence and a history of accidents in the area.
The stop sign at Sand Lake Road junction, a mile north of Pacific City.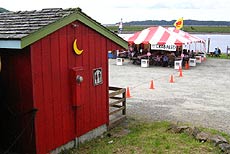 Wheeler
The pull-offs just north of Newport.
Most of Rockaway Beach and most of Lincoln City.
The town of Wheeler is more heavily patrolled on Sundays, just as tourists begin leaving the coast.
The southern entrance to Seaside.
The curves just south of Cannon Beach.
Traffic Advice
Usually, the Sunday or Monday of the weekend means a staggeringly huge exodus from the coast, with everyone leaving the same time. Traffic can be backed up for miles. Folks often leave in the late afternoon, just before sunset. It's advisable to leave right after sunset, or even wait a bit, and drive home in the dark. While it's harder to see and less relaxing than the daylight trip back, it's sizably less stressful than sitting in traffic an extra hour.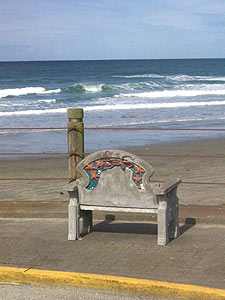 Newport: it doesn't take much to get completely soaked on this beach or any other.
Tips for Your Coastal Jaunt
Even if you're heading out for just the day, bring along an extra change of clothes. It's easy to get wet and even soaked, and then remain cold in the cooler coastal air.
If you're going to explore rocky tidal areas, bring shoes that stick well and don't slip too easily – along with a pair of flip-flops for goofing around the sand. It's likely what you'll be doing is some kind of climbing, at least in a minor way. Sneakers or hiking boots are best for these areas.
Always be careful of extremely slippery areas on the rocks, usually found on green spots near the tide. These green areas should be a red alert for you: it's extremely treacherous while wet. Falling on your back or head here is especially risky business, especially if you're close to the water.
Finding a Place to Stay on Labor Day Weekend, Weekday Deals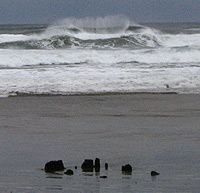 Rockaway
Late summer still has some possibilities for deals. The Oregon Coast Lodging Specials page shows many of these. Getting out during the weekdays can also expand your likelihood of getting less expensive rooms, not to mention get away from the coming heatwaves in inland Oregon. A good deal of lodgings offering mid-week deals are found on the Oregon coast lodging section – simply inquire about rates at the hotel of your choice.
For Labor Day Weekend, try the link above for more choices. Following is a list of those still indicating availability for that holiday weekend. Again, reserving ahead of time may save you lots of money than if you simply walked into a lodging last minute.
More About Oregon Coast hotels, lodging..... see here for possible openings.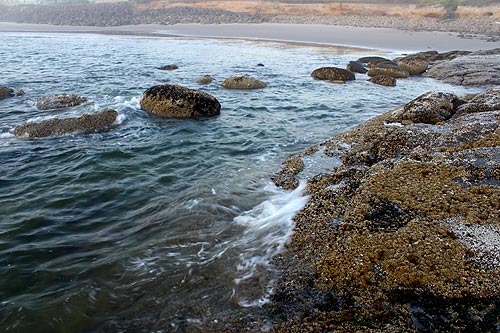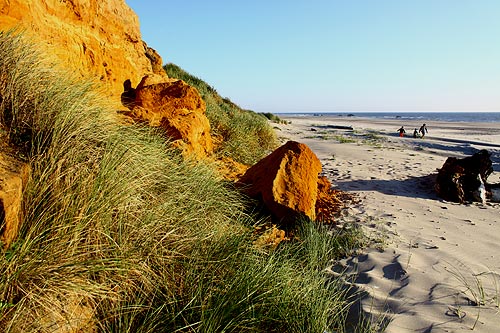 | | | |
| --- | --- | --- |
| | | |
LATEST OREGON COAST NEWS STORIES
Oregon / Washington Coast Alerts: Flood Watch, First Big Waves of Season
Floods, lots of rain, high winds and some rather good storm watching, beach safety
Sea Lions Sick with Leptospirosis on Oregon Coast: Keep Pets, Yourselves Away
Stay clear of sick or dead sea lions. Marine sciences, beach safety
Yachats Oktoberfest Takes German Culture on Oregon Coast to New Levels with L...
A kind of accordian-palooza, there's beer, brats, wine and waves, Sept 29 - Oct 1. Yachats events
At Seal Rock's NW Curtis St.: Funky Little Oregon Coast Access with No Name
NW Curtis St., not far from Newport, Yachats or Waldport
Seaside Event Digs Into Mysterious Bayocean, the Oregon Coast Ghost Town
September 28 at 6 p.m. at Seaside Brewing. History, Seasode events, Tillamook
Central Oregon Coast Artist Shows at Florence Visitor Center
Regina 'Reggie' Oflock of Sea Gypsy Cottage Gallery. Florence events
Small Vessel Strands on Central Oregon Coast's South Beach, Cause Unknown
Fishing vessel Judy stuck on a Newport beach. Florence events, Newport events, Lincoln City events, Yachats
SOLVE Cleanup Finds on Oregon Coast Include a Whale
This carcass had been in the news before, victim of orcas. At Otter Rock near Newport. Marine sciences

Back to Oregon Coast