Killer Whales Show Up Early on Central Oregon Coast
Published 04/27/2010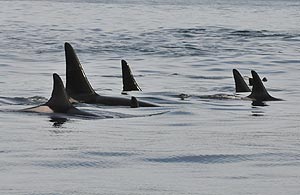 Orcas on the central coast (photo courtesy Whale Watching Center)
(Newport, Oregon) – The annual appearance of Killer Whales on the central Oregon coast has happened earlier than usual, and it could mean that there are more of them cavorting off these shores than normal.
Orcas often show up in the middle of April, seemingly coinciding not only with the emergence of baby Gray whales but also with tax day. They are usually seen in the Depoe Bay and Newport areas, but can be spotted as far north as Cascade Head and as far south as Florence.
These Killer whales are what are known as "transient" whales, meaning officials don't know where they come from. They're also more predatory, living off seals and baby Gray whales.
Gray whales are still migrating through the area, often with the little ones in tow. This attracts the Killer whales.
Morris Grover, with the Whale Watch Spoken Here program, said they spotted a much greater number than usual – and much earlier than usual – during the Whale Watch Week in March.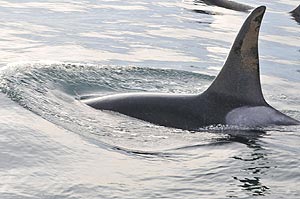 Orcas on the central coast (photo courtesy Whale Watching Center)
"We had six or seven sightings of them during that week," Grover said. "We always have them during Whale Watch, but this is four or five times more than normal. We also saw a lot more baby Gray whales during that time. While we don't know why the Orcas showed up so soon, we think it's possible they figured out the babies were around and were hunting them."
Carrie Newell, of Whale Research EcoExcursions in Depoe Bay, spotted two off central coast waters in early April.
Spotting them has been difficult, as most of this month has been typified by large waves, which hides the great cetaceans, whether it's Killer whales or Grays. The fact that so many were spotted so early made Grover hopeful more could be spotted, however.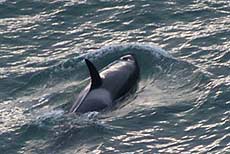 Killer whales near Florence (photo courtesy Seaside Aquarium)
They will often hang out near the jetties of Yaquina Bay in Newport. Sometimes, they come into the bay, chasing seals and sea lions, if they can't find baby Gray whales.
There has been one report of a Killer whale chasing a sea lion through the bay and upstream into the river a few years back.
They typically stay for a few weeks, but some years have lingered into early summer in these waters.
Grover said these Orcas are smaller and more shark-like in appearance than what are nicknamed the "friendly" whales, which visit here from the San Juan Islands and live on salmon.
Ladd Irvine, a whale research assistant at the Hatfield Marine Science Center, said little is known about these Orcas.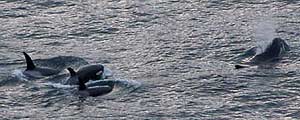 Killer whales near Florence (photo courtesy Seaside Aquarium)
"No one really knows a lot about them, except that they come through targeting calfs," Irvine said.
How does one catch sight of these rare watery beasts? Irvine says it's not possible to try and see one – it's a matter of luck.
"It's very hit and miss," Irvine said.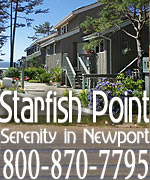 If you're going to try, it's best to shoot for spotting Gray whales. Take along a lot of patience and get to a high vantage point. The Newport area has many of these, such as the lighthouse at Yaquina Bay, the Yaquina Head area, Don Davis Memorial Park in Nye Beach, and nearby at Cape Foulweather. The headquarters for the Whale Watch Spoken Here program is in Depoe Bay, at the seawall, and another good spot for seeing them as well.
Your chances of spotting any whales are greatly increased on calmer days with smaller waves.
For more information call the Whale Watching Center at 541-765-3304.
More About Oregon Coast lodging.....
| | | |
| --- | --- | --- |
| | | |
LATEST OREGON COAST NEWS STORIES
Back to Oregon Coast Beach Connection