Oregon Coast Lodging Look: Harbor at Depoe Bay
Published 08/10/2010
By Andre Hagestedt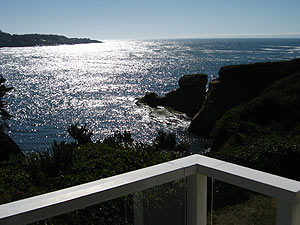 From the balcony of the Harbor at Depoe Bay, all sorts of lovely things come into view.
(Depoe Bay, Oregon) – It's hard to miss it as you pull into Depoe Bay. Just a tad north of the bridge, a rather regal construct of condos seems to wrap itself around part of the bay. And as you find yourself on the southern side of this blue behemoth, the true size becomes apparent, as does the view that the folks inside get to drink in, visible by not just the ocean expanse below but the presence of balconies stretching towards it. You become a little envious. You know they're getting a wondrous eyeful.
It's one thing to get a glimpse of the view that guests at Harbor at Depoe Bay are soaking in as you're zipping by in your car; it's another to actually partake in it.
Early October means more of that precious "second summer" on the Oregon coast, sometimes known as the only summer by some, as September and October are not only the warmest time of year in this area but by far the most inviting – especially when the months of June through August haven't been very cooperative, as they do some years.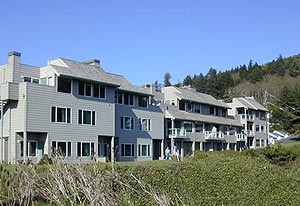 It's in these balmy, even sensuous atmospheric conditions that I wander into the Harbor at Depoe Bay, a grouping of 15 condos set over exquisite sights.
Things are even more glorious this time of year, with less winds, warmer waters and definitely more sun. It's almost tropical at times. From my two-floored condo, the balcony practically leads me out over the ocean, and it is a breathtaking deep blue, so calm it's almost like a lake with really laidback waves lapping lazily at the rocks below. This in itself is mesmerizing.
Checking in is definitely a different process. There is no distinct office in the condo facility, so you simply call up host Dan Arb and he guides you into the room. On this occasion, he came to greet me in person – a tall, lanky fellow with a decidedly sunny disposition.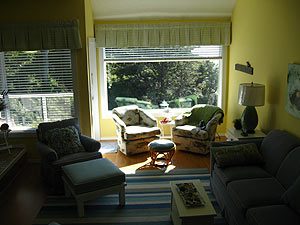 I was a bit floored at first by the surroundings. It was laidback yet upscale, imparting that beachy sense of sand-covered feet and pant legs wet from the ocean as well as champagne nights. My condo came with pleasant yellow walls, which got even cheerier when the sunlight came streaming through the windows. Yellow definitely created a particularly upbeat reflective effect with the sun.
There were two bedrooms, two floors and two bathrooms – obviously more than enough that just little ol' me would require (1250 square feet of oceanic fun). So I stayed upstairs, although couldn't resist exploring every nook and cranny, including opening up the patio doors in that downstairs bedroom and wandering out and then back in, as if this gesture somehow meant I'd fully taken advantage of this stay. I couldn't help but laugh at my exploratory sense in this circumstance.
Upstairs, the kitchen was a bit elevated above the living room, allowing for seriously unobstructed views from the kitchen table, should there be anyone sitting in the fine furniture that gathered around that living area. The kitchen comes with any feature you may need to cook up a culinary masterpiece: fully stocked with pots, pans and whatever else. Since I don't cook, the kitchen became my workspace, which I promptly filled with my two trusty and faithful laptops. This allowed me to work with the sunlit waters spread out before me. This is as delicious as any gourmet meal.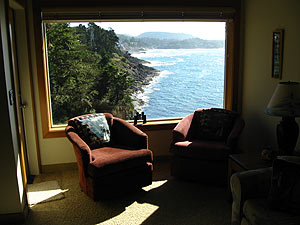 The wi-fi here is excellent: something absolutely important in my line of work.
The living room is also stuffed with amenities: a massive HD TV (and another was in the bedroom downstairs), an electric fireplace, and binoculars for whale spotting or simply checking out any of the boats wandering in and out of the bay. Then there's that balcony.
As a professional beach bum, it's my job to check out such views and photograph them in great detail. Also part of this job description: reveling in such views during various times of the day or year.
By day, the ocean and its captivating stillness kept me enrapt, and there's that interesting rock structure jutting out into the water nearby. At night, the ocean comes alive in a whole new way. The lights of the town twinkle in the varying degrees of hazy, moist sea air that come with the dark. Waves crash with greater intensity down there, and their sound is even more prominent because of the lack of traffic and other ambient noise around you – not to mention, when other visual elements are blacked out by the night, you naturally focus in on the surf a little more.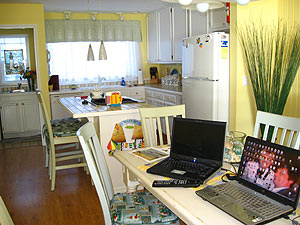 Then there's the smell of the ocean itself. For whatever reason – whether it's some naturally occurring phenomena or just the aforementioned lack of visual stimulus – the ocean air is much thicker and more alive. One especially knockout moment was exiting the front door and getting hit by a fishy aroma – albeit a very pleasant one, more reminiscent of seaweed or something – along with salt air and a host of other layers of smells I can't identify. It's like sniffing a fine wine.
It was after dark and I was talking to my brother on my cell phone, and I had to stop the conversation, take in a deep breath and briefly go on about the sudden change in air and atmosphere.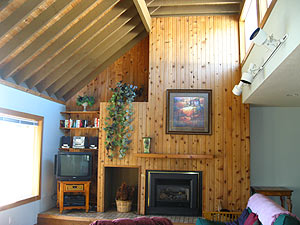 Also intoxicating was the sight of a lamplight in the condo complex, surrounded by an ethereal yellowish glow that's created by thick, ocean air that becomes a kind of mist - but not quite fog. This subtle detail about the coast at night never ceases to fascinate me.
In and around Depoe Bay, the adventures are numerous. Sipping wine at Depoe Bay Winery, downing chowder at the Chowder Bowl in town or Mo's Chowder in nearby Otter Rock, along with various forays into kooky nightlife at the karaoke bar across the street. I also took in an outstanding tuna melt in Lincoln City, about 15 miles to the north, at the view-heavy Fathoms Restaurant, inside the Inn at Spanish Head.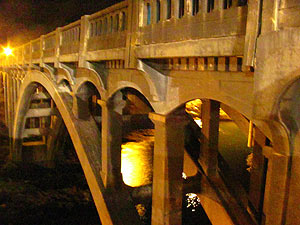 Depoe Bay's bridge at night, with that intoxicating sight of mist around streetlamps.
The Spouting Horn is close to the Harbor at Depoe Bay: a small chasm in the rockface near the bridge that can shoot up giant spouts of sea water during heavier surf conditions. Clearly, these weren't the conditions, but all of this would be spectacular from the balconies during any given winter or spring day. Most people get to see it from the point of view of the bridge, but from these spots you can see it shooting off in its entirety.
Each of the condos has a different look and décor: some have painted walls, vaulted ceilings or the wood paneling that originally came with the structure. Every owner of the condo decorates theirs in their own way, but they are all open for renting. They all have the same floor layout and awesome views, but each has a distinct flavor. Each has two bedrooms, but they include a pull-out futon to bring the population up to six in the rooms.
20 NW Sunset St., Depoe Bay, Oregon. 541-961-1628. www.harbordepoebay.com.
More About Oregon Coast hotels, lodging.....
More about Depoe Bay Restaurants, Dining
| | | |
| --- | --- | --- |
| | | |
LATEST OREGON COAST NEWS STORIES