Pacific Garbage Patch Affecting Oregon Coast
Published 06/24/2010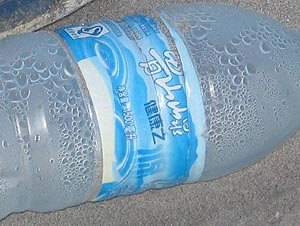 A plastic bottle with foreign writing on it (photo Kristine Gottsch)
(Cannon Beach, Oregon) - When Gearhart resident Kristine Gottsch hit the beach on June 17 to snap pictures of a particularly lovely sunset, she was greeted by an equally unseemly sight.
"I came upon a couch and lots of plastics - more than usual," Gottsh said in an email to BeachConnection.net the following day. "If I had a big truck, I would have removed the couch myself. I'm going back tonight to pick up the plastics."
As an executive in Cannon Beach's Escape Lodging Company, which owns and runs numerous properties in the area, clean beaches aren't just the passion of a local – it's good for business. So this disturbed her on a variety of levels.
"It boggles the mind to think of what is happening in the Gulf, and how we are taking care of our own shores," Gottsch said. "I wonder if we could ask the person who left their furniture in the sand – if they could please come and take it away. Do you recognize this couch?"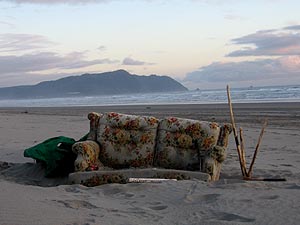 The offending couch that Kristine Gottsch found near Gearhart (photo Gottsch)
Gottsch isn't alone in this kind of dismay. While the couch is one sad story, the truth behind the legion of plastics is another. She's not the only one to notice, either.
Members of the CoastWatch organization – which has volunteers keeping on eye on beach problems and conditions – have reported an extra bundle of plastics on the north coast.
At least one beach expert believes the plastics are really the result of a giant garbage patch in the Pacific ocean, called a gyre.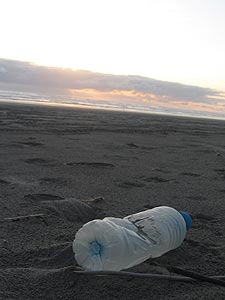 Photo Gottsch
Charlie Plybon and Stiv Wilson, both with Oregon's Surfrider Organization, have looked at currents in the Pacific. Wilson gives lectures on the gyres, and will be in Geneva this week talking to the United Nations on the big ocean garbage patches.
Both say the culprit in this situation on the north coast is the gyre closest to Oregon, and the winds that have been bringing stuff in from this patch since winter.
Strong evidence for this is the picture Gottsch took of one plastic bottle with Asian writing on it.
"In a nutshell, the north pacific gyre has seasonal flows that increase with prevailing winds, surface and subsurface currents," Plybon said. "This year we are seeing a high westerly flow in the gyre, causing a lot to be washed ashore along our coast. This gyre is a natural occurrence, but the trash/plastic that tends to collect within (sometimes called the "Pacific Garbage Patch") obviously is not."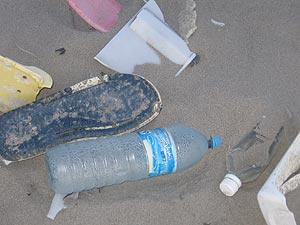 Plastic debris in Gearhart - look for interesting finds, as sad as this situation is (photo Gottsch)
Wilson said there are plenty in the United States who have been seeing this.
"I just returned from a west coast plastic pollution outreach tour and talked with several people who have noticed the same thing," Wilson said.
In the last week or two, CoastWatchers reported a fair amount in Cannon Beach and Fort Stevens State Park, with some sightings near Waldport, near Florence and Road's End in northern Lincoln City. In Cannon Beach's Tolovana area, one volunteer reported "several racks" of the stuff. The reports seem to indicate a larger degree of the stuff on the north coast than central or south coast.
Certain spots on Manzanita's beach have thousands of tiny plastic pieces as well.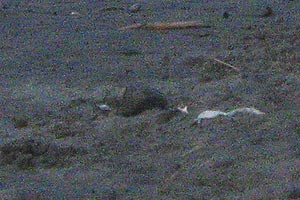 Plastic debris earlier this year in Seaside.
Earlier this year, tons of plastic washed up all along the Oregon coast, obviously from the gyre. This also brought in a fair amount of pleasant finds, like old-style Japanese glass floats, which hadn't been seen on these shores in any decent numbers in decades.
Adding to the gyre and west winds theory is the fact Gottsch also knows of a few instances of glass floats being found as late as two, three weeks ago in her area.
Wilson provided further details about the dynamics of these gyres and the basics as to why this is happening.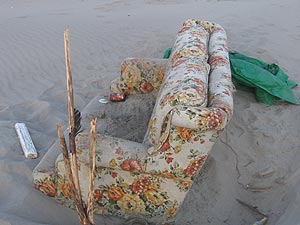 The couch at Gearhart (photo Gottsch)
"The North Pacific Gyre is a natural phenomenon caused by two opposing trade winds at higher and lower latitudes," Wilson said. "Because of the earth's coriolis effect (the earth spinning), it makes those dominant east to west and west to east winds bend, and form a circular pattern.
"Energy is transferred to water, and thus the vortex."
Wilson said one thing that will surprise people is that the geographical location of this gyre is dynamic rather than static.
"Over this winter, Oregon experienced a dominant westerly flow of wind, causing the gyre to butt up against North America and thus empty bits of it on our beach," Wilson said.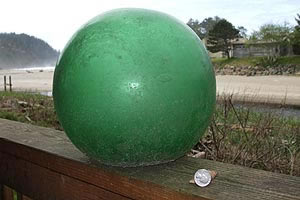 A glass float found earlier this year (photo Proposal Rock Inn)
The result is rather startling finds, like objects from foreign lands that Gottsch caught on camera.
"What's interesting about this is the type of plastic you'll see," Wilson said. "Look for things that can be identified as old. I found a child's toy from the Seoul Olympics, and a toy train from the 40s."
Why is this happening now – and apparently more on the northern Oregon coast?
Wilson said that's extremely difficult to answer, and in fact there's really very little science to help with that.
Wilson repeated what one eminent scientist on the subject told him.
"Put it this way - and I'm not meaning to be flippant at all - this is reality of what we know as humans: Do you know why certain parts of your house have larger accumulations of dustbunnies? And then why they are in different locations/quantities when they come back after you sweep?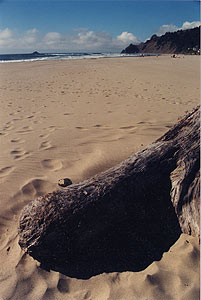 Lincoln City's northern end.
"You know if you have a pet, you're going to get dust bunnies and pet hair in your house, but you don't know when, and you don't know to what degree. You have a little idea of where they'll show up, like corners and nooks, but they'll form other places where you didn't anticipate, too. All you know for certain that it's going to happen."
Meanwhile, Gottsch went back to that spot within 48 hours with two giant hefty bags and picked everything up.
"There were black plastic broken floats with Asian writing on them, but I didn't think anything of it at the time," Gottsch said. "I was so disgusted. Also there were thousands of tiny plastic particles – half the size of an eraser head, in every color. Similar to what I've seen caught in the foam and seaweed washed up on the shores in Mexico and the Philippines."
There is much on these gyres at www.5gyres.org.
More About Oregon Coast hotels, lodging.....
LATEST OREGON COAST NEWS STORIES
Oregon / Washington Coast Alerts: Flood Watch, First Big Waves of Season
Floods, lots of rain, high winds and some rather good storm watching, beach safety
Sea Lions Sick with Leptospirosis on Oregon Coast: Keep Pets, Yourselves Away
Stay clear of sick or dead sea lions. Marine sciences, beach safety
Yachats Oktoberfest Takes German Culture on Oregon Coast to New Levels with L...
A kind of accordian-palooza, there's beer, brats, wine and waves, Sept 29 - Oct 1. Yachats events
At Seal Rock's NW Curtis St.: Funky Little Oregon Coast Access with No Name
NW Curtis St., not far from Newport, Yachats or Waldport
Seaside Event Digs Into Mysterious Bayocean, the Oregon Coast Ghost Town
September 28 at 6 p.m. at Seaside Brewing. History, Seasode events, Tillamook
Central Oregon Coast Artist Shows at Florence Visitor Center
Regina 'Reggie' Oflock of Sea Gypsy Cottage Gallery. Florence events
Small Vessel Strands on Central Oregon Coast's South Beach, Cause Unknown
Fishing vessel Judy stuck on a Newport beach. Florence events, Newport events, Lincoln City events, Yachats
SOLVE Cleanup Finds on Oregon Coast Include a Whale
This carcass had been in the news before, victim of orcas. At Otter Rock near Newport. Marine sciences

Back to Oregon Coast