Covering 180 miles of Oregon coast travel: Astoria, Seaside, Cannon Beach, Manzanita, Nehalem, Wheeler, Rockaway, Garibaldi, Tillamook, Oceanside, Pacific City, Lincoln City, Depoe Bay, Newport, Wadport, Yachats & Florence.
3/10/07
Finding Star Trek, Seinfeld and American Royalty on the Oregon Coast
By Andre' Hagestedt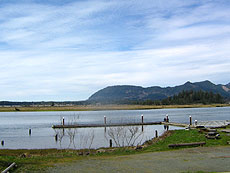 Wheeler
(Wheeler, Oregon) – Loads of oddities happen to me on these runs up and down the coast with startling regularity. Covering 180 miles of coastline, from Florence to Astoria, is nutty enough. But these trips add whole new meaning to "living on the edge of the continent" at times. It's often a lot more than a business trip, a photo expedition or editorial fact gathering run. It can be truly kooky.
That's part of the wonder if it all, however. The coolest things can cross your path.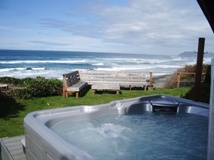 Arch Cape Property Services. Dozens of homes in that dreamy, rugged stretch between Cannon Beach and Manzanita known as Arch Cape. Oceanfront and ocean view , or just a short walk from the sea.
All homes are immaculate and smoke free; some pet friendly (with a fee). Some with broadband, indoor or outdoor hot tubs, fireplaces, decks, and fire pits or barbecues. Call about tempting winter specials that go until March (not valid holidays, however). www.archcaperentals.com 866-436-1607.
It's August of 2005: Things are a little nuttier than usual. On this particular month, this includes the meeting of royalty. It was two kinds of royalty, really. One was blue blood in the historical American sense. Another was a local woman who starred in two of my favorite shows of all time, the "Star Trek" franchise and "Seinfeld."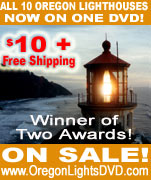 Late one night, I wander into the Sea Shack in Wheeler. There, Willow Bill (a perennial bit of local color) is conversing with some fetching woman. I eventually wander over there to chat with them all, and find out this lady is in town from Colorado, having just been in Washington to help dedicate a new park in honor of Lewis & Clark. It turns out, she's a seventh-generation descendent of William Clark - a bit of royal bloodline she was both blessed and cursed with.

There's a whole very personal side to this story, as impressive as this relationship is to one of our most beloved historic figures. This causes history groups and geeks to make quite a fuss over her - which is both good and bad. Imagine: being a sort of Britney Spears of the historic scene, with the equivalent of history buff paparazzi hounding you periodically (but without the shaved head and exposed body parts). Yet at the same time, it's not a bad thing to be honored by many, even if it isn't for anything you actually did - but instead were born into. And she does enjoy the historic significance of it all.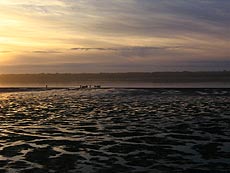 Nehalem Bay: there are rumors of a paranormal thing here called the "Wheeler Moment," where interesting serendipitous coincidences happen frequently
She - and I'll keep her anonymous - has quite the love/hate relationship with it all. She finds out I'm media and is really quite unpleasant about that at times, assuming I'm looking at her in some journalistically predatory way, even winding up insulting at moments. Well, I guess here I am writing about it in this article. But really, I just found her and her situation interesting.

Tradewinds Motel, Rockaway Beach. All rooms are immaculate and have TV's, VCR's and in-room phones with data ports. Oceanfronts all have a queen bed, a double hide-a-bed, kitchen, cozy firelog fireplace and a private deck. Both types sleep up to four people. Others are appointed for a two-person romantic getaway, yet still perfect for those on a budget. Elaborate oceanfront Jacuzzi suite has two bedrooms, kitchen, double hide-a-bed, fireplace and private deck, sleeping as many as six. For family reunions or large gatherings such as weddings, some rooms can connect to create two-room and three-room suites. Some rooms are pet friendly.523 N. Pacific St., Rockaway Beach. (503) 355-2112 - 1-800-824-0938. www.tradewinds-motel.com
Her brother won't deal with any of the pomp and circumstance. He has nothing to do with the celebrations of Lewis & Clark, while she really does love and understand it. She also tells me she grew up in an elementary school named after Clark. While in fifth grade, her teachers didn't believe her that she was descended from the school's namesake.
She also complains about the sexist nature of some of the celebrations: how many times she was not allowed to march in one parade or another because she was a female descendent of Clark, and not a male.
Apparently, not all of Lewis & Clark's progressive spirit lives on into the 21st century, and not all the keepers of the legacy of the Corps of Discovery acknowledge the last 100 years of social progress.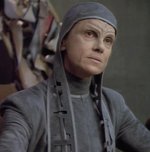 Liz Cole, now a N. coast resident, as she appeared in a Star Trek: The Next Generation episode
The next day, I'm goofing around Wheeler again, and wander into Peg Miller's shop (our shopping columnist, in case you forgot). And lo and behold, a north coast icon of mine is standing there: actress Megan Cole, who played small parts on "Seinfeld," "ER" and two of the Star Trek series. Megan lives here these days, and I've been obsessed with the idea of proving it was the lady from the "Suzie" episodes of Seinfeld whom I heard talking outside a Manzanita grocery two years ago.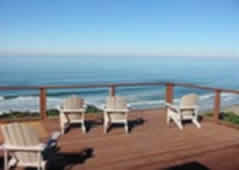 A1 Beach Rentals, Lincoln City. Perfect for large family vacations all the way down to a getaway lodging for two - with over 25 vacation rental homes to choose from. A breathtaking collection of craftsman or traditional beachfront homes, or oceanview houses – from one to seven bedrooms. In various areas of Lincoln City and overlooking the beach, with some in Depoe Bay. All kinds of amenities are available, like hot tubs, decks, BBQ, rock fireplaces, beamed ceilings and more. Some are new, some are historic charmers. Lincoln City, Oregon. 1-(503)-232-5984. www.a1beachrentals.com.
That fact was clarified for me a long time ago, but all of a sudden I walk into Ekahni Books and there is Megan! I'm a huge Seinfeld fan, and an even bigger Star Trek fan, so this was like my two seriously geeky sides meeting right here in Wheeler, on a sunny, hot August afternoon.
DIVE INTO LUXURY, HISTORY AT THE TIDES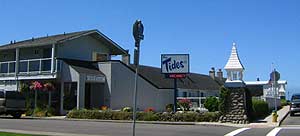 THE TIDES BY THE SEA, Seaside. For over 80 years a favorite of Seaside visitors. 51 oceanfront condos, individually owned and decorated. Suites for couples, small apartments with fireplaces and kitchenettes, one or two bed family units with fireplaces, kitchens and dining rooms. Oceanview cottages sleep anywhere from two to eight, w/ two bedrooms, some with lofts, fireplaces and kitchens. Heated outdoor pool, enormous grounds w/ picnic tables - all at quiet southern end of Seaside. 2316 Beach Drive. 800-548-2846. www.thetidesbythesea.com.
I greet Peg, and turn to Megan (also known as Liz) and say: "and you're Liz Cole, aren't you? I LOVE your work on Seinfeld."
I am all of a sudden nervous and star-struck, so I more-than-half expect her to smell my fear and treat me like another Hollywood stalker. Instead, she's immediately gracious and says "thank you." Introductions are made by Peg, we all chat leisurely, and at some point it really hits me whom I'm talking to, and I get nervous again, stutter and say some stupid things. I'm simply awestruck. She was so cool in Seinfeld, and the Romulan character she played in the last two episodes of "Deep Space Nine" was also quite memorable - mostly because I so deeply mourned the impending loss of that series as it came to a close. It was like meeting someone I'd cried in front of once (because, yes, I'm such a geek I did indeed cry at the end of DS9….I cried like a little girl).
I gloat about these brushes with greatness for days. I left out the crying-like-a-girl part, however.

D Sands Condominium Motel, Lincoln City. Free, fresh baked cookie upon check-in is just the start. All rooms beachfront and up against Lincoln City's most famous stretch of beach: the D River. Each room comes as a suite or mini-suite, and has a kitchen and balcony or patio. Some w/ gas fireplaces, while all have a DVD Players; movies to rent come with free popcorn. Heated indoor pool, a spa, and this fabulous beach is lit at night. Rooms sleep from two, four to six - including a deluxe fireplace suite. Gift certificates orspecial occasion packages. www.dsandsmotel.com. 171 S.W. Highway 101. 800-527-3925.
Weiss' Paradise Suites & Vacation Rentals - Seaside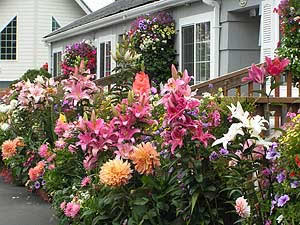 Unique Luxury Accommodations in Seaside. 1BR Suites, 1BR & 2BR Duplex Units and 3BR Houses, units for 2-8 people. Rent entire property for 20-26. Close to beach, river and Broadway St.
Suites are designed for two adults; vacation rental units for families. All units have kitchen and many have fireplace, deck and jetted tub. Comfy robes, slippers, luxury bath amenities, quality linens and more. 741 S. Downing St., Seaside. 800-738-6691. www.SeasideSuites.com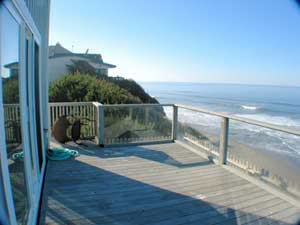 Lincoln City Vacation Homes There's something for everyone among this selection of wondrous homes: smaller homes with a view to a large house that sleeps 15. All the homes are either oceanfront or just a few steps away from the sand – all with a low bank access and fantastic views. Most are in the Nelscott area; one is close to the casino. You'll find a variety of goodies, depending on the home: fireplaces, multiple bedrooms, dishwashers, Jacuzzis, washer/dryers, hot tubs, cable TV, VCR, barbecues; there's a loft in one, and another sprawling home has two apartments. Pets are allowed in some homes – ask ahead. Each comes with complete kitchens so you'll have a home away from home. Most have the seventh night free. Prices range from winter $85 to summer $230 per night. www.getaway2thecoast.com. 541-994-8778.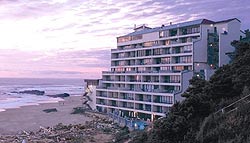 Inn At Spanish Head, Lincoln City. Lincoln City's only resort hotel built right on the beach with all oceanfront rooms - nestled against a rugged cliffside overlooking a soft, sandy beach. Dine in the penthouse restaurant and bar - for a casual meal or a candlelight dinner. An array of seafood specialties, juicy steaks and other Northwest favorites, including a decadent Sunday buffet. Rooms range from bedrooms to studios to one-bedroom suites with microwaves and refrigerators to full kitchens. Hotel include wi-fi, spa, saunas, exercise room and a year-round heated swimming pool. Kids will love the game room and easy beach access. Full-service conference/meeting rooms for that inspirational retreat; extensive, gorgeous wedding possibilities. 4009 SW Highway 101, Lincoln City. 1-800-452-8127 or 541-996-2161. www.spanishhead.com
BREATHTAKING CLIFFTOP IN NEWPORT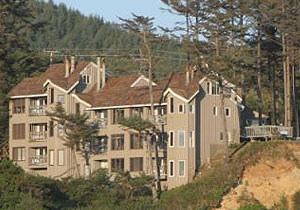 STARFISH POINT is located on the Central Oregon Coast - in Newport - and offers only the finest in luxury condominium lodging. At Starfish Point, every unit is focused on the beauty of the sea and the beach.
All of the units boast two bedrooms, two bathrooms, designer kitchens, wireless broadband Internet, fireplaces, Jacuzzi's and private decks - surrounding you in soothing relaxation. We have a friendly staff dedicated to high quality and superb customer service. 140 NW 48th Street, Newport. (541) 265-3751. (800) 870-7795. www.starfishpoint.com
RELATED STORIES
OREGON COAST VIRTUAL TOURS
Explore Every Beach Spot