Computer Program Calculates Extinction Level Event on Oregon Coast - or Not
Published 08/26/2012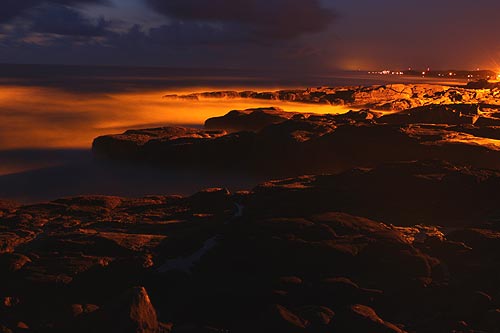 (Oregon Coast) – Ever wondered what an extinction level event might look like if it started somewhere around the Oregon coast? (Above: Yachats at night, though it looks like a prmordial Earth).
Here's a wacky exercise in gloom and doom, but still interesting in the scientific sense. Imperial College in London and Indiana's Purdue University have put together a website that calculates the impact devastation of a comet or asteroid on the Earth at any given location, given parameters like environment, size of the object, etc. You plug these various criteria into the site and it predicts what might happen to your area if a massive object from outer space fell around there.
The site is at http://impact.ese.ic.ac.uk/.
Sure, this sound excessively morose in many ways, but it is a fascinating scientific exercise – and it's not without precedent. After all, it's generally accepted that at least one major meteor catastrophe had something to do with the extinction of the dinosaurs – maybe more than once – and quite possibly the wooly mammoth, among other creatures.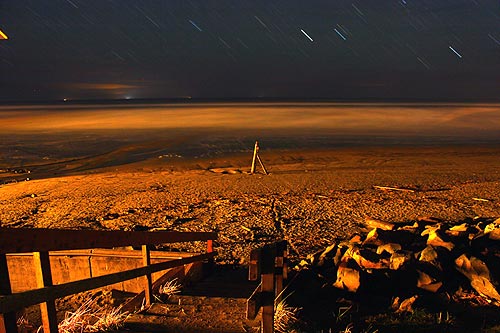 A primordial-looking Cannon Beach area - at night
The website allows you to plug in way more criteria than we here at Oregon Coast Beach Connection can pretend to understand. We really just plugged in some almost random numbers, based on a lot of wayward guesswork.
So what if something about 200 feet in diameter hit the ocean off the Oregon coast, about 100 miles away?
We literally just shot into the dark on much of the criteria. The object would be coming in at almost 10 miles per second, had a density of 3000 kg/m3, and would hit the ocean at a 45-degree angle.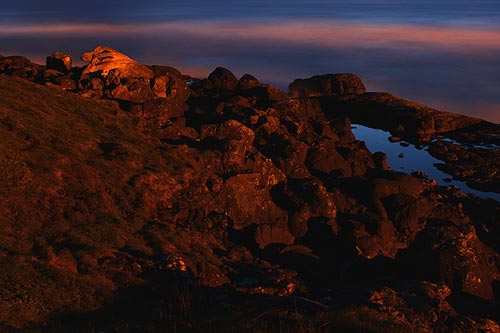 Well, it turns out this would create a tsunami of about 10 centimeters (three inches), a little over 24 hours later.
Wow. Not a big deal, it would seem.
Perhaps we screwed up in the density input field, or something. It seems like an object 200 feet in diameter should do a lot more damage to the coast of Oregon as well as the rest of the world.
Well, what do we know? We're not real scientists. We were just screwing with someone's online computer program. Apparently the bulk of something that size would break up in the atmosphere long before it reached the ocean.
Maybe if we set the crash landing of the object in Portland's Forest Park the devastation would be different? That's OK. We're not really looking for signs of the next apocalypse. We were just curious.
That's just fine. The region has enough to worry about with the possibility of tsunamis and such. So at least for now, we can all kick back and relax, knowing even an offshore meteor splash of a certain size wouldn't cause the demise of the rest of the world.
Keywords: geology, astronomy, Cannon Beach, Pacific City, Yachats, Depoe Bay, Newport, Lincoln City, Oceanside, Astoria, Oregon coast, science.
More About Oregon Coast hotels, lodging.....
More About Oregon Coast Restaurants, Dining.....
LATEST OREGON COAST NEWS STORIES
Back to Oregon Coast
Contact Advertise on BeachConnection.net
All Content, unless otherwise attributed, copyright BeachConnection.net Unauthorized use or publication is not permitted