Secret Coves of the Oregon Coast
Published 08/03/2008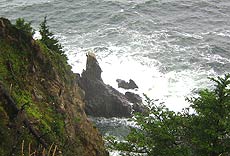 Pulpit Rock, a hidden structure seen only from a secret vantage point near Manzanita
(Oregon Coast) - They are the reason many become big fans of the Oregon coast: its plethora of hidden spots and places you'll find almost no one, even on busy days. They are the beaches lost to most tourists and even to most locals, and they provide an endless amount of amusement and watery repose.
Many of these really isolated, secretive beaches are coves. In fact, that's why they remain secret: they're tucked away between rocky structures that form a kind of half circle of a beach. Often, they hide the most amazing features of any of the beaches along Oregon's coastline.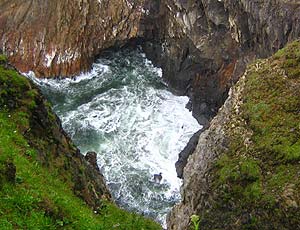 Treasure Cove, only visible by staring down into it. It's so hidden you can never get to it.
The Hidden Ruins-like Rocks North of Manzanita
It will remind you of the original "Planet of the Apes" flick or perhaps ruins of an unknown civilization: it's all a clandestine part of Cape Falcon, just north of Manzanita.
As you round the tight bends just south of the big overlooks peeking out over Manzanita, you'll find a large gravel parking area – just before the road descends into the forests of Oswald State Park. It's marked, rather meekly, as the mile-long path going down to Short Sand Beach. But don't take that route: keep heading due west, towards the cliffs.
A high, green-covered hill ascends towards the sky here, with various jagged, basalt openings and sheer cliffs close by. A trail leads to the top, where you can see what is called Treasure Cove: a boiling, oceanic caldron of death that churns with unimaginable ferocity below. You look down through a set of cliffs so tightly placed together it's as if you're looking down a chute.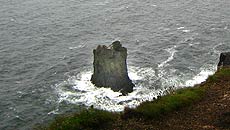 Cube Rock, which looks like a pillar from a ruin
There's an enormous sea cave below, which caused the sea to make quite a raucous there. Enormous crashes come pounding from the massive hole, muffled by distance and the basalt enclosure, but loud nonetheless, as the waves slam hard inside the interior of the cave and smash large pockets of air.
Even more intriguing is the strange basalt column that juts up from the sea in this cove, which you can see the top of from the gravel parking lot. It is indeed curious, looking like something left over from an ancient civilization of giants. It turns out this structure is called Cube Rock.
While standing on this high vantage point, there's more to see below you, where the sea crashes with consistent and awe-inspiring ferocity. Not far from Cube Rock lies another bit of basalt sticking up out of the ocean – this one called Pulpit Rock. One 100-year-old description of it written by original Euro-settlers talks about the spectacular sights to be seen when heavy waves crashed over, making one heck of a splash.
These names of Pulpit Rock and Cube Rock go back as far as that time.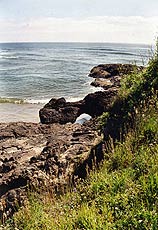 That mysterious arch at this unnamed access at the county line
Unmarked Beach Access at the Lincoln County/Lane County Line
You'll find it just a few miles south of Yachats, and it's also the gateway to an always-engaging stretch of coastline that hosts a few secret coves. This whole section between Yachats and Florence is full of hidden spots and tiny to larger coves.
At this unnamed access, a parking lot gives way to two routes to this varied and rather amazing beach.
Walk the winding, twisting path over the bluff to hop onto large basalt structures filled with cracks and crevices that give glimpses of churning waves beneath you. They'll sometimes squirt water up at you. Wander here to find tide pools and watch the sea knock logs around.
Or walk down a lengthy but smooth and paved trail from the parking lot to the sandy part of this beach, which makes for a cozy little cove, bordered by the cliffs of Neptune State Park to the south.
You can probably hop up and down the basalt structures from here as well, and part of the rock forms an intriguing arch in the sand. At its northernmost, there's a small cove and tiny patch of beach which ends in a large wall. It's all just a tiny bit after the county line and MP 168.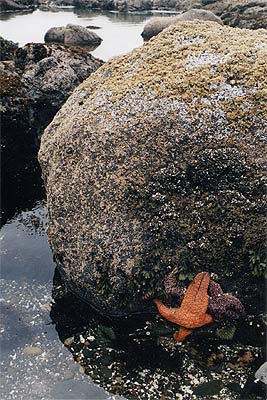 The treasures of Bob Creek are often still alive
Bob Creek Wayside
More tide pools and their colonies of creatures than humans populate this obscure but fascinating place, which sits between Yachats and Florence. They really emerge at lower tides, clinging to odd, mushroom-shaped rocky blobs at the southern end. Amidst a changing landscape of small, polished stones that eventually yield to a more rocky situation, the extreme southern part becomes sandy again just as large basalt structures cause this little cove-like area to dead-end. Also at this end, there's also a small sea cave and a huge boulder that creates a sort of arch by leaning up against the cliffs here.
At the north end, you'll find plenty of mussels – but you'll have to cross the creek to do so. During the winter that's difficult, if not impossible and certainly unwise. During the summer months it's much easier and thoroughly inviting.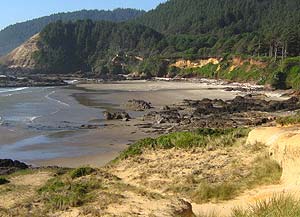 Strawberry Hill
Strawberry Hill
This spot just south of Yachats has a variety of stuff for everyone, from tide pools, bubble-like rock structures for climbing to sandy stretches and stunning high viewpoints.
First, you step out on a rather stately bluff with breathtaking views all around you. To the south, there's a long stretch of cobblestone beach with towering cliffs directly behind you. West and north allows you access to a favorite spot of tide pool hunters, with large and small rocky blobs creating a labyrinth in the sand and providing plenty of places for starfish, mussels and other tide line dwellers to live. Intriguing stone features dot the landscape, interspersed with tracts of hard sand and soothing surf.
It's as much fun for rough-housing and tide pool hunting as it is for a simple, hand-in-hand walk on the beach.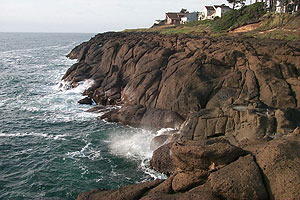 This unbelievable hidden spot overlooks at least one cove
Concealed Rocks At Depoe Bay
Look for Vista St. along the northern part of Depoe Bay, just south of the massive RV park, and this will lead you down to a charming, weather-beaten neighborhood and an amazing span of puffy, bubble-like basalt cliffs.
Here, you'll find an area which delivers astounding, dizzying views of wild stuff you won't be able to witness any other way. To the north, weird coves and hidden caves become apparent. Straight out to sea, you're high above the crushing, crashing waves and a captive audience member to some amazing oceanic power.
This spot is actually known as Depoe View Park, although there are no signs designating it as such.
Throughout this entire section, large and small crevices, perches and an endless amount of craggy boulders make for incredible climbing and exploring fun. All of it sits about 20 ft. above where the roaring, rather frightening surf pounds onto the cliffs below. You can sometimes even feel the waves hitting the rocks as their power resonates through the stone.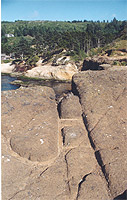 Unusual markings in the basalt at Depoe View Park
Then, at the area's southern end you can see Depoe Bay, and if you peep around the corner, you can catch close up glimpses of unusual rock structures that are part of yet another cove.
Also at the southern end, a large formation juts out into the sea, sometimes allowing you to climb up and walk out even farther out over the ocean. However, much of the time its access point is so soaked by seawater it's not a good idea to go ambling up these rocks. A spectacular sight here is the ocean spraying this section with either small waves or a constant stream of thick, salt-water mist.
A small trail meanders between these cliffs and the private residences above, and there's even a picnic table for those hungry for grub as well as astounding views.
This area can be found by heading down Vista St. to its end, carefully parking without imposing on one of the private homes here, then follow the sign that says ``To the rocks.''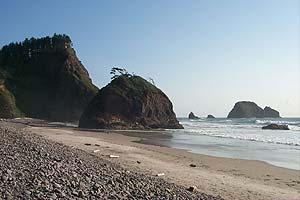 Inside the cove at Short Beach
Short Beach, by Oceanside
Lurking on the side of Meares Loop Rd. near Radar Rd., just a tiny bit north of MP 4, sits this stunning hidden spot.
Short Beach (which once boasted an actual radar station) is chock full of scenic yumminess, starting with the large, bulbous rock structure plopped at the tide line, sporting a small patch of trees on top. You can't climb the structure, except perhaps at its base at low tide, but it is a beauty.
On one end of the cove, the weird rock structures near Oceanside poke out from behind the cliff. At the other end sits the Cape Meares lighthouse and another small sea stack. A massive waterfall spills gently into the ocean - just out of reach of the beach, and there's also a rocky cove within this cove.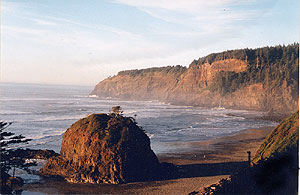 The wonders of Short Beach, near Oceanside
Access to the beach is via a long stairway, rumored to have "1000 steps" according to a sign. It was built by locals in the last ten years who were tired of seeing people cracking their heads on the steep, muddy trail that was there prior.
Next to the path sits a large concrete and steel structure jutting out over the beach - a trippy and intriguing monstrosity which allows you to walk out above the beach a little ways and take in the view. This is part of a water run-off system, and after especially hard rains it dumps water onto the beach with the roaring intensity of a large waterfall.
This is one cool cove.