Experts Weigh In On Oregon Coast Tourism Challenges Past and Future
Published 05/24/2010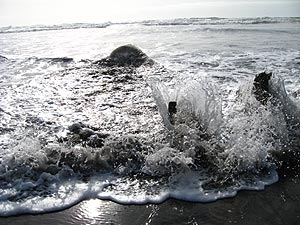 Fort Stevens near Warrenton: sand erosion could be a bigger problem for some landmarks, like the wreck of the Peter Iredale
(Oregon Coast) - What were the biggest changes and developments in the tourism industry along Oregon's coast this past decade? What will be the large changes and challenges to come? What obstacles or developments will affect how the coast does business, and affect the way visitors experience the beaches? What will affect their pocketbooks while on trips to the coast? What will change how they spend the night here, where they go, how they get here, etc.?
Oregon Coast Beach Connection asked those large and looming questions of a handful of tourism and coastal experts: Phillip Johnson of CoastWatch and Oregon Shores, Doreen Loofburrow of Oregon's AAA, Sandy Pfaff of the Lincoln City Visitors Bureau, and Oregon Coast Beach Connection's own Andre' Hagestedt.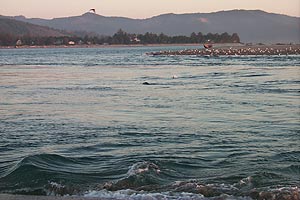 Lincoln City (Siletz Bay)
Sandy Pfaff, Lincoln City Visitors Bureau
The most significant trend has occurred since 9/11, that is, group travel by families or multiple couples. And that has increased the desire and demand for vacation rental homes over hotel/motels. That trend is expected to continue, now more because of the travel behavior changes caused by the economic downturn.

In addition, almost all generations travel for an experience, not just to see the sites.

One of the biggest things that may impact the Central Coast is the condition of the highways from here to the valley or between coastal cities. As they continue to fall apart and fall in, coastal areas become more isolated and less accessible to visitors.
Doreen Loofburrow, Director of Travel for the Oregon AAA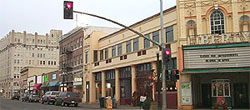 Astoria's downtown is part of the resurgence in that town
For Loofburrow, the biggest developments of the past decade for Oregon coast tourism took place in Bandon, Astoria and in airline travel to coastal cities.
Bandon Dunes. "This high end golf destination is recognized nationwide, bringing tourism and development to the area," Loofburrow said. "The additional lodging, restaurants, and golf courses have all added to this destination."
Astoria. "During the last decade, this city has turned into a weekend destination, thanks to the opening of new, upscale hotels and restaurants, the launch of the Riverfront trolley, and cruise ship visits," she said.
Seaport Air. "Flight service to Astoria and Newport opened up these areas to people not wanting to drive, and to those who are traveling greater distances," Loofburrow said.
"Coastal cities and their surrounding areas are now seen as destinations with many activity choices in addition to the traditional activities of golf and spending time on the beach."
She added that the addition of more shopping venues, including the outlet malls, and the addition of casinos in many of the areas have helped to make these destinations even more attractive, and have helped to encourage multiple night stays.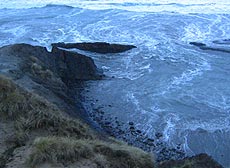 Flights to and from Newport and Astoria were a big positive change for the coast, says the AAA
Loofburrow said a recent challenge came last year, when Horizon/Alaska Airlines pulled out of the Southwest Oregon Regional Airport (formerly the North Bend Municipal Airport). United Express is present, but only offers very limited flights.
What of the next decade? Loofburrow said that will come from building on what is already in place.
"Bandon Dunes will only become more popular, other cities may follow Astoria's example, and further development along the coast will bring more tourists," she said. "This could mean more cars and traffic."
Phillip Johnson, of CoastWatch and Oregon Shores
Johnson's main focus is the environment of the coast, which directly affects tourism because that's the main reason people go to the beach. In his view, the key things are: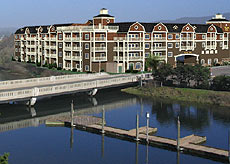 Developments and condos on the coast hit a distinctive fever pitch
1 - The relentless development pressure through most of the decade, driven by in-migration and the housing bubble, and correspondingly the huge drop in that pressure during the past couple of years due to the economic collapse;
2 - The growing campaign for marine reserves and the debate this caused, culminating in the state's first two reserves, which he described as "inadequate though they are."
"Well, the one near Depoe Bay," Johnson said. "The one at Redfish Rocks near Port Orford was a decent first effort."
3 - The growing interest in wave energy (and to a lesser degree wind energy) and the debate and scientific research about impacts that this has prompted.
Johnson said he believes that if Measure 49 hadn't supplanted Measure 37, the latter would have been just about the biggest change on the coast.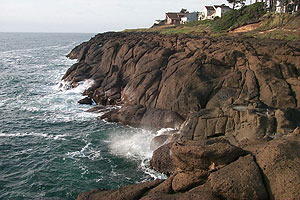 Off Depoe Bay: a marine reserve is one of the first in Oregon's ocean
"Quite a few horrible, landscape-abusing developments were proposed under 37," he said. "We managed to hold them off until 49 passed. One of the most important things Oregon Shores has ever done is something no one sees - the behind-the-scenes delaying tactics that kept projects from getting started under Measure 37 until the law changed. However, we couldn't have delayed forever."
Johnson said the biggest challenge over the next decade will be responding to climate change and sea level rise.
"If we respond intelligently, we will change our planning and future development to recognize and pull back from areas that will be increasingly vulnerable due to sea level rise, more intense storms with higher waves, and ramped-up erosion and storm surges," he said. "Likewise, on the abatement side, we must increasingly focus on less carbon-intensive tourism. For one thing, get back to mass transit, including trains, and reduce car-based travel. That, of course, will be a huge challenge for the coast, and particularly for its more remote areas."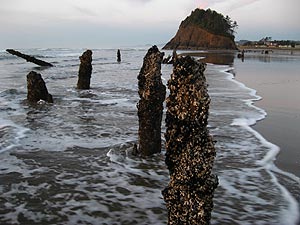 Weird stumps at Neskowin may be in danger in the coming decade.
Andre' Hagestedt, BeachConnection.net editor
I've been covering the coast pretty intensely and intimately since about 1996, and I've seen a lot take place this past decade.
Traffic to the coast and around it has been the big issue, and will continue to be. A national magazine named traffic to our coast one of the worst in the nation, although I think that was an exaggeration. Seaside voted down a proposal to widen its part of 101, and that will make things complicated for them in many ways in years to come.
Condos on the coast completely exploded in this last decade and that brought on a variety of impacts. Every city was the recipient of this, and it reached a fever pitch as the real estate bubble took a while longer to burst on these shores than it did in other parts of the country.
This left a bit of a glut in these recessionary times. This new decade is starting off with a host of bottom dollar sales on condos.
Beautiful structures were erected in Seaside, Rockaway Beach, Nye Beach in Newport, Florence and everywhere. In the case of Nye Beach, they were part of a revitalization of that area that is really one of the striking developments for me. I was lucky enough to live there part time for a while during this.
The downside: I saw some precious views blocked by new real estate. One in particular in Seaside – at the trailhead to Tillamook Head – still hurts, in my opinion. You used to be able to look straight down to the large rocks below.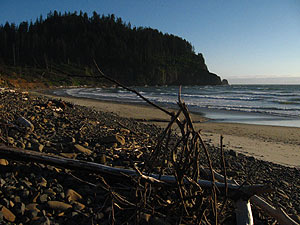 Cape Meares: tsunami awareness changed the way people and businesses did things.
The upsurge in fine wines on the coast was especially striking. The coast's first wine bar was in Newport for a couple years, then others followed in Seaside, Lincoln City and more, along with a sizable explosion in wine tasting events. Small markets started focusing on fine wines as well, with outstandingly yummy results.
On the purely natural side, one of the little known aspects of climate change that has affected us has been the slight increase in erosion during the winter. Erosion is no secret when comes to homes above cliffs. But the scouring of sand seemed to reach a higher level during this decade, leaving more interesting treasures uncovered during the winter – like stumps that are thousands of years old, cannon from a famed ship and more.
This foreshadows another challenge for the next decade: some of the ancient stumps at Neskowin were torn from their spots because sand levels got so low. While winter sand erosion is definitely affecting people's homes, it could well start causing problems with natural features we all love.
Finally, tsunami awareness created some major changes in thinking along the coast this past decade. It was more than a realization of that coming danger: it changed how coastal communities and businesses did things.
More About Oregon Coast lodging.....
LATEST OREGON COAST NEWS STORIES
Moderate Chances of Aurora / Northern Lights Over Washington / Oregon Coast. ...
Friday may be your best chance of viewing on the coastlines
Saturn Brightens, Jupiter a Monster, Still Some Meteors Above Oregon Coast, W...
Delights in the night skies are numerous, including Saturn in opposition
Raw Sewage Spill Closes N. Oregon Coast's Netarts Bay to Crabbing, Clamming, ...
Netarts Bay is near Oceanside and about 15 minutes from Tillamook
More Beach Wheelchairs Available for Oregon's Tillamook Coast Region
In Manzanita, Rockaway Beach, near Tillamook, Garibaldi, Pacific City, others
Lewis and Clark Live Re-Enactment Returns to N. Oregon Coast's Seaside
Sept 10 and 11 with the Lewis and Clark Saltmakers program. Seaside events
Three Die in Crash at Gleneden Beach on Central Oregon Coast Highway
The crash involved two vehicles and had tied up traffic all day
90 Years of Oregon Coast's Sea Lion Caves Celebrated at Florence's History Mu...
Party in Florence on Aug. 26. Florence events
When That Spectacular Glow Hits the Oregon Coast: Surprise Colors Between Yac...
The colors that would erupt around here were mind-bending