Video: Brown Blobs, Waves on North Oregon Coast
Published 05/08/2010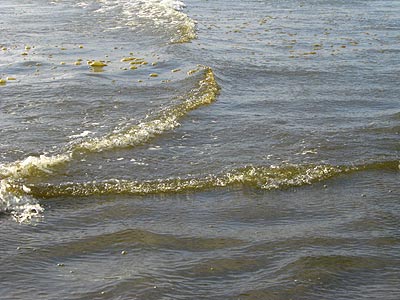 (Oregon Coast) – April meant a wide variety of strange sights on the Oregon coast, as west winds picked up odd stuff out of the currents of the Pacific and tossed them onshore, and brown waves freaked out tourists and residents up and down the coastline.
It shows up periodically throughout the year in Seaside. These brown waves and blobs caught on video were in Seaside, but in April the phenomenon showed up on the central coast as well.
Some residents in Newport became alarmed and called the local DEQ office. Seaside businesses, however, are used to visitors showing up and asking if the brown stuff is pollution or and oil spill, and Seaside Aquarium has armed local shops with brochures explaining the wacky display.
The culprit is a sign of a very healthy ocean: tiny, microscopic creatures called diatoms, which are a form of phytoplankton. The aquarium actually has a photo of the creature taken through a microscope.
This video was taken in fairly warm, sunny conditions in Seaside in April, in an area near "the cove" – which is the section of beach that hugs Tillamook Head. Currents cause the brown foam to show up more in some spots. Curiously, a fairly small patch of ocean (about 100 feet of length down the beach) had the really brown foam. North and south of that spot it was not nearly as pronounced.
In early April, the DEQ office in Salem took a sample of the brown surf around Newport and confirmed for local residents it was indeed this form of phytoplankton.
Diatoms are microscopic plant-like creatures that are actually responsible for most all sea foam you see on the beaches. They are about 100 micrometers long – or 1000 times the size of a virus. Still, they're not visible with the naked eye.
These brown blobs and waves shift around with the currents: they can be in one spot on one day and then other places the next day. Or, they can abruptly and rather mysteriously appear all at once all over the coastline.
On the day this video was taken, really dark patches colored the water, along with very dark, brown chunks of foam. These blobs of brown foam floated lazily along the waves. It also has the propensity to create dark, oily-looking patches in the sand as well as large tracts of brown foam and goo along the beaches.
Recent Similar Stories:
Japanese Glass Fishing Floats Return to Oregon Coast - Briefly Glass Japanese floats were a common sight on Oregon beaches throughout most of the 20th century
Killer Whales Spotted All Over Oregon Coast Normally seen on the central coast, they've been spotted up north as well
Hundreds of Crab Shells Show Up on North Oregon Coast It's simply crab molting season for the Dungeness crab in Oregon coast waters, where adult crabs are getting bigger and outgrowing their shells
Oregon Coast Photos of the Week: Weird Brown Foam Seaside has recently been the recipient of loads of strange brown foam
More About Oregon Coast lodging.....
| | | |
| --- | --- | --- |
| | | |
LATEST OREGON COAST NEWS STORIES