Published 10/21/09
To Eat the Beach: the Edible Oregon Coast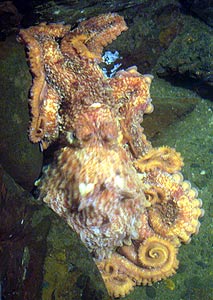 The Japanese are well aware that octopus is edible - but are you? (photo Tiffany Boothe)
(Oregon Coast) – Watch your step as you tread on Oregon's beaches: you could be walking on someone else's next meal.
According to the Seaside Aquarium's Tiffany Boothe, there is an abundance of edible things you can simply find on the beach.
"It's obvious that most things are edible - it's whether or not you like them," said Boothe. "You can eat almost all species of snails, clams, octopi and fish. Most aren't going to make you sick."
Boothe, a tireless mind always in search of the next cool factoid about the marine world, collects these funky facts like some people collect hubcaps. She wanders the beaches, photographing and looking carefully in the sand and tide pools, and then she plants herself in front of a computer and cruises the Net for the science behind what she's found.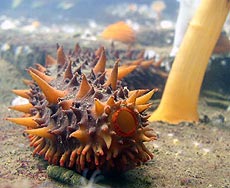 Sea cucumbers are supposedly quite a delicacy (photo Boothe)
Boothe's research has come up with a list of edibles from the tide pool. The table is set for quite the freaky feast. She says the following can be consumed by us humans, stuff that most people aren't aware are edible:
- Certain species of limpets. Limpets are related to snails and clams.
- Gumboot Chitons. These are the largest species of chitons in the world reaching lengths of 13 inches. On average, other species of chitons are about 2 to 3 inches long.
- Sea Urchin
- Muscles (some people know that these are edible but some do not).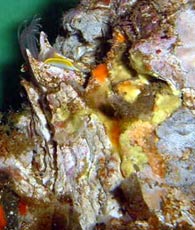 Giant barnacle
- Seaweeds such as Sea Lettuce and Bull Kelp.
- Water Jellies, like jellyfish
- California Sea Cucumber. This is the largest species of sea cucumber in Oregon's waters. An odd little tidbit: when threatened, the California Sea Cucumber will eject their internal organs. They are able to re-generate them in six to eight weeks.
- Giant Barnacle. These are one of the world's largest barnacles. Individually they are five inches high and four inches wide. They are usually roasted and eaten.
- Giant Pacific Octopus
- Wolf Eel
Of course scallops and other clams: Rock Scallop, Pink Scallop, Razor Clams, Cockle Clams, Goeducks, Butter Clams, etc.
LATEST OREGON COAST NEWS STORIES
Oregon Coast Geologist Weighs In on Kiwanda Sinkhole: Why, How and Its Future
A large sinkhole opened up, and that is likely to get bigger. Sciences, geology, Pacific City
Quirky Oregon Coast History Embedded in Seaside: Mystery Wall, Fishing Pier
Two mysteries on the Prom: one hinted at, the other hidden.
Hatfield Marine Science Center Brings Famed Fossil Fest Back to Central Orego...
February 11 in Newport: learn about fossils or get your own ID'd. Newport events
Oregon Coast Scenic Railroad Announces Surprises, Including Cab Rides in Engine
More ride slots, dinner excursions, a moonlight ride, more. WEather
N. Oregon Coast's Cape Kiwanda Develops Dangerous Sinkhole - Video
Why the geology here means this could get worse. Sciences
Fourth Whale Carcass on Oregon Coast in Two Weeks, This Time Cannon Beach, Video
It seems unusual - but is it? Experts explain it's not. Marince sciences
Oregon Coast Spot That Hisses, Explodes, Drops Away and Launches in the Air -...
Cook's Chasm near Yachats: Plenty of atmosphere and action
Three Whales Hit Oregon Coast Sands: Causes of Death Released
One near Winchester Bay, two at Fort Stevens. Marine sciences