Unusual Summer Fun on Oregon Coast: An Eye-Popping Preview
Published 06/20/2011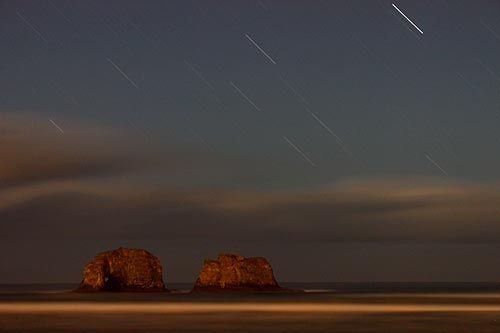 (Oregon Coast) – Very soon the Oregon coast will be filled with throngs of tourists and fun-loving families, seeking the standard means of summer frivolity such as lying around the beach, bouncing around rocky shorelines, kites, sand castles and chowder (above: spectacular summer night sky viewing at Rockaway Beach).
Oh, but there are so many more really interesting ways to get a kick out of the coast. Look for glowing sand, the Green Flash at Sunset, intense viewing of meteor showers and maybe even sand that sings.
Glowing Sand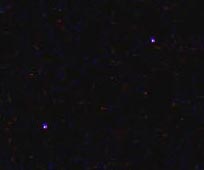 Tiffany Boothe of Seaside Aquarium took this shot of two of the glowing critters known as dinoflagellates.
Summer, spring and the early fall provides a better chance of seeing this eye-popping oddity. It manifests itself as tiny, blue-ish, green sparks beneath your feet when you walk at the tide line at night. It can be extremely faint, so many don't even notice it – and very few people hit the beach at night anyway.
If you're really lucky, you'll find pools of sea water that have been standing awhile, and when you stomp your foot in these you see a sudden explosion of these tiny creatures – like a small galaxy was briefly created beneath you.
This is caused by tiny, bioluminescent phytoplankton called dinoflagellates, which glow in a manner not too dissimilar from fireflies.
You'll need a completely dark beach to see these, one with no light interference from streetlamps or homes, and no moonlight.
It can show up in coastal bays too, like Nehalem Bay around Manzanita, Newport's Yaquina Bay or Waldport's Aslea Bay. There, if you dip your hand in the water, it can create an eerie blue wake. If you swim in there, it makes your body look like a skeleton.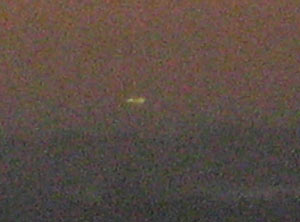 Green flash at sunset taken at Cape Meares in 2009.
Green Flash at Sunset
Watching the sun dropping beyond the horizon in a blaze of fiery colors is a common and mesmerizing attraction along the coast – but there's an unusual form of this daily occurrence.
It's called the "green flash" at sunset, and it's a bit more likely to happen during summer's clearer skies, or especially the inviting "Second summer" during September and early October when the shoreline is at its warmest.
It is fairly rare, however.
Under the right conditions, you may see a brief green flash directly above the sun, just before the last sliver dips below the horizon. This can only happen on a day of no clouds, and it's the result of a variety of conditions that block out certain color bands for a split second. A little more frequent - but harder to discern - is a slightly longer, green blob that lingers just above the sunset.
The Extremely Rare Singing Sands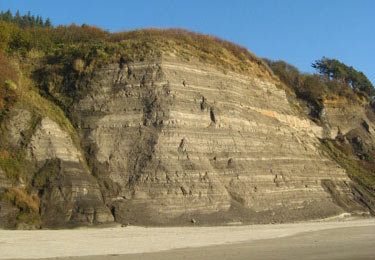 Silver Point, just south of Cannon Beach: these sands may sing to you.
Singing sands is a very rare find indeed, although it's been reported in deserts around the world as far back as Marco Polo encountering it in China.
Apparently it can happen around the extreme southern end of Cannon Beach, but just a tad more likely to be heard in some parts of the National Dunes Recreation Area south of Florence.

Sometimes, it sounds like distant voices singing. Others, it's a bit like a violin or an odd, elongated squeaking noise. This, too, only happens under certain conditions, when two different kinds of sands grind together under the right degree of humidity.
Even in the National Dunes Recreation Area it's so rare that rangers who have worked there for decades have never heard it.
Meteor Shower Wonders of a Coastal Night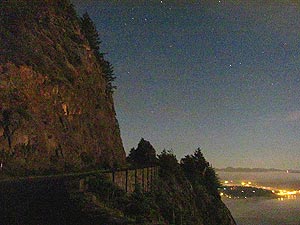 Starry scenes above Manzanita: these overlooks are exceptional for night viewing on the coast.
For something rather unusual but guaranteed, wait until August and the yearly meteor showers that hit the Earth. While these are easily spotted anywhere on a clear night, cloudless coastal nights allow especially crystal clear views of this. The big shower is in August, but keep your eyes open on clear nights anytime on the coast and you'll run a good chance of catching a particularly spectacular show – even if only for a split second. It's unforgettable.
Killer Plants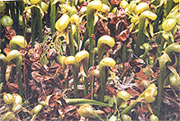 Darlingtonia Pitcher plants near Florence
Just north of Florence, and in a few spots on the southern Oregon coast and northern California, you'll find a plant that eats insects.
Around Florence it's at the Darlingtonia Wayside, where this particular brand of pitcher plant just sits around waiting to coax bugs into its gullet with fancy colors and smells they like. After getting lured there, they soon find themselves confused by clear areas that look like exits, only to get sucked into sticky parts that eventually cause their demise. They are slowly sucked down and melted into plant food.
Picnic tables abound here, and this rainforest-like park features a wooden walkway which keeps you elevated and away from the protein-hungry plants.
The wayside is free, and you'll find it just off 101, near Mercer Rd.
Masses of Purple Sails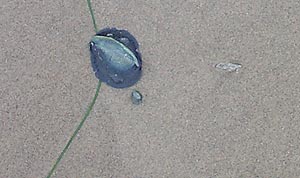 Velella velella
In late spring and early summer, there often occurs a mass stranding of little purple jellyfish, which make things a little odd and sometimes smelly.
They're called velella velella, and they're nicknamed "purple sails." This form of jellyfish brings out the seagulls to feed on them when they wash up, and they start to smell rather pungently after a while.
Once they dry, they lose their purple color and become translucent.
"Walking along the beach, you may have noticed slimy, iridescent blue discs," said Tiffany Boothe, of the Seaside Aquarium. "Purple Sails have clear a 'sail' that helps them catch the wind. However, when the wind blows out of the Northwest, these little guys get stranded on the beach. Unlike the more common jellies, the purple sails do not sting.
An indie rock band in Seattle even named themselves after these creatures.
More About Oregon Coast hotels, lodging.....
More About Oregon Coast Restaurants, Dining.....
LATEST OREGON COAST NEWS STORIES
Back to Oregon Coast
Contact Advertise on BeachConnection.net