Oregon Coast Restaurant Reviews: Manzanita's Vino Wine Bar
Published 09/29/2010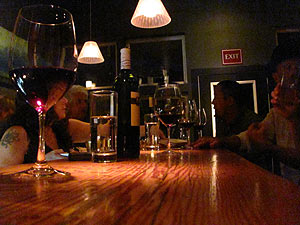 (Manzanita, Oregon) – Four Out of Five Stars. Great things come in small packages. That's the theme you can take away from Vino, Manzanita's wine bar.
Tucked away in a tiny corner just off Laneda, Manzanita's main drag, Vino sits rather inconspicuously – in fact, at times, very inconspicuously. It appears to be a bit of a hole in the wall, surrounded by and populated by classy, lovely things, but really hidden. There are a smattering of metallic tables outside (in the less stormy months), and these often have candles on them. And sometimes, there is candlelight visible from inside.
This is often the only sign this lovely and curious little hotspot is open. I've been frustrated more than once, having a craving to go there, seeing that it didn't look open, only to find out later it had indeed been open. Or it took me a really close look into the glass windows to discern their state.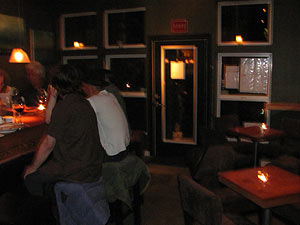 That is really my only complaint – and not much of one, considering the place gets you so hooked you get irritated at them for not being open.
Manzanita is itself a tiny place, but never ending in its surprises. This is one of them. It's an oasis in an already exceptionally cool town, hosting not just grand food and wines but sometimes some truly creative, even esoteric entertainment (like the quirky accordion duo that took over the compartment-like structure once).
There are a huge variety of wines crammed into this place. My favorites are always the northwestern pinot noirs, and they have at least one awesome Washington wine to drink by the glass as well as one of my faves of all time – Willamette Valley Vineyards.
Around this petite bar packed into a fairly miniscule space, interesting conversation often erupts. This is always the real treasure of such places on the Oregon coast for me, as you get a mix of tourists from interesting places and locals. At Vino, you get a lot of the creative locals added to the mix.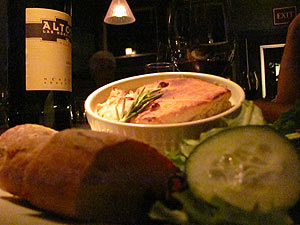 The chicken pot pie, with bread and plenty of greens.
On this particular night, I grabbed a Willamette Valley Vineyards pinot and then downed a lot of food. The menu is small and the portions like small tapas plates.
I had the entrée of the eve – a chicken pot pie that was small but potent. It starts with a very rustic little bread that is apparently a kind of sourdough, but had a bit of a rye flavor. A locally made delight, it was earthy and forest-like in this interesting way, augmented by a pleasantly soft, fluffy texture to it.
Hearty potatoes and slightly sweet but very juicy chunks of chicken occupied this minute concoction, lying in a light, somewhat creamy gravy that had a white wine vibe to it. There was also a tiny tang in there, adding another nice layer. The presence of sage heightened the sweetness of it all.
Inside, peas and carrots partied it up with flavorful abandon, which gave the dish something reminiscent of some Indian cuisine – especially if your grandma was an East Indian gourmet chef.
The crust was a buoyant, flaky yet thick and satisfying creation, buttery to a degree but it still had a rootsy kind of heartiness.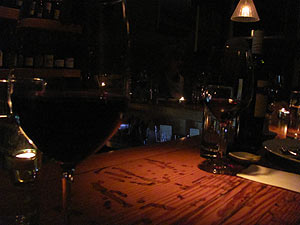 This yummy little invention had a homey vibe and yet a multi-layer experience – a bit like a Rockwell painting about food snobs.
Now, I was particularly hungry, so this diminutive dish didn't quite fill me up. So on I went to sucking down their antipasti plate, filled with a tasty salami and rather glorious olives (which apparently come from some place in Portland). There were two kinds of salami, and the smaller ones had quite a little zing to them with bit of a rush of spiciness. Rounding out the experience were these fat, puffy crackers that were unique and airy, and just a tad humorous in their appearance – in a kind of whimsical way.
All this, combined with downing that silky Willamette Valley pinot, was an awesome experience.
There is lots in their menu in the four-dollar to eight-dollar range, like bread and olive oil, mixed olives, Marcona almonds, brie with dried fruit, a chunk of chevre cheese with fennel and honey, toasted bread with fruit preserve, a goat cheese terrine that comes with layers of pesto tapenade, roasted garlic and sundried tomatoes, or the antipasti plate that starts the $12 range of goodies.
Around $12 to $18 comes the smoke salmon with vintage cheddar crackers, smoked salmon salad, an extensive cheese plate or the entrée of the day.
Gnarly desserts include an impressive chocolate cake, locally made pies or a chocolate truffle.
Vino is at 387d Laneda, Manzanita, Oregon. (503) 368-8466.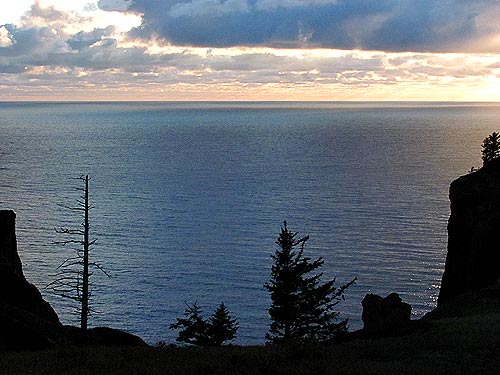 Viewpoint near Manzanita
More About Manzanita, Rockaway, Wheeler Dining.....
More About Manzanita, Rockaway, Wheeler Lodging.....
| | | |
| --- | --- | --- |
| | | |
LATEST OREGON COAST NEWS STORIES