Oregon Coast Displays Lots of Sun, Sea of Stars and Funky Features
Published 09/30/2010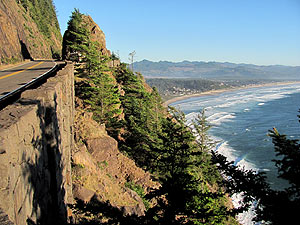 (Manzanita, Oregon) – It's definitely the "second summer" on the coast right now, with a variety of interesting things popping up in the air, the beaches and the water.
First off, there's the stunning weather. If you're enjoying that sun and nice temps in the inland portion of the state, imagine having that with a lot of surf around as well. The coast, like the valley, is in the middle of a bundle of beautiful of weather, expected to extend through the weekend on the beaches.
Wednesday was a deluge of deliciously warm temperatures and conditions on the coast, such as Neahkahnie Mountain, above Manzanita, around 6 p.m. It was easily in the upper sixties, if not warmer, but it certainly felt warmer because there was little to no wind.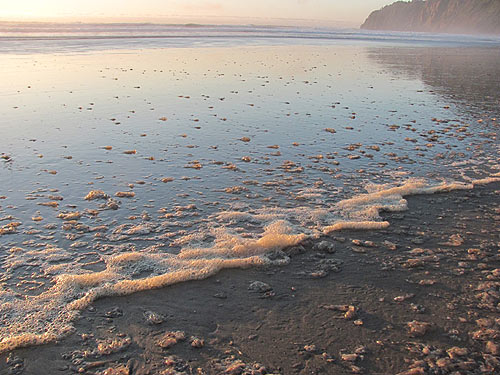 Manzanita's beaches and a proliferation of salps (jellyfish)
Down on the beaches, the wind definitely kicked in shortly after. However, Thursday saw almost no wind at all and temperatures around 80 degrees or more, which resulted in packed beaches and a small tsunami of visitors from the valley here to soak in the sun and surf.
In Cannon Beach, KOIN 6 TV weatherman Bruce Sussman was in town to deliver weather reports and announce a weather station for Cannon Beach. He chatted with BeachConnection.net briefly and explained something probably few people know about coastal weather, especially rather balmy, even sweaty conditions like these.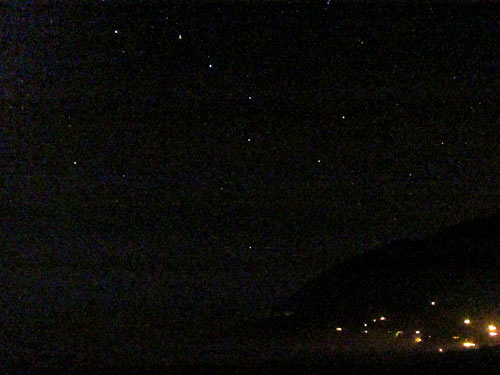 Big Dipper and stargazing above Manzanita
"It feels a lot warmer because the sun is reflecting off the water and heating things up even more," Sussman said.
Add to this the lack of wind, this exaggerated the Oregon coast's hot conditions.
Friday will see more sunny skies and temperatures around 72 degrees. Winds will continue to be low and from the southwest, clocking in at no more than five to 10 mph. Evening lows will be around 53 degrees.
Saturday will again see more sun than clouds, perhaps cooling a bit to the upper 60's with low winds once more. Sunday will see some more clouds move in, alternating between cloudy and sunny, while temperatures remain in the upper 60's. Monday will likely bring some rain to the coast with highs in the low 60's, just as such weather systems begin dumping wet stuff in the valley regions like Portland, Salem and Corvallis.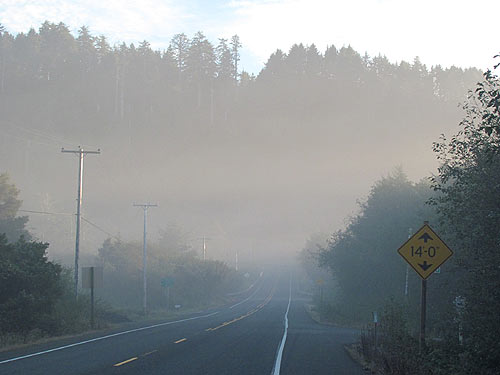 Misty dusk at Arch Cape on Thursday night
Other fascinating happenings on the coast right now:
With clear skies and warm conditions at night, you have some prime stargazing possibilities. Late Wednesday, even just a couple hours after sunset, the Milky Way was out in full force, a few shooting stars could be seen, and the Big Dipper practically screamed its existence, as seen here above Manzanita's Neahkahnie Mountain.
Some unusual sights you may still catch are the inundation of a kind of small jellyfish along north coast beaches – called salps. These aren't even as long as a pen, but have littered the Cannon Beach and Manzanita areas with such intensity it's impossible to avoid stepping on them in some spots.
There are undoubtedly millions and millions of these on the beaches of the north coast at the moment.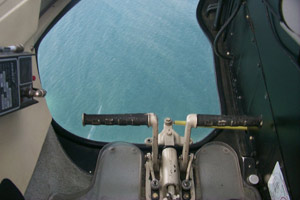 Seaside Helicopters
In Seaside, Seaside Helicopters has been operating in these glorious skies. On Thursday, sky captain Gary Turel was operating under limited hours, waiting for the beaches to cool down a bit so people would be a bit more in a high-flying mood. But it's likely he'll be hitting the skies again in this weather, showing off all sorts of delights about the Cannon Beach and Seaside area – by air. www.seaside-helicopters.com (503) 440-4123.
For surfers, word on the street (Highway 101, that is) is that the waves are monsters right now, along with warm and beautiful conditions. One surfer told BeachConnection.net it was the best he'd ever had – in the Short Sands beach area.
Interesting sights to catch is the abundance of ocean mist that seems to permeate the days and really kick in around dusk. This is most likely ocean moisture getting sucked off the surface by the warmer temperatures inland, creating a kind of light fog.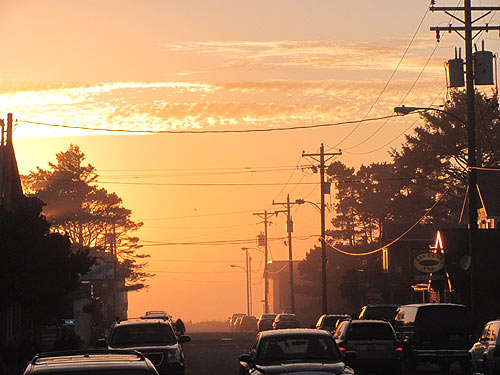 In any case, it makes for some amazing scenes and photogenic places. In Arch Cape, just south of Cannon Beach, the mist reached across the highway and mixed with the waning orange sunlight in some surprising ways. In Manzanita, it gave the ocean air a strange cast, and made for a remarkable scene as you looked down Laneda towards the ocean.
Look for the new weather bug station at Cannon Beach's Tolovana Resort on Weatherbug.com, helping meteorologists better predict the weather on the coast.
More About Oregon Coast hotels, lodging.....
LATEST OREGON COAST NEWS STORIES
Back to Oregon Coast
Contact Advertise on BeachConnection.net