Startlingly Strange, Surreal Moments in Time on Oregon Coast
Published 07/12/2010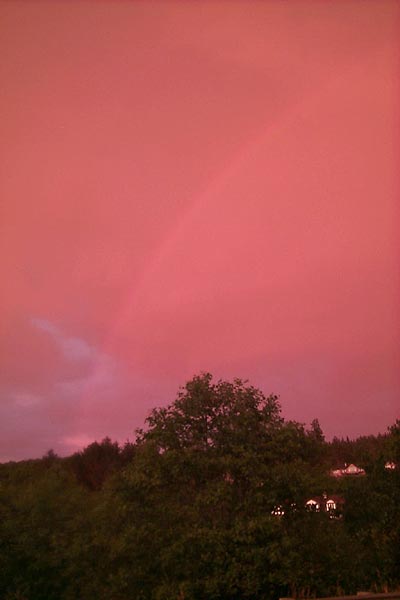 (Oregon Coast) – The ocean/beach environment isn't like any other, and Oregon's coast – with its wilder conditions and seesawing weather patterns – isn't like many other beaches in the world. It changes, often drastically, from day to day, moment to moment. Not just on the beaches itself or at the tideline, but in the sky as well.
If you're lucky and you have your camera – and if you know what to look for – you'll be there to capture some strange sights and some unusual moments.
Rainbow Struggles for Survival in a Raging Pink Sky. The coast can create the strangest weather systems, probably because this is where the inland and the oceanic air systems collide. Sometime in spring 2002, this scene presented itself just east of Pacific City. A crazy, angry bank of clouds was moving in from the east, while the coastal sunset hit it with wild colors and tainted it in pinks and reds. Rain was beginning to fall, and lightning could be seen in the distance. For a brief time, this collection of conditions created a rainbow in the midst of this almost sepia-toned moment.
Its blues and greens were largely cut out by the fierce cast of the reds from behind, but it was still visible: a strange and surreal reminder of how dynamic and unique the coastal environment is.
Down the road, in Neskowin, the lightning was directly overhead, and created the most thunderous, cataclysmic noise imaginable.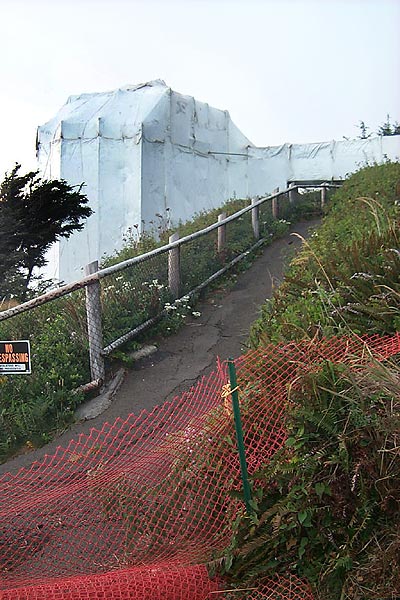 Lighthouse In a Bubble. Sometime in the early 2000's, Cape Meares Lighthouse went under the knife for a few months of renovations and refurbishing. Few things were more startling than to walk up to this beauty and find it all covered up in a white bubble – reminiscent of those scenes in the movie "E.T" when the government covered up the family's house in a kind of quarantine.
There were some years in the 70's and 80's when the Cape Meares Lighthouse was not open to the public and not really run by anyone. During those years, it was hit by a sizable amount of vandalism, including all four of the prism lenses being stolen. They were eventually recovered over a span of several years in the mid-80's, including one being recovered in a drug raid in Portland. One was anonymously left on the doorstep of a park official as well.
Early in 2010, the park was again hit by vandals who fired several rounds into the structure, breaking 15 panes and chunks of the Fresnel lens. Eventually two suspects were arrested in the crime. Damage is estimated at around half a million dollars.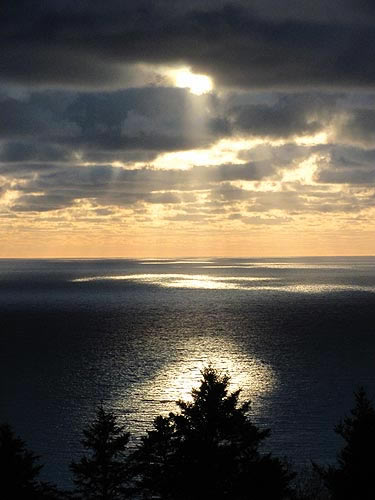 Strangely Shaped Sunset Near Manzanita. Sunsets are nothing new on the coast; they're really such a staple of travel photography that this can sometimes exist on a whole new level of kitsch. But periodically, they erupt in wild shapes and there are moments that – if we're lucky – are startling for one reason or another and are caught in camera.
Sometime in May of this year, while cruising past the overlooks above Manzanita, thick layers of clouds broke open in just the right way to allow shafts of pale sunlight through in stark shafts, looking a bit like an alien mothership was hovering above someplace and teleporting things around.
This, combined with the other cloud breaks and shadowy shapes of fir trees from Neahkahnie Mountain, made for a remarkable moment in time.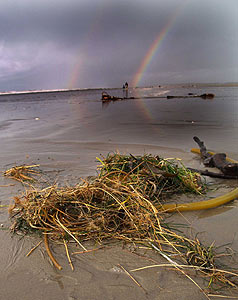 Photo Tiffany Boothe, Seaside Aquarium
Double Rainbow Amidst Storm Ravaged Beach. In 2009, Seaside Aquarium's Tiffany Boothe explored a winter beach after a storm and found many a wonder, including this rather surreal moment where a double rainbow appeared and framed one of the more tangible beach finds. She noted the large surf along the coast had distributed a hefty amount of marine grasses and kelp along the sands. Entangled among the grass and the holdfasts (a root-like structure that attaches kelp to hard surfaces) were decorator crabs, cancer crabs, juvenile red rock crabs, porcelain crabs, and small hermit crabs.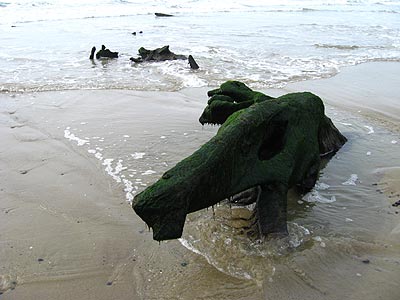 Eerie Ancient History at Seal Rock. The theory goes that about 4,000 years ago, a forest here got slowly swallowed up by sand and/or swamp conditions of some sort – slow, in human terms, but rather quickly in geologic terms. That could be a few years or a few decades.
Because of this getting swallowed up by sand, it choked the life out of the trees but preserved them by keeping them out of the elements.
The result is this ghost forest, which sometimes appears in the Seal Rock area during winters when sand levels get low enough. You see these gnarled, hunched shapes dotting the beach, which look a lot like rocks, but they are wood.
Another more dramatic theory is that something enormous and devastating happened, like a sudden earthquake that sunk the land perhaps twenty feet, thus preserving this patch of forest beneath the sand.
In any case, these ghost forests are always a wild and weird discovery. These at the Curtis St. access at Seal Rock are much rarer, only showing during really low sand level events.
There are those at Neskowin, just south of Pacific City, that can be seen year round. Others may show up in low sand winter events around Hug Point (Cannon Beach), Rockaway Beach, Cape Lookout State Park and Moolack Beach just north of Newport.
Brown Bubbles in the Surf of North Coast. Periodically, visitors and residents alike on the coast get startled by the occurrence of brown waves, usually appearing in the form of brown goo or large blobs of the stuff. This happens in the Seaside/Gearhart area more than anywhere else, and it often causes visitors there to run to local stores and tourism agencies to inquire about whether this is pollution or an oil spill – or whatever.
There's nothing to be alarmed about, and in fact it's a sign of a healthy ocean. The cause is a lot of phytoplankton in the water, something that happens in great numbers in that area because of the nutrients coming down from the Columbia River. These feed the tiny, microscopic plants and allow for enormous blooms of the stuff – so much so they appear as bundles of brown bubbles.
More About Oregon Coast lodging.....