Stunning Storm Watch Spots on Oregon's Coast - Storm Watch Safety
Published November 2006
Where to Watch Oregon Coast Storms Safely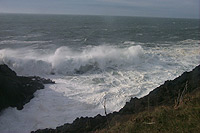 Wild waves near Depoe Bay
(Oregon Coast) – There's little doubt that stormwatching season is upon us. The waves will do wild things and put on quite a show. The rain will become horizontal, while the winds may get so intense they'll shove at you and your car door as you try to step out and survey these dynamic surroundings.
It's insane and it's wonderful, and inland residents will travel to the coast in droves to witness it. It's the other side of the Oregon coast's tourism industry – the flipside of summer's draws to dreamy, lazy days.
First, safety should come - well, it should come first. Stay away from the breakers themselves and beaches where the waves can come up near you. If you're near a sea wall, like the D River in Lincoln City or the Tolovana section of Cannon Beach, stay well clear of it if the tide is near the seawall. These massive waves can toss logs or other nasty objects over the side and onto you. In fact, last year, the seawall at the D River was damaged by heavy surf.
Just recently, the storms of early November claimed the lives of two Beaverton women who wandered onto the wild beach.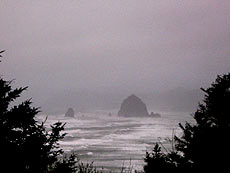 Near Cannon Beach
Do NOT EVER tread onto rocky areas where the waters are pummeling, or onto small beaches where the tide reaches up to the vegetation line (and could leave you no room to get away).
The real fun lays in watching rocky areas get smacked by waves, however. These oceanic explosions can be far more spectacular than on a simple beach. Depoe Bay is perfect for this, with large waves making mincemeat out of those basalt slabs. Meanwhile, you're watching from the safety of a high concrete wall. Often, you don't need stormy weather to get the town's famous spouting horn kicking into high gear. This watery wonder is the result of a long, thin rocky formation that compresses the water into a geyser-like shot into the air. It's quite an interesting kick in the pants to have to put on your windshield wipers as you drive past it as it occasionally sprays cars on the road nearby.
Also good for catching the waves are the rocky beaches in Yachats and just south of it - such as Neptune State Park - while watching from the parking lots or streets above. The high cliffs between Heceta Head Lighthouse and Florence are also particularly awesome. There are dozens and dozens of viewpoints along that 25-mile stretch between Yachats and Florence that are along the side of the road which look down on the rocky areas below, keeping you safe yet with a great view, often around 30 to 50 feet above the melee.
Yachats' beaches are one long tract of rocky basalt and wonders, with jagged or bubbly basalt structures as far as the eye can see. Just behind the southern part of downtown Yachats lies a rather remarkable set of encounters with nature. Up against the bay, at the mouth of the Yachats River, lies this paved parking lot and beach access. It features a set of steps built upon the black basalt that leads down to the raging surf – but don't go there during this kind of weather.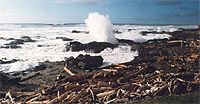 Yachats
Some streets snake between the cliff tops and the neighborhoods behind 101, and you can pull over and watch the tidal insanity from many of these spots.
The seagulls here at the Yachats Recreation Area parking lot are both an annoyance and a source of wonder, as they seem to know when someone is dining and quickly swarm to beg for food. But in more harsh weather, it's not uncommon for them to cruise around your car if you're eating inside. If you throw tidbits of crackers or bread at them, they'll really come in droves and surround you in Hitchcockian fashion. You can actually tease them into hovering next to your car window as you toss goodies to them.
It's also fun to play with their tiny little brains by putting food on your dashboard and watch them peck at your windshield in an attempt to get at the morsels.
You will, of course, have to clean the outside of your car afterwards. And if you don't want them hounding you and your car, just don't throw anything out to them.
Seaside's promenade is well known for being another good spot to watch in safety, since the waves rarely - if ever - get up that far. The "cove" area, at its southern end, is not a good spot, however. Waves occasionally do wreak havoc on the streets here.
Cape Meares, west of Tillamook, is mind-boggling as immense breakers come barreling in from the sea and look frighteningly high from even this vantage point. The same is true with the colossal waves you can spot around Cape Falcon and Short Sand Beach - as seen from the viewpoints above Manzanita and just below Neahkahnie Mountain. These are at times chilling to watch rumbling through the cove towards the beach. They are enormous, and you'll find yourself glad you're not on that beach and instead watching from nearly a mile away.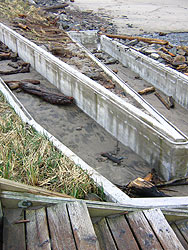 Storm damage at the Tolovana area of Cannon Beach
Pacific City has a fantastic vantage point from its main parking lot at Cape Kiwanda, and the cape always creates a prime target for exploding waves. At times, they hit the other side with such ferocity they can be seen from the southern side, from the parking lot.
In Cannon Beach, Ecola State Park and Indian Beach are two exceptional spots for watching unruly waves. The day-use area of Ecola Beach is just north of the city limits, after a mile and a half drive through a thick forest - after the signs proclaiming the park's entrance.
The main section of the park is Ecola Point, where numerous viewpoints offer you glimpses of Cannon Beach, Haystack Rock and the lighthouse. It's a popular spot for whale watching during the twice-yearly migrations as well.
From Indian Beach, you can watch the nuttiness from above – but do not descend the path to the beach if storm waves are going. At the northern end of Ecola State Park, another 1.5 miles after the main part of the park, you'll find this crescent-shaped beach filled with cobblestones, where a there's a lovely view of Tillamook Rock Lighthouse and where numerous rocky shapes stand and get slammed by large waves. Keep an eye on the large boulders at the southern end for watching the water rage against these wedges that dare stand against it.
This rocky semi-circle is enclosed by two headland areas, with maybe a quarter mile worth of walking area, when there are no scary waves around. A picnic table sits above its northern end.
To get to Indian Beach, drive into Ecola State Park and follow the signs.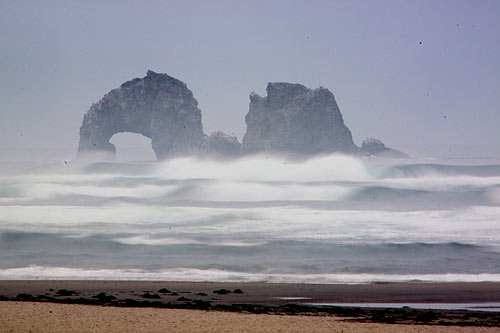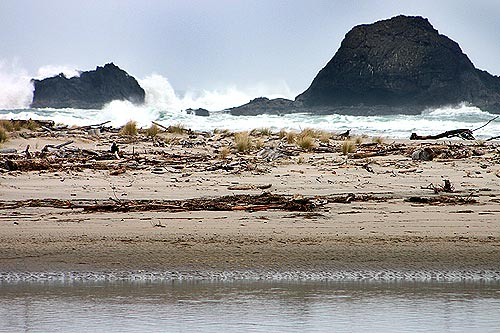 More About Oregon Coast hotels, lodging.....
More About Oregon Coast Restaurants, Dining.....
Back to Oregon Coast
Contact Advertise on BeachConnection.net
All Content, unless otherwise attributed, copyright BeachConnection.net Unauthorized use or publication is not permitted