Oregon Coast Cleanup Snags 70,000 Pounds and Oddities Including Kitchen Sink
Published 03/20/2010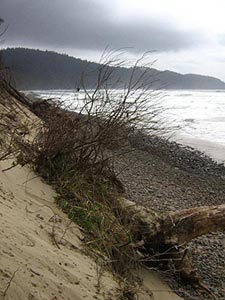 Cape Lookout State Park
(Oregon Coast) – Some 4,200 volunteers hit the Oregon coast Saturday to remove an estimated 70,500 pounds of trash from the beaches – all 362 miles of it. Volunteers, through the SOLV organization, found the beaches covered with large amounts of trash and debris that had washed ashore during winter storms.
"Oregonians came out in force today to help protect the incredible Oregon coastline, the ocean, and the many ecosystems it supports" said SOLV's new Executive Director, Melisa McDonald. "It is truly inspiring to see Oregonians, particularly the youngest volunteers from our next generation, learning the value of stewardship for our beautiful state while working to keep the beaches clean and free of harmful debris."
The dry weather on the coast made the cleanup a perfect way for many families to kick off their spring breaks. SOLV said the sunny skies, even with windy conditions, brought out many more volunteers than usual.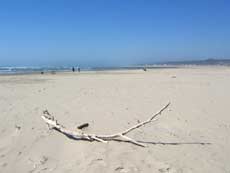 Waldport
Plenty of plastics were found on the beaches, but area captains reported quite a few unusual objects as well.
Some of the most common items found included Styrofoam, plastic caps, lids, bottles and cigarette butts. While these are often small items, if they accumulate they can do big damage to marine wildlife and the environment, particularly the plastic debris that never fully degrade or disappear.
Data from past cleanups report that nearly 80 percent of ocean trash comes from land-based activities.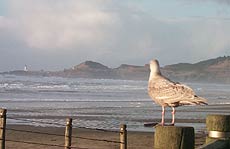 Newport
"This means that the majority of trash in the ocean could be preventable if we all did more to reduce, properly dispose of, or recycle trash in our daily lives," McDonald said.
In addition to the typical beach trash and debris, volunteers found a wide selection of household fixtures and items, including aluminum siding, a freezer, a mattress, a cooler, and a full kitchen sink. Coordinators suspect that winter storms caused unusual ocean currents that brought in items from across the ocean and deposited items that had been at sea for a long period of time onto Oregon beaches.
Volunteers reported large amounts of rope and many bottles and glass floats from Asia at multiple beaches up and down the coast.
On a positive note, the Yachats Fire Chief reports that for the first time in many years, they did not find a single six-pack yoke on the beach, which pose a significant threat to marine wildlife.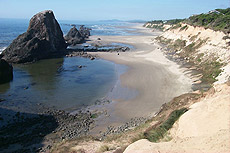 Seal Rock
Charlie Plybon was in charge of the Newport area, which ran over ten miles, from Otter Rock, through Agate Beach, Nye Beach, the mouth of the Yaquina Bay and to South Beach. He was shocked by what he didn't find – and what he did find.
"There were no tires," Plybon said. "But the amount of Styrofoam and plastics was bigger than ever. The plastics we find gets worse every year. It's a very sad state."
Plybon had about 400 – 500 volunteers in his area, and they did find plenty of oddities, like two or more truckliner beds and three barbecue grills. "Maybe they fell off a boat, or came from a homeless camp," he said.
There was also a 500-pound anchor line – a rather hefty find that obviously came from a boat, and a woodstove with the latch broken off, but lying nearby.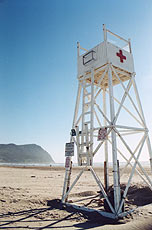 Seaside
It, like many other items found, were quite rusted, further indication of these objects having been at sea for a while.
"We've had an El Nino this year, so there's been a high frequency of storms out of the south," Plybon said. "A lot of stuff has come washing in from offshore, as opposed to being dropped on the beach and left there."
Doug Sestrich was in charge the area that encompassed Waldport, Ona Beach and Yachats. Among the oddities found in that stretch were a beaver skull, though he said that had more to do with a nearby habitat of them rather than the ocean patterns that apparently spilled odd stuff onto the beaches.
"We have Beaver Creek right there," Sestrich said.
His area found lots of glass bottles from Asia, with writing that was Korean, Chinese or Japanese. "There were a lot of tires," Sestrich said. "We found a big old freezer, and a lot of plastics, like bottlecaps."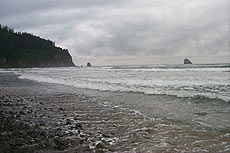 Bayocean and Cape Meares
He estimated his group yanked around 4,000 to 5,000 pounds off the beaches.
In the Oceanside and Tillamook area, Carol Cwiklinski was in charge of a large stretch that included Barview, Garibaldi, the Bayocean Spit and Oceanside down to Cape Lookout State Park. She said there were no were reports of significantly odd stuff in that area, simply lots of tires, plastics, milk crates, large garbage cans, rope and crab pots.
Some 200 volunteers from her group collected approximately 4800 pounds.
Coral Cook, who oversaw collections in the Seaside area, said her group of 439 – which included Senator Jeff Merkley – didn't find a lot of oddities, except a mattress did pop up.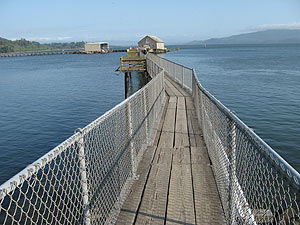 Garibaldi
"One man said he collected around 300 cigarette butts," Cook said. "He counted until 215 and then just stopped counting."
Along with SOLV, the cleanup is coordinated by the Oregon Parks and Recreation Department (OPRD) and coastal garbage and recycling companies along the coast. Hauling services were provided free-of-charge for this year's cleanup by the following companies: Central Coast Disposal in Florence, City Sanitary in Tillamook, County Transfer & Recycling, Dahl Disposal Service in Waldport, Nestucca Valley Sanitary Service in Hebo, North Lincoln Sanitary Service in Lincoln City, R Sanitary Service in Rockaway Beach, Thompson's Sanitary Service in Newport, & Western Oregon Waste in Warrenton. Disposal costs were offset by coastal counties such as Lincoln County and Tillamook County Solid Waste Service Districts and privately owned transfer stations.
More About Oregon Coast lodging.....
| | | |
| --- | --- | --- |
| | | |
LATEST OREGON COAST STORIES
CONTACT / ADVERTISE ON BEACH CONNECTION