Oregon Coast Lodging Openings, Weekend August 6
Published 08/05/2010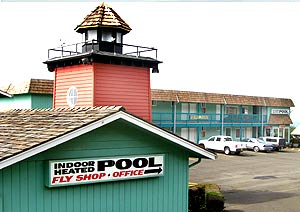 Dublin House, Yachats
(Oregon Coast) – Summer continues to sizzle on the beaches, and the weekends largely mean full hotels, motels and vacation rental agencies. For those who haven't reserved ahead of time, you'll be out of luck if you try to hop in a place to stay as just a walk-in.
BeachConnection.net talked to around 500 lodgings and heard back from a decent handful about what they still have open. Many reported only having Friday or Saturday open, and not both.
Be sure to call ahead and check before zipping off to the beach.
Oregon Coast General
Beachcombers NW - Last Minute Availability for vacation rentals around the Oregon coast. http://www.beachcombersnw.com/lastminutelistings/
Seaside
Beachhouse Vacation Rentals, Inc. Has some openings at the Worldmark Resort. Office at 570 S Roosevelt Drive. Seaside, Oregon. 800-995-2796. www.beachhouse1.com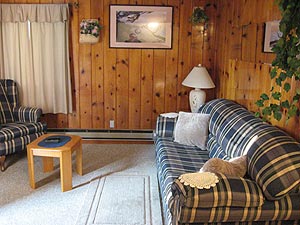 Weiss' Paradise Suites & Vacation Rentals. Special price for mentioning BeachConnection.net. 741 S. Downing St. Seaside, Oregon. 503-738-6691 or 800-738-6691. www.SeasideSuites.com
Lanai at the Cove. 3140 Sunset Blvd. Seaside Oregon. 1-800-738-2683. www.seasidelanai.com
By the Sea Vacation Homes. 1318 N. Holladay Dr. 503-738-6078. www.bythesea1.com
The Inn of the Four Winds. 820 North Prom. Seaside, Oregon. www.innofthefourwinds.com. 800-818-9524.
Availability in Cannon Beach
Arch Cape Inn & Retreat. 31970 East Ocean Lane. Arch Cape, Oregon. 800-436-2848. www.ArchCapeInn.com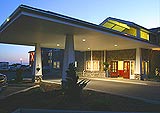 Tolovana Inn. 3400 S W Hemlock. Tolovana Park – Cannon Beach, Oregon. 1-800-333-8890. 503-436-2211. www.tolovanainn.com
Turk's Lodgings. Off Highway 101, just south of Cannon Beach. 503-436-1809 (local). 1-866-906-8875. www.turkslodgings.com
Manzanita - Rockaway Openings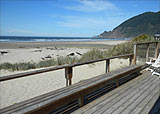 OceanEdge Vacation Rentals. On Laneda Ave. Manzanita, Oregon. 503-368-3343 or 866/368-3343. www.oceanedge-vacation-rentals.com
Getaway Oceanfront Lodging. 621 s. Pacific Dr. Rockaway, Oregon. (503) 355-2501. www.getawayoceanfront.com
Beach Break Vacation Rentals, LLC. Homes in Nehalem Bay, Rockaway areas. Hwy 101. Nehalem, Oregon. 503-368-3865. www.beach-break.com
Lincoln City Availability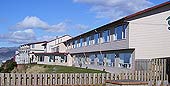 Sea Horse Oceanfront Lodging. 1301 NW 21st Street. Lincoln City, Oregon. 800-662-2101. 541-994-2101. www.SeaHorseMotel.com
Best Western Lincoln Sands Suites. 535 NW Inlet Ave. Lincoln City, Oregon. 541-994-4227. www.lincolnsands.com
Brey House Ocean view B&B Inn. 3725 NW Keel Ave. Lincoln City, Oregon. 877-994-7123. www.breyhouse.com
Comfort Inn & Suites. 136 NE Hwy 101. Lincoln City, Oregon. 541-994-8155.
www.ComfortInnLincolnCity.com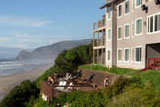 Nordic Oceanfront Inn. 2133 NW Inlet Ave. Lincoln City, Oregon. 800-452-3558 or 541-994-8145. www.nordicoceanfrontinn.com.
Cavalier Condominiums. 325 NW Lancer St. Gleneden Beach, Oregon. 541-764-2352 or toll free 1-888-454-0880. www.cavaliercondos.com
Inn at Wecoma, 2945 NW Highway 101, Lincoln City, Oregon. 541-994-2984. www.innatwecoma.com.
Inn at Spanish Head Resort Hotel. On a cliff top, overlooking the beach. 4009 SW Highway 101. Lincoln City, Oregon. 1-800-452-8127. www.spanishhead.com
Depoe Bay
WorldMark Resort at Depoe Bay (FRS Vacation Rentals). Condos overlooking the ocean. Depoe Bay, Oregon. 866-997-7224. 503-697-7224. www.frsvacationrentals.com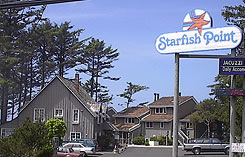 Newport
Starfish Point. 140 NW 48th Street. Newport, Oregon. 541-265-3751. www.starfishpoint.com
Ona Beach B&B and The Bunkhouse. 14389 S. Coast Hwy. South Beach, Oregon. (541) 867-2923. www.onabeachb-b.com
Yachats, Waldport
Oregon House. 94288 Highway 101. Yachats Oregon. 541-547-3329. www.oregonhouse.com
The Dublin House Motel. 251 west 7th. St. Hwy 101. Yachats, Oregon. 541-547-3703 866-922-4287. www.dublinhousemotel.com
Cliff House B&B. 1450 SW Adahi. Waldport, Oregon. 541-563-2506. www.cliffhouseoregon.com
Edgewater Cottages. 3978 S.W. Pacific Coast Hwy. Waldport, Oregon. 541-563-2240. www.edgewatercottages.com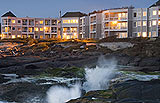 Overleaf Lodge & Spa. 280 Overleaf Lodge Lane. Yachats, Oregon. 800-338-0507. www.overleaflodge.com

Fireside Motel. 1881 Hwy 101 North. Yachats, Oregon. 800-336-3573 www.firesidemotel.com
Ambrosia Gardens B&B. 95435 Hwy 101. South Yachats, Oregon. 541-547-3013. www.ambrosia-gardens.com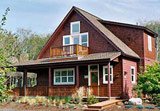 Overleaf Village. 280 Overleaf Lodge Lane. Yachats, Oregon. 800-338-0507. www.overleafvillage.com
Bayshore Rentals. 2214 NW Bayshore Drive. Waldport, Oregon. 800-752-6321 www.bayshore-rentals.com.
Florence
Lighthouse Inn. 155 Highway 101. Florence, Oregon. 541-997-3221. www.lighthouseinn-florence.com
More About Oregon Coast hotels, lodging.....
| | | |
| --- | --- | --- |
| | | |
LATEST OREGON COAST NEWS STORIES
Back to Oregon Coast
Contact Advertise on BeachConnection.net