Rare Minke Whale Strands on North Oregon Coast
Published 05/11/2010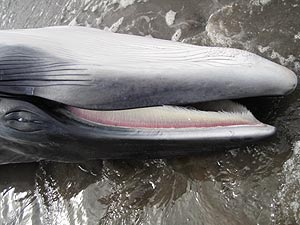 Minke whale photos by Tiffany Boothe, Seaside Aquarium
(Astoria, Oregon) – Staff from the Seaside Aquarium say a baby Minke whale washed up Tuesday - already deceased - near the south jetty of the Columbia River, not far from Astoria. It's a rare find, as Minke whales are not nearly as common as gray whales or even the elusive Orcas in these waters – although they do congregate a ways offshore.
The Minke whale measured just over 13 feet, said Tiffany Boothe of the aquarium, which is part of the Marine Mammal Stranding Network that responds to such incidents on the coast.
"This whale was most likely still nursing but about to be weaned," Boothe said. "When born, Minke Whales measure between eight to nine feet. They usually nurse for about five months."
Boothe said there will be a necropsy in the early morning on Wednesday to find out how and why the animal died.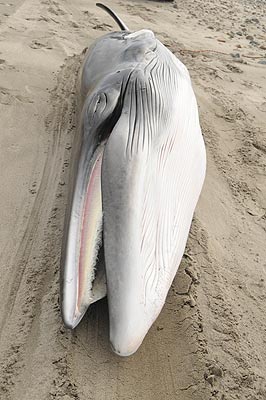 "Whale calves are vary valuable specimens to have," Boothe said. "These whales do live off of our coast but mainly stay in deeper waters."
Keith Chandler, manager of the aquarium, called it a "pretty animal."
"It had cool markings on it," Chandler said. "Kind'a reminded me of a little Blue whale."
Chandler said the last time he could remember a Minke whale washing up on the north coast was perhaps as far back as 15 years.
Jim Rice, with the Marine Mammal Stranding Network's Newport branch, said strandings of these are quite rare on the Oregon coast.
"Over our records of 20 years, we've had five," Rice said.
Rice came just short of saying they were rare in these waters, but called them "not common."
"They can be seen periodically from shore," Rice said. "I've seen them from my kayak while near Cascade Head."
Chandler said he didn't know how the body would be disposed of just yet. The whale stranded on the Columbia River side of the jetty, which makes removal more difficult.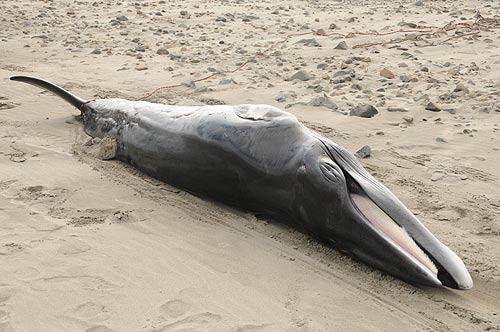 More About Oregon Coast.....
| | | |
| --- | --- | --- |
| | | |
LATEST OREGON COAST NEWS STORIES
Back to Oregon Coast Beach Connection
Contact Advertise on BeachConnection.net