How To Find Oregon Coast Odd Discoveries, Artifacts
Published 02/25/2008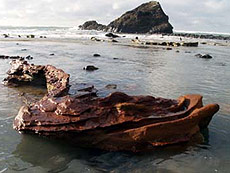 Red towers at Arch Cape
(Oregon Coast) – They've been showing up in great numbers all over the Oregon coast recently: shipwrecks; ancient, nearly petrified stumps; historical artifacts; and geological oddities of indefinable shape. Even fossils have been falling out of eroding cliffs, and agates and jaspers have been aplenty on Oregon beaches.
All of it thanks to abnormally low sand levels that were the result of big storms ripping up the beaches and washing the stuff away. It's ten feet lower in some places.
"Three feet of sand can move back in overnight," warns Keith Chandler, manager of Seaside Aquarium. So the chances of finding more goodies on the beach – like parts of a shipwreck – may have already greatly decreased.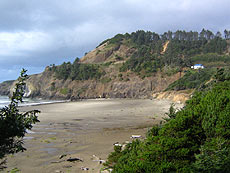 Agate Beach, where agates are still being found
If you're looking for more interesting finds, like those two historical cannon that have caused a potential national stir (the plural for a cannon is actually cannon, and not "cannons"), then you may be out of luck.
Maybe.
But then again, it depends on the area and the currents there. Some areas will remain scoured for a while.
Among the finds still visible are 4,000-year-old stumps, which are showing in various spots on the coast. There's a wild display of geological oddities happening right now, with those semi-petrified forests as well as freakish things called "red towers."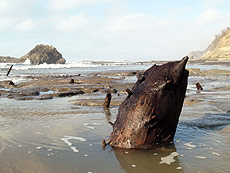 Ghost forest at Arch Cape this month (photo Tiffany Boothe, Seaside Aquarium)
The stumps are the result of an ancient forest becoming frozen in time by sand, clay or muck of some sort surrounding them, which kills them but also preserves them for ages in an oxygen-free environment. Some are around 1,000 years old; most are about 5,000 to 4,000 years old.
The red towers are strange structures that are formed beneath big layers of sand, when sand and other minerals compact iron deposits into reddish blobs. They only show up when sand levels get low enough to reveal them.
How can you find these oddball treasures, or even historical artifacts of your own? Here's how. See more about the science behind these recent finds....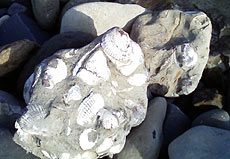 Example of fossil blocks eroding out of walls north of Seal Rock, Ona Beach and Moolack Beach (photo Guy DiTorrice)
Stumbling Over History
This is wide open to exploration, as the coast is about 360-some miles long. A good deal of it is sandy beaches. If you're looking for finds as big as the two cannon that were found in Arch Cape, good luck. But who knows what still lurks in the sands?
The key to looking for intriguing stuff is safety and finding areas that aren't too populated, so they probably haven't been picked clean. Keep your eye on the tides, don't go at high tides, and stay away from narrow beaches with cliffs behind you, where there's little or no room to get away from large sneaker waves.
That being said, some more hidden, secretive spots will do you better if you're hoping to happen across more historical items. Below is a list of specific spots that are good for either poking around for historically significant tidbits, or they are known to contain oddities like ghost forests, shipwrecks or red towers.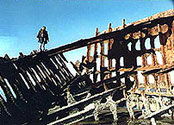 Wreck of the Peter Iredale
Suggested places:
Fort Stevens State Park. The wreck of the Peter Iredale is one of the world's most photographed shipwrecks, lying on a beach at the southern end of this massive park. It's been here since the 1910's. Currently, exceptionally low sand levels have caused this to be quite exposed – more than normal, according to Chandler. Follow the signs to the wreck.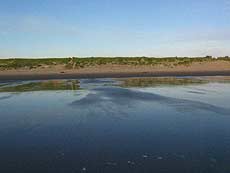 Beaches of Gearhart
Mouth of Necanicum River, Seaside or southern Gearhart. Take the very northernmost beach access in Seaside, at the end of 12th, and walk north to the rivermouth. This area is hardly ever traversed by humans. The rivermouth itself may reveal some interesting tidbits.
Conversely, take the southernmost streets of Gearhart to their ends and find the southern accesses there, which are a fairly short walk to the river as well. This area around the rivermouth is where you can sometimes find more whole sand dollars than anywhere on the coast.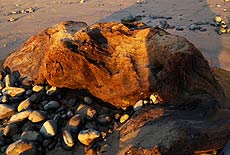 Ghost forest at Hug Point (photo Tom Horning)
Hug Point State Park, S. of Cannon Beach. A few miles south of town, this place has been host to ghost forests last year, but this year has had some spectacular red towers. Walk south, beyond the first point – if tide permits – and you'll see them. They are mostly visible at low tides.
Arch Cape. This tiny village, about a mile or so from Hug Point, is where the famed cannon were found. At the northern end, the ghost forest has popped up. These are about 4,000 years old and have been entombed in clay from an ancient swamp that was inundated with the stuff. You'll find yourself walking on this soft, odd material. They too are mostly visible at low tides.
Manzanita. Head to the northern end of this beach to see odd rock structures that pop out when sand levels get low. One looks a lot like a chair, but with sharp, crusty barnacles on it. It wouldn't be pleasant to sit on.
Here, and along the Nehalem Spit, you may have a chance at finding some of the beeswax that comes from a shipwreck in the area. Most of that stuff has stopped washing up in recent decades, but it was quite common to find this candle-making stuff from the 1700's lying on the beach until the 70's.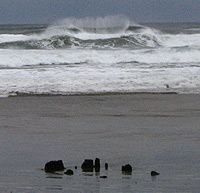 Ghost forest at Rockaway
Rockaway Beach. At the main wayside, with the red caboose near the parking lot, a small patch of ghost forest occasionally pokes up out of the sand, near the creek that spills out into the sea here.
Oceanside. Low sand levels at this village west of Tillamook will result in some wild sights, as more marine gardens come into view, and lower tide levels may allow you to wander close to the small set of Star Trek-looking sea stacks that inhabit the area beyond the tunnel. Also, the tunnel may be more easily accessible, and likely clear of debris.
Cape Lookout State Park. A ghost forest about 1,000 years old has been spotted along the beaches here early in the season.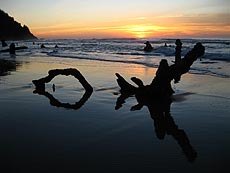 Neskowin's eerie ghost forest
Neskowin. For a good glimpse of the ancient stumps year round, Neskowin is the place. But with lower sand levels, they are likely more spectacular than usual.
Some especially large, even freakish specimens lurk here. One deceased tree trunk is so large, and with such a cavernous hole in the middle, it looks like a custom made hot tub.
To see these up close, you have to cross the creek here, which can have an especially strong, unpleasant current at times. It's preferable to cross if it hasn't been raining – or at least not raining much in recent days.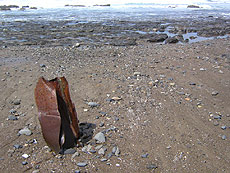 Lincoln City's 15th St. ramp gets interesting at low sand levels
Lincoln City. An interesting grouping of rocky slabs lurk at the end of the NW 15th Street ramp going down to the beach. You can see just how low the sand has gotten by looking at the signs that designate the boundaries for cars on this beach.
For more hidden, less populated areas, go to its northern beach accesses. At the southern end, hit the beach access by Siletz Bay and walk around the corner. Some oddly colored slabs sometimes show themselves at the tideline during low sand events like this. This beach also has been known to show off some wild examples of driftwood that have either been tossed up here or unearthed by low sands.
Newport's Nye Beach and Agate Beach. Agate Beach is good for – you guessed it – agates, as well as other interesting rocks. Look to gravel bars that have been exposed by sand, or patches of rounded stones. Nye Beach may be good for looking for random historical artifacts.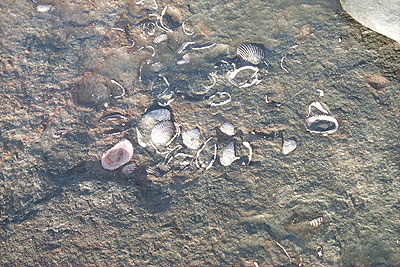 Gray material at Moolack: this is clay, possibly prehistoric, with shells embedded in it
Moolack Beach, north of Newport, sometimes hosts the appearance of root systems from a ghost forest, but not this year. Sand levels didn't quite sink low enough there. Interestingly enough, only roots show up because white pioneers in previous centuries sawed off the actual forest stumps.
The cliff walls here have been dropping interesting chunks of fossils, however. It is illegal to take these off the beach or break open the clumps of them that are coming out of the cliffs.
The bottom of these cliffs also boast the same soft, gray clay material that is found in Arch Cape. Often, you will see fossils embedded in these.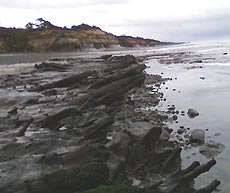 Ghost forest at Thiel Creek (photo Guy DiTorrice)
Lost Creek and Thiel Creek. South of Newport, and just a tad north of Seal Rock, you'll find Thiel Creek. About two miles north of there sits Lost Creek. These accesses provide a bundle of agate-rich spots, including the famed "Newport blues."
Thiel Creek also hosts a ghost forest. There is no information on how old this clump of stumps is estimated to be.
These beaches are also good for finding some fossils in the cliffs.
Ona Beach. Agates are reported here as well.
Waldport. Low sand levels resulted in the discovery of what appears to be an old truck, likely a mail truck from near the turn of the century. It's doubtful this will be visible long, but other interesting goodies could be spotted on this stretch, or the expanse of sand between Waldport and Yachats.
More stories on this subject:
Quick Facts About Oregon Coast Treasures, Geologic Wonders Much of the United States is focusing on the Oregon coast at this time, with various geologic developments and historic objects popping up left and right.
The Science Behind Oregon Coast's Recent Treasures A big rush of unusual objects, some thousands to millions of years old, have been appearing on the Oregon coast. Here's why and how.
More About Oregon Coast hotels, lodging.....
LATEST OREGON COAST NEWS STORIES
Great Coastal Gale of '07 Tore Into Oregon Coast 15 Years Ago - Video
The storm changed parts of the region forever. History, Bandon, Coos Bay, Newport, Lincoln City, Manzanita, Cannon Beach, Seaside, Astoria
How Storms - Even Solar Storms - May Affect Whales on Oregon / Washington Coast
Why do they disappear? Does it disturb them at all? Marine sciences
Attending Seaside Aquarium This Month Helps Feed the Hungry on Oregon Coast -...
Patrons pay admission to the aquarium with two cans of food per person. Seaside events
Warm Sunsets to Raucous Oregon Coast Storms: Upclose at Cannon Beach's Schoon...
One of the major highlights is that beachfront lawn. Cannon Beach hotels, lodging reviews
Washington Coast Holidays Include Crab Pot Tree, Santa with Pirates, Music, Food
Holiday happs from Ilwaco up through Westport. Washington coast events
Famed Holiday Show Tradition Back on Oregon Coast, at Newport Performing Arts...
The Christmas Show! is finally back, Dec. 16 and 17. Newport events
Cyber Monday for Oregon Coast Too: Giving the Beach for Christmas
Give a night or two at the coast, or books, hoodies, T's. weather
Orcas Spotted Again on N. Oregon Coast - First Time This Pod Recorded Here
A pod of four were photographed on November 23. Marine sciences

Back to Oregon Coast
Contact Advertise on BeachConnection.net