Published 09/20/09
Coast to Coast Battle: Comparing Oregon Beaches to Other Shores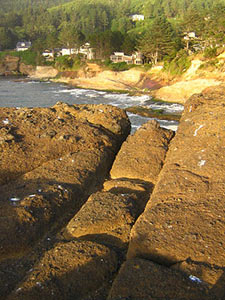 Something not seen on other coasts around the U.S. much is the weird basalt structures, like this one at Depoe Bay.
(Oregon Coast) – It's not like any other coast, say many who have ventured to coastlines around the world and the U.S. For quite a few, that's why they've settled here. There is something truly unique about a chunk of Pacific shoreline that is so pristine, so rugged and yet so accessible, with nary a fee or blocked off chunk of sand (except when a natural structure cuts you off).
Of course, the big difference between Oregon's coastline and many others is that it's simply colder. This actually works in its favor for the cleanliness. Conversely, it scares off the tourists, although that in turn keeps the place a bit of a secret in the tourism realm.
BeachConnection.net talked to a small cross section of coastal residents who have been to other beaches in this country or others. Quite a few – obviously – have some stake in promoting the area, or at the very least a have an understandable preference for this coast. But sometimes the comparisons are favorable to other beaches elsewhere; other times it's simply a matter of pointing out the differences – with no inherent judgment.
There's a lot of interesting stuff to be learned and observed from the beaches of elsewhere.
Dianna Dunlap lives on the central coast and spent considerable time on the eastern seaboard as a child, especially Maine.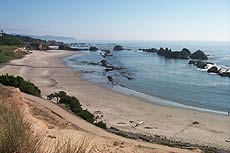 Weird geologic formations are a staple on this coast, unlike others - such as here at Seal Rock.
"The coastline there is beautiful," Dunlap said. "Here's the main two things that stick out for me. The coast is extremely seasonal. When it is off season everything is closed. Here we just slow down somewhat. The other: it is very different to see the sun rise over the ocean instead of our beautiful sunsets. They have beautiful sunrises."
Dunlap spent time on the Washington coast as well during her childhood and teens, and later on she and her husband started spending a month on the beaches of Mexico each year and have seen the beaches of the West Indies.
"So I bet you can tell Jim and I are dyed in the wool 'coasties,' " Dunlap said. "We even got married on the beach in Rarotonga - the Cook Islands - at sunset. We got to ride horses in the ocean to the point they were actually swimming. Way cool! The biggest thing that was different: everything, all stores and restaurants, were closed Saturday afternoon until Monday morning. Very similar to parts of Europe. Also, I think there was only about three cars on the whole island. No joke. We took a moped ride to dinner after we got married on the beach. Whole wedding dress and suit thing on a 'Just Married' moped."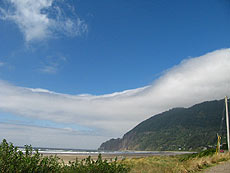 Manzanita: the climate is similar to England, says one Manzanita resident.
One of those who displays an objective point of view is Guy DiTorrice, a renowned beach expert who has recently moved from Newport to an inland state. He was actually head of the Oregon Coast Visitors Association in the 90's, and won a governor's award for promoting tourism in the state.
For him, the differences are more about the way things are run in other states.
"Atlantic states tend to manage their beaches more tightly than we do here in Oregon," DiTorrice said. "On some shorelines, State and County life guard stations provide day-time coverage for swimmers and surfers, with no-surf zones enforced for the safety of both swimmers and surfers.
"Many homeowners provide sidewalk access to beaches from metered parking lots a block or two away, meaning beachcombers are paying to park so they can walk out to the sand from between houses."
Judy Joubert, of Stone Crest Cellars B&B in Newport, noted the difference between her coast and another one in Europe. "The south coast of France is pretty," she said. "But you can not walk on the beach as it is pebbles"
Brian Hines, owner of San Dune Inn in Manzanita, is now a fervent fan of the Oregon coast, but he's a Brit who came to the states from London in the 70's, settling into Manzanita some six years ago. He echoed Joubert's statements, and said many of the British beaches are more often comprised of cobblestones and not as traversable as those in Oregon.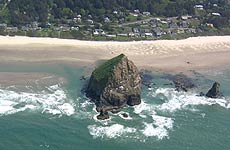 One thing that makes the Oregon coast unique on the planet is that has the third largest monolith in the world, at Cannon Beach.
Hines said England's beaches are similar in temperature and temperament to Oregon's, and it seems to draw many expatriates to this place. "There is a relatively high number of Brits who choose to live in Manzanita," he said. "Needless to say the beach is part of it, but its' also the weather, countryside, village atmosphere and so on. I could compare the beaches ok, they wouldn't have changed much since I left. It's all the ancillary facilities which would have changed."
In the U.S., DiTorrice said sand is a very prominent element of North Carolina and Florida beaches.
"Some communities even operate 'litter sweepers' in the early morning hours on the busier beaches, giving the sand a very groomed look for early arrivals," he said. "Florida Gulf beaches may not get as serious attention as their Atlantic counterparts, but you find shell and fossil collecting more of an activity there. Some beaches on the Gulf side have so many small fossil shark teeth mixed with the sand that you have to wear some thing on your feet to protect yourself from getting poked."
One of the major differences between those two coastlines is that the others lack the basalt rock so typical in Oregon. DiTorrice said the sandy beaches of the east coast reflect a lack of onshore and near-shore rock. "So there's miles of sand to enjoy, without worrying about the basalt flows we have here in Oregon."
Oregonians often pride themselves on the lack of litter on these beaches, but DiTorrice said they might not have the corner on that market.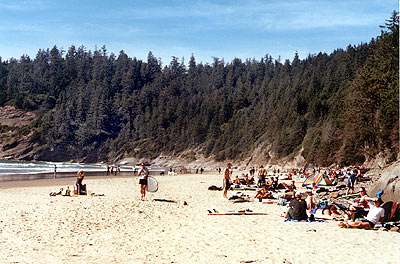 Oregon's coast isn't usually known for bikini-filled beaches, except maybe Oswald West State Park in the summer.
"Litter isn't that big an issues on either of our coasts," DiTorrice said. "I still see tossed bottles, cigarette butts and cans on both Oregon and East Coast beaches. I do see more trash containers – 'in season' - on their beaches versus ours. And, they use paid litter-collecting folks to handle major clean-ups, while Oregon's SOLV provides twice-annual volunteer forces to keep our solid waste under control."
DiTorrice jotted down a dozen or so other comparisons:
- More kite-flying on our beaches.
- More surfers on their breaches.
- More driftwood "shelters" on our beaches.
- More empty sun tan tubes on their beaches.
- More swimmers and surfers on our beaches wearing head-to-toe wet-suits.
- More swimmers and surfers on their beaches wearing much less fabric.
- More natural sand and rock on our beaches.
- More manicured (and often shipped-in) sand on their beaches.
- More free parking and easy access to our beaches.
- More parking meters and longer walks to their beaches.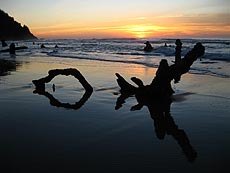 Oddities singular to the coast includes these remnants of two thousand year old trees at Neskowin.
The two things that constantly come up when comparing Oregon's beaches to others is temperature, of course, and the state's neighbor to the north: the beaches of Washington.
Dunlap has a variety of fond memories from the Washington coast, but still prefers Oregon's.
"The things I remember as fun: you can drive on the beach," Dunlap said. "So renting mopeds are the greatest and fun way to go on the beach. Also the beaches in Ocean Shores have lots of horse rentals - which was one of my summer jobs. In my opinion the Washington coast is certainly a lot of fun - especially for families. But the Oregon coast has it beat hands down for beauty and weather."
DiTorrice addressed the temperature differences with a touch of humor.
"There's something to be said about temperature," he said. "On North Carolina's outer banks and along Florida's Gulf, near-shore currents tend to be warm nearly year round. Although there are some regional differences in perspective. I'm in a tank top and shorts in January on the beach there, while the Floridians are wearing sweats and jackets complaining about the 'cold.' Let's see: water temp there in January is 70 F; here in Oregon it's around 48 F. Hmmmmm.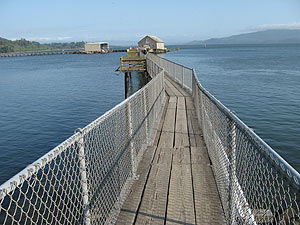 One misnomer about the Oregon coast is that it's much colder than the valley. Actually, during the fall, winter and some of spring, it is warmer.
"Sunbathing is a true Atlantic Gulf coast pastime. Here in Oregon, you build driftwood shelters, even in August."
Hines favors Oregon's coast, but sees some interesting dynamics for travel and tourism that are very different between the U.S. and Europe.
"I guess the northwest coast wins hands down," Hines said. "Except for the pubs. Also, I remember the Isle of Wight. They hand sandstone cliffs of all different strata of colored sand. I use to scrape it into test tube sort of things and ended up with all these different layers of colored sand. And the White Cliffs of Dover. It's a great sight to see them when you are sailing in, as I did after my draft time in the army."
Hines said Europeans have an interesting vacation advantage when it comes to not only beaches but any other destination on that continent, as there are so many countries and cultures crammed into one area, and all quite quickly accessible.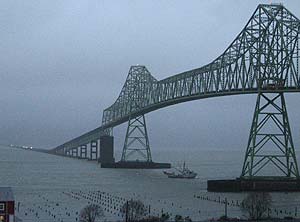 The moody Oregon coast also has one of the longest span bridges in the world at Astoria.
"The easy and economical access to Europe, Greece, is not fully realized by you yanks," he said. "My sister thinks nothing of catching the ferry to Bordeaux just to have dinner and return home. Her grown married kids spend vacations in the Greek Isles, Malta and other places. You can fly London to Hong Kong for less than $100 bucks."
For Mikaela Norval, tourism director for Seaside, there is little comparison to Oregon's beaches.
"I have lived in Florida, on the gulf side," Norval said. "Oregon beaches rank supreme in my opinion, although the water temps are nicer in the gulf."
NorvalI says she loves the Oregon coast over any other coast that she's lived at or visited.

"When I lived in Florida, on the Gulf Coast, there were very few public beaches, while all of Oregon's beaches are open to the public," Norval said." Additionally, the topography of Florida is quite two-dimensional as they are very flat. I love it when the coast and mountains meet in Oregon; it is so beautiful.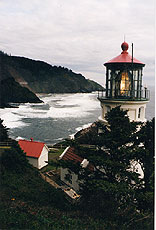 One of the most photographed lighthouses in the world is the Heceta Head Light, near Florence.
"The sand in Oregon is wonderfully soft, while on the Florida Gulf coast it is very coarse and cuts your feet. It is true the water is warmer and so is the air in Florida, but who wants to swim with the sand sharks as they nibble on your toes any way?"
Norval said litter was an eyesore at many of the beaches she's visited. "When visiting the Atlantic coast, California beaches and the Mexican Riviera, the crowds are overwhelming and the trash abounds," she said. "The Oregon coast is rarely over crowded and very clean in comparison. Moreover, the Oregon beaches are more authentic and natural, with less commercialization even in the urban areas where tourism abounds.
"There is a splendor about the Oregon coast that I have yet to experience anywhere else."

The ever-pragmatic DiTorrice notes there is one major similarity between this coastline and any other around the nation or the world – a beach universal, of sorts.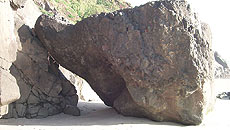 Hidden spots abound on this coast, like this one near Yachats.
"Make sure you make reservations for the appropriate high season, (it occurs different times of the year)," he said. "You might find yourself in some small town with no rooms available and the ferry not running until dawn. It happened on one of the Outer Bank islands this past year. The cat-eating grin on the face of the night clerk at the very last lodging property next to the closed ferry said it all."
In the final analysis, however, DiTorrice the coastlines of the United States have something for just about everybody. "Bottom line: East Coast, West Coast, we have great shorelines in the U. S. of A.," he said. "Enjoy them."
For more about Oregon Coast Lodging....
RELATED STORIES
Unusual Travel Articles TravelParanormal.com allows you to submit your own creepy tale or debunk one - or see up-to-the-minute news headlines about travel and the paranormal.

Watching Transformations of Oregon Coast Beaches Seasons change and so do beaches, revealing different sides and a variety of eye-popping sights

Staggeringly Cool Ideas for Oregon Coast Romance Be it the season of Valentine's or be it any time of the year, Oregon's coastline has essentially cornered the market for cuddle-inducing possibilities and gushy activities for the hand-holding set