Covering 180 miles of Oregon coast travel: Astoria, Seaside, Cannon Beach, Manzanita, Nehalem, Wheeler, Rockaway, Garibaldi, Tillamook, Oceanside, Pacific City, Lincoln City, Depoe Bay, Newport, Waldport, Yachats & Florence.
02/11/08
Staggeringly Cool Ideas for Oregon Coast Romance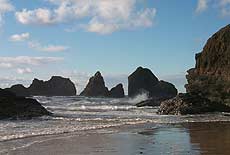 Wild sights and moments at Oceanside
(Oregon Coast) - Be it the season of Valentine's or be it any time of the year, Oregon's coastline has essentially cornered the market for cuddle-inducing possibilities and gushy activities for the hand-holding set.
Here, it's the beaches and landscapes that are the real attraction, and the most conducive to all things romantic. Of course, numerous eateries provide plenty of soothing, date-pleasing atmosphere and food, and quite a few upscale, even lovely lounges offer this opportunity as well.
Hotels, motels and vacation rentals abound that have hot tubs, private balconies and romance packages (especially in the Valentine season). And the plethora of stunning B&B's out there on these shores run from small, intimate and cozy cabin-like surroundings to grandiose displays of stunning architecture. There's even one that looks like a castle (Arch Cape House, near Cannon Beach).
Walking together on one of those soft, sandy beaches is de rigueur, almost to the point of being cliché. So maybe you're looking for a different spot to nuzzle up to that special someone?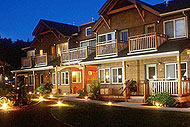 Inn at Cannon Beach. Beautifully wooded natural setting at quiet south end of Cannon Beach. Great during winter storms with a new book by the fireplace – or when the sun is out for family fun and beach strolling. Handsome beach cottage-style architecture. Lush flowering gardens and naturalized courtyard pond. Warm, inviting guest rooms. Continental buffet breakfast. Warm Cookies. Family and Pet Friendly. Welcome gifts. Smoke-free. Complimentary Wireless Connectivity. Wine and book signing events. 800-321-6304 or 503-436-9085. Hemlock At Surfcrest, Cannon Beach, Oregon. www.atcannonbeach.com.
You've found the right place – and you've found the right time. Because finding the coolest romantic moment on the Oregon coast may not be only about where, but also when.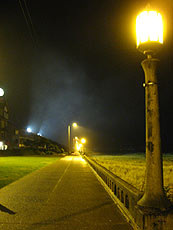 Seaside's Prom at night
Seaside Prom
The thing that makes Seaside's Promenade special for lovers isn't just the pretty sights that are available along its mile and a half of concrete walkway, but strolling along here gives you the opportunity to duck out of the rain should it suddenly begin to squall on you.
There's atmosphere and history as well. It's not hard to imagine you're walking here in the 1930's, when this town was just reaching a fever pitch of tourism. The architecture here screams of another time, while its dainty vibe whispers cajolingly in your ear.
From end to end, it's actually more than a mile and a half long, if you count the walkway that extends beyond the sea wall, the barriers and all the way to the cove area at the south.
However, the time of day you engage in this lovey-dovey walk may make a difference as well. At night, the Prom is lit up with a warm glow by those ancient-looking streetlamps. Hop onto the beach to find yourselves the only people around, and you'll see the city lights in the distance creating an especially inviting, warm and charming sight.
Then, notice the small birds skittering about in flocks in the dark, dimly lit by the far-off lights, giving them a somewhat silver hue.
It's all simply captivating.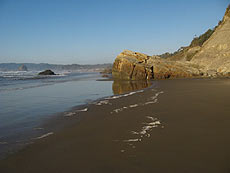 Hidden Accesses of Cannon Beach
One of the more fascinating beaches of Cannon Beach is at its extreme southern end, even south of the main Tolovana area. There's a small stretch of Hemlock that keeps on going south after the exit to 101, intersecting with the highway a quarter of a mile south of the 101 junction by Mo's and the Tolovana Inn. Along these tiny neighborhood streets, there are hidden beach accesses.
If you take one of the most southern accesses, and keep on walking perhaps a half-mile, you'll come to a series of basalt slabs and steep, sweeping cliffs, as well as a couple sea stacks. They often resemble Haystack Rock itself. A big one has a hole in it, where you can see the other side.
Here, you'll find yourself totally alone. It's rare that other souls tread here, largely because it is a formidable walk for the average tourist. Ogle the weird geology here, with cliffs that look as if they've been gouged a hundred times by some strange force in eons past.

Tradewinds Motel, Rockaway Beach. All rooms are immaculate and have TV's, VCR's and in-room phones w/ data ports. Oceanfronts have queen bed, a double hide-a-bed, kitchen, cozy firelog fireplace and private deck. Both types sleep up to four people. Others are appointed for a two-person romantic getaway, yet still perfect for those on a budget. Elaborate oceanfront Jacuzzi suite has two bedrooms, kitchen, double hide-a-bed, fireplace and private deck, sleeping as many as six. For family reunions or large gatherings such as weddings, some rooms can connect to create two-room and three-room suites. Some rooms pet friendly. 523 N. Pacific St., Rockaway Beach. (503) 355-2112 - 1-800-824-0938. www.tradewinds-motel.com
In fact, at one point you're actually standing beneath one of the big lookouts just south of Cannon Beach, where all the other tourists gather to gawk at the ocean vistas. But don't worry, if you stick close to the cliffs, they can't see what you two lovers are up to.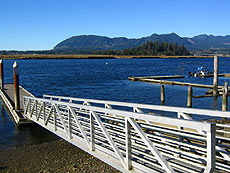 Nehalem Bay
Nehalem Bay
One of the biggest pleasures of going to the beach on the north coast isn't a beach at all. The Nehalem Bay, especially along Wheeler's waterfront, is a rather magical place.
This tiny, charming little village sports three antique shops (making it the major industry in a place only six blocks long). The buildings here are vintage Oregon coast, left over from the days it was a logging town, along with the leftovers of pilings all over the bay.
In fact, every noon, a giant alarm sounds, sounding a bit like those tsunami warning horns. It is, however, an homage to the loggers of times gone by – the same noisemaker that heralded their lunch hour, decades ago.
When night falls, more magic descends on this sleepy, incandescent village. The walkways out over the water provide a seriously warm atmosphere that's inviting, even sensual.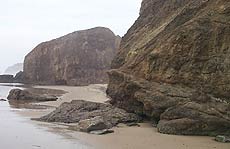 Otherworldly secret beach at Oceanside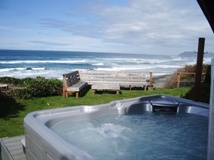 Arch Cape Property Services. Dozens of homes in that dreamy, rugged stretch between Cannon Beach and Manzanita known as Arch Cape. Oceanfront and ocean view , or just a short walk from the sea.
All homes are immaculate and smoke free; some pet friendly (with a fee). Some with broadband, indoor or outdoor hot tubs, fireplaces, decks, and fire pits or barbecues. Call about tempting winter specials that go until March (not valid holidays, however). www.archcaperentals.com 866-436-1607.
Oceanside's Snuggly Side
Just west of Tillamook, the tiny town that is still a bit of a secret sits in quiet splendor, with large and tiny homes built into the soaring hills above it, nestled in a crescent-shaped cluster around the placid little place.
If one look at it doesn't scream romance to you, then you're probably dead and no one has told you yet.
Especially charming is the little tunnel shooting through Maxwell Point, which allows you access to a stunning, otherworldly and pristine beach on the other side. Large basalt slabs lounge in sprawled out, rocky glory, as sea caves both small and large beckon, and other weird structures of indefinable shape beg for climbing.
There's Roseanna's Café here, one of the most perfect views on the entire coast for a restaurant. The beach to the south goes on for about three miles, if you want to take a solitary walk together. And a short drive will take you to the miniscule Netarts Bay or to the unbelievably stunning ocean vistas of Cape Meares as well as its lighthouse.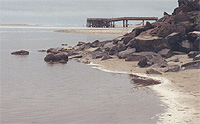 Siletz Bay and its pier
Siletz Bay, Lincoln City
This central coast town has just about everything you could ever imagine wanting: plenty of oceanfront hotels, a myriad of fine dining possibilities and a thriving nightlife scene, along with the miles and miles of soft strand and uninterrupted beaches.
But at its southern end sits Siletz Bay, where romantic moments are a little more vivid because of the solitude just around the bend, or the calm lapping of the sea in the bay itself.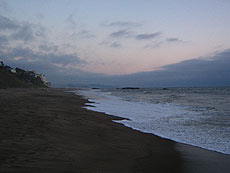 Endless sandy pleasures of Lincoln City
Building a fire here is one of the highlights of this peaceful beach, and if the winds are coming from the north, you're fairly shielded. Walk along the bay and watch with fascination as the breakers turn from timid to sometimes tumultuous, as you round the corner of the baymouth to the beach itself. Some years, depending on tides and sand levels, strangely luminescent colored rock is exposed at the tide line near the baymouth.
Then, at night, for an extra dose of dreaminess, this bay is essentially devoid of people, allowing you some good makeout time on the beach. Also, the pier is peerless in its possibilities for passion, stretching out over the sea a ways. It's beautiful at night or during the day, and the parking lot is a quick walk away.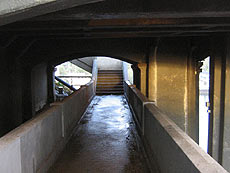 Beneath Depoe Bay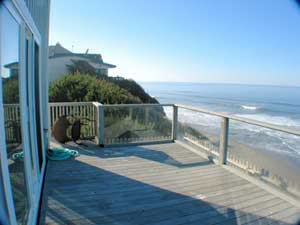 Lincoln City Vacation Homes Something for everyone: smaller homes with a view to a large house that sleeps 15. All are either oceanfront or just a few steps away – all with a low bank access and fantastic views. Most are in the Nelscott area; one is close to the casino. You'll find a variety of goodies: fireplaces, multiple bedrooms, dishwashers, Jacuzzis, washer/dryers, hot tubs, cable TV, VCR, barbecues; there's a loft in one, and another sprawling home has two apartments. Pets allowed in some homes – ask first. Each comes with complete kitchens. Most have seventh night free. Prices range from winter $85 to summer $230 per night. www.getaway2thecoast.com. 541-994-8778.
Depoe Bay's Bridge and Bay
A small labyrinth of possibilities are created here by the walkway underneath the bridge, the lookouts nearby that point out towards the sea and the limited number of vantage points peeking out over the bay itself.
Sure, the seawall that runs through town is captivating all its own, with the spouting horn shooting sea water into the air on the right conditions, and the ocean raging just a ways away, smashing and crashing on the blackened basalt.
But if you want to get away from the crowds a bit, the lookout next to (and slightly below) the Whale Watch Center can provide some romantic respite.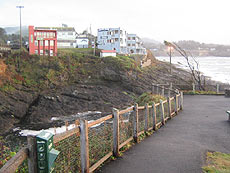 The lookout at Depoe Bay
Then, take the small walkway underneath the bridge to catch somewhat subterranean views of the channel running below. There are no crowds here, that's for sure.
You emerge on the other side of the bay to some interesting views of the water, the fleets of boats, the piers and gangways, and maybe even a seal running around doing tricks for scraps as someone cleans his catch of fish.
After the sun goes down, this spot becomes quite ethereal. The lamplights often cause the air around them to glow in surreal ways as sea mist or fog scatter the rays and spread it out exponentially. This is when things become completely still, save for the buoy in the distance and crash of the waves.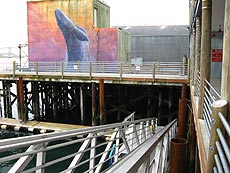 Docks and piers along Newport create intriguing opportunities for romance
Newport's Cuddly Spots
There's oodles of sandy spots to go wandering along in this town, as well as the more unpopulated docks along the bayfront to have a moment or two by yourselves. Nye Beach, with its atmosphere that's part Americana and part Old Europe charm, lends itself well to those intimate walks and explorations of a beach town. Also in that neighborhood, the Jump-Off Joe rock structure juts a ways out over the tideline (although it is gradually disappearing), and allows you to stand about 40 feet above the ocean. And in South Beach, a long dock used for crabbing is also quite beautiful for calm moments made for two
At night, however, the town's true romantic colors emerge. For the more adventurous, its wacky bars are great for getting a little loopy before a nocturnal beach excursion for two. That dock in South Beach is absolutely stunning, with the lights of the bayfront reflected in the water and the sound of the surf in the distance, as you two lock lips in utter stillness and solitude. Jump-Off Joe is striking at night as well, especially if there's any light from the moon, causing the ocean to glisten and shimmer, lit in a dim, silvery light.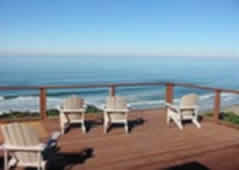 A1 Beach Rentals, Lincoln City. Perfect for large family vacations all the way down to a getaway lodging for two - with over 25 vacation rental homes to choose from. A breathtaking collection of craftsman or traditional beachfront homes, or oceanview houses – from one to seven bedrooms. In various areas of Lincoln City and overlooking the beach, with some in Depoe Bay. All kinds of amenities are available, like hot tubs, decks, BBQ, rock fireplaces, beamed ceilings and more. Some are new, some are historic charmers. Lincoln City, Oregon. 1-(503)-232-5984. www.a1beachrentals.com.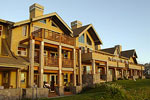 The Ocean Lodge. There will not be another property built like this in Cannon Beach in our lifetimes. Rare, premiere ocean front location; handsome, dramatic architecture and tasteful, fun (nostalgic) beach interiors. Overlooks Haystack Rock. 100 percent smoke free. Imaginative special occasion packages. Massive wood burning lobby fireplace. Library w/ fireplace, stocked with impressive book collection. Pet and family friendly. Lavish continental buffet breakfast. In-room fireplaces, mini-kitchens. Jacuzzi tubs in select rooms. DVD players, complimentary movies. Morning paper. Warm cookies. 888-777-4047. 503-436-2241. 2864 Pacific Street. Cannon Beach, Oregon. www.theoceanlodge.com
Weiss' Paradise Suites & Vacation Rentals - Seaside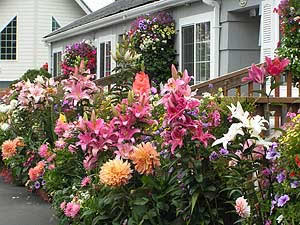 Unique Luxury Accommodations in Seaside. 1BR Suites, 1BR & 2BR Duplex Units and 3BR Houses, units for 2-8 people. Rent entire property for 20-26. Close to beach, river and Broadway St.
Suites are designed for two adults; vacation rental units for families. All units have kitchen and many have fireplace, deck and jetted tub. Comfy robes, slippers, luxury bath amenities, quality linens and more. 741 S. Downing St., Seaside. 800-738-6691. www.SeasideSuites.com
RELATED STORIES
OREGON COAST VIRTUAL TOURS
Explore Every Beach Spot