Beating the Breakup Blues with the Oregon Coast
Published 2007
By Andre' Hagestedt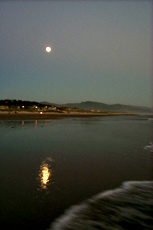 Moolight in Manzanita, a perfectly surreal moment in which to forget
(Oregon Coast) – It's no secret: love stinks and breakups really suck. J. Geils got it half right in the 80's, anyway.
But this is some twenty years later, and I just had the displeasure of going through another one of these. You'd think after nearly thirty years of experience dumping - or unfortunately, far more frequently, getting dumped - you'd get the hang of it. That's right, I've been a loser in the love category since approximately 1978.
They don't necessarily get easier the older you get, but you do learn from them. I've learned the coast is a great tonic for a banged up heart. I used to run to the beach all the time during my years inland. And boy did it help – sometimes with comical results.
Certain spots just have an allure that can help you forget, at least for a little while. Even at its worst, just any decent ocean scenery can suck you in and help soothe the aching soul.
So, here is a small guide for the broken-hearted, or whatever loss may ail your soul.
Rule Number One for using the Oregon coast to gloss over a recently jilting lover is to make sure you're not already living on the coast. This would mean your ex guy or gal lives in the same coastal town, and that you'll have to find another Oregon coast burgh to run to. This inconvenience was presented to me recently, and it means a lot of time spent in towns other than where I live.
That's the short version of that story, without going into all the Jerry Springer details. Suffice it to say, luckily, running a coastal media company requires me to run around 180 miles of coastline, as well as living part time in Portland. Whew.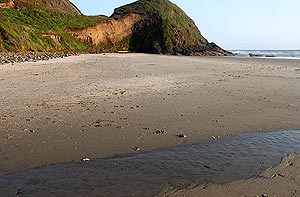 Hidden spot between Florence and Yachats: this is far enough from civilization to get your groove back
Anyway, I suggest heading to not just a nearby town, but a different part of the coast. So if you're experiencing the achy-breaky heart thang in Newport, I'd advise heading to the north coast, instead of say, simply Lincoln City, which is only 25 miles away. Put at least 50 miles between you and the object of your remorse. Conversely, if you reside in Seaside, Lincoln City or Newport would be great.
Time Tested Emotional Tazers: Coastal Bars
I've been on both sides of this approach, with interesting results.
Who doesn't drown their post-breakup sorrows in a good bout of drinking? You might as well kill two birds with one stone and not only head to the coast, but at night, hit the bars. This also leaves you the option of the famed hook-up. That's three birds with one stoning of your brain.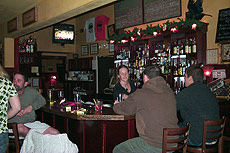 Warren House, Cannon Beach
Now, the coastal bar hook-up has its hazards, like the notorious lack of quality contestants, and a disturbing statistic of missing teeth among some of the locals. Eek. I won't even regale you with the advances I've rejected in wacky wateringholes in towns like Seaside, Cannon Beach and Newport.
Once, I did wind up making out with some fine girl at a bar in Lincoln City. However, she was out of her hometown because her ex was JUST getting out of prison that weekend: he was incarcerated there for having beaten her. Yup, I really wanted to get involved there.
Another time, some beauty from Seaside was flirting heavily with me in a bar in Manzanita. Oh but she was drunk, and so was I. She mumbled something about a new boyfriend, but for some reason briefly locked lips with me anyway. When I came back from the bathroom, she was gone and her friends scolded me. Oops.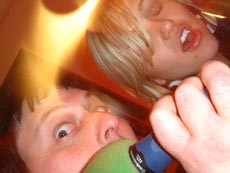 Even hot chicks can be scary. Case in point, see the look of fear on my face as I engage in karaoke in Lincoln City as some loony drunk girl tries to weasel her way in
Not the happiest ending, but I don't completely regret the experience.
If you're looking for one of these off-kilter wateringholes while on a coastal trip, I have a few suggestions, whether you're looking to hook up or simply drink your sorrows away and be left alone by suitors. The locals and (most) tourists are exceptional in the Warren House in Cannon Beach, though it's not always a good hook-up place. The same thing goes for Snug Harbor in Lincoln City, San Dune Pub in Manzanita, and the Wing Wa in Depoe Bay – but they're a kick in the pants. Plus, it can happen. I've hooked up in a couple of these places, come close or had to fend off advances.
Also good for both goals are Sand Bar in Newport, The Lighthouse in Nehalem, Maxwell's in Lincoln City and Nauti Mermaid in Lincoln City – with the latter two being exceptional for using your beer goggles. I've had decent luck in some of these spots as well.
Some bars, like Moby Dick's in Newport, I'm tempted to recommend in this regard, but the human menu there often leaves much to be desired. Periodically, it surprises, however.
Serious About the Scenery
True, I've been flippant and silly so far, but nonetheless attempting to inform. The ocean vistas are nothing to be made fun of, however. These are awesome tonic for the recently single. These can really get your mind off things.
Take a friend or two if you're heading out overnight. Doing that solo will be a bit of a downer for some souls, but some more mature folks will be reenergized by a jaunt taken sans compadres. For a day trip, bouncing around the beach may be just what the doctor ordered for many people.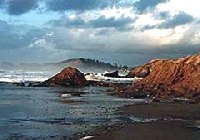 Jump-Off Joe in the distance
Newport
My favorite for breakup getaways was for years Newport. You'll find solace in the options to be alone on the beach or to jostle amongst the throngs in busier areas, while always enjoying engaging sights. There's much to do here – or not do.
Nye Beach features that irresistible long stretch of beach that goes from the Turnaround, to one or two miles in either direction. The remnant of the rock structure known as Jump-Off Joe is there to remind us of the native legend about the forbidden lovers who took their own lives by, well, jumping off. I'm not sure, however, about any Native American legend where the protagonist has the decidedly European name of "Joe."
In any case, it's a stately rock formation that's even more beautiful up close. You can continue walking north another nearly two miles until you reach Agate Beach and then the face of Yaquina Head.
In the neighborhood of Nye Beach, a variety of elderly architectural styles will engage your eye and add a cheery vibe to your lonely jaunt. Plenty of nifty shops and scrumptious eateries will make the parts of your body around your heart happier, and you'll still be bereft of the crowds.
On the bustling bay front, there's tons to see and do to keep yourself distracted, like what seems hundreds of shops, fine dining and the always lovely docks. These I've used plenty of times to gaze out over the placid bay and listen to the barking of sea lions, as I ached from some stupid female experience or another.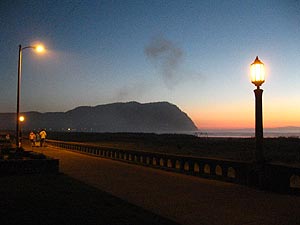 Seaside's Many Sides
Maybe a trip back in time will smooth out the edges of that broken heart.
In spite of all the noise about the town's gaudiness, history takes the front seat on your journey through Seaside. Most people miss that. The Promenade was built in the 20's, first as a wooden construct, then made of concrete. These days, it stretches a little more than a mile and a half, taking you past beautiful motel fronts and charming beach cottages – many of them quite old.
If the Promenade whispers of history, then the Turnaround shouts it. Its centerpiece is the statue of Lewis & Clark (who never actually stopped in this spot, although it gives you that erroneous impression.)
Nearby, the Seaside Aquarium is a famous bit of indoor fun. Located right on the Promenade, it features plenty of fish tanks, a touch tank, and a chance to feed the frolicking family of Harbor seals. This is a perfect way to bring out your inner child as you shake that ex-girlfriend or ex-boyfriend vibe. (503) 738-6211.
The streets of Seaside feature an abundance of goofy or fun things - depending on your point of view. Arcades, beautiful historical buildings, scrumptious eateries or kitschy, silly stuff thrive in this north coast hotspot.
During busier times of the year, you can rent various pedal power-driven vehicles (called surreys) for fun on the beach or on the street. These consist of small, easily maneuverable bikes for one person, to larger, four wheel, pedal-driven vehicles designed to accommodate four.
Also notable here is the playground equipment, which is inviting for kids during the day - or adults on a nocturnal beach walk who want their inner child to remain a secret.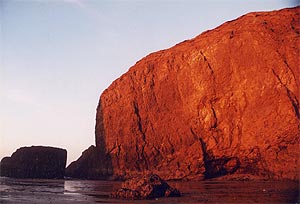 Oceanside
At first glance, Oceanside appears to be just another wayside with a collection of homes clustered around it. But this out of the way spot, nestled up against the hills of the Tillamook Forest and just west of Tillamook, is one hidden gem on the Oregon coast. It's filled with a myriad of obvious and secret delights; an old, rustic hamlet that smacks of another time, dripping with weather-beaten cuteness and charm. Plus, it hides a major culinary wonder in the form of the upscale Roseanna's Café. If great food with an incredible view doesn't take your mind off your ex, then nothing will.
The real fun of Oceanside's beach lies inside Maxwell Point, however. The concrete tunnel here is a gateway to a stunning, secret world. Entrance into the tunnel is somewhat unadvisable in wet weather, because of falling rocks from the cliffs.
But if conditions are calm, on the other side sits a stunning beach where enormous boulders and weirdly shaped sea stacks give the entire area a feel like something out of the old ``Star Trek'' series.
The entire area is cluttered with stuff to play on as well as a sense of the serene and the surreal.
Also in the area is the magnificent Cape Meares, with its puny lighthouse, a freakish tree called the Octopus Tree, and views that will knock your socks off.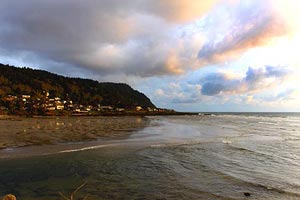 Yachats
Yachats is definitely one of Oregon's more stunning scenic vistas, and one heck of a charmer of a village. Upscale, intriguing, restaurants populate this place in great abundance, as well as some interesting lodging. It has an unusual character for any place on Oregon's coast, managing to be rugged and untamed in many ways yet still exude an unparallel sense of class.
It's no serious surprise that it's called the "Gem of the Oregon Coast." But Yachats has its secrets. There's more to this engaging area than meets the eye - even the eyes of many regulars. You need only spend a little more time poking around and you'll find a variety of interesting to oddball stuff: beach-oriented goodies that go well beyond Yachats' already steady supply of craggy, rock-filled beaches, amazing eateries and intriguing accommodations.
Check out its funky buildings, often with a new age flavor to them, or the beautiful, atmospheric and historical examples such as the Little Log Church.
There are some structures in the Yachats area which have maritime themes in rather unusual ways as well. The Yachats Inn was constructed to look like a ship from a distance, when viewed from the hills above the town.
It's some 25 miles between here and the bustling burgh of Florence, and it's a serious kick in the eye. It's jam-packed, full of hidden spots, hard-to-access beaches and places so devoid of people you'd think you'd walked into some post-apocalyptic future where Man no longer existed.
Like Bob Creek Wayside. More tide pools populate this obscure but fascinating place. They really emerge at lower tides, clinging to odd, mushroom-shaped rocky blobs at the southern end. At this end, there's also a small sea cave and a huge boulder that creates a sort of arch by leaning up against the cliffs here.
At the north end, you'll find plenty of mussels – but you'll have to cross the creek to do so. During the winter that's difficult, if not impossible and certainly unwise. During the summer months it's much easier.

Manzanita
Just to the north of the Nehalem Bay sits the stunning town of Manzanita, which seems almost hypnotic in its intriguing mix of class, ruggedness and mystery. Ancient legends of crashed sailing ships and rumors of hidden treasure mix with murky fir trees, a somewhat hip, almost urban sense of architectural aesthetics and a backwoodsy sense of sorts, making this burgh a place you don't want to leave.
The beach here is a real killer: there's nothing like standing here and having to strain your neck to look up at Neahkahnie Mountain looming above you.
A wide and beautiful sandy beach fills the eye in this placid place. Although at the beach's northernmost access – near Neahkahnie Rd. – it quickly becomes large cobblestones until it ends at the base of Neahkahnie Mt. some 200 feet down.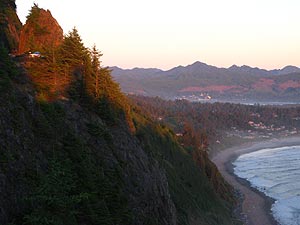 Above Manzanita
The most obvious beach accesses lie past its downtown and at the bottom of the main road, Laneda Rd. But there are numerous hidden ones south of there, between the homes, along the beachside roads. These eventually dead-end at a back entrance to Nehalem Bay State Park.
In this tiny town that's full of culinary pleasures, wondrous new objects can pop up on the beach at sufficient minus tides. Depending on the amount of sand lying around that time of year, different rock objects appear on an otherwise smooth, barren beach.
Nearby Wheeler and Nehalem present a multitude of possibilities for antiquing, should that sooth the savage beast of your breakup demons.
For outstanding views, simply drive up above town on the highway with all the overlooks, just beneath Neahkahnie. You can hike up to the top as well, for some more extraordinary moments.
More About Oregon Coast hotels, lodging.....
More About Oregon Coast Restaurants, Dining.....
Back to Oregon Coast
Contact Advertise on BeachConnection.net
All Content, unless otherwise attributed, copyright BeachConnection.net Unauthorized use or publication is not permitted