Two Days of Oregon Coast Fireworks: the Holiday in Waldport and Yachats
Published 07/06/2012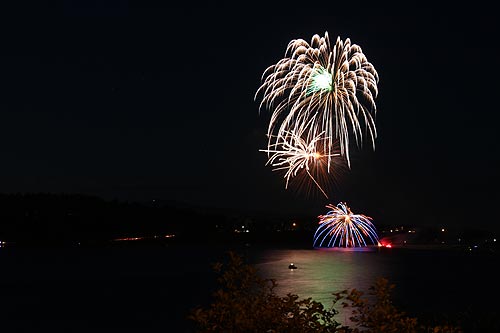 (Yachats, Oregon) – If you plan it right sometimes, you can engage in three days of fireworks and Independence Day celebrations along the Oregon coast, with Waldport on the third, the usual Fourth of July madness, and even July 5th at Pacific City some years. Few things beat that mix of salty sea air and big bombs bursting around you. (Above: Waldport's fireworks)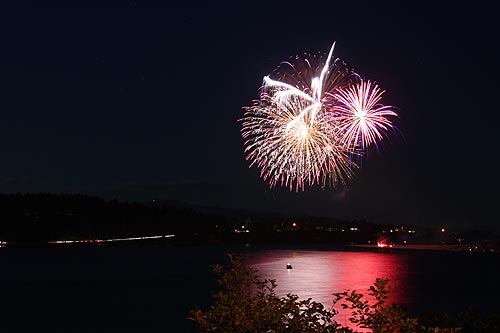 This wasn't the year for Pacific City to synch up, as they had theirs days earlier. And for now at least, it seems Depoe Bay has bowed out of the fireworks displays on the third due to a bird dispute in the area. But this year had plenty of glitter and glam in the skies for Waldport and Yachats, with both making quite the splash on their own.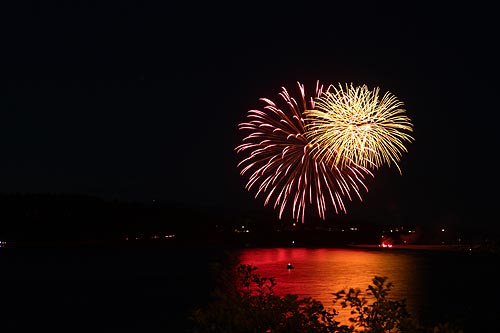 July 3 is indeed a powerhouse for the tiny town of Waldport. A sizable portion of the crowds nest up on the bridge, but it seems most have lined up along the Bayshore area or on the other side of the bay someplace. These gargantuan flashes of color are fired off from an especially elongated stretch of sandy outcropping that's far enough into Alsea Bay that in the dark it looks like they're being shot off from a barge.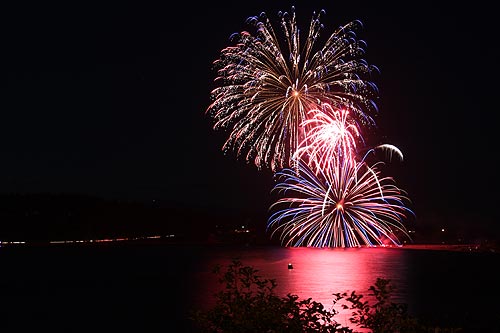 The tightly-bound hills and mountains surrounding the area cause the noise to thunder and bounce in some delightful ways, not unlike the display in Newport. The display is short but sweet, and still quite impressive, in spite of it not being of the magnitude of say, Seaside or Fort Vancouver.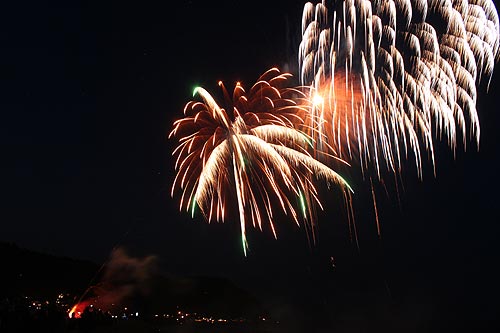 On the Fourth of July, Yachats is a beehive of frenetic activity, yet still somehow remarkably laid back. During the day, they host the much-loved La De Da Parade, a cavalcade of small town Americana mixed with hefty doses of coastie quirkiness. A highlight here were the inventive Middle East-influenced electronica sounds (like the band Dead Can Dance in a better mood) and belly dancing held on 101 until about dark.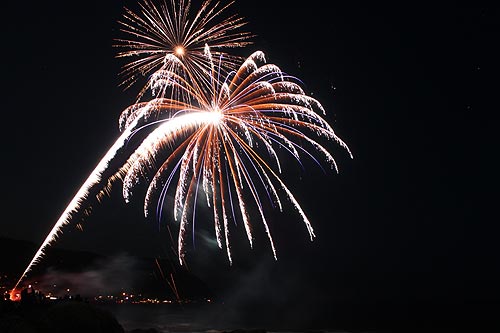 Yachats' display is a mighty one, especially if you're sitting up close to where they're being shot off. Frankly, we recommend being farther away – not near the main beach access where they're launched from, known as Yachats Recreation Area. Stay down along the bay, out near the blowhole on Yachats Ocean Road, or grab a spot down on the rocks (but away from the tide) a bit south of Smelt Sands.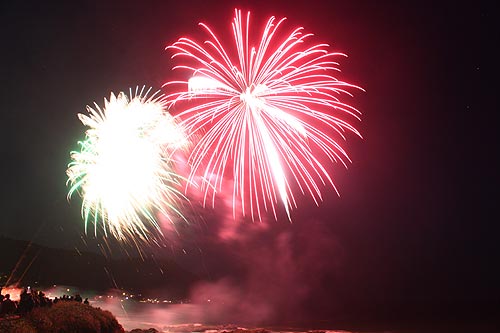 From this vantage point, you could see the initial explosions that propel them and their massive flashes which briefly illuminate the surf beneath. No need for a flash here, as they are bright enough to freeze that beachy image in your camera.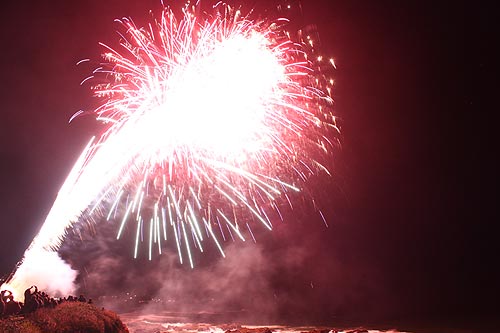 The fireworks arc out at an angle and then explode with dazzling colors and ferocity. It's captivating. From this vantage point, behind them, you can also see the lights of the headland in the distance along with that swirling surf.
More images of Yachats' celebrations below. (Many more images at Oregon Coast Beach Connection Facebook page).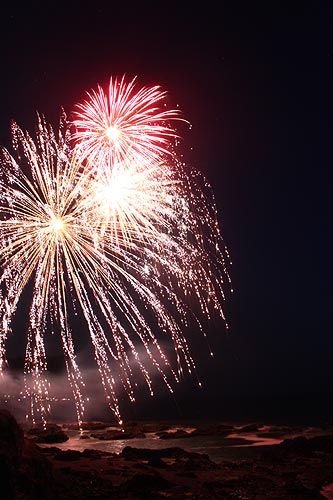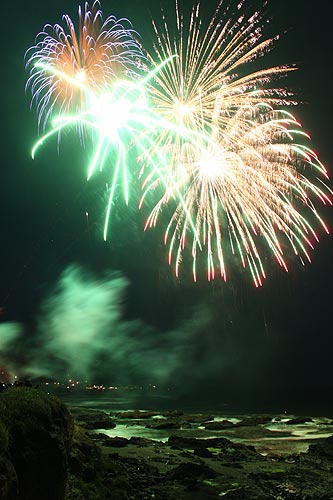 More About Yachats Lodging.....
More About Oregon Coast Restaurants, Dining.....