The Truth About Oregon Coast Winter Weather
Published 01/10/2007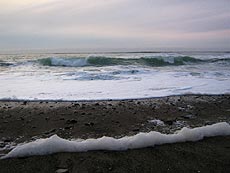 Wacky wave action on the central Oregon coast
(Oregon Coast) – In between the major storms, the days of thrashing wind, and the gloom of grey skies and goopy slorp, there's a real Oregon coast. The shocker in Oregon's tourism industry is that winter on the coast isn't all it seems, even with its notoriously crazed winter. There are at least a few fairly nice days in between the stormy squalls and near-gale force winds. Weather statistics bring out the truth, and it's stranger than fiction.
These runs of wild weather either chase valley visitors away or draw them in to watch the tidal drama. But there's often more than a sprinkling of blue skies and nice vibes in the winter than you're probably aware of. On top of it all, meteorologists will admit you don't get the full picture when it comes to coastal forecasts, and there is even a kind of secret miniature summer tucked away near the end of winter.
Pleasant, even sunny, slightly balmy days do exist with some regularity on these shores between November and February – more than you know.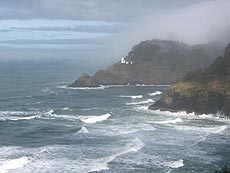 Just north of Florence on a bright, sunny February day
The Truth About Weather Is Out There, or Up There
Lorna Davis, Director of Tourism Development for the Newport Chamber of Commerce, said she definitely sees runs of nice weather on the coast in winter, and it's not uncommon to find extraordinarily warm days popping up out of the blue. "Every month brings really different weather," she said. "It's not just storms during winter and fall, but there are instances of glorious weather.
"It's as typical as it is not typical, if that makes any sense. These days do happen. You just don't know when."
Just as in the I-5 corridor, sunny days pop up in winter. But there's a big difference between those clear winter days in the valley and those on the coast.
Rod Hill, meteorologist with KATU TV (channel 2) in Portland, said the moderate climate of the coast keeps those nicer days even nicer than those in the valley.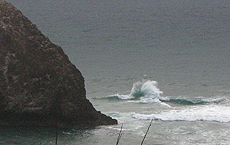 Storm begins to build power just south of Cannon Beach
When those clear days happen – and it's not all the time, that's for certain – they're colder in the valley because of the east winds bringing colder air. "Cold air settles here," Hill said. "On the coast you don't get that cold air vection. It's more moderate because it's next to the ocean, which is about 50 degrees. So on the coast it can be around 50, 52 or 53 degrees, while in the valley it's 42 or 44."
Hill adds that the coast range blocks the cold air dynamics from the east, helping to keep the moderate temps by the seashore.
Talk to locals, and you'll often hear how December can yield days warmer than some days in June. In fact, to this day, many still talk about those stunning, unforgettable few days in late December 1993 when it was windless, a clear blue sky and temperatures were around 65.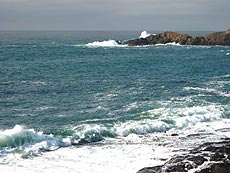 There are plenty of sunny days with stormy waves to gawk at in winter
Davis noted the balmy Christmas day in 2001 when temperatures were around 68 in Gleneden Beach. "We get that – and maybe more than people in the valley know."
Even Hill admits that valley residents may not be getting the full picture on just how pleasant conditions really can be on the coast in winter.
"The coast has more of these nice days than is typically forecast," Hill said. "I will say that. It's forecast as being worse than it really is quite often, I will admit that. We are trying to improve upon that."
Statistics Can Speak Louder Than Words
Hill noted statistics in the almanacs will back this up as well. According to one of his almanac sources, the average percentage of cloudy days in Astoria in the month of January is 66 percent – meaning 66 percent of days in January were cloudy and not so nice in Astoria. Yet in Portland, the average is 68 percent of days in January were cloudy.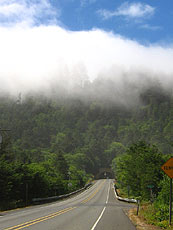 Something big starts coming in at Arch Cape
The average for Portland in December was 70 percent cloudy conditions through the month, while the north coast experienced only 64 percent of those kinds of days. February was a dead tie at 63 percent, Hill said.
Those were averages of those months over a selected number of years. But it shows the general trend.
Weather data collected over the years by the Hatfield Marine Science Center also backs this up. It fortifies another bit of local wisdom about weather trends as well: things tend to get a little drier and nicer in winter until you get a host of really nice days in February.
According to the Hatfield's web site, http://hmsc.oregonstate.edu/weather/summaries/index.html, you can see an increase of pleasant days over the three months.
Winter Days w/ Little or No Rain

Dec '01 -
Jan '02 -
Feb '02 -
10 days
7 days
15 days
If you look at December 2001, there were five days where there was zero precipitation, and a total of five days where there was only about a tenth of an inch of rain. Temperatures were usually in the low 40's and winds were around 28 mph. While none of the data indicated anything about whether it was sunny or not, it's a safe assumption that there was at least some sun among those dry days. Only two days rained over an inch, and temperatures throughout that month ranged from 47 to 54 degrees.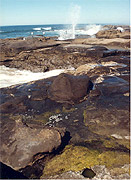 Yachats puts on a show during a cold but sunny winter day
The following month, January of 2002, had a total of seven days that had a tenth of an inch of precipitation or none at all. Two days were at 60 degrees, but these had winds of around 50 mph and precipitation of two inches, however.
In February 2002, a total of eleven days had zero rain, and four had .02 inches or less. Highest wind gusts on those days ranged from 19 to 30 mph, and temperatures on these days were generally in the low- to mid-50's. Half the month was less than .02 inches of rain or less.
Fast forward a year. According to the Hatfield site, six days in December of 2003 had either zero precipitation or less than .02 inches (nearly nothing). All these happened after the 15th, and were in the 40 and 50 degree ranges.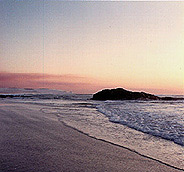 Colorful November sunset at Lincoln City
In January of 2004, only four days were .02 inches of rain or less, with most days in the low 50's. Three days of the months rained more than three inches, so it wasn't a banner month for sunbathing, and lower in pleasant periods than other Januaries on record. But February of that year continued the legend, with ten days mostly in the low 50's and less than .02 inches of rain. Winds were 20 mph or less on these days. Two days were about 60 degrees, however. Most of the other days had half an inch or less of rain.
In short, it means most years have the same pattern: about a week or slightly more of absolutely dry days - or almost completely dry days - in December and January, with temperatures floating around the 50's. By February, you've often got almost two weeks of no rain and somewhat spring-like temperatures that beat that stereotype of nasty coastal weather.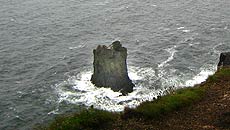 Moody but dry conditions north of Manzanita
Slightly warmer than winter in the valley? You bet. And the data from these years - and other years - seems to show a general tendency that corroborates the locals.

The data on the Hatfield's site doesn't even address those days when it was a mix of weather, with sunny, warm temperatures alternating with rainstorms. These are quite typical, and probably raises the occurrence of really nice days that are waiting for you (even if the whole day may not be super swell).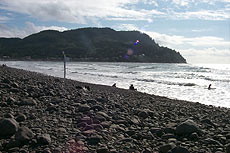 Seaside on an exceptionally warm day in February
That Odd, Mini-Summer at Winter's End
Then, come February, the real shockers begin. There's what is nicknamed the "mini-summer" in the middle of the month, with something close to 10 days – on average – of exceptionally warm, sun-filled weather that mimics nice summer days.
Davis said that "mini-summer" of February is really spectacular. "It's always really weird," she said. "It's so warm. There's always about six days of really banner, balmy weather in February. Then you can turn around and have a half a foot of snow in early March."
Hill said this is not all that unusual, except that on the coast, the moderate climate element can heighten the glorious weather factor.
"In fact, a lot of areas of the country have that," Hill said. "By this time, you've gone through the early sunsets, dark days and the wettest three months of the year. February is over that hump.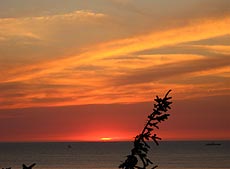 Wild colors on a clear but cool late fall day - Newport
"The days are have been getting longer for five weeks and you've added enough daylight hours so that the weather is warmer. You get that much daylight increase and you start to get a climate shift."
Beware The Laws of Averages
Then there was the unforgettable run of extremely warm weather in early 2005, which saw temps on the coast in the high 60's and low 70's from January through to March. That was, of course, a freakish fluke, but notable nonetheless.
Last year was atypically wetter, and this year is being forecast as wetter than usual as well.
In 2006, Hill and many other meteorologists were among those in that camp. "Using Portland as a barometer, if there's eleven inches rain or more in November, then it's going to be wetter on the whole," he told BeachConnection.net in 2006. "And we've definitely had more than eleven inches."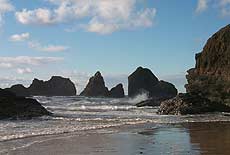 Stormy but cold and clear in Oceanside
So far, November of 2007 hasn't turned out too wet, but there's still time. Averages could stil wind up meaningless.
Hill offered another caution about the average trends of coastal temperatures as well. "Keep in mind, in the northwest, especially here on the west side, we're coming off an unusually quiet eight-year period," Hill said.
It May Not Be Second Summer, But….
Still, between the valley meteorologists' admittedly not-so-completely accurate forecasts and your decent chances of finding lovely atmospheric conditions on certain surprise days, Davis said these days of offer a lot.
"It's full of incredible opportunities," Davis said. "Like whale watching in winter. It might be crisp and cool, but it will be blue skies and the coast will be clear. You'll have unencumbered travel. If there's great weather predicted in summer, Newport's population of 10,000 jumps to 30,000. But if the weather is nice in winter, you'll just get some traffic. Tourists are looking for an authentic experience, and the coast has it this time of year. Besides, you'll want to scoop up the lodging discounts and two-for-one specials."
About Oregon Coast hotels, lodging.....
LATEST OREGON COAST NEWS STORIES
Oregon / Washington Coast Flood Watches: Landslides, Road Washouts Possible
Sat and Sun: be cautious driving, large waves then sunny for king tides this week. Weather
Aftermath of December 7 Shifted Life on Oregon Coast: World War II Patrols, B...
This could've been the frontline to any invasion. Sciences, Coos Bay, history, Oceanside, Seaside, Cannon Beach, Arch Cape, Yachats, Bandon, Lincoln City
Two Road Washouts on N. Oregon Coast Could Drastically Affect Traffic, Agenci...
Miami Foley Road could create a two-hour commute. Garibaldi, Tillamook, Oceanside, Manzanita, Nehalem
Oregon Coast Shipwrecks: List of Those You Can See - and Cannot
From Astoria down to Brookings, deep history and details of shipwrecks. History
Commercial Dungeness Crab Starts on Half of Oregon Coast
Opens Dec 16 from Cape Foulweather to the California border. Marine sciences
Two Stellar Oregon Coast Winter Views at Cannon Beach Include One Sizzling Sp...
Watch king tides, storms from here, walk Lewis 'n Clark history. Cannon Beach lodging, Cannon Beach hotel reviews
Florence Winter Music Fest Readies to Heat Up Oregon Coast at End of January
Seven bands on January 26 and 27, with a kick-off January 25
More of N. Oregon Coast's Wreck of Peter Iredale Showing Than Ever Before: As...
Many have never seen this much of the historic icon

Back to Oregon Coast
Contact Advertise on BeachConnection.net