Oregon Coast Storm Watch with a View
Published 11/24/2007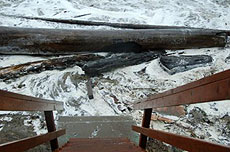 Storm waves lash at the stairway of a Newport motel (courtesy Starfish Point in Newport)
"Lines drawn in faint discord
As the stormwatch brews
A concert of kings
As the white sea snaps
At the heels of a soft prayer
Whispered" - Jethro Tull, 1982
(Oregon Coast) - It's likely no other rock song captured the imagery of an ocean storm better than that line from "Dun Ringill," by Jethro Tull lead singer Ian Anderson. And while it was written about some place in Scotland, it's not hard to imagine Anderson had Oregon's rustic, moody coast in mind.
That's the season we're heading into now, with our own angry sea snapping and clawing magnificently at the seashore on a regular basis. So, if you're like many visitors to the Oregon coast, you could probably use some suggestions for prime storm watching spots.
The examples listed below are just a few of many, but with optimum safety in mind.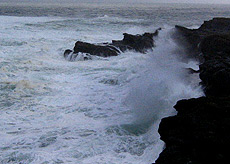 Typical wave action near Boiler Bay
Boiler Bay State Viewpoint
Between Boiler Bay and Depoe Bay lays the small headland of Boiler Bay State Scenic Viewpoint – not to be confused with Boiler Bay itself. Getting into this spot is tricky, as the entrance is to the north and the exit is to the south (a little confusing if you're heading north on Highway 101). But once you get there, you'll find numerous picnic tables, plenty of grassy spots and full restroom facilities help add to the beauty and convenience on this mini-headland.
There are almost three different, distinct areas to this park. To its south are views towards Depoe Bay and a bundle of rocky structures that provide more than a few opportunities for large, stormy waves to crash upon and make an enormous spectacle.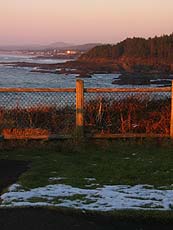 Boiler Bay (in the snow, 2007)
Straight out towards the sea, there's a fenced area, which is leads closer to the tip of the headland, and is harder to deal with when the wind is going bonkers. It may knock you around quite a bit.
To the north, there's a sort of cove-like area, with views of more rocky slabs where stormy waves do incredible acrobatic acts. Also, from here you can watch waves sail into Boiler Bay State Scenic Viewpoint and work their wintry magic.
Wherever you're standing, the views of winter storms are phenomenal, and will leave lasting memories on those who manage to catch them at the right time.
Yachats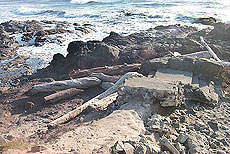 Big logs tossed onto a Yachats beach
There's not a bad view in the house when it comes to this tiny town between Newport and Florence. Aside from the small bay, the entire shoreline is made of large, craggy basalt structures, which makes for massive wave action the whole year round.
But come storm season, you'd better stay up on the crest above the rocky beaches. Big storms can toss major logs onto the area, and some winters turn the entire shoreline into something that looks like a devastated forest.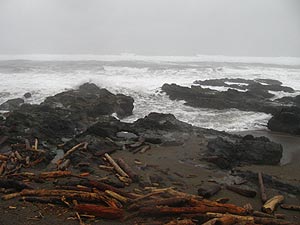 The road behind downtown Yachats runs along the shore, starting at the Recreation Area, just behind Yachats River House Restaurant. The road meanders almost a mile, through residential neighborhoods, and provides remarkable views of the walloping waves. There are even some benches along here.
Head to Smelt Sands State Park, at the northern end of town, and you'll find some incredible vantage points as well. You'll want to stay off the paved pathway, however, and stick to high spots well away from the waves.
Also providing great views is the Devil's Churn, a few miles south of town. Along the way, there are lots of spots to watch the Pacific go crazy. But once you reach the Churn, you'll find a long crevice stretching 100 or so feet, which squeezes the ocean's mighty energy into some fierce explosions.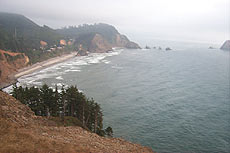 Looking towards Oceanside: the viewpoints of Cape Meares put on quite a show during storms
Cape Meares
Just west of Tillamook, this is likely one of the safest spots to catch the action on the coast, as you're some 200 feet above it all. There are viewing platforms along the northern and southern sides of this small headland, and the tip - where the charming little lighthouse stands - provides a greater panorama.
What you'll see are enormous waves crashing into rocky headlands around you. Often, these winter storms mean you'll even see awe-inspiring waves approach you, appearing so huge it looks as if they might even get you where you stand on this high vantage point.
Also in the park, another short trail brings you to the Octopus Tree, a freaky, huge organism which has grown eight very large limbs (until one was whacked off during a storm in the early `90s). The tree was featured in Ripley's Believe It Or Not for years.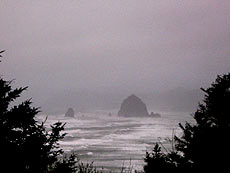 Near Cannon Beach, as a storm comes in
South of Cannon Beach
Amazing viewpoints abound along the 10-mile stretch between Cannon Beach and Manzanita, providing many opportunities to catch the oceanic drama while remaining safe, far away from the waves themselves.
A few miles south of Cannon Beach you'll come to some amazing spots. After a few winding turns in the road and some forestland that blocks the ocean view, you'll come to a couple of pullouts featuring dramatic views. The northern one is huge and comes in three sections, allowing views north and south. The second one, only 3/10's of a mile away, provides beautiful views of interesting sea stacks offshore and a sandy beach below.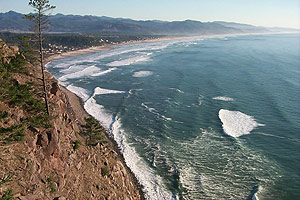 Neahkahnie Mountain, above Manzanita
A few more miles down the road, between Oswald West State Park and Manzanita, you'll come to the viewpoint and trailhead above Short Sand Beach (Smuggler's Cove) and the viewpoints beneath Neahkahnie Mountain. The world seems like it's opened up here, with the Pacific exploding in front of you and stretching as far as the eye can see. The turnouts are abundant here, with all sorts of interesting rocky cliff faces hovering over you from the landward side of the highway.
The turnouts themselves are interesting, with beautiful, black, basalt walls put there to keep you and your car from tumbling over the edge and one very fascinating, pyramid-like rock structure adorning one of the southern turnouts.
The biggest pullout provides views towards the north and south - allowing you to watch waves slam into Cape Falcon to the north and attack the shores of Manzanita to the south.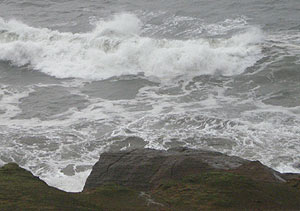 Waves at the Devil's Punchbowl
Storm Gazing Warnings
It seems like every year someone does something just shy of common sense and gets hurt during a winter storm. Always stay away from small beaches when the storms are doing their thing. Some sandy spots, like Seaside, are broad enough to go walking on, and they can give you room to stay away from the breakers. One rule of thumb for exploring even large beaches in this weather: you need to have a good 50 feet between you and the highest wave. Otherwise, don't go near the beach and stay up high.
Other spots aren't even good for watching from beyond the seawall, like Lincoln City's D River Wayside or the main wayside in Rockaway. If waves are slamming up near the wall, stay far back, because the ocean can easily toss huge logs over the wall.
Whatever you do, if officials have closed off an area because of high waves, don't go beyond it. In the early 2000's, a group of stormwatchers ignored such signs near Garibaldi, and found themselves swimming in a sneaker wave - along with their vehicles. One woman was seriously injured.
More About Oregon Coast hotels, lodging.....
More About Oregon Coast Restaurants, Dining.....
LATEST OREGON COAST NEWS STORIES
More Second Summer on Oregon / Washington Coast: 70s for Beaches
In the 70s on Sunday and remain quite sunny through Tuesday. Weather
Cox Rock, Near Florence, an Oregon Coast Puzzle in History, Geology, Sightseeing
One mysterious rock island, a connection to Sea Lion Caves. Travel tips, S. coast
Tillamook County Celebrates 100 Years of Swiss Influence on N. Oregon Coast
November 5 with the Tillamook Swiss Centennial celebration. Tillamook events, Manzanita events
Event Dives Into Crabs of N. Oregon Coast's Netarts Bay
September 25: called ?Deeper Dive: Crabs of Netarts Bay. Oceanside events
Hatfield Marine Science Center Features Live Oregon Coast Shark Event
Science on Tap series on October 5 a night of sharks. Newport events
US Coast Guard Snags Video of Humpbacks Off S. Oregon Coast, Provides Insights
Some 40 or more humpbacks off Coos Bay; scientist weighs in. Marine sciences
Little Waldport is Big on Weird Oregon Coast Legends, History
Some striking moments: like a UFO cult, Pat Boone / exploding whale connections, a crazy shipwreck, sea monsters
Wings Over Willapa Fest Brings Birding, Hiking, Art to South Washington Coast
Along the Long Beach Peninsula, Sept 22 - 25. Washington coast events

Back to Oregon Coast
Contact Advertise on BeachConnection.net