Published 04/04/09
Oregon Beaches The Locals Are Trying To Keep From You
(Oregon Coast) - Touring Oregon's beaches is a multi-layered experience. Or at least it should be. It's not just about the clam chowder, settling in with a book at your favorite lodging, or heading to the same spot each time.
It's time for the Oregon traveler to actually explore this coast. It's time to find the hidden spots, the unusual aspects to beaches you may know well - and it's time to discover other beach secrets.
Are the locals trying keep these spots hidden from the tourists? It's entirely possible. It's certainly true you can find no reference to many of these anywhere.
Is it a conspiracy theory among coastal locals? Who cares. It's more fun to think about being at the beach than straining your head over possible conspiracies. Whatever the answer is, it means there are bundles of places on the Oregon coast left untouched and unknown - unless you read this article.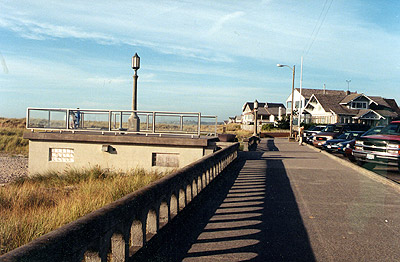 Seaside's North Promenade Beach Access
Head west down 12th Ave., across the Necanicum River, and you'll end up at the northernmost end of the Seaside Promenade.
To the north, there are sizable dunes at the vegetation line, plenty of Seaside's typically sandy beaches at the tide line and an estuary trail. This beach has its interesting secrets. The river mouth sits about a quarter mile from this access, and it's usually fairly unpopulated if not completely deserted. Along the way, it's possible to find thousands of sand dollars – many of them unbroken. It's a treasure hunters' paradise, if whole sand dollars are your thing.
The walking trail is accessible from the parking lot at 12th Avenue. It winds on for about a mile as you enter more and more unspoiled territory, eventually winding up at a slightly rocky area near the bay mouth.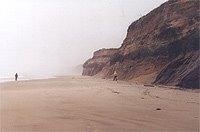 A hidden beach near Newport
Nameless Spot South of Newport
After the South Beach area, it's a host of winding, twisting spots on the road and residential areas with no beach accesses.
But a set of truly hidden crescent-shaped dents in the cliffs lie near a hidden beach access about eight miles south of Newport. Look for the Solace by the Sea Bed and Breakfast near MP 146, and less than a quarter mile south of that you'll see an unmarked beach access with a gravel patch by the side of the road.
Once on this unnamed beach, you'll find a pleasant stream and a lot of striking sandstone cliffs. But head maybe a quarter of a mile to the south and there's a couple of these rounded-out areas in the cliffs, one of which has a tiny waterfall. There is a tiny stretch of climbable spots above the cliffs next to the beach access.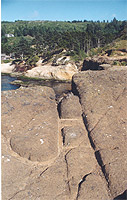 One of the odd rock structures at this hidden spot.
Strange Rocks At Depoe Bay
Look for Vista St. along the northern part of Depoe Bay, just south of the massive complex of condoos, and this will lead you down to a charming, weather-beaten neighborhood and an amazing span of puffy, bubble-like basalt cliffs.
Here, you'll find an area which delivers astounding, dizzying views of wild stuff you won't be able to witness any other way. To the north, weird coves and hidden caves become apparent. Straight out to sea, you're high above the crushing, crashing waves and a captive audience member to some amazing oceanic power.
This spot is actually known as Depoe View Park, although there are no signs designating it as such.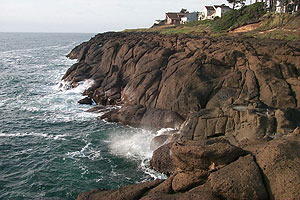 Throughout this entire section, large and small crevices, perches and an endless amount of craggy boulders make for incredible climbing and exploring fun. All of it sits about 50 ft. above where the roaring, rather frightening surf pounds onto the cliffs below. You can sometimes even feel the waves hitting the rocks as their power resonates through the stone.
Then, at the area's southern end you can see Depoe Bay, and if you peep around the corner, you can catch close up glimpses of unusual rock structures.
Also at the southern end, a large formation juts out into the sea, sometimes allowing you to climb up and walk out even farther out over the ocean. However, much of the time its access point is so soaked by seawater it's not a good idea to go ambling up these rocks. A spectacular sight here is the ocean spraying this section with either small waves or a constant stream of thick, salt-water mist.
A small trail meanders between these cliffs and the private residences above, and there's even a picnic table for those hungry for grub as well as astounding views.
This area can be found by heading down Vista St. to its end, carefully parking without imposing on one of the private homes here, then follow the sign that says ``To the rocks.''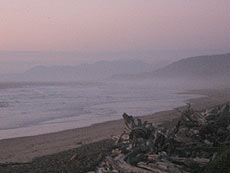 Bayocean
Bayocean Spit and Its Ghost Town
The Bayocean Spit and the neighboring community of Meares could be the answer if you're searching for solitude. Bayocean is the spit that encompasses Tillamook Bay, and the entrance to it lies next to the tiny, fairly hidden Meares - which sits about a half mile from Cape Meares.
Try the beach accesses at Meares for a little getaway: wander towards the enormous cliffs to check out the nesting wildlife above and maybe you'll get lucky and find the tide low enough to find the hidden cove.
Or keep walking north to the spit - or take the road a mile into the spit - and hike Bayocean's big, fluffy dunes. This deliciously silent place, where an entire resort once stood, takes a round trip hike of about 3.9 miles if you walk through the sandy draw near the middle and come back around. Or you can hike the entire thing in an eight-mile loop.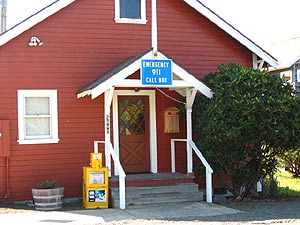 This community building is the only one rescued from the old resort.
Bayocean is a weird remnant of history. There was once a large resort town here, bustling with two hotels, a natatorium, a dance hall of sorts and five miles of roads. Some 4000 lots were created for homes, with perhaps 1600 actually being sold.
All this happened around the 1910's, with 1913 probably finding the place at its height. But heavy erosion in the area, failed business deals and finally the Great Depression ended the life of what was to be the "Atlantic City of the West."
By 1952 - when the spit was breached by a really bad winter – its streets were broken and crumbled and the place was a ghost town. A few years later, the government burned and bulldozed the majority of the buildings left. By 1971, the last of the remaining buildings had fallen into the sea.
These days, sandy bluffs are all that's left and you see no trace of the former resort. Although some locals say you can spot remnants of some parts of the community at extremely low tides – or even leftovers of foundations in shallow parts of the bay and nearby Meares Lake.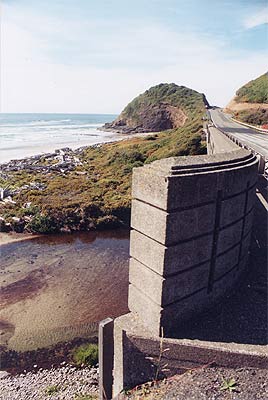 Rcok Creek
Rock Creek Campground and Roosevelt Beach
The Forest Service operates this one, accessible by turning inland on 101, between Florence and Yachats – just south of the Lane County/Lincoln County border. 16 campsites are nestled in the forest here.
But the real discovery is the beach. If you're not camping here, you can find this gem by looking for a couple of unmarked dusty patches on the side of the road immediately south of a small bridge – and just the other side from the headland at Ocean Beach. You'll find a long stretch of bluffs which allow you access to Roosevelt Beach at various points.
You'll find this charming creek spilling into the ocean, and the other side of that headland from Ocean Beach looks strangely identical with a very similar indentation in it. The strand wanders on for a while and disappears out of sight beyond the sandstone bluffs, meanwhile dotted with intriguing rock structures and covered half in stones and half in sand.
It's a fascinating and enchanting spot, made more so by the fact it's largely hidden and very unpopulated.
For more on Oregon Coast....
RELATED STORIES - Oregon Coast
Moderate Chances of Aurora / Northern Lights Over Washington / Oregon Coast. ...
Friday may be your best chance of viewing on the coastlines
Saturn Brightens, Jupiter a Monster, Still Some Meteors Above Oregon Coast, W...
Delights in the night skies are numerous, including Saturn in opposition
Raw Sewage Spill Closes N. Oregon Coast's Netarts Bay to Crabbing, Clamming, ...
Netarts Bay is near Oceanside and about 15 minutes from Tillamook
More Beach Wheelchairs Available for Oregon's Tillamook Coast Region
In Manzanita, Rockaway Beach, near Tillamook, Garibaldi, Pacific City, others
Lewis and Clark Live Re-Enactment Returns to N. Oregon Coast's Seaside
Sept 10 and 11 with the Lewis and Clark Saltmakers program. Seaside events