Published 11/30/09
Oregon Coast Gift Ideas: A Beachy Cyber Monday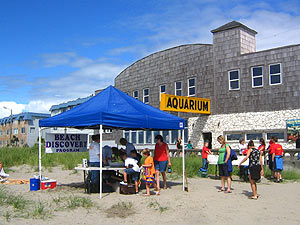 Seaside Aquarium's gift shop is a non-stop kick in the pants.
(Oregon Coast) – Black Friday and Cyber Monday never had it so good – and yet so comfy.
If you're looking for truly individualized gifts for the holidays, the Oregon coast has some stunning and surprising options. Besides, it's a grand excuse to head to the beach.
In fact, holiday shopping in the small coastal towns not only yields unique gifts, but it's much more laidback. No major crowds to push your way through or road rage-inducing parking scarcities, and then you're often within earshot of the waves and that lulling effect. That calm and calming aspect of gift buying sojourns is becoming a greater attraction every year around that region.
Still, it's the cool stuff to find that's the most interesting: DVD's about lighthouses, fabulous books on coastal stuff, freaky lamps made from beach objects, the many surf shops, fine wines, and the opportunity to give a gift certificate that actually means something: a room on the coast.
Here's a small handful of interesting possibilities for a kind of holiday beachcombing for gifts.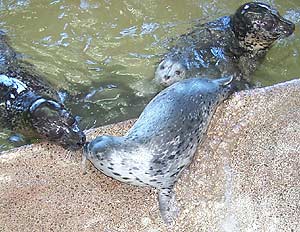 Wacky beasties abound at the aquarium, like its bunches of seals.
Everything's Beachy Keen at Seaside Aquarium
It's for the coastie at heart of any age.
There is, of course, the actual fun of the aquarium itself. But the Seaside Aquarium's gift shop may well be the north coast's largest collection of all stuff coastie, with tons of shells, starfish and other dried critters formerly from the sea that you can take home, along with interesting rocks. On top of that, there's an enormous selection of north coast-oriented t-shirts, oceanic gag gifts, funky lights made from objects out of the sea and more – a nearly endless supply of interesting to simply fun keepsakes of your trips to the coast. There are also numerous books on coastal history, Oregon coast landmarks, and things you didn't even know existed about the region.
There's lots of kooky things for grownup tourists, but kids will have a ball – quite literally in some instances, as things like beach balls, Frisbees and other aquatic-oriented toys are featured. Many of their books are kiddy books as well – all with some marine theme or another.
They also provide gift certificates for the gift shop or the aquarium itself. 200 N. Prom, Seaside, Oregon. www.seasideaquarium.com (503) 738-6211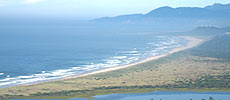 Buy your loved ones some time on a charter fishing jaunt around Tillamook Bay.
Charter Fishing Fun on the North Coast
Garibaldi Charter's. For those who love deep-sea fishing, there's a monster of an opportunity to make them happy: gift certificates are an even bigger catch here during the holiday season. The owners say they usually sell bottom fishing trips, but the certificates can be used towards any other type of fishing that are offered – you only need to pay the difference. 503-965-2238. www.garibaldicharters.com.
Wine on the North and Central Coast
Yummy wine is always welcome during the Christmas season, and two sister wineries have this sowed up in two different areas of the coast: Nehalem Bay Winery on the north coast and Depoe Bay Winery on the central coast. On top of it, they do this with a particularly looming sense of fun and flair, with kooky things to gawk at in both locations. This delightfully unusual place adds a fun, new slant to the whole wine tasting experience.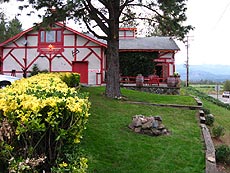 Nehalem Bay Winery, Nehalem.
For the holidays, they spotlight the slightly spicy "Santa's Elixir," as well as sweatshirts with that little, whimsical logo emblazoned on them.
Their ciders are a huge holiday hit as well. An Apple Jack hard apple cider is a top seller, and the Coastal Cranberry is a seasonal favorite.
At both Depoe Bay Winery and Nehalem Bay Winery, they're featuring enchanting gift ideas with Cambodian handbags and winebags, made by a group of hard-working villagers. All the proceeds from these purchases go to help this impoverished little burgh. The handbags, backpacks and wine bags, made from a silk-like fabric of bright colors and a hint of iridescence. They run $15 to $25.
Check out www.nehalembaywinery.com or make sure you stop by on your next visit to the area. Nehalem Bay Winery is on Highway 53 - about two miles from Wheeler. 1-888-368-WINE. Depoe Bay Winery is in Depoe Bay, right on Highway 101 (541-765-3311).
You can also find Nehalem Bay Winery at the Christmas Bazaar in Portland's Expo Center from December 4 – 6, and at the Washington County Fairgrounds from December 11 to December 15.
Oregon Lighthouses Under the Tree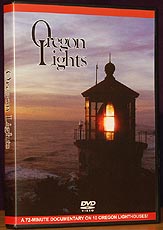 Take Oregon's lighthouses home for the holidays.
Take your favorite lighthouse home with you.
"Oregon Lights" is a DVD from Oregon Coast Show cameraman and producer Scott Gibson and writer David Anslow, now available online at www.oregonlightsdvd.com. The award-winning show was aired on Oregon Public Broadcasting a few times in the early part of this decade, and made a splash then.
13 chapters of the video take you through all ten of Oregon's lighthouses, including the private lighthouse owned by famed maritime author Jim Gibbs, as well as some other related subjects.
Those who love to travel the Oregon coast will find this film intoxicating. The DVD is 72 minutes of glorious footage, beautiful scenery, and fascinating background information and history. It takes the viewer on a tour of all the lighthouses up and down the coast, through their history, and touches upon the legends of hauntings as well. It even features interviews with Gibbs, who not only served aboard the crazed Tillamook Rock Lighthouse until it was shut down in 1957, but created his own small lighthouse at his home in Yachats.
The DVD is $10, with free shipping and handling. It can be previewed and ordered at www.OregonLightsDVD.com.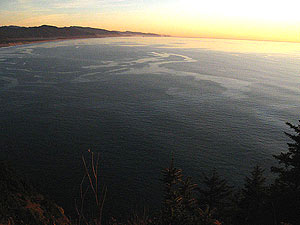 Shop online for gifts from the coast that are Earth friendly at RegisterLocally.com (photo of lookouts above Manzanita)
One Stop Online Shopping for Coastal and Portland Gifts
A few years ago, north coast resident Rachel Sip started an idea that's not only different but needed in the world of gift registries: RegisterLocally.com. Instead of signing up at one particular large store for your registry, why not have the entire coast at your disposal with its unique, handcrafted items? Sip also added another interesting slant by including the element of eco-friendly gift items.
She was inspired by noticing that at the bridal and baby showers of friends, the best gifts were the indie ones purchased from smaller shops on the coast. The site has been around for a few years now, and new places are added all the time. Also, you can buy with the good conscience of knowing you've supported local small business people as well as assisted the environment.
There are all kinds of gift ideas floating around this little gem of a site, not just bridal or baby shower ideas. There's also a section for Portland gift ideas. This ain't your parents' online shopping spree. www.registerlocally.com.
Coastal Candles and Stuff for Surfers
Nelscott Reef Surf Shop. Owned by the director of the now world-famous surf contest, they have the latest contest t's and sweatshirts: $20 - $34. Their website is advertising $100 off any new surfboard in the shop, and Nelscott Reef sweatshirts and spring vests are 50 percent off, so surfers can show off their state loyalty. 1800 SE Hwy 101 #E. Lincoln City, Oregon. 541-996-6122. www.nelscottreef.com/Nelscott_Reef/Surf_Shop.html
Newport Bay Candle Co. – in Lincoln City, Depoe Bay, Newport and Florence. Container candles, handmade on the coast. Also, a large selection of nautical, beachy gifts. They ship anywhere. 541-265-6111. www.newportbaycandle.com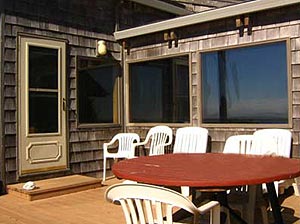 Purchase a gift certificate for a fabulous B&B, like Shaw's Oceanfront in Arch Cape
Give the Gift of Lodging
Just about any lodging on the coast offers the possibility to put a nice oceanfront hotel room under the tree – well, figuratively speaking, that is. Gift certificates for vacation rentals, hotels or motels are a big thing, and growing in popularity.
For a good list of those lodgings offering gift certificates, see the Oregon Coast Lodging Guide. Or see the lodging guides for Seaside, Cannon Beach, Manzanita, Wheeler, Rockaway, Garibaldi, Oceanside, Pacific City, Lincoln City, Depoe Bay, Newport and Yachats. All will send their gift certificates to you once you order over the phone.
Check the Oregon Coast Dining Guide for restaurants, as most or all listed will also sell you gift certificates.
AAA Members Can Save
For those AAA members, the organization wants to remind them that having a AAA card can get you savings on gifts at many stores.
You'll find AAA discounts at the mall, your favorite retailer and online.
AAA has thousands of partners, many on the coast or near it, including Target.com, BarnesandNoble.com, Shoes.com, Kohls.com, Banana Republic Factory Stores, Payless ShoeSource, Gap Outlet, Tanger Outlet Centers and Woodburn Company Stores. Visit AAA.com/discounts for a complete list of retailers
Last year, AAA's more than 51 million members used their AAA cards to save $2.1 billion, including discounts at consumer electronic stores, booksellers, clothing boutiques and other retail establishments. That adds up to an average of $101 in savings per member.
If you're shipping your gifts, AAA members receive 15 percent off packaging and 5 percent off shipping at The UPS Store.