Wet and Dry Attractions of Oregon's Coast
Published 2008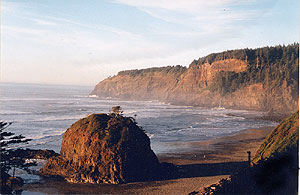 A hidden spot near Oceanside, which is also part of a wonderful drive.
(Oregon Coast) - November is over a month away, and until mid-October, you're still looking at the famed "Second Summer" conditions that create the warmest time of the year. But when the month turns over, storm season starts to sneak in, and the weather begins to bounce up and down between wild and crazy and lovely skies. You stand an almost equal chance of finding sun and as you do storm in early November and late October, often shifting between the two several times within the same day.
Some of the most interesting moments can be had during these downpours. You may want to just drive around and enjoy the fall flora and the sights in such weather, waiting it out until the craziness breaks a bit. Auto tours are one idea, which show off fall and the scenery, but allow you a chance to stop and goof around the beach. And there are also plenty of beach spots where the indoors is just a few steps away, if you need to dodge a sudden squall.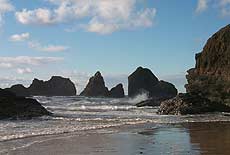 Nifty secrets behind the tunnel.
Oceanside
Find this tiny village on the Three Capes Tour, about nine miles west of Tillamook, and you've happened across one of the coast's most delicious wonders.
Wander the beach, slightly shielded from the north winds by Maxwell Point, and you'll find an intriguing tunnel going through the small headland. On the other side, you'll find a wondrous beach filled with strange rock slabs and agate-combing possibilities.
If the weather's been wet for a while, stay away from this tunnel, however. The cliffs above often drop rocks and such.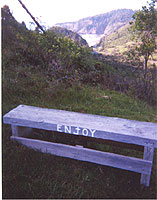 Curious sights lurk along the backroads of Oceanside.
In such dreary weather, a walk or drive along the steep, hilly streets of this miniscule town will blow you away. The older homes are stunning enough, but some of the more recent additions may drive you mad with jealousy with their opulence and the amazing ocean view they sit in front of. A few of these have delightfully weird shapes which will delight you and maybe cause you to scratch your head.
Nye Beach
This tiny section of Newport is more than a quaint place: it's mesmerizing with its beauty and its architecture of old town America mixed with old Europe in interesting ways. A recent refurbishing of the district, complete with lanterns and brick streets, catapults the vibe into high gear.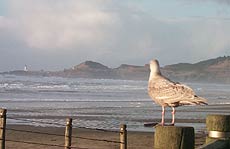 Iconic Nye Beach and its Turnaround
Down on the beach, after parking at the charming turnaround, you'll find a long, sandy stretch in either direction that's highlighted by nooks and crannies in the cliffs, as well as the interesting remnant of Jump-Off Joe to the north. Above the structure sit the spooky remnants of a condo once naively built on this shaky sandstone foundation back in the early 80's. It faltered and began crumbling just weeks before its completion. These days, this chunk of labyrinth-like concrete evokes castle ruins a bit.
To the south, there's the Vietnam Vet memorial, which features a walkway meandering up into the cliff. It's lit up at night by a host of lights embedded near the floor, with various benches along the way, perfect for that midnight smooch session as the huge, Yaquina Head Lighthouse blinks in the distance.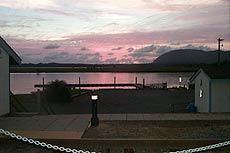 Wheeler and the Nehalem Bay
Nehalem Bay
There's just something different about this delightful little chunk of Americana, which extends a ways back inland between Rockaway and Manzanita. Part of that is that the area presents an interesting way of hiding from the moody weather during spring and fall. It's not unusual to find the beaches immediately south and north of the bay overcast and even rainy, while the bay is basking in the sun.
And if the weather is acting up, explore the antique shops of Nehalem or Wheeler. At Wheeler Station, there's some 10,000 square feet of store to get lost in, crammed full of collectibles ranging from chuckle-inducing oddball to beautiful. Explore the adorable storefronts, which sometimes have an old west vibe or smack of the 1940's. And head to the nearby Nehalem Bay Winery (888-368-WINE) to soak up the quirky ambiance amid wine tasting.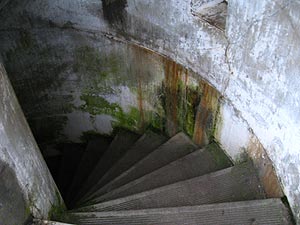 Fort Stevens: it looks like a castle inside the Battery Russell.
Fort Stevens State Park
It's time to get lost in history.
Here, enormous gunneries once guarded the mouth of the Columbia River, lodged in huge turrets which rested in sprawling concrete fortresses - all empty and abandoned now, with gaping holes like sad, hollow eyes, where guns, officers' quarters and other war machinery once sat.
Around one bend, you'll find Battery Russell and its enormous concrete bunkers. Built around the turn of the last century, the gunnery eventually watched for invaders during World War II. There are other gunneries as well - all perfect for rainy days when you don't mind getting a little wet while darting in and out of these castle-like structures.
The park also features an incredible jetty stretching out into the mouth of the Columbia River and the wreck of the Peter Iredale, one of the world's most photographed shipwrecks.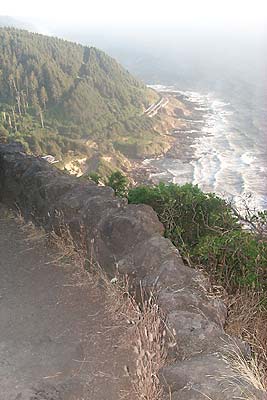 At the top of Cape Perpetua.
Cape Perpetua Auto Tour
Whether it's rain or shine, the area around Cape Perpetua is a consistent wow-inducer. Just south of Yachats, a few hundred feet south of the Devil's Churn parking lot, you'll find the entrance. The sign is clearly marked here: take the road on the east side of the highway to get to the Interpretive Center, to go to the top of Cape Perpetua and its trails or to take the 19-mile, 45-minute tour around the mountain and back to Yachats.
Stay straight, and you soon have the choice of taking the big Auto Tour and scenic route, or wind your way up the small mountain to the top. You'll meander through a thick rainforest before ending up back in Yachats.
The tiny, twisting ride to the top provides an enormous reward, however. Here, you've risen 803 feet above the sea and the panoramic view is awe-inspiring - augmented by an atmospheric stone wall encircling the viewpoint.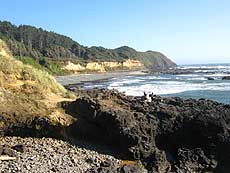 Strawberry Hill, just south of Yachats
Driving South of Yachats
It's the kind of drive that could be your last: it's so tempting to keep looking out the window that it needs a lot of discipline to keep your eyes on the road.
This mere 25-mile stretch between Florence and Yachats is filled with numerous tight curves atop high cliffs which create a never-ending cavalcade of amazing ocean views. If the weather is rough, there's plenty to see along this route. And if it's anything but rough, it's among the most pristine and uncrowded sections of all the Oregon Coast.
First up, south of Yachats, you begin the climb towards Cape Perpetua and the Devil's Churn, as blackened basalt shelves meander between you and the sea in various, unidentifiable shapes. For the next 20 miles or so, the road rises and falls, interspersed with rocky landscapes and sandy beaches dotted with boulders and basalt structures.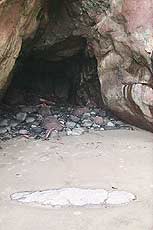 A cool cave at Bob Creek.
Some have bluffs and some are fairly flat, but all are rather bereft of human presence. At Strawberry Hill, climb out over a large headland with steps embedded in the rocks and sand, and wander down to a sandy stretch of various colors and textures, where boulders and formations create a kind of labyrinth. Tide pools reign supreme here.
There's the cobblestone surrealism of Bob Creek Wayside, where at low tide, weird mushroom-like rocks emerge that are covered with crusty marine life and starfish. At Rock Creek Campground and Roosevelt Beach, there's sand and small sea stacks, with a patch of basalt that cradles an idyllic, babbling brook. A bit south of there, spots like Muriel O. Ponsler Wayside are all sand, and it's about where the landscape flattens out to seemingly endless beaches.
Just north of Florence, you'll hit the incredible views near Heceta Head Lighthouse and Sea Lion Caves, where a myriad of pullouts allow you to gaze in awe at the wildlife covered cliffs and dramatic waves slamming into bulging structures at the bottom.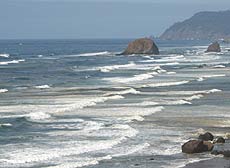 One of the scenic lookouts just south of Cannon Beach.
From Cannon Beach to Manzanita
Cruise around a half dozen bends, winding along stunning cliffs that enter a lush, forest canopy, only to reemerge along more stunning viewpoints. The ocean explodes in front of you all over. Separating you from the beaches located at the bottom of various one hundred-foot-plus-change plunges are various manmade barriers constructed of stone, sometimes grey and other times black basalt - like leftovers of a castle.
The curves begin just south of Cannon Beach, twisting along various bends as you drive past pullouts and spots like Hug Point, Arcadia Beach and Arch Cape that never cease to amaze. Soon, you'll enter the Arch Cape tunnel, which opens up to a brief glimpse of panoramic ocean views, then entering the forests of Oswald State Park. Here, check out the surfing mecca of Short Sand Beach, some wondrous trails, primitive campsites and a couple of hidden beaches tucked along the road.
Just south of all the parking lots, you emerge from the forest with more scenic stunners overlooking the Pacific and the charming burgh of Manzanita.
More About Oregon Coast hotels, lodging.....
More About Oregon Coast Restaurants, Dining.....
LATEST OREGON COAST NEWS STORIES
Moderate Chances of Aurora / Northern Lights Over Washington / Oregon Coast. ...
Friday may be your best chance of viewing on the coastlines
Saturn Brightens, Jupiter a Monster, Still Some Meteors Above Oregon Coast, W...
Delights in the night skies are numerous, including Saturn in opposition
Raw Sewage Spill Closes N. Oregon Coast's Netarts Bay to Crabbing, Clamming, ...
Netarts Bay is near Oceanside and about 15 minutes from Tillamook
More Beach Wheelchairs Available for Oregon's Tillamook Coast Region
In Manzanita, Rockaway Beach, near Tillamook, Garibaldi, Pacific City, others
Lewis and Clark Live Re-Enactment Returns to N. Oregon Coast's Seaside
Sept 10 and 11 with the Lewis and Clark Saltmakers program. Seaside events
Three Die in Crash at Gleneden Beach on Central Oregon Coast Highway
The crash involved two vehicles and had tied up traffic all day
90 Years of Oregon Coast's Sea Lion Caves Celebrated at Florence's History Mu...
Party in Florence on Aug. 26. Florence events
When That Spectacular Glow Hits the Oregon Coast: Surprise Colors Between Yac...
The colors that would erupt around here were mind-bending

Back to Oregon Coast
Contact Advertise on BeachConnection.net