24 Hour Web Cam Features Octopus on Oregon Coast
Published 06/07/2010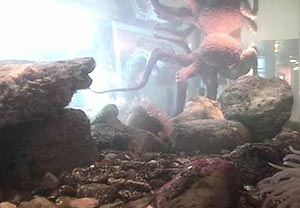 (Newport, Oregon) – An icon and celebrity of the central Oregon coast – albeit a rather slimy, freaky one – is now a bit more famous as it shows up live on a computer near you.
Everyone who's ever been to the Hatfield remembers him. And now they can check him out 24 hours a day.
The Hatfield Marine Science Center in Newport just opened its octopus tank to the world by streaming live video of their giant Pacific Octopus – seen at http://hmsc.oregonstate.edu/visitor/octocam
There are two web cams being utilized: one is outside the tank and slightly above, and the other inside. Their famed resident cephalopod can be seen interacting with tank mates and visitors to the center peering in. The funky feature skirts in and out of various nooks and crannies in the tank, sometimes disappearing out of view of the camera for a time. There is an addictive quality to this, as you see this remarkable creature curl up into strange shapes and wander around his habitat. You definitely wonder what's on his mind.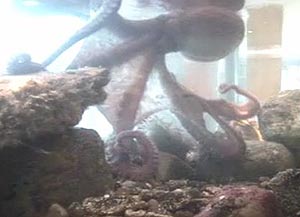 Viewers can also watch archival footage of the octopus investigating the camera when it was first installed; and more archival footage will be added periodically.
Since the Hatfield opened its doors in 1965, the giant Pacific octopus has been a centerpiece and a definite favorite. It has not been the same one all these years, of course: typically an adult octopus stays in the tank for between one and two years. Crabbers often donate young octopuses, which then replace older animals that are released into Yaquina Bay to find a mate and reproduce.
The Hatfield said that many visitors arrange their trips to the facility to catch sight of staff feeding the creature, which happens three times a week and involves giving him live crab. He creates quite a spectacle as he stalks his prey, then pounces on it – allowing tourists to learn much about their biology and behavior. These feeding times vary depending on the season. The schedule can be seen at the Hatfield site: http://hmsc.oregonstate.edu/visitor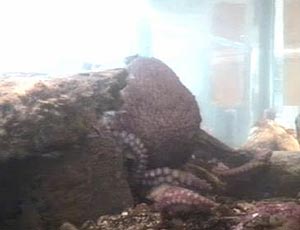 Getting the web cam in place took the combined efforts of most of the branches of the center, including its media services program.
Dennis Glaze, the aquatic curator and husbandry specialist with the center's Sea Grant program, first had to evaluate the feasibility of putting a camera into the creature's habitat tank.
"Octopuses are intelligent, inquisitive, and very strong," said Glaze. "They have the ability to take apart even the smallest mechanical component – and often will do so just to entertain themselves. Other public aquariums have had great difficulties making a project like this successful."
Glaze said the first concern was the health of the octopus, and then they had to make sure the camera would make it in such an environment.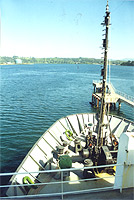 A research vessel at the Hatfield
Staff already had some experience with an underwater camera in the octopus tank, streaming feeds to children around the state in its various schools for interactive programs. One was recently streamed to kids in Iowa.
"None of the 20 students present had ever been to the Pacific Ocean let alone seen a live giant Pacific octopus," said marine educator Kathryn Hawes. "They were all so full of questions. This tool opens up some remarkable teaching opportunities."
The OctoCam has been undergoing testing for a few weeks with a limited audience of HMSC employees, volunteers and supporters.
"I can't stop watching," one fascinated tester said. "This is just the coolest thing I've ever seen on the Internet."
For more news about science, marine education and related activities on the Oregon coast, subscribe to "Breaking Waves," the Oregon Sea Grant news blog, at: http://seagrant.oregonstate.edu/blogs/.
More About Newport, Oregon lodging.....
| | | |
| --- | --- | --- |
| | | |
LATEST OREGON COAST NEWS STORIES
Back to Oregon Coast
Contact Advertise on BeachConnection.net