Dreary Oregon Weather Patterns Less Gloomy on Coast
Published 06/25/2010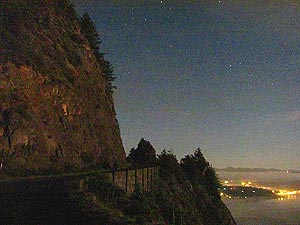 Manzanita around 3 a.m. Wednesday morning: a starry sky and windless conditions.
(Oregon Coast) – It's been pretty much the rainiest June on record for northwest Oregon, and among the coldest. It's been nicknamed "Junuary" by people complaining all over Facebook and by the media, and everyone is talking about having the winter blahs as summer supposedly kicks in.
On the coast, it's been brutal to the tourism industry. Many businesses there are talking about getting hit with a double whammy, between the economic climate and then the rain that scares away tourists like a toddler facing his first Santa Claus.
Meanwhile, as dreary weather raged on in the Portland area throughout June, at least two or three days a week the Portland weather pundits would point to the web cams in Pacific City or Lincoln City and note it was sunny and beautiful.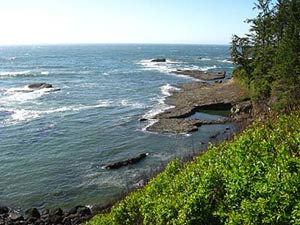 Boiler Bay, near Depoe Bay
So, is there a perception problem?
Indeed, there is – and the statistics for the month and observations from locals back this up. While it's still one of the rainiest Junes on record for the coast as well as inland Oregon, the beaches have had more sun.
Lincoln City resident Sheridan Jones keeps track of weather in the area and has been making daily reports to KATU channel 2 since 1990. He notes more sunny days and sun breaks in the coastal region than have been seen inland.
Jones said from June 1 to June 23, he's counted five days when it has been sunny all day.
There were ten more days when the sun dominated the afternoons – although the mornings started off with all kinds of weather, like clouds, hail, rain, etc.
That leaves a total of 15 days out of the 23 that the sun either appeared frequently or dominated the day.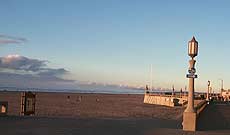 Seaside
Jones said there were nine days where there was no precipitation in a 24-hour period.
However, he still counted 7.420 inches of rain in those 23 days, whereas the average rainfall for June for the last 26 years has been 3.5 inches.
This leaves a mixed bag of results, but it means the coast still came out ahead of the valley for sunny moments.
No one disputes that it's been rainier than usual even on the coast, and plenty there are complaining about "Junuary" conditions. But everyone who lives there agrees it's been nicer than the public thinks it is.
Brian Hines, of San Dune Inn in Manzanita, said the weather has gotten even the locals down.
"Sun versus gray days: the sun is in the distinct minority with its appearances," Hines said. "To be fair, it does appear some days for short periods even it is of the wan and watery kind. Have probably had six full sunny nice days, tops, this month so far."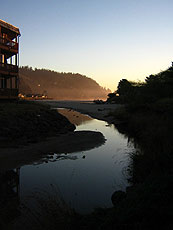 Neskowin
In Depoe Bay, the rain gauge at Trollers Lodge was at 5.44 inches between June 1 and June 21, said owner Peg Leoni. She took a little more humorous approach to the weather.

"That's hardly enough to wash the valley bugs off the windshield," she said. "But there have been rainless times every day."
Avette Gaiser, from Lincoln City's Hidden Cove BnB, said there are some distinctive micro climates on the coast, especially where she is.

"Here on Devil's Lake, we are in the 'banana belt,' as it is widely known by all local residents," Gaiser said. "We are usually 10-20 degrees warmer and we rarely have large wind problems. During the past week, the weather blows in and out.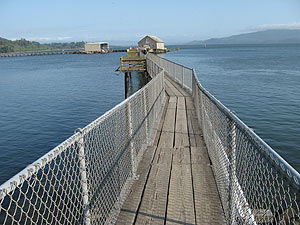 Garibaldi, Tillamook Bay
"That is the difference between coastal weather and the valley. The bad weather socks into the valleys. It blows in and out at the coast. So, yes we have had overcast days, but they clear up, the sun shines, then it blows in again. We have had no rain for several days here. I am watering my garden every morning. Average temperature here on the lake has been 60 degrees for the past week."
Sarah MacDonald, of Sea Sweet Vacation Rentals in Oceanside, said there have been a lion's share of sunny moments in between the squalls.
"Actually, the weather has been really nice here in Oceanside," MacDonald said on June 21. "Last Saturday it was really great here. And just in Pleasant Valley, just south of Tillamook, it was rainy and stormy, but really nice here in Oceanside, sunny and warm and barely any wind. Just a few sprinkles here on Sunday but Monday is fantastic again. Sunsets have been fabulous, can't beat them. Tonight, a gorgeous night, no wind and the ocean is calm and like glass; a few clouds on the horizon with the sun peaking through. It's going to a great sunset tonight."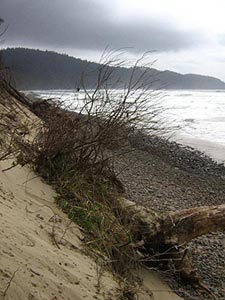 Moody, changing conditions at Cape Meares State Park
At The Breakers Beach Houses vacation rentals in Neskowin, the front office is quick to point to the more positive side of the weather situation. "Only two days a week in the last couple of weeks we have had showers or rain, mostly early morning, and at night with cooler temperatures. We have not had as much rain here as reported inland."
Donna Weiss, of Weiss' Paradise Suites in Seaside, lamented the rainy June and lackluster business climate. One of the big attractions at her lodging is the huge hanging gardens that cover the exterior. She plants these flowers in May or April, and usually by now they are in full bloom and create quite a spectacle.
"They look like they were just planted, that is the ones that made it through the rain, hail and wind," Weiss said.
In the meantime, she acknowledges the sunny moments and days, but hopes the public will get the message.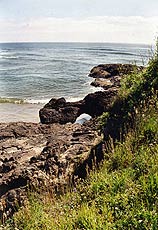 Near Yachats
"Business on the coast is dependent on the weather," Weiss said. "If it is rainy, most people do not want to come to the coast in the summer. They could stay home if the weather is miserable.
"I am keeping a positive outlook for the rest of the summer. I don't like it hot at the coast, but a little sun is nice."
When people booking rooms ask her about the weather there, she now has a standard line.
"I tell our guests to look out over the ocean and what they see coming is what they will get."
More About Oregon Coast lodging.....
LATEST OREGON COAST NEWS STORIES
Moderate Chances of Aurora / Northern Lights Over Washington / Oregon Coast. ...
Friday may be your best chance of viewing on the coastlines
Saturn Brightens, Jupiter a Monster, Still Some Meteors Above Oregon Coast, W...
Delights in the night skies are numerous, including Saturn in opposition
Raw Sewage Spill Closes N. Oregon Coast's Netarts Bay to Crabbing, Clamming, ...
Netarts Bay is near Oceanside and about 15 minutes from Tillamook
More Beach Wheelchairs Available for Oregon's Tillamook Coast Region
In Manzanita, Rockaway Beach, near Tillamook, Garibaldi, Pacific City, others
Lewis and Clark Live Re-Enactment Returns to N. Oregon Coast's Seaside
Sept 10 and 11 with the Lewis and Clark Saltmakers program. Seaside events
Three Die in Crash at Gleneden Beach on Central Oregon Coast Highway
The crash involved two vehicles and had tied up traffic all day
90 Years of Oregon Coast's Sea Lion Caves Celebrated at Florence's History Mu...
Party in Florence on Aug. 26. Florence events
When That Spectacular Glow Hits the Oregon Coast: Surprise Colors Between Yac...
The colors that would erupt around here were mind-bending

Back to Oregon Coast