Oregon Coast Storm Tears a Path of Debris - More Coming
Published 01/18/2010
Storm debris near Depoe Bay at Otter Rock: interesting, weird stuff washes up after the storms

.
(Oregon Coast) - "I've decided that people who abide at the coast have more faith in their mortality than anyone else on earth," one coastal resident said. Michele Franck, owner of Oregon Beach House Rentals, is talking about a monster of a storm that ripped through not just the length of the Oregon coast but in places like Portland as well.
"We had just gone to the movie 'Book of Eli' yesterday and I was pretty sure it was our own end coming last night," Franck said. "It was relentless."
Lincoln City reported gusts as high as 76 mph Sunday night, and Mount Hebo reported a gust in the 80's. Tree limbs were all over parts of Highway 101, but the day broke with a fair amount of sun and calm conditions – all the calm before another storm is set to move in.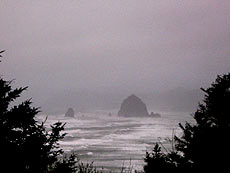 Cannon Beach
Meanwhile, Portland had its share of winds uncommonly heavy, leaving tons of paper strewn all over SE Portland streets from MLK up to 50th and beyond. Even Highway 26 from the Sylvan Exit down to the Vista Tunnel was pitch black, looking more like the winding part of 26 that goes to the coast.
The wildest reports seem to be coming out of Newport. Judy Joubert, owner of Stonecrest BnB near town, lives right above the surf.
"What a show it was last night in South Beach," Joubert said. Lightning began about 7:15 p.m. We watched from our second story windows with the 180 degree view of the ocean and horizon. The lightning was lighting up the horizon as far as the eye could see north and south. As it moved closer so did the thunder. The lightning continued until I closed my eyes at 10:30 p.m. Then the hard rains and winds began. I get so excited during storms such as these. Reminds me of my life in the mid-west."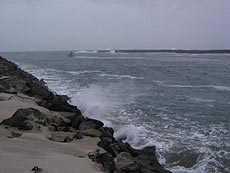 Newport's south jetty
"The wind was blowing the rain in sheets up the hill from south of our place," said Danielle Emerick, of Starfish Point in Newport. "You could se sheet after sheet of rain blowing almost back up into the sky. Probably at least a 45 degree angle upwards."
Emerick said their home shook pretty hard during wind gusts, along with thunder that also shook the windows.
"It even forced rain into some of our windows through the drain holes in the bottom of them," she said. "The trees just danced back and forth with each gust. The gusts were very hard and I think some of them were harder than the predicted 70 mph we were told. Unfortunately our wind gauge is broken right now.
"This morning there where limbs everywhere, broken and knocked over planters around the property. It broke off one of our lights on the eave of our office building and blew it into the stairway of our units next door. Thankfully, we brought our flags indoors last night at dark or it would have snapped them off and blew them into the next county."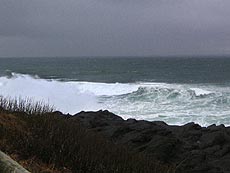 Big waves are coming again to the coast tonight (near Depoe Bay)
On the central coast, power went in and out. Depoe Bay Winery's Angi Wildt said she wound up playing cards with friends by candlelight when lights went out in the middle of the game.
Brian Bardfield, of Whistling Winds Motel in Lincoln City, said the rain was sideways. "And thunder that rocked the motel like it was on springs."
Franck called it a monsoon.
"We live up the hill a block from the beach, and I swear the ocean sounded like it was lapping halfway up the steps from the garage," Franck said. "Thought I'd have to dive down in the water to rescue our guest in downstairs apartment, like in 'Poseidon Adventure.' "
Avette Gaiser, of Hidden Cove BnB in Lincoln City, said Devil's Lake had no discernible damage.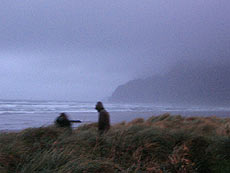 Manzanita
"It was calm this morning with blue skies striated with wispy clouds," Gaiser said. "My rubber duckie perched on my outdoor railing on the lower deck did not even blow off. He just keeps smiling at me."
In Manzanita, many reported little or no excitement. Brian Hines, owner of San Dune Inn, said he slept through it, while two of his employees were up most of the night, worried about their patio roof flying off. Otherwise, he called the storm a "non-event."
Another storm is set to hit the coast Monday night around 8 p.m., high wind warnings and high surf advisories lasting until well into Tuesday.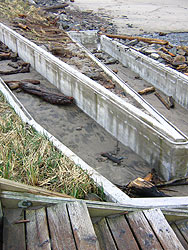 Cannon Beach's Tolovana area is often innundated with debris at the access after a few winter storms.
The National Weather Service said conditions won't be as wild as last night's however, with sustained winds more around 30 to 40 mph, and some gusts as high as 65 on exposed areas.
While the wind warning is in effect until 4 p.m. Tuesday, the high surf advisory lasts until 6 p.m. that day.
"Strong winds accompanying the next Pacific Storm to move into the area tonight will push seas to 20 to 25 feet again by early Tuesday," the NWS said. "Be sure to use caution along the coast this week and stay away from the beaches."
Once calmer conditions prevail, this will be an excellent time to hit the beach for beachcombing. Not only will all sorts of oddities have washed up, but erosion may have revealed fun treasures like more agates or large stuff buried in the sand.
More About Oregon Coast Weather.....
| | | |
| --- | --- | --- |
| | | |