Published 02/18/09
20 Reasons to Oregon Coast It In Spring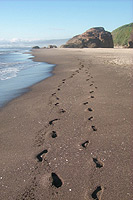 Winema Beach, near Pacific City, is typical of a deserted spring beach.
(Oregon Coast) - Do you really need a list of reasons to visit the Oregon coast?
If statistics say anything, you probably do. At least when it comes to late spring, after the school vacationers have gone home and left the beaches and streets to the rain, the increasingly sunny days and the locals.
After the spring breaks are over, usually after the first weekend of April, so begins a time of year with a variety of really different aspects going on. Yet it's one of the least populated times of the year on the beaches. That's the whole "secret season:" a combination of unusual weather phenomenon, lower than usual minus tides, lodging specials and a host of other hidden gems about these sands most people don't know about.
1: The Secret Season. There's more to spring than spring break. In fact, that period after the main spring breaks, from mid April through to the end of May, is a distinctively unpopulated time with a host of interesting natural wonders that make this an unusual time of year at the coast. It's nicknamed the "secret season," "hidden spring" or "secret spring" – various incarnations of that, because no one ever seems to talk about it. There is a growing movement of coastal businesses that are making it a point to speak up, however.
What are the components of the "secret spring?" Read on.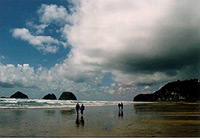 Oceanside in April: sunny skies mix with a squall looming in the distance.
2: Fewer Crowds On top of the beautiful natural phenomenon that abound this time of year, crowds are sizably less. In some areas, like Manzanita, it's almost a ghost town, and you can enjoy the most incredible chunks of north coast beaches in total solitude. You're apt to find the roads and beaches completely to yourself at times, if not fairly often. This is true even on most really nice weather weekends, where things do get a bit busier – but not much.
3: Wild Weather Extremes March and April bring a crazed kind of weather, often switching back and forth abruptly between sunny and squalls within the same day, sometimes within a half hour. You get an interesting mix of increasingly nice days, with occasional winter-like storms still possible – periodically within the same day. May starts to calm down considerably, and you lose the big storms, but weather switch-a-roo's still happen quite often.
You'll want to come prepared for abrupt changes in weather, bringing along changes in clothing and jackets, in case the weather decides to turn on you.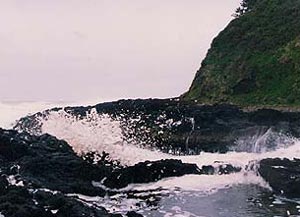 Manic foam does wild things at Cape Perpetua near Yachats.
4: The Weird Wonders of Spring Storms Spring storms can offer some wild, strange sights, especially when paired with the larger blooms of phytoplankton that happen this time of year. These are the microscopic creatures that whales and other fish eat in huge abundance. One kind, called diatoms, are responsible for the sea foam you see in the waves. Their millions of tiny skeletons combine with the air to make air bubbles in the breakers.
With more of them in the spring blooms, you then get a better chance of seeing sea foam pulling all sorts of strange stunts during the season's storms, like moving across the highways or even flying upwards, creating the mind-boggling sight of what looks like snow going the wrong direction.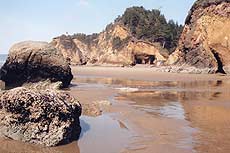 A big low tide at Hug Point opens up whole new vistas of sights and objects.
5: Lower Minus Tides Some of the year's lowest minus tides can happen in March, April and May, with May having a tendency to be the lowest. This allows for greater exploration of tide pools and other sights not always visible.
This means a huge new world to discover on the coast, as a myriad of objects both alive and inanimate open up. It means a lot more than starfish.
In places like Hug Point, on the north coast, minus tides bring entire new vistas to this already remarkable beach. You can see the bottom parts of the road that was blown out of the headland in the early last century, and other mysterious rocky slabs show themselves just beneath the water.
Add to that the incredibly low sand levels we've had this winter and you're bound to spot more oddities than you'll believe. At Hug Point, stumps from a forest theorized to be 80,000 years old showed up earlier this year (though they'll probably be gone soon, if not already, as sand levels have risen across the coast).
In Oceanside, on the Three Capes Tour, the landscape changes drastically in many ways at low tides. Entire new vistas of rocky marine gardens show themselves. Not to mention, you can walk around Maxwell Point to get to its other side, instead of having to go through the tunnel.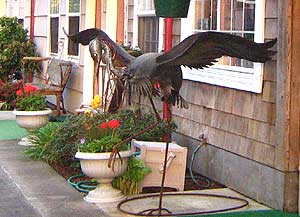 San Dune Inn, Manzanita
6: Lodging Prices Still Down Traditionally, lodging prices drop after Labor Day Weekend, and then stay really low throughout the winter after dropping again in the late fall. In the spring, around spring break, they start going up again, but there's still this intermediate time where some remain at winter rates or just slightly higher.
There is no rule of thumb how much prices rise, but usually summer rates don't kick in until June or July. Many incredible deals are still anxiously awaiting takers, as the coast is rather bereft of tourists at this time of year.
7: Lodging Specials Abound. According to Lorna Davis, Director of Tourism Development for the Newport Chamber, hotels, motels and inns are just twitching to get people onto those empty beaches and into their rooms. "There's a lot of two-for-one specials, or 'stay two nights and get the third free,' especially during the mid week," Davis said.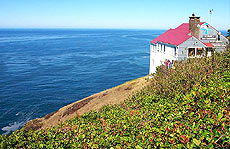 Cape Foulweather, near Depoe Bay.
8: Warmer Waters Thanks to the weather slowly warming up, you're going to find the sea just a bit warmer at times. Especially in May, the calmer air and more stable spells of sunlight start to heat things up a little more. However, you'll still find a great deal of cold water and even crazed storms in April.
9: Dig In, It's Clamming Season! On the north coast, razor clamming is especially hot – from Tillamook Bay northward. Areas like Rockaway, Manzanita, Cannon Beach and Seaside are excellent for obtaining the delicious little critters. All you need is the right tools and a license, purchased from any sporting goods stores.
This year, all of Oregon's coast is open for mussels, bay clams and razor clams. "Thick sandy shorelines have something to do with great razor clamming," said Newport beach expert Guy DiTorrice. "They like to move around, so they need real sandy locations. Our cobble-strewn beaches at most locations here do not bode well for razor clamming as much as they do for cockles and steamers."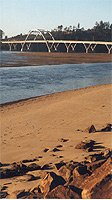 Waldport's Alsea Bay
10: Crabbing Season Still Hot. While crabbing is best in late fall, early winter, with their meat at the thickest just after December. But less people are out trying to catch the same catch as you, and charter boats aren't quite as busy with tourists.
Oregon Department of Fish and Wildlife (ODFW) spokesman Brandon Ford gave some hints.
"When ocean conditions permit, anglers can combine crabbing and bottom fishing in one trip," Ford said. "I believe there are more people looking for those opportunities. The crabs are generally bigger in the deep ocean, although it is often a matter of luck, like any sport fishing."
ODFW said that slack tides – high and minus tides – are the best times of day. "The most number of crabs are walking around foraging, since they are not getting pushed around by tidal exchange," says its website.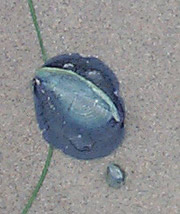 Velella velella, or purple sails.
11: Purple Sails Arrive Typically, this time of year means the occurrence of what are called "purple sails," or velella velella, as they're technically called. They look like small, purplish round jellyfish, with a small fin at the top. They often show up in spring or early summer, in great abundance, and usually start creating a pungent fishy smell while stranding on the beaches in such numbers. The start to arrive when the east winds kick up. Some have already been spotted on Oregon's north coast, says a representative of the Seaside Aquarium.
#12. Wine Tasting Weekends – and Weekdays These abound with greater regularity up and down the coast, and they can be an incredible find. In Yachat, Yachats Wine Trader and The Wine Shop offers a constant stream of vino and incredible cuisine most days of the week, while The Wine Shop hosts special tasting events on Saturdays. Nye Beach Gallery in Newport and Cannon Beach's Wine Shack also provide wine tasting hours every Saturday afternoon. There is always the Flying Dutchman Winery near Depoe Bay, and the Depoe Bay Winery and Nehalem Bay Winery where the tasting rooms are always open. Yummy Wine Bar and Bistro, in Seaside, is the latest hotspot that's irresistible in the fermented grape category.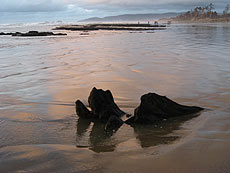 Strange little stumps showed in late winter at Cape Lookout State Park in 2008.
13: Oddities on the Beach Agates are again found at Agate Beach in Newport, thanks to the sand-scouring action of the season's storms. They've been buried beneath the sand layers all along, and weren't seen there for ten years, until last year.
"There are a couple of small agate-containing agate bars that are open along the meandering channel of Big Creek," said Newport beach expert Guy DiTorrice." The channel has shortened its hard-northerly track this past winter, opting for some wider sections closer to Agate Beach State Park.
"However, sand depth remains high on most of Agate Beach; ditto at Beverly Beach State Park, Coal Creek and Moolack Beach."
DiTorrice added there are some agate-containing beaches open north and south of Lost Creek State Park and further north at Thiel Creek, with many collectors reporting nice picking, especially for the "Newport blues."
Lower sand levels mean the ancient "ghost forest" stumps were visible again on beaches just south of Newport, just as the ones in Hug Point, Arch Cape and various other spots along the coast. But these are likely to disappear very soon. However, there is a major "ghost forest" that's still very visible at Neskowin.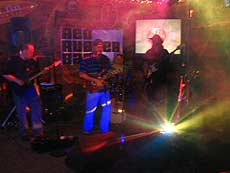 Portland's Red Rubber Band performs at the San Dune Pub in Manzanita.
14. Explore the Coast's Live Music Scene From bluegrass, Celtic, jazz, classical, reggae and blues to rock 'n' roll of various genres, the entire coast has a burgeoning live music scene that's actually more interesting than many places inland. The Newport Performing Arts often features the Newport Symphony Orchestra (and sometimes with locally-based celebrity David Ogden Stiers behind the baton). Find all sorts of stuff at The Yachats Commons, rock and blues at the Landmark down the street, and big names in Lincoln City at Eden Hall. The San Dune in Manzanita and the Sand Trap in Gearhart carry many regional favorites as well, such as The Crackpots or Norman Sylvester.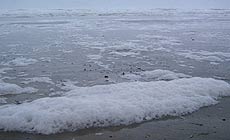 Slightly stormy conditions in Newport makes for spectacular foam moments.
15. Rain-Soaked Adventures Don't be a scaredy cat and shy from the beaches during spring squalls. It's actually more fun than you may imagine to just wander the outdoors during one of those notorious downpours. You'll have the beach to yourself and see wonders you won't normally see.
16: Hold Your Meetings on the Coast There is also an enormous industry on the coast geared to this, and places like the Seaside Convention Center or Embarcadero in Newport or the Stephanie Inn are just the beginning. Numerous hotels, like the ones listed in the wedding planning section of this article, also have grand facilities for setting up a large gathering.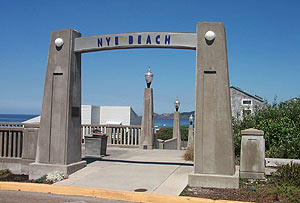 Nye Beach, Newport.
17: Nye Beach Murder Mystery Weekend - March 14 & 15. The sixth Annual Mystery Weekend is an interactive event that begins at 11 a.m. Saturday at the Performing Arts Center. Mystery Packets may be purchased for $5 and suspects will be introduced and the particulars of this crime will be shared. Suspects will be available at Nye Beach business locations until 5 p.m. so "sleuths" may interview them and also collect clues in their effort to solve the mystery. The "reveal" happens on Sunday at 6 p.m. www.nyebeach.org or 866-592-5556.
18: Earth and Ocean Day at Oregon Coast Aquarium, April 22. Visitors will enjoy a day of activities celebrating Earth and Ocean Day including a scavenger hunt, dive presentations, information on sustainable seafood, a presentation in the theater, informative booths by conservation organizations and suggestions about what you can do to make a difference. The Aquarium grounds staff will have a table in the lobby with information about native landscaping and how to create a backyard habitat for wildlife. The grounds staff will also conduct a tour around Aquarium grounds. 10 a.m. – 5 p.m. 2820 SE Ferry Slip Rd. Newport, Oregon. 541-867-3474. www.aquarium.org.
19: Astoria Warrenton Crab and Seafood Festival, April 24 – 26. Enjoy live music from northwest bands, an enormous selection of seafood and other culinary delights, almost 50 Oregon Wineries and about 100 booths filled with handmade arts and crafts from Pacific Northwest artisans. Individual day prices vary. A weekend pass may be purchased for $18. It all happens at the Clatsop County Fairgrounds. Walluski Loop, Astoria, Oregon. (800) 875-6807, or visit http://www.oldoregon.com.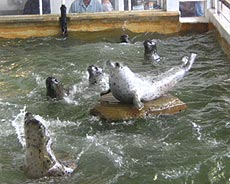 Seaside Aquarium
20: Indoor Attractions When the weather gets crappy, it's a perfect time to check out the myriad of manmade wonders that feature nature. Indulge in the Seaside Aquarium, Oregon Coast Aquarium and Hatfield Marine Science Center - the latter two are in Newport. Also in Newport, you'll find the Undersea Gardens, Wax Museum and the Ripley's Believe It Or Not. In Tillamook, get cheesy at the Tillamook Cheese Factory or check out the large variety of vintage aircraft at the Tillamook Air Museum. Fort Clatsop, near Astoria, is the closest you'll come to seeing Lewis & Clark firsthand. Nearby, the Gateway to Discovery Center in Seaside takes you on a mind-bending ride through the natural amenities of the north coast and some seriously wowing geologic facts. Down near Florence, you'll find the Sea Lion Caves and its various wonders. In many cities, like Astoria, Seaside, Tillamook, Newport and Florence, there are often more than one historical museum where you can get lost in time.
RELATED STORIES
Unusual Travel Articles TravelParanormal.com allows you to submit your own creepy tale or debunk one - or see up-to-the-minute news headlines about travel and the paranormal.

Watching Transformations of Oregon Coast Beaches Seasons change and so do beaches, revealing different sides and a variety of eye-popping sights

Staggeringly Cool Ideas for Oregon Coast Romance Be it the season of Valentine's or be it any time of the year, Oregon's coastline has essentially cornered the market for cuddle-inducing possibilities and gushy activities for the hand-holding set

Day or Night Mysteries and Merriment on Oregon Coast It's more than just nightlife that comes to life, but the beaches offer major opportunities

News Headlines from All Over Oregon Need to scan Oregon headlines? Constantly updated news from all over Oregon: a comprehensive, up-to-the-minute display of news headlines from a variety of media.
OR TAKE THE VIRTUAL TOUR

ASTORIA
Where the Columbia meets the Pacific, Land of Lewis & Clark and loads of atmosphere & history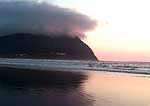 SEASIDE
The Promenade, Tillamook Head, family fun & broad, sandy beaches

CANNON BEACH
A mysterious lighthouse, upscale yet earthy, a huge monolith, fine eateries & an art mecca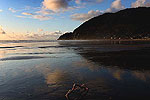 NEHALEM BAY
Manzanita's beaches, Nehalem and Wheeler's quirky beauty; laid back Rockaway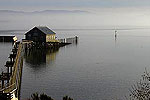 TILLAMOOK BAY
Garibaldi, Barview, Bay City, Tillamook & an oceanfront ghost town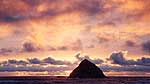 THREE CAPES LOOP
The hidden secret of the coast: Cape Meares, a lighthouse, Oceanside, Netarts and Pacific City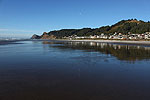 LINCOLN CITY
& THE CORRIDOR OF MYSTERY
Miles & miles of unbroken beaches, Cascade Head, Neskowin and many manmade attractions

DEPOE BAY
A spouting horn downtown, freaky hidden cliffs and whales, whales, whales

NEWPORT
Time-tripping Nye Beach, a bustling bayfront, marine science-central and two lighthouses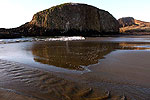 WALDPORT / SEAL ROCK
Pristine, even secretive sands and wild geologic landmarks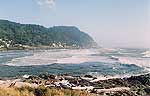 YACHATS
Constantly dramatic wave action, a mix of the rugged & upscale

UPPER LANE COUNTY
25 miles of deserted beaches & oodles of wonders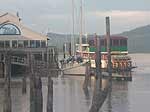 FLORENCE
A lighthouse, ancient bayfront and miles and miles of fluffy dunes

Tradewinds Motel, Rockaway Beach. All rooms are immaculate and have TV's, VCR's and in-room phones w/ data ports. Oceanfronts have queen bed, a double hide-a-bed, kitchen, cozy firelog fireplace and private deck. Both types sleep up to four people. Others are appointed for a two-person romantic getaway, yet still perfect for those on a budget. Elaborate oceanfront Jacuzzi suite has two bedrooms, kitchen, double hide-a-bed, fireplace and private deck, sleeping as many as six. For family reunions or large gatherings such as weddings, some rooms can connect to create two-room and three-room suites. Some rooms pet friendly. 523 N. Pacific St., Rockaway Beach. (503) 355-2112 - 1-800-824-0938. www.tradewinds-motel.com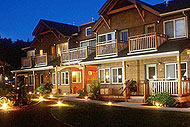 Inn at Cannon Beach. Beautifully wooded natural setting at quiet south end of Cannon Beach. Great during winter storms with a new book by the fireplace – or when the sun is out for family fun and beach strolling. Handsome beach cottage-style architecture. Lush flowering gardens and naturalized courtyard pond. Warm, inviting guest rooms. Continental buffet breakfast. Warm Cookies. Family and Pet Friendly. Welcome gifts. Smoke-free. Complimentary Wireless Connectivity. Wine and book signing events. 800-321-6304 or 503-436-9085. Hemlock At Surfcrest, Cannon Beach, Oregon. www.atcannonbeach.com.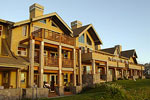 The Ocean Lodge. There will not be another property built like this in Cannon Beach in our lifetimes. Rare, premiere ocean front location; handsome, dramatic architecture and tasteful, fun (nostalgic) beach interiors. Overlooks Haystack Rock. 100 percent smoke free. Imaginative special occasion packages. Massive wood burning lobby fireplace. Library w/ fireplace, stocked with impressive book collection. Pet and family friendly. Lavish continental buffet breakfast. In-room fireplaces, mini-kitchens. Jacuzzi tubs in select rooms. DVD players, complimentary movies. Morning paper. Warm cookies. 888-777-4047. 503-436-2241. 2864 Pacific Street. Cannon Beach, Oregon. www.theoceanlodge.com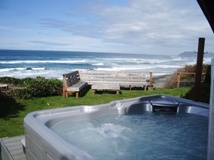 Arch Cape Property Services. Dozens of homes in that dreamy, rugged stretch between Cannon Beach and Manzanita known as Arch Cape. Oceanfront and ocean view , or just a short walk from the sea.
All homes are immaculate and smoke free; some pet friendly (with a fee). Some with broadband, indoor or outdoor hot tubs, fireplaces, decks, and fire pits or barbecues. Call about tempting winter specials that go until March (not valid holidays, however). www.archcaperentals.com 866-436-1607.