Strange and Secret Places on the Oregon Coast
Published March 07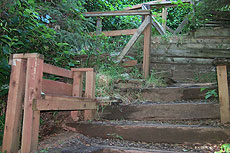 Stairway of 1000 steps at Short Beach
(Oregon Coast) - Oregon's coast is a different animal than the rest of this placid and pristine state. The area is rugged and battered by wind and rain, but it cloisters a load of pleasures and aspects not always obvious. Especially in the springtime, it's a mishmash of weather conditions, amenities you can't find at any other time, places to see with their own identity in this season, and wild, natural wonders to encounter.
In fact, it's recently become nicknamed the "Secret Season," or "Secret Spring."
However, at any time of year, there are places tucked away that will knock your socks off. Off the beaten path of 101, or perhaps even hidden in plain sight, these unusual beach spots are waiting to jolt the explorer with a bundle of features and facets that can create a kind of beach addiction. Once you find one of these strange and secret places, you'll want to search for more.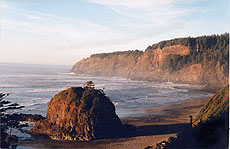 Short Beach and its blob
Short Beach, Near Oceanside
One of the state's most enthralling hidden spots lies right next to Oceanside, just west of Tillamook. Look for Radar Rd. along the back road between Oceanside and Cape Meares, and you'll find the refurbished entrance to this stunning beach. Until recent years, the way down here was precarious and slippery, causing many injuries. But locals got together and created a "stairway of 1000 steps," which is heavy breathing-inducing in no time, especially on the climb up, but a heck of a lot nicer than cracking your skull (which a few tourists literally did before this was built).
First, you'll find the bulbous blob at the tide line, resembling the sea stack at Neskowin to the south. Wander here a bit longer, and you may see the waterfall coming from the side of the cliff, which hosts the lighthouse.
Legends abound here. It's said that at extreme low tides, there is yet another tunnel visible (like the one through the cliff in Oceanside). One version of the legend says there may be two tunnels here.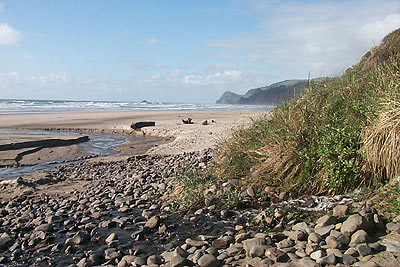 Secret Lincoln City Access
In a town where the beaches are all easily accessed and usually quite populated, there are virtually no hidden spots. But there is one deliciously, extremely clandestine beach access at the northern end of town - even if it doesn't necessarily guarantee you'll find yourself alone on this stretch of sand.
At the very northern end of town, between the casino and Road's End State Park, look for the sign pointing to NW 50th amidst the placid neighborhoods. Follow that to its end, where it meets NW Jetty, and you'll find an abandoned gravel "driveway" which winds its way down to the beach. Along the way, there's another tunnel-like path that looks a little like the famed Hobbitt Trail (see this article), although that doesn't seem to lead anywhere.
Down on the beach, it's the only access for about half a mile in either direction. There are some interesting rock features here created by a crumbling cliff, and the sand is pristine and more than a little pleasant.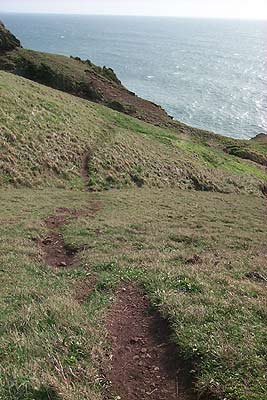 Near Short Sand Beach (Manzanita)
Just a few files north of Manzanita, you'll find Oswald West State Park. But somewhere between that town and the state park, it's impossible to miss the striking vistas of Short Sand Beach (not to be confused with Short Beach, above) and the cliffs that form half of this crescent-shaped cove.
Pull over on one of the gravel parking spots off the side of the road, and there's the one-mile-plus hiking trail heading down to Short Sand. Walk down this trail a bit, veer to the left - instead of going down to Short Sand - and you'll encounter a totally different set of inclines and cliffs. Giant basalt structures form the various headlands here, with craggy shapes jutting up from the ocean and bundling together.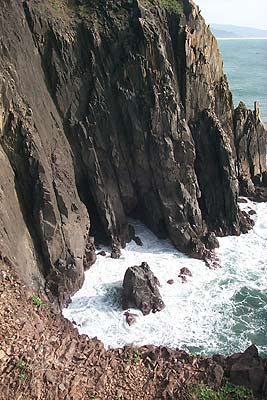 In one area, the sea boils and tumbles against a hidden cove, with black, jagged spires forming something akin to a creepy, post-apocalyptic cathedral (sort of reminiscent of the "Planet of the Apes" films). Another spot visible from these dangerous cliffs showcases more of the jagged shapes, this time with enormous holes and arches in them. Through these, you can see other headlands to the north.
Be extremely careful here, however. The drop-offs here are sudden and deadly. In fact, it was near here where a famed Hollywood writer and producer – the creator of "COPS" - died a few years ago, after falling off a cliff.
Hug Point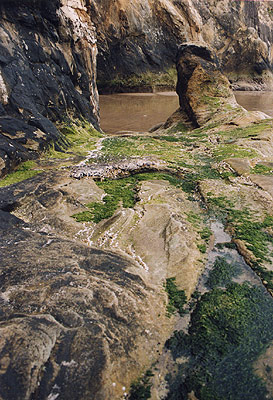 A few miles south of Cannon Beach you'll find Hug Point. A waterfall, several sea caves and a raised, grotto-like tide pool within another cave are all just a precursor to one of the coast's most fascinating spots. Not to mention that always-engaging remnant of a road going around the rocky point.
As you first enter, you'll spot the waterfall immediately to the south of you and a large sea cave. Inside, it's mostly debris and cobblestones, but there are strangely shaped cracks and shapes meandering into its far end. You can wander a little ways inside, and if you look closely you may spot one of the creepy, alien-looking insects that inhabit the large cracks.
On the southern end of this beach there's a point that's normally not crossable unless the tide is sufficiently low enough. In such a case, you'll find another cove and another sea cave. There are more rock slabs to play around on, many of which are surrounded by rich tide pools.
Hobbit Trail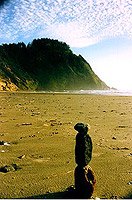 It's so named because the eerie tunnel-like earthen walls that surround you at certain points upon your descent. But it's a place sometimes favored by creative-types from the Eugene area who often construct wildly imaginative structures from the natural objects lying around, like amazing gardens of rocks, things you might find in Japanese gardens, strange rune-like figures from stones or whimsical carvings in the sandstone.
Or maybe is it occupied by gnomes who scurry away from their constructions upon the approach of any human being?
It's also the coast's closest answer to a nude beach, where the privacy often afforded here allows some of the more underground culture folk from the valley (OK, we mean the hippies) to trot around au naturelle.
You can find this hard-to-spot trailhead about two miles south of Washburne State Park. There's a breathtaking trail from here that meanders a little over a mile through forestland and the occasional stunning viewpoint, eventually twisting and switching back periodically to wind up in back of the Heceta Head Lighthouse.
More About Oregon Coast hotels, lodging.....
| | | |
| --- | --- | --- |
| | | |