Published 12/13/2009
New Year's Eve for the Tame and Wild on Oregon Coast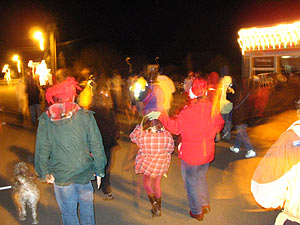 A coastal highlight is the wacky impromptu parade that Manzanita does at midnight.
(Oregon Coast) – There are bundles of fun to be had on the coast at the end of the year, whether you're looking for a raucous bar situation or an upscale dining experience. Then there's the curiosities that can't be classified.
See a full list of Oregon coast bars here.
New Year's Eve Lodging Openings on Oregon Coast Here is a list of openings for those who haven'' reserved their room yet.
Manzanita's Wacko New Year's Eve Midnight Parade. A little known secret about Manzanita's New Year's celebrations is its New Year Parade at midnight, which has been a surreal little local tradition that's been happening for several years. Generally, people just stagger out of the local bars and perform an oddball parade of sorts – proof again of the kooky and creative side to the fun-loving locals. Now, only the San Dune exists in Manzanita, but some may be coming from nearby The Wateringhole in Nehalem or Sea Shack in Wheeler. In the past, there was, among other things, a large dragon costume. It's quite a spectacle. In recent years, the city grudgingly gave its okay for the parade, partially on the basis it would happen with or without the permit.
Dining Options/Parties in Cannon Beach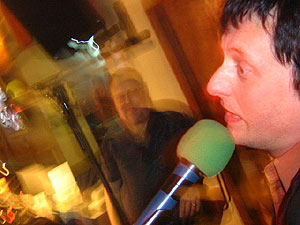 Plenty of karaoke madness will be the focus on a coastal New Year's Eve.
JP's Restaurant. Noon seating until 9 p.m.; serving regular menu with some extra special specials in honor of the day. Reservations are strongly advised. Hemlock St. Cannon Beach, Oregon.
Dining Options/Parties in Lincoln City
Fathoms Restaurant at The inn at Spanish Head. New Years Eve breakfast and lunch are normal. Dinner will offer their regular menu and a special. It is $49.95 and includes (by course): Smoked Duck and Chevre, Sautees Scallops with melted shallots and leek cream, Granita with champagne, ruby grapefruit and five spice. Main Course: Filet of Bison Tenderloin with Melange of peppercorns demi glaze, black garlic and sun choke puree and sherry vinegar, bacon braised brussel sprouts. For dessert: chocolate hazelnut Genoise with a Mexican hot chocolate cream and honey cranberry sauce.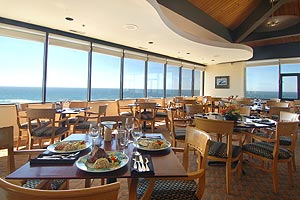 Fathoms in Lincoln City.
New Years Eve entertainment consists of Paul Beard on piano, accompanied by singers featuring traditional holiday songs: many in the styles of Bing Crosby, Frank Sinatra and Tony Bennet. Piano music during dinner. Songs from 10 p.m. to 1 a.m. The Inn at Spanish Head. 4009 Southwest Highway 101, Lincoln City, Oregon. (541) 994-1601. www.spanishhead.com
New Year's Gala at Theatre West. Food, drink, entertainment, and the current production of "Seniors of the Sahara" – a comedy directed by Stina Seeger-Gibson. 7 p.m. 3536 Hwy 101, Lincoln City, Oregon. 541-994-5663. www.theatrewest.com

Fabulous New Years Eve Party at The Italian Riviera. "The Little Big Band and The Ric Deblasi Orchestra. Five-course Italian feast, party favors, and a champagne toast. 7 p.m. Cost: reserved seating $49.95. 3400 Hwy 101. Lincoln City, Oregon. 541-764-3400. www.italriv.com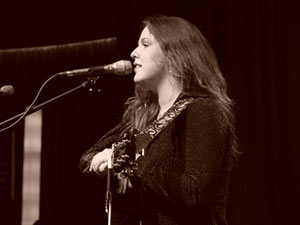 Beth Willis performs at Lincoln City's Salishan.
Beth Willis Band at Salishan. The Portland singer is known as the "acoustic goddess of fun." 9 p.m. 7760 Hwy 101. Lincoln City, Oregon. 541-764-3635. www.salishan.com
June Rushing Band at The Bay House. Eclectic rock and sometimes shiver-inducing vocal harmonies. 9 p.m. 5911 Hwy 101, Lincoln City, Oregon. 541-996-3222. www.thebayhouse.org
Dining Options/Parties in Depoe Bay
Restaurant Beck. With windows overlooking a secret cove of the Depoe Bay area, you can end the year with a Prix Fixe menu. Cost is $55 or $95 per person. Call for details. 2345 S HWY 101. Depoe Bay, Oregon. 541-765-3220. www.restaurantbeck.com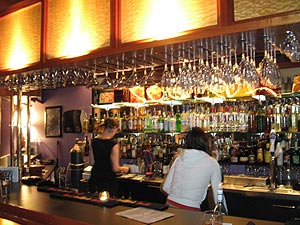 Bay 839
Dining Options/Parties in Newport
Bay 849. The coast's hippest bar and restaurant will be doing a New Years "House Party" with live music, 3 - 5 course meal and pairings with their housemade infused vodkas. 839 Bay Blvd., Newport, Oregon. 541-265-2838.
Over 21 – Bar Celebrations and Suggestions
Cannon Beach: Warren House Pub. Fun-tastic bar hangout at night, featuring microbrews from Bill's Tavern. Laidback atmosphere for a calmer albeit silly end of the year. 3301 South Hemlock. (503) 436-1130.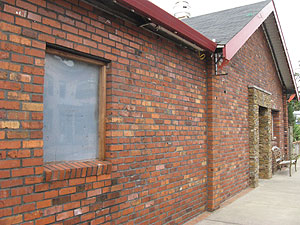 Manzanita's historic San Dune Pub.
Manzanita: San Dune Pub. New Years Eve Party with the cover band Oyster Shooters. $5. 127 Laneda Ave., Manzanita, Oregon. 503-368-5080. www.sandunepub.com
Rockaway Beach: Rick's Roadhouse Bar & Grille. Rock out to some extra cool karaoke. 184 Highway 101. Rockaway Beach, Oregon. 503-355-2052
Lincoln City: Maxwell's. Lots o' karaoke – end your year on notes you make yourself. 1643 NW Highway 101 Lincoln City, Oregon. (541) 994-8100.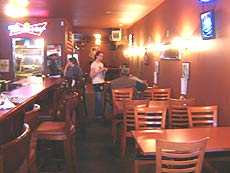 Rick's Roadhouse in Rockaway.
Lincoln City: 5th Annual Buccaneer's Ball with band One Way Out. 9 p.m. Roadhouse 101, 4649 Hwy 101, Lincoln City, Oregon. 541-994-7729. www.roadhouse101.com.
Depoe Bay: Wing Wa. Outlandishly fun little karaoke/live music bar. Indulge your rock star fantasies. Hwy 101. Depoe Bay, Oregon. (541) 765-2288
Newport: Sandbar & Grill. Fun local hangout. 722 NW Beach Dr. Newport, Oregon. (541) 265-6032.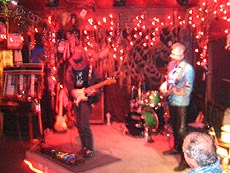 Yachats' Landmark Lounge.
Yachats: Merry Prankster New Year's Eve Party, with Norman Bean and guests. The Kesey Karnival comes to the Koast to kick 2009 out of town. For those who have forgotten the '60s, the Merry Pranksters were born on a bus trip from Eugene to New York in 1964, a ride intended to celebrate the publication of Ken Kesey's book "Sometimes a Great Notion" and to meet and greet the great Doctor Timothy Leary. The bus trip is the subject of Tom Wolfe's "The Electric Kool-Aid Acid Test," and led to the psychedelic scene and the rise of the Grateful Dead. Kesey, who had a summer home just outside Yachats, died in 2001 but his family and friends have kept his spirit and philosophy alive through (among other things) the replica bus FURTHUR 2 and the Normal Bean Show. We get the full-out, pranksterized version of the latter on the last day of 2009. Hey, maybe Ginsberg can be conjured up. Landmark Restaurant and Lounge. Hwy 101, Yachats. (541) 547-5459. www.landmark-yachats.com.