Covering 180 miles of Oregon coast travel: Astoria, Seaside, Cannon Beach, Manzanita, Nehalem, Wheeler, Rockaway, Garibaldi, Tillamook, Oceanside, Pacific City, Lincoln City, Depoe Bay, Newport, Waldport, Yachats & Florence.
08/25/07
Quaint Motel Gives Glimpse Into Oregon Coast Treasures, Past
By Andre' Hagestedt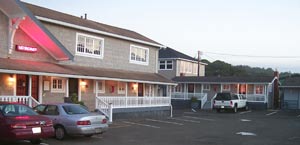 Whistling Winds' exterior
(Lincoln City, Oregon) – Sometimes, the greatest treasures come in small packages.
Such is the case of what is likely Lincoln City's best kept lodging secret: the small, unassuming but deliriously delicious Whistling Winds Motel, tucked away in a nicely hidden section of the town's sprawling beaches.
I stayed at this little beauty back in 1992 with an old girlfriend, and it was quaint then. Now, it's a stunningly refurbished motor coach inn with an interior done up in extravagant polished wood.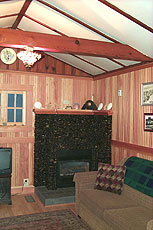 Living room inside one of the cottage units
This trip itself was an engaging jaunt as well, full of startling discoveries in the middle of spring. As editor of this online magazine about the Oregon Coast, it's my job to run around all over the region and photograph this or that wonder, as well as write about it. Thus, I get to find things and see stuff most people don't always get to. Glowing sand, crazed bars, bonkers bachelor parties, exceptionally large amounts of sea foam and weird brown goo on the breakers are just a part of what I stumble onto as I research this beautiful little lodging. It's amazing what you'll find when you're not even really looking.
Plus, researching this little beauty turned out to be quite an interesting trip through time.
The Whistling Winds is owned by Gene Scrutton and his family, which also owns A1 Beach Rentals in Lincoln City. Gene is a master remodeler of sorts, specializing in a certain breathtaking style of polished wood, gracefully curved ceilings and spectacular fireplaces made of rock. He's taken that approach to the motel, with seven of the 16 rooms redone in that gasp-inducing manner.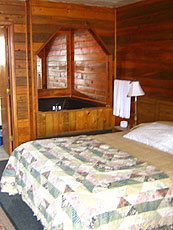 Jacuzzi unit
The wood is clear fir tongue-in-groove bead board, and those rock fireplaces are made from rocks coming from the beaches nearby. Colored glass windows grace the front doors of these units, and the whole place has a sense of beachy time warp about it.
Seven of the vacation rentals in A1's stable of homes have this interior as well.
"I grew up going to the coast a lot, and was influenced by the cottages of Arch Cape and Manzanita back then," Scrutton said. "I wanted to kind'a make it like you were walking into a beach cottage 60 years ago or 40 years ago."
He's succeeded. The refurbished units have a distinct flavor of another time, with all that wood around you. Historical photographs of various landmarks around Lincoln City are scattered about the walls – some of them long gone, some of them still here. Just staying here is a fascinating little trip down the past.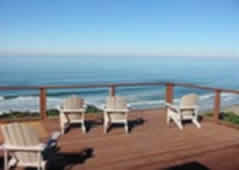 A1 Beach Rentals, Lincoln City. Perfect for large family vacations all the way down to a getaway lodging for two - with over 25 vacation rental homes to choose from. A breathtaking collection of craftsman or traditional beachfront homes, or oceanview houses – from one to seven bedrooms. In various areas of Lincoln City and overlooking the beach, with some in Depoe Bay. All kinds of amenities are available, like hot tubs, decks, BBQ, rock fireplaces, beamed ceilings and more. Some are new, some are historic charmers. Lincoln City, Oregon. 1-(503)-232-5984. www.a1beachrentals.com.
The Whistling Winds had has quite a past itself. It began in the late 1920's, but was added onto several times over the years. There are some hilarious and even seedy segments of its history.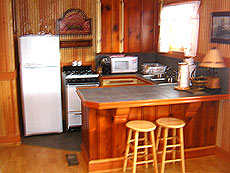 Kitchen area
Before it was there, a lake filled that area of Lincoln City, called Wecoma Lake. There was a dairy farm nearby, and a boat rental business on the lake. "The boat rental owner and the dairy farm owner got into a big dispute, and the dairy farmer drained the lake on the guy."
When the inn was first built, it was called the Wecoma Inn. It was eventually changed to Whistling Winds because the main building gave off such an enormous howl as winds shot through the upper part of the building. Scrutton closed that off in recent years.
Scrutton said he ran into a couple recently who remembered the place back in the 50's, and recalled there being croquet on the premises. "It was a bunch of little cottages then," he said. "They didn't have water heaters so guests had to heat their own water. They also had an old washer they used as a tumbler to polish agates for guests. You'd find your agates out on the beach, bring them to the tumbler, leave them in all night, and in the morning you'd have polished agates."
It was eventually owned by a lady of legendary cantankerous disposition, whose hardened attitude made her disliked by many, although she had a fiercely loyal and generous side to those who treated her well. She was forced to raise several children on her own while running the inn, and tried numerous times to sell it. She succeeded once, but was forced to come back and foreclose on the owners and run it on her own again.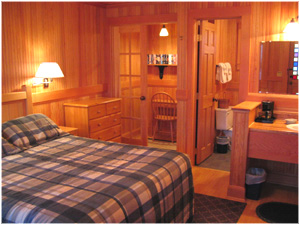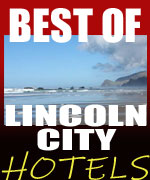 Scrutton couldn't remember her name. But the motel turned into a halfway house of sorts for criminals and undesirables of all kinds, rented out by the month or week to people who began ripping off the old lady off in her later years, making her even more bitter.
"The place fell into serious disrepair eventually, especially in the early 90's," Scrutton said. "It was full of a lot of criminals, druggies and even pedophiles. Police were there all the time."
Scrutton said his family found numerous documents in the motel with information on this "underbelly" class of people that stayed or lived here.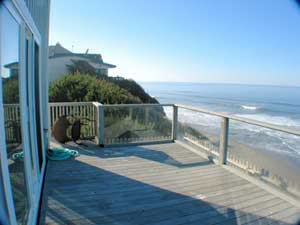 Lincoln City Vacation Homes Something for everyone: smaller homes with a view to a large house that sleeps 15. All are either oceanfront or just a few steps away – all with a low bank access and fantastic views. Most are in the Nelscott area; one is close to the casino. You'll find a variety of goodies: fireplaces, multiple bedrooms, dishwashers, Jacuzzis, washer/dryers, hot tubs, cable TV, VCR, barbecues; there's a loft in one, and another sprawling home has two apartments. Pets allowed in some homes – ask first. Each comes with complete kitchens. Most have seventh night free. Prices range from winter $85 to summer $230 per night. www.getaway2thecoast.com. 541-994-8778.
He started looking into buying the building around 2001. Then 9/11 happened, and the travel industry took a nosedive. In the meantime, the old lady mocked Scrutton's desire to buy it. He described her as an angry, unhappy person who often just sat on her porch with her dog, scowling at her surroundings and hating her life.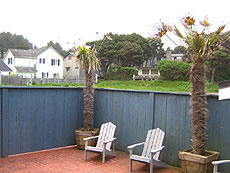 Patio out back with - of all things - palm trees
Scrutton finally bought it in 2003. "She was beside herself," Scrutton said. "You should've seen her. She actually jumped up and kicked her heels. She couldn't believe someone actually bought the place from her. She was so glad to be out of there."
Refurbishing the motel has been no easy task, made more difficult by the fact this area used to be a lake. The water levels in the soil are a constant pain, not to mention a city mistake a few years ago caused loads of runoff water to drain into Scrutton's property, causing serious flooding in the parking lot. Sometimes water would get a foot and a half high.
Before refurbishing the units, Scrutton has to jack up the buildings. Many of them are now higher than the others. Underneath, sump pumps constantly suck out water from the soil.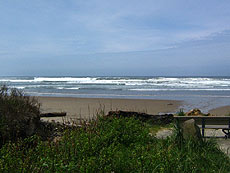 Access near Whistling Winds
The Whistling Winds sits nearly on a particularly beautiful stretch of Lincoln City's beaches, on the northern end of town. While most of the town's strands are often bustling with loads of people, this part – on the northern end of the city – tends to remain rather untouched. You'll find this section at the end of streets like NW 40th, 39th or 26th, which connect up with 101 not far from the gas station at the northern end of town, Pig 'N' Pancake, Walgreen's and so on.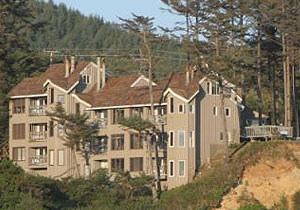 STARFISH POINT Newport - Offers only the finest in luxury condominium lodging. Every unit is focused on the beauty of the sea and the beach.
All units boast two bedrooms, two bathrooms, designer kitchens, wireless broadband Internet, fireplaces, Jacuzzi's and private decks. Friendly staff dedicated to high quality and superb customer service. 140 NW 48th Street, Newport. (541) 265-3751. (800) 870-7795. www.starfishpoint.com
Here, Jetty Ave. skirts the edge of the beaches, with a smattering of accesses that tend to be more overlooked and less obvious. One in particular is about 100 yards from the motel, where I've never found more than a smattering of people, except maybe on seriously busy days. Usually, I'm the only person here.
In spring, this is especially true.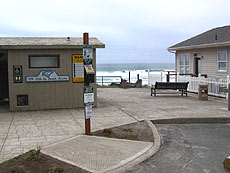 Grace Hammond Access
Around NW 34th, there's a beach spot called the Grace Hammond Access, coming complete with a small viewpoint and bike racks, along with a ramp that allows wheelchair access to the sand.
There's also another surprising access a bit south of here, at the bottom of NW 26th. A small, nicely kept parking lot is surrounded by an atmospheric wall, coming complete with bike racks. There are some concrete steps down to the beach, which is mostly a sandy spot with a few interesting rock structures scattered around.
All these seem to be bereft of crowds most of the year.
Impressions and Adventures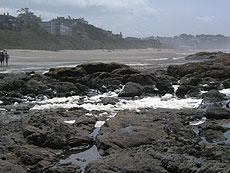 Foam running rampant on the beach
There are no phones or net access at the Whistling Winds, which adds to the time travel vibe. You're definitely in another era here. The surroundings are soft and soothing, as well as have a quiet elegance.
Aside from a good helping of nearby beach accesses, Lincoln City is ripe for a number of adventures in nightlife or in nature.
This particular spring, for some reason, there's a lot of sea foam all over the Oregon coast, including this part of Lincoln City. There's so much of it that it's like a giant washing machine has gone nuts someplace and overflowed with unimaginably large amounts of suds. It washes up on the beaches in great drifts, then blows around the beaches in this rather surreal display.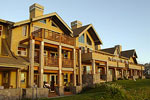 The Ocean Lodge. There will not be another property built like this in Cannon Beach in our lifetimes. Rare, premiere ocean front location; handsome, dramatic architecture and tasteful, fun (nostalgic) beach interiors. Overlooks Haystack Rock. 100 percent smoke free. Imaginative special occasion packages. Massive wood burning lobby fireplace. Library w/ fireplace, stocked with impressive book collection. Pet and family friendly. Lavish continental buffet breakfast. In-room fireplaces, mini-kitchens. Jacuzzi tubs in select rooms. DVD players, complimentary movies. Morning paper. Warm cookies. 888-777-4047. 503-436-2241. 2864 Pacific Street. Cannon Beach, Oregon. www.theoceanlodge.com
Also rather surreal is the growing emergence of a lot of brown goo on the waves. It's predominant on the north coast about this time: Cannon Beach and Seaside are experiencing tons of it. But there's a fair amount of it on the central coast as well, looking strange and causing people to point and puzzle over if it's pollution or what.
It's all a sign of a healthy ocean, however: the foam and brown foam are a good thing. It just means the phytoplankton out there is reproducing in large numbers, then getting churned up by the sea and mixed with the elements of air and wind, where it gets moved around to create this spectacular demonstration.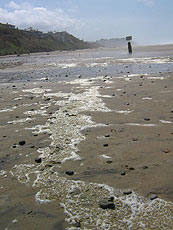 Crazed foam on Lincoln City's beaches
The brown foam leaves dark stains on the sand after it's sat there for a while. I notice this at night while bouncing around the beach access near the Whistling Winds.
All this phytoplankton may also mean "glowing sand," I think to myself. This is a somewhat rare and truly freaky phenomenon where the sand gives off tiny, faint greenish blue sparks when you walk on it - at night, of course. It's hard to see sometimes, and you won't know unless you know what you're looking for. Other times it's quite obvious and magnificent, with a decent amount of intensity that makes it look like small galaxies exploding briefly beneath your feet.
The cause is a form of bioluminescent phytoplankton called dinoflagelettes, which glow in much the same way as fireflies do.
Part of the reason I head to the beach at night is to test this. And sure enough, there are traces of the little glowing guys in the sand. They are extremely faint sparks, and only in certain parts of the wet sand. But they're there. I amuse myself for a half hour, scuffing my feet along the sand and exciting these things into sparking off.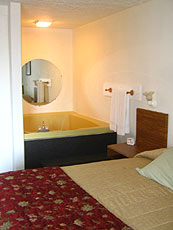 The nighttime also brings out other interesting moments on this three-day trip around the central coast. Like the bars, for instance. I spend considerable time at the Lighthouse Pub, one of those treasured McMenamin's pubs with all the wacky graphics on the walls and the much-lauded microbrews. It's here where I make the acquaintance of one group of guys who look a little looped already. It turns out it's a bachelor party.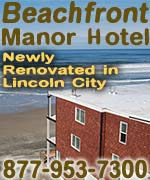 I also spent way too much time at Maxwell's, in midtown, singing myself silly at karaoke. This place I particularly love because my rather intensely exploratory sense of musical taste has led me to being an enormous fan of bands you often can't find much of in the U.S., groups that are pretty darned avant garde, or both. Certainly, this dictates you won't be able to find them on karaoke discs. But Maxwell's has my one of my fave bands of all time on their roster– Manic Street Preachers. You've gotta love that place.
The Whistling Winds features Jacuzzi rooms, family rooms and various rooms for romantic getaways. 866-384-9346. 3264 NW Jetty Ave, Lincoln City, Oregon. www.whistlingwindsmotel.com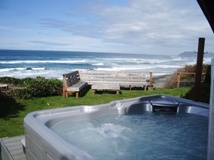 Arch Cape Property Services. Dozens of homes in that dreamy, rugged stretch between Cannon Beach and Manzanita known as Arch Cape. Oceanfront and ocean view , or just a short walk from the sea.
All homes are immaculate and smoke free; some pet friendly (with a fee). Some with broadband, indoor or outdoor hot tubs, fireplaces, decks, and fire pits or barbecues. Call about tempting winter specials that go until March (not valid holidays, however). www.archcaperentals.com 866-436-1607.

D Sands Condominium Motel, Lincoln City. Free, fresh baked cookie upon check-in is just the start. All rooms beachfront and up against Lincoln City's most famous stretch of beach: the D River. Each room comes as a suite or mini-suite, and has a kitchen and balcony or patio. Some w/ gas fireplaces, while all have a DVD Players; movies to rent come with free popcorn. Heated indoor pool, a spa, and this fabulous beach is lit at night. Rooms sleep from two, four to six - including a deluxe fireplace suite. Gift certificates orspecial occasion packages. www.dsandsmotel.com. 171 S.W. Highway 101. 800-527-3925.
Weiss' Paradise Suites & Vacation Rentals - Seaside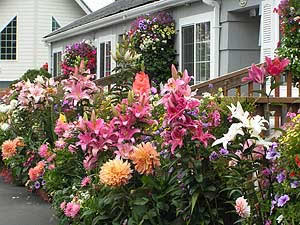 Unique Luxury Accommodations in Seaside. 1BR Suites, 1BR & 2BR Duplex Units and 3BR Houses, units for 2-8 people. Rent entire property for 20-26. Close to beach, river and Broadway St.
Suites are designed for two adults; vacation rental units for families. All units have kitchen and many have fireplace, deck and jetted tub. Comfy robes, slippers, luxury bath amenities, quality linens and more. 741 S. Downing St., Seaside. 800-738-6691. www.SeasideSuites.com

Tradewinds Motel, Rockaway Beach. All rooms are immaculate and have TV's, VCR's and in-room phones w/ data ports. Oceanfronts have queen bed, a double hide-a-bed, kitchen, cozy firelog fireplace and private deck. Both types sleep up to four people. Others are appointed for a two-person romantic getaway, yet still perfect for those on a budget. Elaborate oceanfront Jacuzzi suite has two bedrooms, kitchen, double hide-a-bed, fireplace and private deck, sleeping as many as six. For family reunions or large gatherings such as weddings, some rooms can connect to create two-room and three-room suites. Some rooms pet friendly. 523 N. Pacific St., Rockaway Beach. (503) 355-2112 - 1-800-824-0938. www.tradewinds-motel.com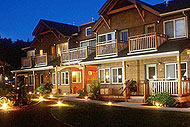 Inn at Cannon Beach. Beautifully wooded natural setting at quiet south end of Cannon Beach. Great during winter storms with a new book by the fireplace – or when the sun is out for family fun and beach strolling. Handsome beach cottage-style architecture. Lush flowering gardens and naturalized courtyard pond. Warm, inviting guest rooms. Continental buffet breakfast. Warm Cookies. Family and Pet Friendly. Welcome gifts. Smoke-free. Complimentary Wireless Connectivity. Wine and book signing events. 800-321-6304 or 503-436-9085. Hemlock At Surfcrest, Cannon Beach, Oregon. www.atcannonbeach.com.
RELATED STORIES
SPECIAL SECTIONS
oregon coast weather
oregon coast mileage chart & map
day trips, suggested itineraries
Oregon Coast Lodging Specials
Search BeachConnection.net's 1,000 pages
Oregon Coast Real Estate
Oregon Coast Pictures
Atypical Things to Do
Oregon Coast Camping
Seaside, Oregon Lodging
Cannon Beach, Oregon Lodging
Manzanita, Wheeler, Rockaway Beach Lodging
Lincoln City Lodging
Depoe Bay Lodging
Cannon Beach Complete Guide
Lincoln City Complete Guide
Seaside, Oregon Complete Guide
OR TAKE THE VIRTUAL TOUR

ASTORIA
Where the Columbia meets the Pacific, Land of Lewis & Clark and loads of atmosphere & history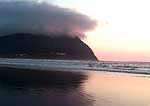 SEASIDE
The Promenade, Tillamook Head, family fun & broad, sandy beaches

CANNON BEACH
A mysterious lighthouse, upscale yet earthy, a huge monolith, fine eateries & an art mecca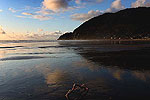 NEHALEM BAY
Manzanita's beaches, Nehalem and Wheeler's quirky beauty; laid back Rockaway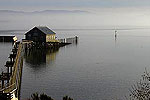 TILLAMOOK BAY
Garibaldi, Barview, Bay City, Tillamook & an oceanfront ghost town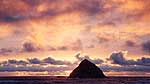 THREE CAPES LOOP
The hidden secret of the coast: Cape Meares, a lighthouse, Oceanside, Netarts and Pacific City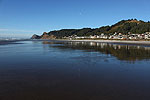 LINCOLN CITY
& THE CORRIDOR OF MYSTERY
Miles & miles of unbroken beaches, Cascade Head, Neskowin and many manmade attractions

DEPOE BAY
A spouting horn downtown, freaky hidden cliffs and whales, whales, whales

NEWPORT
Time-tripping Nye Beach, a bustling bayfront, marine science-central and two lighthouses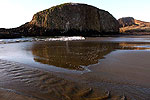 WALDPORT / SEAL ROCK
Pristine, even secretive sands and wild geologic landmarks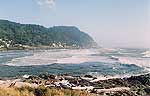 YACHATS
Constantly dramatic wave action, a mix of the rugged & upscale

UPPER LANE COUNTY
25 miles of deserted beaches & oodles of wonders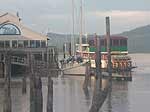 FLORENCE
A lighthouse, ancient bayfront and miles and miles of fluffy dunes