Wacky Winter Wonders of the Oregon Coast
Published December 2008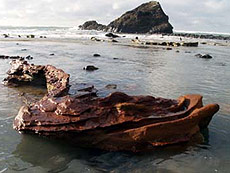 Strange geologic structures known as red towers can sometimes be unearthed by low sand levels, such as these at Arch Cape (photo Seaside Aquarium)
(Oregon Coast) - Not all is as it seems on Oregon's beaches in wintertime. There are myths and misinformation about the weather being crummy all the time - a charge which the coastline vehemently denies. And it can prove it with statistics. Then there are the weird weather facts no one seems aware of, such as the mini-spring of February.
Winter is a time of storm watching - that's one of the big attractions. But there's much more to that season. Plenty of oddball aspects abound on the beaches: strange stuff that washes up after storms, agate hunting is at its height, beaches that make weird noises, ghost forests appear and the beaches change - sometimes drastically - because of sand erosion.
That's just some of the kooky surprises that await.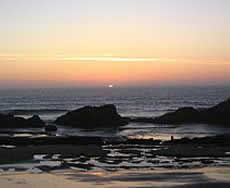 Seal Rock during a sunny winter twilight.
The Truth Behind Coastal Weather
That old Oregonian axiom of "If it's rainy on the coast, it's warm in the valley, and vice versa.." is wrong, especially during winter.
Weather on the coast has its legends and misunderstandings about winter. In fact, because of the influence of the ocean, it's a more temperate climate. That means the highs aren't as high as the valley, or as low.
Statistically, the coast winds up with almost as many sunny, nice days as the valley during the winter – in fact just a little bit more, according to many almanacs. After all, it's dealing with more or less the same weather systems coming in as the areas less than 100 miles inland. But this also means that while winter temps will hit the 30's or 20's in Portland or Salem on some days, the coast usually remains relatively warmer.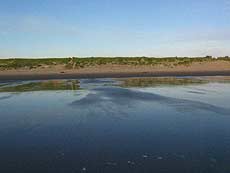 Gearhart in the sun.
Now, that old axiom about opposite conditions does come into play during summer heatwaves: a variety of weather dynamics cause a lot of coastal fog when it's really hot in the valley. Coastal locals, however, note that December can often feature warmer days than the inland region.
So why the dreary impression of coastal winters among most tourists? Probably because it does have stronger winds even on many nice days – and then the stormy conditions are more pronounced, making a stronger impression.
This isn't to say the coast is in reality calmer than inland. There are storms – plenty of them. But the nice days are nicer on the beaches, and there are more of these than most Oregonians realize.
Check out the Hatfield Marine Science Center's weather stats page to see what happens in winter months.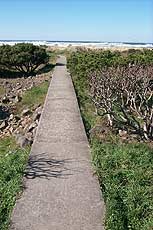 Seaside in the 60's and sunny in February.
Surprise Spring of February
When February rolls around, there are often 10 to 14 days out of the month with little or no rain on the coast. Look at the weather stats on the Hatfield Marine Science Center for each February and you'll see the pattern. It's like a mini-spring before spring break.
This weather pattern is typical of the entire U.S., however. By February, you have longer days – enough extra sunlight to create a climate shift. But on Oregon's coast, the more moderate climate translates into some extremely warm days. Often, there will be little or no wind beneath that sun, making for temps in the upper 50's or 60's.
Stormy days still happen, and so does the rain. But some years it's remarkably less in February.
Ironically, it's spring that brings the wilder weather for a while.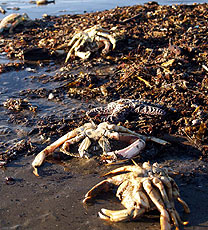 Wacky ocean burp in Seaside (photo courtesy Seaside Aquarium)
The Odd Aftermath of Storms
With waves as wild as they are during winter, even without storms, the ocean coughs up the darndest things. All sorts of wacky stuff shows up to entertain the beachcomber, like the bodies of dead sea life, weird manmade treasures, and who knows what else. Two strange and spectacular sights actually have names and categories: whale burps and ocean burps, although the technical name is detritus. It means the ocean is casting some interesting objects from the depths onto the shores – things you don't normally find on the beaches.
Ocean burps happen under some very exact conditions, when the right mix of storms happen along with the right kind of ocean currents. These are masses of stuff that's different every time, and often amazing.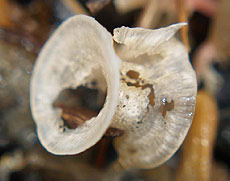 A fish bone found in an ocean burp (photo Seaside Aquarium)
Initially, the beachcombers will spot a brownish mass of wood and grassy matter from afar, but up close is a small treasure chest of natural oddities like cockleshells, hermit crabs, squid eggs, casings from eggs, moon snail shells and somewhat rare rock finds – to name a few possibilities.
One episode of this detritus occurred in February 2006, where Keith Chandler of the Seaside Aquarium found 30 live cockleshells – a form of clam. He also found numerous squid egg casings and some live squid eggs, which were incubated at the aquarium and hatched after six months.
"Whale burps" is the nickname for rock-hard bundles of sea grass that have been compressed together.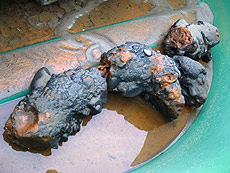 The two historic cannon found in Arch Cape caused quite a stir last winter.
Weird Finds After Beach Erosion
With each major storm, an enormous amount of sand can be taken away – truckloads of it within a couple hours on any given beach. Winter and spring storms typically scour more and more sand from the beaches, and then the calmer weather months of late spring through fall bring it back.
However, in recent years, scientists have noticed sand levels aren't replenishing as much during the summer seasons as usual, so that each winter sand levels get lower and lower.
The results of this were magnificent in the winter of '07 - '08, when all sorts of strange things appeared. An ancient ship was uncovered on the south coast. Two historic cannon were discovered in the sand at Arch Cape. A mail truck from the 1920's was unearthed on a beach near Waldport. Near Cape Kiwanda, a 16-million-year-old bedrock formation was uncovered by ten feet of sand that had been scoured away. Near Arch Cape, weird geological structures called Red Towers (compacted iron deposits) showed up.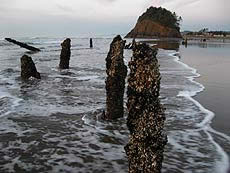 Neskowin's ghost forest may be in danger.
Ghost Forests
Another freakish result of winter beach erosion is the ghost forests along the north and central coast. These are twisted, ancient stumps left over from a forest that was rather abruptly immersed in the sand, soil or sea water thousands of years ago, thus cutting off the oxygen and preserving them indefinitely.
There are two big theories on how this occurred. One is that a sudden earthquake caused the land to drop a dozen or so feet. The other, more recognized theory is that the forest was engulfed in swamp-like conditions and then sand over a period of years or decades.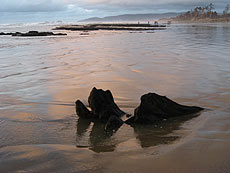 Ghost forest stump at Cape Lookout during the winter of '07 - '08.
There is a ghost forest visible year-round at Neskowin, carbon dated at 1,000 to 2,000 years old. But winter sand erosion sometimes brings other ghost forests to light at Newport's Moolack Beach, Thiel Creek near Seal Rock, Hug Point, Arch Cape, just north of Cape Kiwanda and at Cape Lookout State Park. Some of these are around 4,000 years old.
It's sad to note, however, that the ghost forest at Neskowin – probably the most spectacular of all the coast's ghost forests – appears to be in danger. Last winter's sand levels got so low that the stumps were uprooted. They were found strewn along a 15-mile stretch of beaches, along with chunks of forest soil.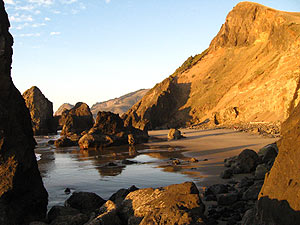 The northern end of Lincoln City, where more rock structures are visible this year.
Agates and Other Beach Erosion Treasures
Lower sand levels in winter mean more exposed rock beds and beaches that look different. Check out your favorite beach and see what's different about it – many of them will have some extra rock structures poking out of the sand.
Exposed gravel areas are often a green light for agate hunters. Patches of rounded stones uncovered by sand are also a good place to look. The central coast has some good ones, including places to find the famed "Newport blues:" Lost Creek and Thiel Creek (south of Newport and just a tad north of Seal Rock), as well as Ona Beach. Newport's Agate Beach and Nye Beach can also be good places.
Hug Point and Oceanside are hotspots for the north coast.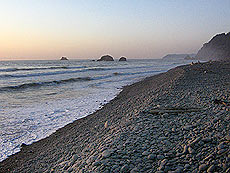 The hidden spot near Arch Cape known as "Magic Rocks" beach because of its strange noises made by rattling rocks. It was the first to have that nickname.
"Magic Rocks" Beaches
One of the more subtle and slightly secretive pleasures of the coast are the beaches that make strange noises. They're nicknamed "magic rock beaches," because of a puzzling, esoteric noise created by stones moving and crackling in the tide. Though it's heard year-round, it's more prominent in the winter when the ocean really makes these stones rattle.
Some beaches – mostly on the north coast - have a proliferation of small to large, rounded stones that have been polished by the tides. These rocks, in turn, will make an odd rattling noise when disturbed by the tides as they wash across them in the sand. In some places, the noise is soft, rare or infrequent, but occurs in places you wouldn't normally think it would. In others, it is loud, even to the point of almost a roar, and so constant it inspires the term "magic rocks."
It's as if the tides momentarily give these rocks life, and they shimmy, shake and shudder as they make a funky noise, like giant Mexican jumping beans that have grown to freakish size and now inhabit the tideline.
Some of the beaches at Oceanside also have a touch of this quality. It's also quite strong at the black sand beach at the bottom of Yaquina Head, Rock Creek Campground between Yachats and Florence, in other parts of Arch Cape, and often really loud in the little village of Cape Meares, which is on the Bayocean Spit and next to the cliffs also called Cape Meares.
More About Oregon Coast hotels, lodging.....
More About Oregon Coast Restaurants, Dining.....
LATEST OREGON COAST NEWS STORIES
Back to Oregon Coast
Contact Advertise on BeachConnection.net