Covering 180 miles of Oregon coast travel: Astoria, Seaside, Cannon Beach, Manzanita, Nehalem, Wheeler, Rockaway, Garibaldi, Tillamook, Oceanside, Pacific City, Lincoln City, Depoe Bay, Newport, Waldport, Yachats & Florence.
07/09/07
Three Days, 130 Miles of Oregon Coast Fourth of July Shindigs
By Andre' Hagestedt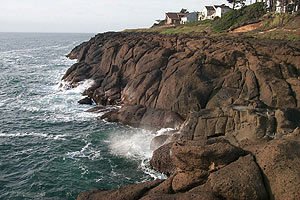 Hidden cliffs of Depoe Bay
(Oregon Coast) – From Newport to Seaside, and over three days, the coast again shows off to the world how much it has to offer: for this holiday and to the general tourist. It's an exploration of the bars, of the local social scene, of firework displays, and of various other kinds of celebrations. It means massive stuff going boom in the air, exceptional scenery, the coast at its best meteorological behavior, catching sight of a rare natural phenomenon that borders on the paranormal to falling down drunk silliness at coastal bars.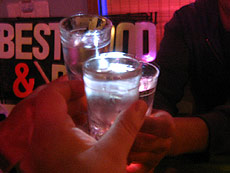 Glowing drinks at Tidepool
I hit Newport late in the day, just in time to meet up with my friend Robert and his gal pal Debbie (who is a diver at the Undersea Gardens). She regales us with wacky tales of the interesting and funky fish that interact with her as she goes about her daily doings in the deep. Like one giant fish that likes to play with her in a certain way, including putting its mouth around her arm, swallowing it up to the elbow. It's all done affectionately, of course, but it is mind-bendingly weird and amusing.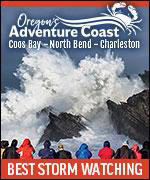 It's Tuesday the third, which means we're hightailing it for Depoe Bay and its fireworks show. But first, we have to get silly drunk, so we begin the evening at one of my fave haunts on the coast: the Tidepool. People are always friendly and fun there – locals and the tourists.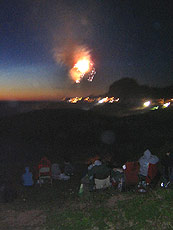 Depoe Bay's fireworks
On the way, just before pulling up to the bar, we witness one hell of a grand sunset. But as if the sunset wasn't going to settle for being outshone by the subsequent fireworks anywhere in this area, we were also witness to the jaw-dropping, legendary green flash at sunset. That's right, this nearly paranormal event popped up on the third of July, more than appropriately enough.
As the sun was about to fall below the horizon, with just a couple seconds worth of a sliver of bright orange remaining, some sizable hazy, green blob appears for a little less than a second. Thoroughly amazing.
Rob and Deb were pretty awed. "Wow, that was weird," Robert said. Debbie just darted me a surprised, gleeful look.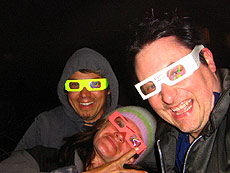 Our little troop - from the future or from the 50's?
Essentially, this is the result of a series of somewhat rare atmospheric conditions that cut out all the color bands but the green one. That's the most basic of explanations, and not entirely accurate. It is rare enough that many still don't believe it exists, including some scientists.
At the bar, another kind of light show begins. We play with goofy lights, illuminating our glasses with them, then running around and telling people "I'm from the future."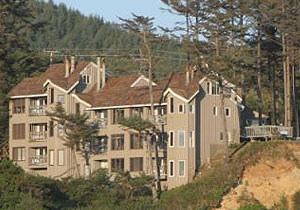 STARFISH POINT Newport - Offers only the finest in luxury condominium lodging. Every unit is focused on the beauty of the sea and the beach.
All units boast two bedrooms, two bathrooms, designer kitchens, wireless broadband Internet, fireplaces, Jacuzzi's and private decks. Friendly staff dedicated to high quality and superb customer service. 140 NW 48th Street, Newport. (541) 265-3751. (800) 870-7795. www.starfishpoint.com
At ten, we hit the hidden cliffs of Depoe Bay – just behind Sunset Ave. This provides a great vantage point from which to view the big stuff going off from Boiler Bay, without all the huge masses.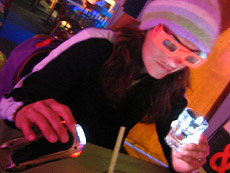 Debbie from the future
It's a short but sweet display, so we look to sweeten it a bit more. Rob's tradition for the holiday includes 3D glasses, which gives the three of us a wacky, 50's kind of look. This adds much wildness to the fireworks.
We amused ourselves by looking at traffic on 101 with these glasses as well, where the throngs of headlights all lined up in a massive, slow grind out of town turned into a multitude of trippy twinkling things and starbursts.
We only had to cross the street to get back to the Tidepool, where more silliness with flashlights awaited. It was like our own private rave this night, except fueled by booze.
Robert from the future
Unfortunately, the evening nose-dived from there, with intense personal drama playing out on the beaches of Newport and in one of its bars later on. This included the horrific discovery of my ex-girlfriend's antics with a friend a few months ago, while we were still together, in Newport.

Tradewinds Motel, Rockaway Beach. All rooms are immaculate and have TV's, VCR's and in-room phones w/ data ports. Oceanfronts have queen bed, a double hide-a-bed, kitchen, cozy firelog fireplace and private deck. Both types sleep up to four people. Others are appointed for a two-person romantic getaway, yet still perfect for those on a budget. Elaborate oceanfront Jacuzzi suite has two bedrooms, kitchen, double hide-a-bed, fireplace and private deck, sleeping as many as six. For family reunions or large gatherings such as weddings, some rooms can connect to create two-room and three-room suites. Some rooms pet friendly. 523 N. Pacific St., Rockaway Beach. (503) 355-2112 - 1-800-824-0938. www.tradewinds-motel.com
The wrong kind of fireworks, to say the least.
The next day – the 4th - was difficult to shake that bad mood, but a long drive from Newport to the Nehalem Bay area helped a bit. It was sunny and glorious, with fairly clear skies creating some wondrous scenery along the way.
Lincoln City's seas were calm and clear.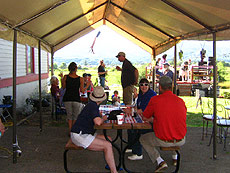 Fourth shindig at the winery
Just south of Pacific City, the high viewpoints showed off a deep blue ocean that looked so inviting you felt tempted to get down there and drink it. Tierra Del Mar, just north of Pacific City, was bustling with people and their vehicles on this beach where driving is allowed.
Tillamook was strangely rather empty, considering everybody and their dog were on the coast on this day. The bay was also at a dead calm. Garibaldi had a lot of activity at the hotels, with loads of people checking in.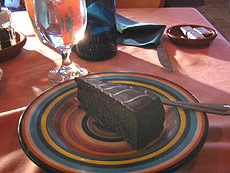 Scrumptious dessert at Terra Cotta
Rockaway was packed with cars and pedestrians, with a ton of vehicles lining the roads in anticipation of their sizable display.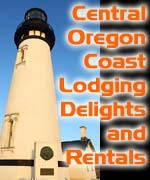 That was about 100 miles of travel so far.
My first stop was the Nehalem Bay Winery, which was just winding down from its hot dog and hamburger feed for the Fourth of July. This annual shindig means free food and frivolity after Manzanita's kooky, public participation parade.
For dinner, I settle down to an exquisite spaghetti and meatballs at Terra Cotta Café in Manzanita – my new addiction as of late. This stunning creation has layer upon layer of interesting taste, and not your normal, run-of-the-mill pasta. Owner Harvey tells me there's a variety of herbs and spices in there, along with ground Italian sausage and some pepper flakes, which give it that extra tingle.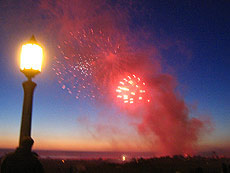 I snag a flourless chocolate cake for dessert, and mix every mouthful with an Oregon pinot – Airlie to be exact. Now, this is heaven.
In this weather, you'll want to take advantage of their outdoor seating.
DIVE INTO LUXURY, HISTORY AT THE TIDES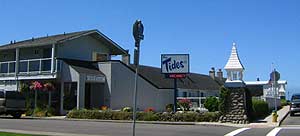 THE TIDES BY THE SEA, Seaside. For over 80 years a favorite of Seaside visitors. 51 oceanfront condos, individually owned and decorated. Suites for couples, small apartments with fireplaces and kitchenettes, one or two bed family units with fireplaces, kitchens and dining rooms. Oceanview cottages sleep anywhere from two to eight, w/ two bedrooms, some with lofts, fireplaces and kitchens. Heated outdoor pool, enormous grounds w/ picnic tables - all at quiet southern end of Seaside. 2316 Beach Drive. 800-548-2846. www.thetidesbythesea.com.
After dark, it's time to head to Seaside, where one of the biggest displays I've ever seen takes place. It's actually hard to impress me with fireworks, but these had me slackjawed. Not to mention, there are thousands – perhaps 30,000 people that are visible – lined up along the promenade, in the streets and on the beach, to watch the wowing show.
Perhaps more than a couple hundred people out of the thousands on the beach were firing off their missiles into the air, in one amazing and glorious – albeit illegal – show. Seaside storefronts were thick with posters declaring how fireworks from Washington wouldn't be allowed, how authorities would quickly nab anyone shooting off anything on the beach, and how firepits wouldn't were verboten.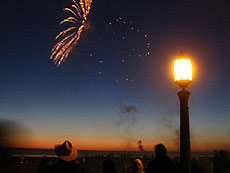 The beach was nothing but firepits, fireworks and the naughty stuff from Washington.
Even approaching the prom, the air was so thick with smoke from all of it that it was difficult to breath – especially with my tendency towards asthma. Still, it was awe-inspiring, and the show put on by the hundreds of civilians was almost as good as the real thing.
Then the real thing started. Seaside's fireworks are done to music, blasted from an enormous pair of stacks probably stolen from some AC/DC show somewhere. There's an interesting light show flittering various reds around the area where the mortars get set off, announcing the beginning of the big stuff.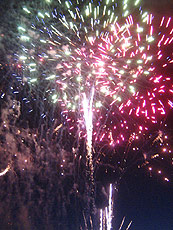 Big Seaside finale
About 20 minutes into the craziness, some gargantuan finale hits the skies and explodes all over. It's insane. It's so big my wide angle doesn't catch it all. Then, after a pause, the show continues! It's as if they realized, "Oops, we've got a bunch more left. Let's shoot this off until it runs out." The show went on for another 20 minutes, I would guess. Truly impressive.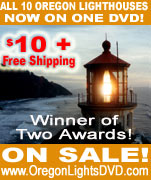 Some ship offshore, perhaps a mile or two away, is shooting off some its own big mortars. This is a first for me, and thoroughly engaging.
Then came the mad dash to get out. It's unpleasant to say the least to deal with a chunk of 30,000 people trying to head to their cars. The traffic jam was horrendous, and went on for at least an hour and a half, as most of that crowd made their way north or south on Highway 101, with most probably heading back to Portland for the following work day.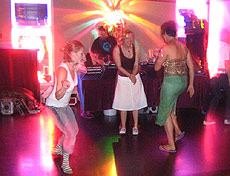 Dancing craziness at Watering Hole
I waited the traffic jam out in a bar, then zipped down to Manzanita (some 25 miles) to immerse myself in the wacky electronica activities at the Watering Hole. There, DJ Ali Cat was spinning the tunes. Actually, she's the very lovely bartender Allie, moonlighting as a DJ, from her night gig as a bartender – if that bit of odd irony makes any sense.
A small crowd from Portland dances the night away. The Watering Hole has become quite the progressive little nugget on the coast. They are something to watch closely. A few days later, Portland electronica wonder Dahlia played there, with rousing, exceptional results. But I'm jumping ahead in time.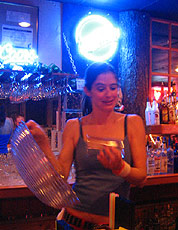 Allei as an angel - with an apparent halo above her
The Watering Hole is bringing a new and extremely welcome, urban sophistication to coastal nightlife that is unprecedented, but long overdue.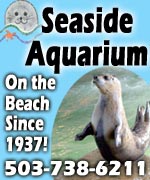 It's now the fifth of July, and another glorious, cloudless day on Oregon's north coast. Cannon Beach, Manzanita and Seaside are still somewhat insane with the leftovers of those who didn't have to work that day, enjoying the extremely warm waters and sometimes slightly brutal sun. After all, it's in the 90's in Portland.
After a breakfast of deli items from the little grocery in Manzanita, I spend the remainder of the day aimlessly ambling about the beaches of the north coast. I ogle that odd basalt column that juts upward from out of the ocean, barely visible from the highway, just north of Manzanita. The waters just to the north of that, by Short Sand Beach, look so warm and delicious I again think they look drinkable. Arch Cape and those beaches just south of Cannon Beach glitter brightly in the sun.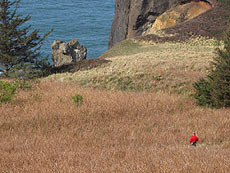 Basalt oddity protrudes from cliff near Manzanita
It's all entrancing.
This is home to me, and I never tire of it. Some people look to the coast to renew and refresh their spirit. But living in this area, even only half the week – well, let's just say it's what I live for. I don't need the big firework displays to be wowed. They simply add a new, although temporary dimension.

More pictures from the Fourth of July
| | |
| --- | --- |
| | |
| I make the acquaintence of one serious beauty from Portland, a DJ named Melissa who has a curious resemblance to Billie Holiday | Precursor to the real firework show at Seaside, put on by civilians |
| | |
| --- | --- |
| | |
| More | Scenes |
| | |
| --- | --- |
| | |
| From | Seaside |
| | |
| --- | --- |
| | |
| | Oodles of people creating oodles of smoke |

D Sands Condominium Motel, Lincoln City. Free, fresh baked cookie upon check-in is just the start. All rooms beachfront and up against Lincoln City's most famous stretch of beach: the D River. Each room comes as a suite or mini-suite, and has a kitchen and balcony or patio. Some w/ gas fireplaces, while all have a DVD Players; movies to rent come with free popcorn. Heated indoor pool, a spa, and this fabulous beach is lit at night. Rooms sleep from two, four to six - including a deluxe fireplace suite. Gift certificates orspecial occasion packages. www.dsandsmotel.com. 171 S.W. Highway 101. 800-527-3925.
Weiss' Paradise Suites & Vacation Rentals - Seaside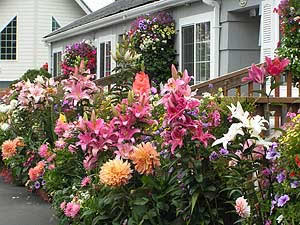 Unique Luxury Accommodations in Seaside. 1BR Suites, 1BR & 2BR Duplex Units and 3BR Houses, units for 2-8 people. Rent entire property for 20-26. Close to beach, river and Broadway St.
Suites are designed for two adults; vacation rental units for families. All units have kitchen and many have fireplace, deck and jetted tub. Comfy robes, slippers, luxury bath amenities, quality linens and more. 741 S. Downing St., Seaside. 800-738-6691. www.SeasideSuites.com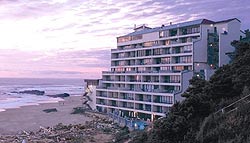 Inn At Spanish Head, Lincoln City. Lincoln City's only resort hotel built right on the beach with all oceanfront rooms - nestled against a rugged cliffside overlooking a soft, sandy beach. Dine in penthouse restaurant and bar, for casual meal or candlelight dinner. An array of seafood specialties, juicy steaks and other Northwest favorites, including decadent Sunday buffet. Rooms range from bedrooms to studios to 1-bedroom suites with microwaves and refrigerators to full kitchens. Also, wi-fi, spa, saunas, exercise room and year-round heated swimming pool. Kids will love the game room and easy beach access. Full-service conference/meeting rooms for that inspirational retreat; extensive wedding possibilities. 4009 SW Highway 101, Lincoln City. 1-800-452-8127 or 541-996-2161. www.spanishhead.com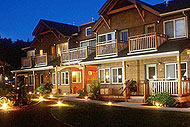 Inn at Cannon Beach. Beautifully wooded natural setting at quiet south end of Cannon Beach. Great during winter storms with a new book by the fireplace – or when the sun is out for family fun and beach strolling. Handsome beach cottage-style architecture. Lush flowering gardens and naturalized courtyard pond. Warm, inviting guest rooms. Continental buffet breakfast. Warm Cookies. Family and Pet Friendly. Welcome gifts. Smoke-free. Complimentary Wireless Connectivity. Wine and book signing events. 800-321-6304 or 503-436-9085. Hemlock At Surfcrest, Cannon Beach, Oregon. www.atcannonbeach.com.
RELATED STORIES
SPECIAL SECTIONS
oregon coast weather
oregon coast mileage chart & map
day trips, suggested itineraries
Oregon Coast Lodging Specials
Search BeachConnection.net's 1,000 pages
Oregon Coast Real Estate
Oregon Coast Pictures
Atypical Things to Do
Oregon Coast Camping
Seaside, Oregon Lodging
Cannon Beach, Oregon Lodging
Manzanita, Wheeler, Rockaway Beach Lodging
Lincoln City Lodging
Depoe Bay Lodging
Cannon Beach Complete Guide
Lincoln City Complete Guide
Seaside, Oregon Complete Guide
OR TAKE THE VIRTUAL TOUR

ASTORIA
Where the Columbia meets the Pacific, Land of Lewis & Clark and loads of atmosphere & history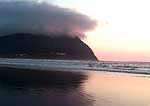 SEASIDE
The Promenade, Tillamook Head, family fun & broad, sandy beaches

CANNON BEACH
A mysterious lighthouse, upscale yet earthy, a huge monolith, fine eateries & an art mecca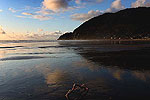 NEHALEM BAY
Manzanita's beaches, Nehalem and Wheeler's quirky beauty; laid back Rockaway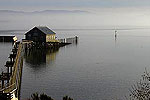 TILLAMOOK BAY
Garibaldi, Barview, Bay City, Tillamook & an oceanfront ghost town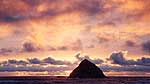 THREE CAPES LOOP
The hidden secret of the coast: Cape Meares, a lighthouse, Oceanside, Netarts and Pacific City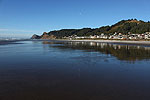 LINCOLN CITY
& THE CORRIDOR OF MYSTERY
Miles & miles of unbroken beaches, Cascade Head, Neskowin and many manmade attractions

DEPOE BAY
A spouting horn downtown, freaky hidden cliffs and whales, whales, whales

NEWPORT
Time-tripping Nye Beach, a bustling bayfront, marine science-central and two lighthouses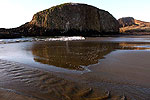 WALDPORT / SEAL ROCK
Pristine, even secretive sands and wild geologic landmarks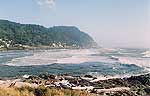 YACHATS
Constantly dramatic wave action, a mix of the rugged & upscale

UPPER LANE COUNTY
25 miles of deserted beaches & oodles of wonders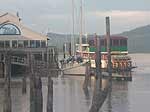 FLORENCE
A lighthouse, ancient bayfront and miles and miles of fluffy dunes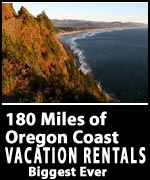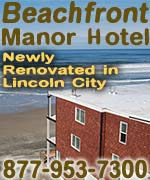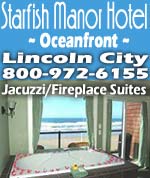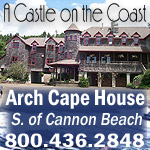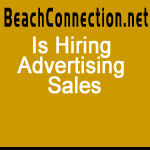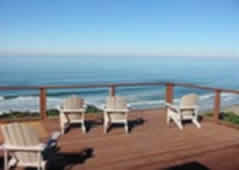 A1 Beach Rentals, Lincoln City. Perfect for large family vacations all the way down to a getaway lodging for two - with over 25 vacation rental homes to choose from. A breathtaking collection of craftsman or traditional beachfront homes, or oceanview houses – from one to seven bedrooms. In various areas of Lincoln City and overlooking the beach, with some in Depoe Bay. All kinds of amenities are available, like hot tubs, decks, BBQ, rock fireplaces, beamed ceilings and more. Some are new, some are historic charmers. Lincoln City, Oregon. 1-(503)-232-5984. www.a1beachrentals.com.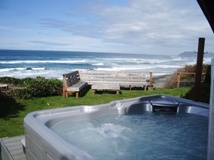 Arch Cape Property Services. Dozens of homes in that dreamy, rugged stretch between Cannon Beach and Manzanita known as Arch Cape. Oceanfront and ocean view , or just a short walk from the sea.
All homes are immaculate and smoke free; some pet friendly (with a fee). Some with broadband, indoor or outdoor hot tubs, fireplaces, decks, and fire pits or barbecues. Call about tempting winter specials that go until March (not valid holidays, however). www.archcaperentals.com 866-436-1607.
For weekly updated info on lodgings and accomodation reviews, see the Travel News section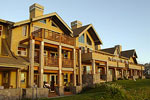 The Ocean Lodge. There will not be another property built like this in Cannon Beach in our lifetimes. Rare, premiere ocean front location; handsome, dramatic architecture and tasteful, fun (nostalgic) beach interiors. Overlooks Haystack Rock. 100 percent smoke free. Imaginative special occasion packages. Massive wood burning lobby fireplace. Library w/ fireplace, stocked with impressive book collection. Pet and family friendly. Lavish continental buffet breakfast. In-room fireplaces, mini-kitchens. Jacuzzi tubs in select rooms. DVD players, complimentary movies. Morning paper. Warm cookies. 888-777-4047. 503-436-2241. 2864 Pacific Street. Cannon Beach, Oregon. www.theoceanlodge.com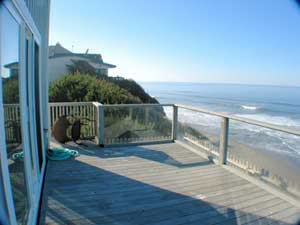 Lincoln City Vacation Homes Something for everyone: smaller homes with a view to a large house that sleeps 15. All are either oceanfront or just a few steps away – all with a low bank access and fantastic views. Most are in the Nelscott area; one is close to the casino. You'll find a variety of goodies: fireplaces, multiple bedrooms, dishwashers, Jacuzzis, washer/dryers, hot tubs, cable TV, VCR, barbecues; there's a loft in one, and another sprawling home has two apartments. Pets allowed in some homes – ask first. Each comes with complete kitchens. Most have seventh night free. Prices range from winter $85 to summer $230 per night. www.getaway2thecoast.com. 541-994-8778.