Covering 180 miles of Oregon coast travel: Astoria, Seaside, Cannon Beach, Manzanita, Nehalem, Wheeler, Rockaway, Garibaldi, Tillamook, Oceanside, Pacific City, Lincoln City, Depoe Bay, Newport, Waldport, Yachats & Florence.
1/29/07
Sunny Oregon Coast Sees Rare Oddities, Seals and Wild Waves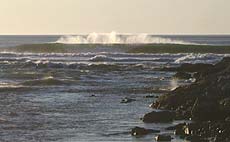 Intense wave action at Yachats
(Oregon Coast) – It was more than the average visitor bargained for on the Oregon coast this weekend, as the warm weather brought out an exciting, even rarely witnessed natural event, a couple of lounging seals, some strange discoveries about tide pool life and extraordinary waves that belied the calm, sunny conditions and would've made surfers from Hawaii jealous.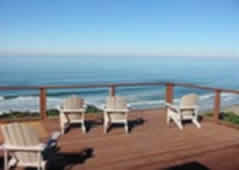 A1 Beach Rentals, Lincoln City. Perfect for large family vacations all the way down to a getaway lodging for two - with over 25 vacation rental homes to choose from. A breathtaking collection of craftsman or traditional beachfront homes, or oceanview houses – from one to seven bedrooms. In various areas of Lincoln City and overlooking the beach, with some in Depoe Bay. All kinds of amenities are available, like hot tubs, decks, BBQ, rock fireplaces, beamed ceilings and more. Some are new, some are historic charmers. Lincoln City, Oregon. 1-(503)-232-5984. www.a1beachrentals.com.
With the coast being the warmest place in Oregon, it wasn't your average tourist destination by any means. But seldom seen natural events, like the "green flash at sunset" or seals resting on the beach, made this weekend stand out in the minds of officials and visitors. (Click here for story on tourism numbers and the busy weekend)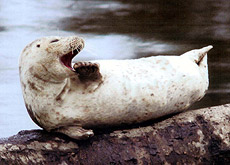 Aquarium staff had to deal with a seal like this one (taken in 2005)
Over the weekend, Seaside Aquarium staff had to deal with two strandings of seals on the north Oregon coast, which caused quite the buzz with beachgoers who spotted the always-fascinating natural event.
The aquarium is part of the Marine Mammal Stranding Network, which means when a seal or other sea mammal wanders up on the beach to rest, it's their job to rush to the area and post signs that people should keep away and not try to misguidedly aide the creature.
A one-year-old seal decided to take a nap on the beach at Cannon Beach, causing a stir among the visitors there. "He decided to nap on a crowded beach," said Keith Chandler, manager of Seaside Aquarium. "We know we're getting lots of people on the beach by the amount of phone calls we get on seal strandings. We got a ton of calls."
The other seal wandered up to Rockaway to lounge for a while, but aquarium staff didn't get to that one before dark. Chandler hoped that seal made it back into the water soon.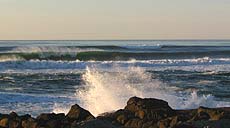 Yachats
"It's really their beach," Chandler said. "Humans are just using it for awhile. The beach is where they live, so it really belongs to them."

Tradewinds Motel, Rockaway Beach. All rooms at the Tradewinds Motel are immaculate and have TV's, VCR's and in-room phones with data ports. The oceanfronts all have a queen bed, a double hide-a-bed, kitchen, cozy firelog fireplace and a private deck. Some oceanfront units come with all those amenities but the kitchens. Both types sleep up to four people. Others are appointed with a queen bed, small fridge, and coffee maker – sizable for a two-person romantic getaway, yet still perfect for those on a budget. There is an elaborate oceanfront Jacuzzi suite that has two bedrooms, coming with a kitchen, double hide-a-bed, fireplace and private deck, sleeping as many as six. For those wanting bigger accommodations for family reunions or large gatherings such as weddings, some rooms can connect to create two-room and three-room suites. Some rooms are pet friendly.523 N. Pacific St., Rockaway Beach. (503) 355-2112 - 1-800-824-0938. www.tradewinds-motel.com
Wild, even enormous waves wowed beachgoers all weekend, on top of the blue skies. But especially on Sunday, huge "half pipes" rolled over much of the Oregon coast surfline, along with spectacular white caps caused by east winds.
In Yachats, they made a fiery show, with huge waves rolling over onto themselves, looking like the monsters they get in Hawaii, and then steady east winds would knock the tops off them and create enormous white caps. This big display had professional and semi-professional photographers out in full force on the central coast.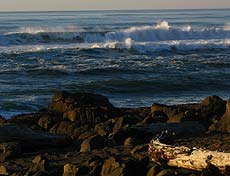 "Something interesting was going on here," said BeachConnection.net editor Andre' Hagestedt. "You get these white caps when winds from the opposite direction hit them as they're rolling in. Yet these waves were enormous, while the wind conditions were really quite calm to almost nothing on most of the central coast. Last I heard, there were big storm systems held offshore by warm temperatures here. So it's likely some storm out there was sending huge waves our way, while a small measure of east winds would tussle the waves into these fantastic displays of spray you saw today."
DIVE INTO LUXURY, HISTORY AT THE TIDES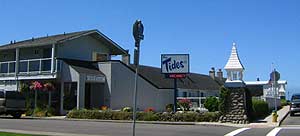 THE TIDES BY THE SEA, Seaside. For over 80 years a favorite of Seaside visitors. 51 oceanfront condos, individually owned and decorated. Suites for couples, small apartments with fireplaces and kitchenettes, one or two bed family units with fireplaces, kitchens and dining rooms. Oceanview cottages sleep anywhere from two to eight, w/ two bedrooms, some with lofts, fireplaces and kitchens. Heated outdoor pool, enormous grounds w/ picnic tables - all at quiet southern end of Seaside. 2316 Beach Drive. 800-548-2846. www.thetidesbythesea.com.
Crowds were gathered in force along Yachats' beachfront, with many on the new viewing platform, checking out the maniacal wave action while still basking in relative warmth and lots of sun.
On the central coast on Sunday, the famed "green flash" at sunset made its rare appearance and amazed those who witnessed it. Bob Trusty, co-owner of Village Market & Deli saw it from his restaurant in the Nye Beach district of Newport. Hagestedt, along with girlfriend Melissa Haines, saw it in Waldport.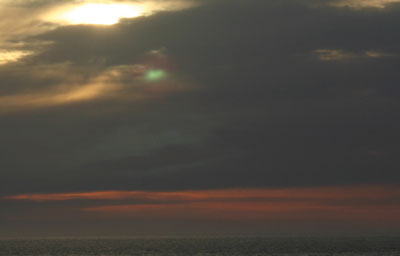 Green flash at sunset: notice the green spot in the dark clouds in the upper left portion. Photo: Bob Trusty
This rare oddity occurs when atmospheric conditions are just right, and observers see a small, greenish blob hover at the top of the sun just before it drops below the horizon. It usually lasts for two to ten seconds, and is most often seen as a shimmering, indistinct shape that is green.
"It totally blew me away," Hagestedt said. "I've seen it before here in Waldport about ten years ago, in Seaside around that time, and then in Lincoln City this fall."
BREATHTAKING CLIFFTOP IN NEWPORT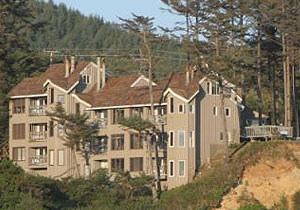 STARFISH POINT Newport - Offers only the finest in luxury condominium lodging. Every unit is focused on the beauty of the sea and the beach.
All units boast two bedrooms, two bathrooms, designer kitchens, wireless broadband Internet, fireplaces, Jacuzzi's and private decks. Friendly staff dedicated to high quality and superb customer service. 140 NW 48th Street, Newport. (541) 265-3751. (800) 870-7795. www.starfishpoint.com
Hagestedt described this one as a quick blip of a shade of green, really more of a flash in this case. It was faint, he said, but a definite flash of green, as if the sun let out a quick burst of something just as it went down.
Trusty was trying to photograph the sunset, and wondered if he might see the phenomenon again – as he has photographed it twice this year under very unusual circumstances. "It happened just after I took the shot, but it takes my digital a couple of seconds to reset itself so it can take another picture," Trusty said. "Then I saw it. It was too late."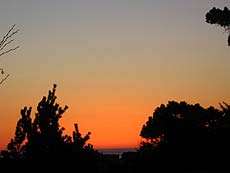 Sunset scene in Waldport, seconds after the green flash
Trusty admitted he wasn't sure if that's what he saw until Hagestedt called him by cell phone just outside of Waldport. "I asked him if he saw it, and he said 'I thought that was it, but wasn't sure,' " Hagestedt said.
BeachConnection.net will publish two more articles about this phenomenon this week; one will be part of the "freaky facts" series, and another deals with Trusty's two photographs of even more rare incarnations of this event.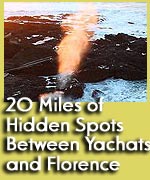 In Seaside, Chandler said he didn't see it on Sunday, but admitted he's a bit jaded by having seen the phenomenon quite frequently. "I see it all the time," Chandler said.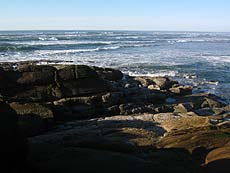 Near Yachats, where the "talking barnacles" were heard
Chandler also played a role in another remarkable discovery made by BeachConnection.net staff on Sunday. Hagestedt and Haines were walking around a hidden spot just north of Yachats, where tide pools filled the area and barnacles smothered the rocks, when Haines heard an unusual noise.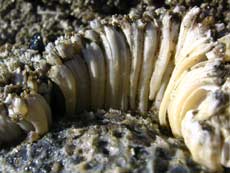 Cutaway of barnacles
"She stopped me and said the barnacles were making noises," Hagestedt said. "For a second I thought she was pulling my leg, or maybe I wasn't understanding her. She kept going 'Do you hear that? Do you hear that?' And of course, after being a rock music writer for almost ten years, no, I didn't. Eventually, she showed me to a spot where she said the barnacles were really making a lot of noise. I bent close, and I heard an odd little squirting or squishing noise. Sure enough, these things do make noise."
Hagestedt and BeachConnection.net staff then talked to Chandler about the oddity, and he confirmed they actually do make noises. "It happens when they move around in their shells," Chandler said. "They have two sets of shells to protect themselves."


D Sands Condominium Motel, Lincoln City. Getting a free, fresh baked cookie upon check-in is just the beginning. Every room is beachfront, and it's all right up against Lincoln City's most famous stretch of beach, next to the D River. Each room, comes as a suite or mini-suite, and has a kitchen and balcony or patio. Some have gas fireplaces, while all have a DVD Players with movies available for renting (and movie rentals come with free popcorn). There's a heated indoor pool, a spa, and this fabulous beach is lit at night. Rooms sleep anywhere from two, four to six - including a deluxe fireplace suite. Gift certificates are available, and they offer special occasion packages as well. To make a reservation and see a virtual tour of the rooms, visit our website at www.dsandsmotel.com. 171 S.W. Highway 101. 800-527-3925.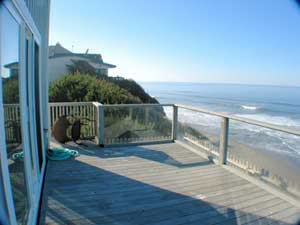 Lincoln City Vacation Homes There's something for everyone among this selection of wondrous homes: smaller homes with a view to a large house that sleeps 15. All the homes are either oceanfront or just a few steps away from the sand – all with a low bank access and fantastic views. Most are in the Nelscott area; one is close to the casino. You'll find a variety of goodies, depending on the home: fireplaces, multiple bedrooms, dishwashers, Jacuzzis, washer/dryers, hot tubs, cable TV, VCR, barbecues; there's a loft in one, and another sprawling home has two apartments. Pets are allowed in some homes – ask ahead. Each comes with complete kitchens so you'll have a home away from home. Most have the seventh night free. Prices range from winter $85 to summer $230 per night. www.getaway2thecoast.com. 541-994-8778.
Weiss' Paradise Suites & Vacation Rentals - Seaside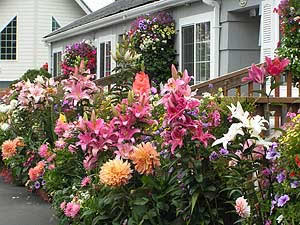 Unique Luxury Accommodations in Seaside. 1BR Suites, 1BR & 2BR Duplex Units and 3BR Houses, units for 2-8 people. Rent our entire property for 20-26. All units close to beach, river and Broadway St.
Suites are designed for two adults; vacation rental units for families. All units have kitchen and many have fireplace, deck and jetted tub. Enjoy comfy robes & slippers, luxury bath amenities, quality linens and more. See us on The Travel Channel's "Great Escapes" show in August 2006. 741 S. Downing St., Seaside. 800-738-6691. www.SeasideSuites.com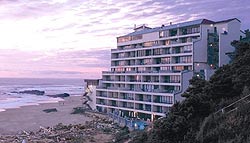 Inn At Spanish Head, Lincoln City. It's Lincoln City's only resort hotel built right on the beach with all oceanfront rooms - nestled against a rugged cliffside overlooking a soft, sandy beach. Enjoy dining in the penthouse restaurant and bar - whether you're in the mood for a casual meal or a candlelight dinner. They offer an array of seafood specialties, juicy steaks and other Northwest favorites, including a decadent Sunday buffet. Rooms range from bedrooms to studios to one-bedroom suites with microwaves and refrigerators to full kitchens. Hotel amenities include wi-fi, spa, saunas, exercise room and a year-round heated swimming pool. Kids will love the game room and easy beach access. Full-service conference and meeting rooms for that inspirational retreat; extensive, gorgeous wedding possibilities. Near the south end of Lincoln City at 4009 SW Highway 101. 1-800-452-8127 or 541-996-2161. www.spanishhead.com
RELATED STORIES
OR TAKE THE VIRTUAL TOUR

ASTORIA
Where the Columbia meets the Pacific, Land of Lewis & Clark and loads of atmosphere & history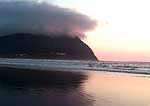 SEASIDE
The Promenade, Tillamook Head, family fun & broad, sandy beaches

CANNON BEACH
A mysterious lighthouse, upscale yet earthy, a huge monolith, fine eateries & an art mecca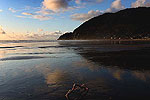 NEHALEM BAY
Manzanita's beaches, Nehalem and Wheeler's quirky beauty; laid back Rockaway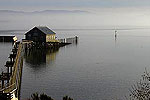 TILLAMOOK BAY
Garibaldi, Barview, Bay City, Tillamook & an oceanfront ghost town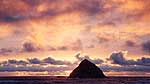 THREE CAPES LOOP
The hidden secret of the coast: Cape Meares, a lighthouse, Oceanside, Netarts and Pacific City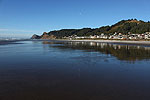 LINCOLN CITY
& THE CORRIDOR OF MYSTERY
Miles & miles of unbroken beaches, Cascade Head, Neskowin and many manmade attractions

DEPOE BAY
A spouting horn downtown, freaky hidden cliffs and whales, whales, whales

NEWPORT
Time-tripping Nye Beach, a bustling bayfront, marine science-central and two lighthouses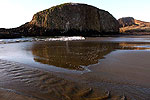 WALDPORT / SEAL ROCK
Pristine, even secretive sands and wild geologic landmarks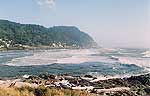 YACHATS
Constantly dramatic wave action, a mix of the rugged & upscale

UPPER LANE COUNTY
25 miles of deserted beaches & oodles of wonders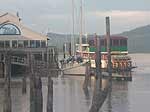 FLORENCE
A lighthouse, ancient bayfront and miles and miles of fluffy dunes