Published 01/03/09
Biggest Oregon Coast News Stories of the Year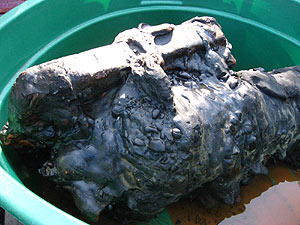 The biggest story of the year on BeachConnection.net (and for the whole coast) were the historic cannon found in Arch Cape.
(Oregon Coast) - With 2008 behind us, it quickly becomes apparent what an interesting year it was on Oregon's coastline.
The stories on Oregon Coast Beach Connection that made the biggest splash included some landmark events in the natural world: such as the earthquake that gave a slight tsunami scare in the first week of the year, the crazed storms that ate at roads and beaches, the subsequent incredible finds, peril to the ghost forests, crazy weather events of spring and some interesting advice from experts.
The huge story of the year was, of course, the wild historic finds along the beaches last winter, which made big national and international headlines. Other articles that caught readers' fancy involved music, including the passing of Christian rock legend Larry Norman, as well as some gruesome tales about the history of Yachats.
It all began around January 10, 2008, as a magnitude 6.4 earthquake occurred off the Oregon coast, just as high winds and rain began pummeling the region - both of which have turned out to be uneventful.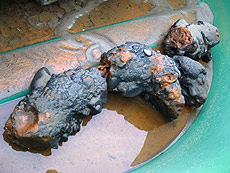 Parts of the cannon in their giant water tubs in Nehalem earlier in 2008.
The U.S. Geological Survey reported the quake about 151 miles off the Oregon coast. It happened at a depth of 6.2 miles, and did not warrant a tsunami warning.
Police dispatchers in numerous coastal communities said they had not received any calls from people who felt the quake. The U.S. Coast Guard also reported no quake-related problems.
During a storm early that month, big waves in Newport eroded parts of a cliff and caused a section of the side of the road to fall away.
Philip Pelletier of Manzanita and Portland illustrator Verne Lindner released "One Night in Frogtown" in late 2007, with an all-star northwest talent lineup that included Curtis Salgado, Linda Hornbuckle, Eric Robinson, Andy Stokes, Thara Memory and Devin Phillips, among others.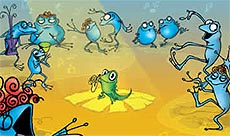 The cover of "Frogtown," illustrated by Lindner.
Oregon Coast Beach Connection's review received a bundle of attention from music fans all over the world, with Willamette Week even pointing to it.
The CD accompanies the book, with little cues to turn the pages as the story is read by Portland blues master Curtis Salgado (he was one of the big inspirations of John Belushi's "Blues Brothers" characters after Belushi saw him perform in Eugene during the filming of "Animal House" in the 70's). Call it kid's music that is accessible to adults – or perhaps "Frog Rock" would be the best term – but this CD and its book do indeed rock.
Another story getting bundles of attention was about ways to spot sneaker waves. Seaside geologist Tom Horning said sneaker waves are a likelihood on low-lying beaches or rocky ledges during much of the winter. So it's best to stay clear of these kinds of beaches during these conditions – period.
But if you must dare to hit the sands in wild states, there are ways to keep a look out.
"Sneaker waves sneak up on you and can carry away the unprepared," Horning said. "Sneaker waves are formed by at least two wave trains that are moving at slightly different speeds and that are out of phase. As a result, they produce a complex wave train that can double the heights of the waves every few minutes, with smaller waves happening in between."
What's surprising is that there are conditions to look out for when a sneaker wave may be coming, but you have to be paying close attention to the tide.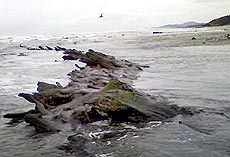 Strange ghost forest structures near Newport (photo Guy DiTorrice)
"The clue that a sneaker wave is coming is a large withdrawal of the ocean after a period of smaller waves," Horning said. "The withdrawal represents a magnified trough preceding a magnified peak - a big wave - that is following. If the ocean pulls out an abnormal distance, keep an eye on it and plan your escape route - if you are in an area that can be flooded by the coming big surge."
Horning said it's best to watch the ocean for 10 to 20 minutes to get an idea of whether or not sneaker waves are likely. But if in doubt, simply stay away from the beach – period. If you see waves reaching up close to cliffs or foredunes, stay off it and watch the beach from above.
The big storm of '07 and other subsequent tempests ripped up Oregon beaches with extreme prejudice at times last year, but the results were actually quite delightful at times.
The big buzz in the beginning of 2008 was the archaeological find of two cannons that may be 162 years old, as well as the other oddities uncovered by low sand levels: strange formations that look like something out of Dr. Suess and forest stumps at least 4,000 years old.
It all began when a family vacationing in Arch Cape – just south of Cannon Beach - discovered a cannon sticking out of the sand. At first, no one believed the teenager and her family, but eventually officials came around and acknowledged the find.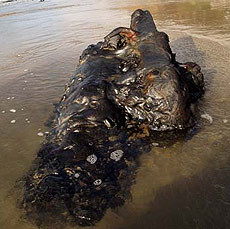 The cannon at Arch Cape as they were found in February (photo Seaside Aquarium)
Immediately, locals realized these could be missing cannons from the USS Shark, which crashed on the Columbia River Bar, some 20 miles north of here, in 1846. It was on this beach that a cannon was found years later, getting Cannon Beach its name (after the village of Arch Cape had the name for a while).
Quickly, the nation, and especially Oregon media, was buzzing about the historical find, with the answer to a puzzle more than 150 years old possibly at hand.
Developments on this made waves all year, including showing up on the PBS show "The History Detectives," and various public displays of the artifacts at a state park in Nehalem.
Low sand levels unearthed much more, including red towers (iron formations beneath the sand) and more ghost forests, which also made national headlines. Oregon Coast Beach Connection staff encountered several people on the beaches of the north coast looking for those oddities after hearing about them on NPR. That media organization heard about it from Oregon Coast Beach Connection, incidentally.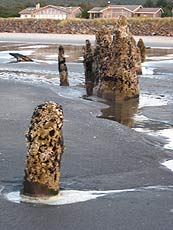 Neskowin's ghost forest has started to decay, with some getting uprooted and strewn on beaches to the north.
All that sand erosion on Oregon's coast that has resulted in a flurry of finds elsewhere. Sand levels at Cape Kiwanda State Park were something like ten feet lower than normal, resulting in major finds for agate hunters, but also more ghost forest stumps, and the beach quite literally hit rock bottom with a 16 million-year-old formation making its debut.
A mail truck from the 20's, a shipwreck and other strange finds showed up because of the storm-scoured sand.
However, this sand level event and others has resulted in the possible endangerment of a ghost forest in Neskowin, just a few miles south of Pacific City.
Beach ranger David Woody, with Oregon State Parks and Recreation Department, said the stumps at Neskowin – about 1,000 to 2,000 years old – were showing so much they were starting to get uprooted.
"I found some a ways up the road, at the beach at Winema," Woody said back in February.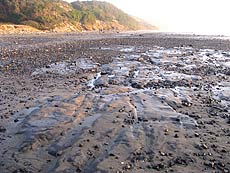 Sand levels on the coast got so low that 16 million-year-old bedrock began showing up near Cape Kiwanda.
State of Oregon geologist Roger Hart noted this didn't bode well for the future of the Oregon coast's most unusual natural attraction.
Also in February, Christian rock legend Larry Norman passed away. He had been living in Salem for years by this time, and some staff at Oregon Coast Beach Connection had become close with him and family members at the time. The article about his passing, and the personal anecdotes about him drew enormous attention from around the world, as well as exceptional praise from Norman's brother, Charles (a close friend of editor Andre' Hagestedt).
As spring break came, it became apparent the coast's tourism industry was in for no easy streak. With a decidedly non-spring break spirit, the National Weather Service correctly predicted there would be snow on the Oregon coast and the coast range. It screwed things up terribly for beachgoers who were spooked by the white stuff, instead of enchanted by this rarity.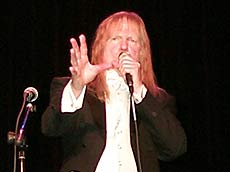 Larry Norman at his last performance in Salem, Oregon a few years ago.
Another extremely popular article this year was about the beaches of the north Oregon coast, parts of Portland and the Gorge again getting the Hollywood treatment during spring, as a company called 2929 Production was filming "The Road" in those areas.
The article was so popular it was literally ripped off by other websites and bloggers, and Oregon Coast Beach Connection had to run around the web threatening legal action.
"The Road" stars Viggo Mortensen (Eastern Promises), child actor Kodi McPhee, actress Charlize Theron (In The Valley Of Elah, Monster), Robert Duvall (The Godfather, We Own The Night) and Guy Pearce (The Proposition, Memento). The film is based on the post-apocalyptic novel by Cormac McCarthy, written by Joe Penhall and directed by John Hillcoat (The Proposition). It's about a father and son – played by Mortensen and McPhee – who traverse a desolate world where most plants, animals and food were destroyed or plundered in a nuclear war, one where most survivors have turned to cannibalism.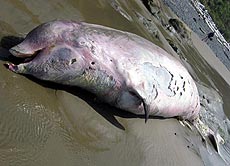 One stinky beaked whale beached near Cannon Beach (photo Seaside Aquarium).
Big and stinky were popular things to read about this year, as some nasty smelling whales hit the beaches of the north coast.
They are the species known as beaked whales - which normally live quite deep in the ocean and far offshore from Oregon's beaches. One washed up on a Sunday in March near Cannon Beach, and it too stank to high heaven.
"It had been dead for months," said Keith Chandler, manager of the Seaside Aquarium, and one of the responders from the north coast's Marine Mammal Stranding Network. "It smelled really, really bad. When they finally get here, it's taken their bodies so long, because they live so deep, so that's why they're so rotten when they get here."
The town of Yachats has some truly dark, even demonic beginnings, and it made for riveting reading apparently back in the fall.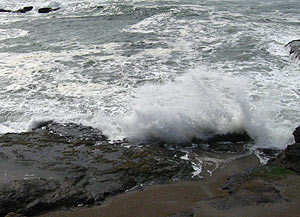 Yachats is stunning, but it has a dark history.
Its early history, throughout the early 1800's, is filled with a litany of atrocities against local native tribes who occupied the region originally, such as the Coos, Lower Umpqua and tribes with names similar to Alsea and Yachats. One incarnation garbled through the white tormentors who ruled over them is Ya'hatc - which likely is closest to the original pronunciation, but the actual name of the tribe is probably lost to history.
One death march after another was enforced on local tribes, driving them from their hunter/gather existence by the sea to places just inland from upper Lane County to around Yachats itself. Numerous records give grim accounts of an endless swath of graves of indigenous people along the way, sometimes in the form of entire villages emptied by white man diseases or forced starvation.
The big surprise: much of Highway 101 in Yachats is paved over numerous graves of natives.
October brought a rush of Humboldt Squid to northwest beaches, starting with about 15 of them scattered along the stretch from the very edge of Oregon's coastal border – the south jetty at Fort Stevens State Park - down to Gearhart.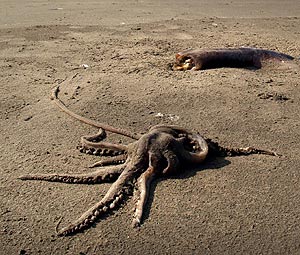 Two of tons of squid that hit the north coast (photo Seaside Aquarium)
The first call came early on a Thursday morning, saying they were around the wreck of the Peter Iredale in Warrenton. Manager Keith Chandler and the aquarium's Tiffany Boothe drove along the beach and found the first 15 scattered between there and Gearhart.
About seven days later, thousands had arrived along the north coast and southern Washington coast.

"It was the aftermath of them washing onshore, what was left," Chandler said. "It was the best thing to happen to the seagulls since McDonald's. They attack the eyes first. That's apparently the best part."
It became hard to walk on many parts of the northern coast without stepping on one.
Mother Nature continued being a real freak in October. One week, hordes of moon jellies hit the north Oregon coast, between Gearhart and Warrenton. Literally thousands showed up.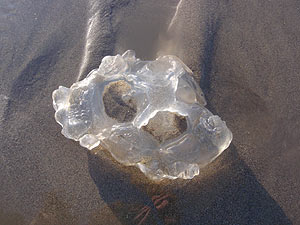 Thousands of moon jellies also landed on the coast in October (photo Seaside Aquarium).
"There was one every four feet," said Keith Chandler, manager of Seaside Aquarium. "They were all big, about four feet across. It looked like a beach full of pancakes."
Chandler said the surf got enormous on a weekend, bringing in the monster numbers of moon jellyfish (technically known as aurelia aurita). Chandler and aquarium staff drove the beaches of the area later that weeke and saw tons of them between Gearhart and the wreck of the Peter Iredale, which is around Warrenton.
Why they showed up suddenly in such abundance, and why they landed in that area is a mystery. "There was probably just a bunch of them out there when the sea pushed them in," Chandler said.
In the last days of the year, the big news was all the razor clams on the coast. They showed up in record numbers on the north coast – nine million to be exact.