Covering 180 miles of Oregon coast travel: Astoria, Seaside, Cannon Beach, Manzanita, Nehalem, Wheeler, Rockaway, Garibaldi, Tillamook, Oceanside, Pacific City, Lincoln City, Depoe Bay, Newport, Waldport, Yachats & Florence.
03/03/08
Oregon Coast Spring Break for Adults: Food and Lodging Monsters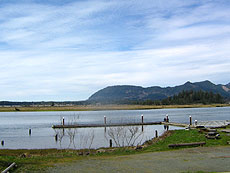 Wheeler, on the north coast, has much for grown-ups
(Oregon Coast) – Spring and spring break are not all about the kiddies on the Oregon coast. True, there are loads of families roaming about the coastline and its tiny, charming burghs, in search of ways to amuse the offspring – and hopefully themselves in the end. But there are plenty of couples of varying ages without the little ones in tow who wind up with days or weeks off about this time, whether they be middle-aged empty-nesters or twentysomething newlyweds.
These folks are looking for a touch of the finer things on the beach. There are those who want a form of repose that doesn't necessarily involve fast food, pizza joints or clam chowder. Some are seeking the relaxation of a perfect ocean view of manic storm waves or soothing sunsets, with a fire crackling nearby and a room that begs for romantic moments.
It's for those intrepid explorers who venture to the coast during the spring break weeks of March and early April that BeachConnection.net has created this list of the finery – ways to avoid the throngs and noisy little ones and absorb the coast as it was meant to be.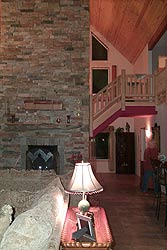 Stone Crest Cellar B&B. Step into an extraordinary home with unique architecture of log and rustic stone, set over the dramatic waves of the Oregon coast. An intricate 30-ft pine ceiling accentuates the cathedral-like windows, warmed by 30-ft. stone fireplace, bringing to this jaw-dropping B&B a vibrant sense of romance that's somewhere between a woodsy cabin and a castle.
The surf lulls you to sleep in spacious and private rooms, beautifully appointed with antiques, fine linens and Turkish bathrobes, as well as wireless Internet access, TV and VCR. Some rooms are private and perfect for two; one is large enough to accommodate four. Complementary wine and hor d'oeuvres, tea before bedtime and full gourmet breakfasts are available.
As one of the entire coast's most romantic settings, this bed & breakfast is home to an abundance of weddings, proposals, receptions, retreats and conferences, as well as weekends for wine enthusiasts. Some pet friendly rooms. In South Beach, just three miles south of Newport (first driveway past 95th Street and Hwy 101). 9556 South Coast Hwy. (541) 867-6621. www.stonecrestbb.com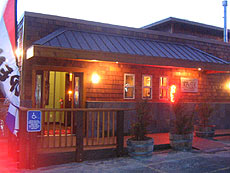 Yachats River House, Yachats. A view as delicious as the food is on tap at this glorious little eatery overlooking the dynamic bay. The décor screams woodsy upscale while the edibles scream to be savored slowly and carefully, prepared by a master chef whose creations have become the talk of the town in this less-than-year-old wonder.
Try the "River House Steak Frittes" ($25), which includes all natural, locally farmed beef rib eye, encrusted in Tellicherry black pepper, with Rogue Creamery blue cheese-apple wood smoked bacon butter, red wine reduction, pommes frittes and sautéed summer greens. The "Pacific Halibut Dijon" ($22) brings to the table exquisite fish coated in Dijon mustard and panko bread crumbs, tomato-tarragon buerre blanc, horseradish whipped yukon gold potatoes and summer vegetables.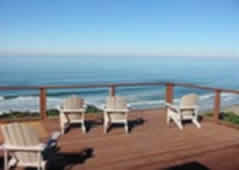 A1 Beach Rentals, Lincoln City. Perfect for large family vacations all the way down to a getaway lodging for two - with over 25 vacation rental homes to choose from. A breathtaking collection of craftsman or traditional beachfront homes, or oceanview houses – from one to seven bedrooms. In various areas of Lincoln City and overlooking the beach, with some in Depoe Bay. All kinds of amenities are available, like hot tubs, decks, BBQ, rock fireplaces, beamed ceilings and more. Some are new, some are historic charmers. Lincoln City, Oregon. 1-(503)-232-5984. www.a1beachrentals.com.
The "Grilled Tandoori Chinook Salmon" ($24) is so good it hurts. Indian-spiced Chinook salmon is lightly charred on the outside, coming with apple-coriander chutney, fresh pea risotto and summer vegetables. It silkily sinks down your palate with a nice bite and a wonderful Indian accent.
Their sister business is Yachats Wine Trader, a wine bar, which makes for an incredible wine list. Do NOT miss the stunning innovative cocktail mixology by their very talented bartenders. 131 Hwy 101 North, Yachats. 541-547-4100. www.yachatsriverhouse.com.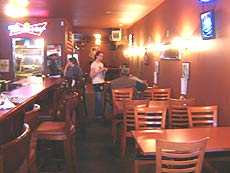 Rick's Roadhouse Bar & Grille
Classy yet not pretentious, this gem is another shot in the arm for Rockaway Beach, with the feel of a cozy, neighborhood bar you'd feel good about taking your grandma to. Exceptional food populates the menu throughout the day, such as the gargantuan toasted sub sandwiches. Turkey, pastrami, chicken and an exceptional Italian meatball sub all come with a gourmet touch (all around $8). There's a hefty helping of coastal comfort foods, such as large portions of halibut and chips, prawns and chips, chicken wings, etc. Burgers have some nifty new takes, such as the chili burger, or the ones with cube steak or grilled mushrooms (all around $7). There's a small selection of Mexican favorites, and some interesting extras like steak fingers, polish hot dog or egg rolls. They feature karaoke at night as well. 184 Highway 101. Rockaway Beach, Oregon. 503-355-2052.

Tradewinds Motel, Rockaway Beach. All rooms are immaculate and have TV's, VCR's and in-room phones w/ data ports. Oceanfronts have queen bed, a double hide-a-bed, kitchen, cozy firelog fireplace and private deck. Both types sleep up to four people. Others are appointed for a two-person romantic getaway, yet still perfect for those on a budget. Elaborate oceanfront Jacuzzi suite has two bedrooms, kitchen, double hide-a-bed, fireplace and private deck, sleeping as many as six. For family reunions or large gatherings such as weddings, some rooms can connect to create two-room and three-room suites. Some rooms pet friendly. 523 N. Pacific St., Rockaway Beach. (503) 355-2112 - 1-800-824-0938. www.tradewinds-motel.com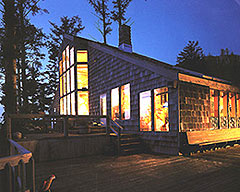 Turk's Lodgings. Just outside Cannon Beach, secluded in a primeval rain forest of the north Oregon coast, Turk's Lodgings is a unique set of hideaways that are romantic, completely secluded and thoroughly breathtaking. Dramatic ocean views highlight each. The House in the Trees is part medieval charmer and part modern mansion, sleeping six and featuring a double Jacuzzi, large loft, massive rock fireplace, sprawling wrap-around deck and commercial gas stove, among other amenities. The Cottage sleeps four, comes with a Jacuzzi, large windows and skylights, full kitchen, woodstove and a hide-a-bed sofa in the living room. The Studio is a cozy hideaway for two with queen bed, kitchenette, covered deck and romance-inducing views. The Cabin (available summer 2007) sits in a wooded sanctuary with wondrous views of the lighthouse a mile away. All are pet friendly, smoke free, and come with TV, DVD, BBQ, and numerous other amenities. Featured in "Best Places to Kiss" and "Weekends for Two in Pacific NW." S. of Cannon Beach, Oregon. 503-436-1809 (local). 1-866-906-8875. www.turkslodgings.com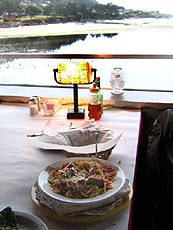 Landmark Restaurant & Lounge, Yachats. The view here presents a flood of wonders from the natural world, including all manner of wildlife wandering past you. One moment, a seal is bouncing around the surf at the baymouth; another, something large, mysterious and unidentifiable comes slithering down the river into the sea - all for your mealtime amusement. Then there are those oddball, somewhat surreal times a local seagull gets greedy and begs for food through the glass. Ask the employees about these fowl: they actually know them by sight and have names for them.
It's a free show at this legendary "seafood dive," with one of the best views on the Oregon Coast - and some of the finest Italian cuisine in the state. Sauces are light, delicate and very subtle, yet with a tang that's potent but not overpowering. Other goodies include things like Halibut Fillet, Wild Salmon Fillet and Pacific Cod Fillet ($13.95 - $19.95) - all made from fish caught by local fishermen. Hwy 101, Yachats. Call: (541) 547-5459. www.landmark-yachats.com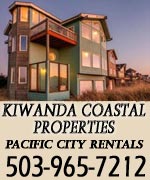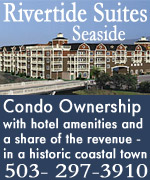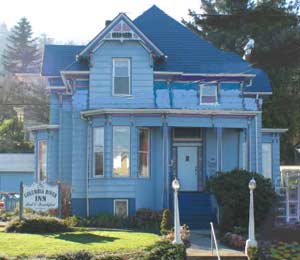 Columbia River Inn Vacation Home A feeling of historic elegance will surround you as you enter this gracious Victorian home, set amidst the atmospheric streets of Astoria. Built in 1870, this Queen Anne style "Painted Lady" features four bedrooms, each with its own private full bath - one with a Jacuzzi tub. Enjoy a large well-equipped kitchen with dishwasher, microwave, coffee makers, washer and dryer. Just off the kitchen is a small sitting room with a gas fireplace. A small indoor patio area overlooks the garden and gazebo. Of special interest is the Umbrella Pine in the front yard, considered to be the only tree of its kind in the Northwest. Sleeps 11 to 13 people. There's even a working organ. 1681 Franklin Ave. (corner of 17th and Franklin), Astoria. 866-396-0404. www.columbiariverinnvacationhome.com
Village Market & Deli, Newport. It is still a bit of a hidden secret in this intricate and charming section of Newport that is itself a little off the beaten path, where fine wine flows with delicious abandon along with cutting edge cuisine.
Their menu boasts expertly done and innovative dishes around $8 – open for lunch or early evening snacktime only. A variety of heady gourmet sandwiches of varied layers and subtleties are on hand to consistently wow you, with loads of innovative concoctions that contain elements such as wasabi, a spicy and vibrant turkey and many other surprises.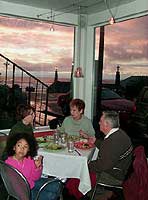 Their house-made pate remains a huge hit (one regional writer proclaimed it "better than sex"). Bob Trusty makes it from chicken – and from scratch – and it is a buttery, creamy experience that is slightly orgasmic.
Some of their hot sandwiches have also been big hits recently, such as the multi-layered Tuscan Turkey (about $8), which features sun dried tomatoes, an unusually flavorful mustard and other ingredients to create a distinctive, bold experience.
Forestier" sandwich, a combination of mushrooms, chevre cheese and other fantastic herbs and ingredients. It melts and then floats on your palate in a dreamy manner.
In their deli area, they have imported a wonderful array of cheeses such as Double Gloucester Bandaged Truckle, Black Truffle Cheese from Il Boschetto, as well as some domestic favorites such as Ewe-F-O and Fog Lights (an eight-ounce version of the unbelievable Humboldt Fog cheeses from Cypress Grove).
You'll also find some incomparable imported chocolates as well as intriguing American-made gourmet brands that will be a seriously eye-opening experience. Lofberg's coffee, from Sweden, is also a magnificent highlight here, and not your average jolt in the morning from cookie-cutter stands or shops.
They gladly put together little "picnic baskets" of lunchtime goodies for your mid-day munch on the beach. They'll bundle up sandwiches, salads, deli items, along with wines or beer in a charming way (boxes are tied with a bit of straw), and you'll be on your merry way to enjoy the sands on a whole new level. 613 SW Third Street, Newport. 541-265-2257.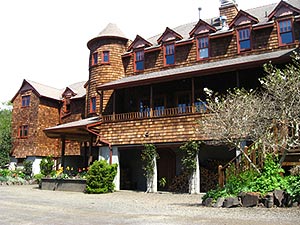 Arch Cape House. STAY IN A CASTLE ON THE COAST – just south of Cannon Beach. You have to believe it to see it. Ironically, you see Arch Cape's Castle Rock from here. There's a social hour in the eve and a memorable gourmet breakfast in the morning. Antiques are prominent throughout the building, adding more distinction to this already wowing atmosphere. Look for East Ocean Rd., just north of the Arch Cape Tunnel. www.archcapehouse.com. 800-436-2848. Read the full story on Arch Cape House here.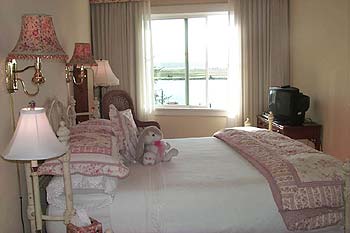 Old Wheeler Hotel. Beauty resonates and oozes from this place, with a soothing color scheme, a bay view from every room, hard wood floors and a classical décor that's warm, inviting and imparts sumptuousness. The common room has a microwave and Internet access. The piano room is decked out in a lush red, stuffed with comfy couches and containing a nifty hammock-like seat. Each room has a vibrant charm to it that's the result of a myriad of nice little details - from the bedspreads and the art on the walls, to the intricate light fixtures and the stuffed animal you may find on your bed. There's also a masseuse in residence there. All rooms non-smoking. Hwy 101 and Gregory, Wheeler, Oregon.. www.oldwheelerhotel.com. 877-4theview.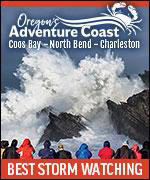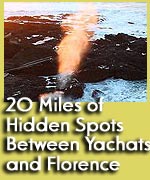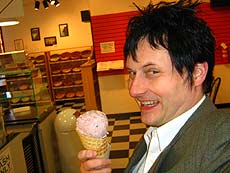 Zinger's Homemade Ice Cream, Seaside. It's proof that sweets aren't just for kids anymore, and ice cream doesn't have to taste like it came from a carnival. Dive into scrumptious homemade ice cream - plus they make their own fudge. Of note is their take on chocolate with malted milk balls in it. It's quite a mouthful. Or the powerful fresh fruit taste of the marionberry, using real Marion County berries. Also spectacular are the other fruit flavors, such as the tangy (and very real) strawberry, and the seriously wowing (but only periodically available) mango. All the fruity ones have chunks of the real thing inside, waiting to surprise. Sugar free and diabetic options are available, but mostly Zinger's specializes in frozen excess. Singles are actually the size of two scoops and doubles - well, they're twice as large. 210 Broadway. (503) 738-3939. www.zingersicecream.com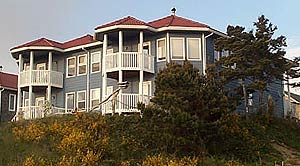 Sea Sweet Vacation Rentals. If you're looking for that "million dollar view" of the coast for a reasonable price, this shimmering pair of rental homes overlooking the Oceanside area from a stunning cliff top is your ticket to north Oregon coast paradise. One is a deluxe, luxury two bedroom, two-bath suite that sleeps as many as five, comes with a large Jacuzzi and features a beautiful kitchen and stunning décor. The other is a three bedroom, three-bath unit that houses eight people and has two Jacuzzis, as well as modern kitchen and a sense of the sleek and posh. Both have laundry facilities, TV/VCR and require a two-night minimum. You'll find breathtaking views from both, from either the stately balconies or the living rooms, allowing you to glimpse 180 degrees of coastline – from Cape Lookout to the south, nearly aerial views of Oceanside's Three Arch Rocks to beyond Maxwell Point to the north. Ask about their third cozy little rental apartment down the street, with two bedrooms, two baths, kitchenette, DVD and VCR, sunroom and a large deck. You can combine all units to host as many as 17 guests. Located between Netarts and Oceanside on Reeder Street. Rates $125 to $225 per night; ask about winter specials. 503-815-3937 or 503 398 4671. www.oregoncoast.com/skymac
Weiss' Paradise Suites & Vacation Rentals - Seaside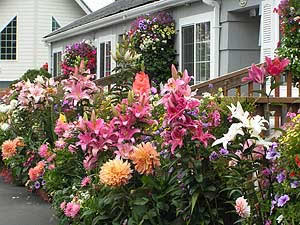 Unique Luxury Accommodations in Seaside. 1BR Suites, 1BR & 2BR Duplex Units and 3BR Houses, units for 2-8 people. Rent entire property for 20-26. Close to beach, river and Broadway St.
Suites are designed for two adults; vacation rental units for families. All units have kitchen and many have fireplace, deck and jetted tub. Comfy robes, slippers, luxury bath amenities, quality linens and more. 741 S. Downing St., Seaside. 800-738-6691. www.SeasideSuites.com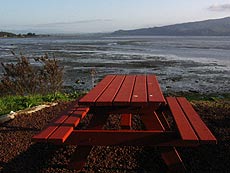 Pacific Oyster, Bay City. Just north of Tillamook, it's hard to get fish fresher than this, as it's processed right here after coming in from the sea. Sitting at the end of the dock, it's probably Bay City's only recognizable feature, with piles of shells near the landward side. But it's also a famous little family eatery, where the seafood practically gets shuffled from the sea straight into your mouth. Soups and salads include many seafood specialties, of course, including cioppino, chowders, crab Louie and cheese breads (from $3 to $14). Fish 'n' chips come in various incarnations, like oysters, halibut, cod, rock fish, prawns or chicken strips (about $8). Find seafood sandwiches with shrimp, tuna or crab, as well as burgers, around $9. Finally, a small but tempting selection of dinners includes pan fried oysters, fillets of salmon or halibut, sautéed scallops and other goodies around $12.
It's true that kids will love this place, with its self-guided tour of their fish processing areas, but adults will adore the food, the outdoor seating, and ogling the two small shipwrecks next to the facility. 5150 Oyster Drive, Bay City, Oregon. (503) 377-2323.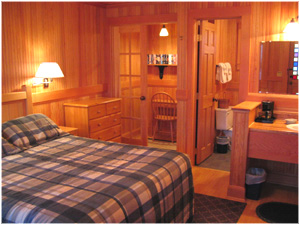 Whistling Winds Motel, Lincoln City. Nestled quietly in a Lincoln City residential neighborhood, The Whistling Winds is a restored 1930's Motor Coach Motel with a hefty dose of historic charm as well as a sense of modern, slightly woodsy chic. These unforgettably romantic fifteen units are located just a half block from one of Lincoln City's most secretive low beach accesses, making you feel like you've stumbled upon something exclusive. It's only six blocks to the casino and on a shuttle route.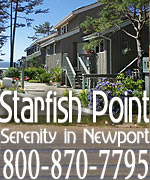 Whistling Winds is perfect for the private getaway, spending a nice weekend with that someone special or bring the whole family. Even a well-behaved dog can get in on the fun (in select rooms with extra charge, 20 lbs or less). Enjoy the sound of the ocean waves in our fireplace suite, while vaulted ceilings, warm rich wood and walls, the hand built river rock fireplace and a fully equipped kitchen complete the tingling effect at this beautifully restored cottage.
There are four Jacuzzi rooms, four full kitchen units, three family units and vintage studio cottages with that delicious touch of the past. 866-384-9346 3264 NW Jetty Ave, Lincoln City, Oregon. www.whistlingwindsmotel.com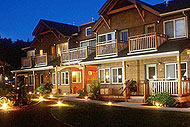 Inn at Cannon Beach. Beautifully wooded natural setting at quiet south end of Cannon Beach. Great during winter storms with a new book by the fireplace – or when the sun is out for family fun and beach strolling. Handsome beach cottage-style architecture. Lush flowering gardens and naturalized courtyard pond. Warm, inviting guest rooms. Continental buffet breakfast. Warm Cookies. Family and Pet Friendly. Welcome gifts. Smoke-free. Complimentary Wireless Connectivity. Wine and book signing events. 800-321-6304 or 503-436-9085. Hemlock At Surfcrest, Cannon Beach, Oregon. www.atcannonbeach.com.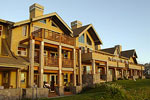 The Ocean Lodge. There will not be another property built like this in Cannon Beach in our lifetimes. Rare, premiere ocean front location; handsome, dramatic architecture and tasteful, fun (nostalgic) beach interiors. Overlooks Haystack Rock. 100 percent smoke free. Imaginative special occasion packages. Massive wood burning lobby fireplace. Library w/ fireplace, stocked with impressive book collection. Pet and family friendly. Lavish continental buffet breakfast. In-room fireplaces, mini-kitchens. Jacuzzi tubs in select rooms. DVD players, complimentary movies. Morning paper. Warm cookies. 888-777-4047. 503-436-2241. 2864 Pacific Street. Cannon Beach, Oregon. www.theoceanlodge.com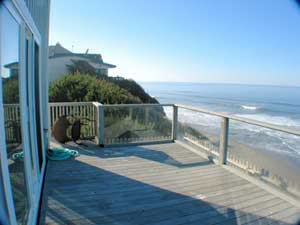 Lincoln City Vacation Homes Something for everyone: smaller homes with a view to a large house that sleeps 15. All are either oceanfront or just a few steps away – all with a low bank access and fantastic views. Most are in the Nelscott area; one is close to the casino. You'll find a variety of goodies: fireplaces, multiple bedrooms, dishwashers, Jacuzzis, washer/dryers, hot tubs, cable TV, VCR, barbecues; there's a loft in one, and another sprawling home has two apartments. Pets allowed in some homes – ask first. Each comes with complete kitchens. Most have seventh night free. Prices range from winter $85 to summer $230 per night. www.getaway2thecoast.com. 541-994-8778.
RELATED STORIES
Click here for video of Dec. storm aftermath

Oregon Coast Best of Awards for the Year And the winners are: best of Oregon coast restaurants, lodgings, science, odd events in nature and stunning moments for 2007

Watching Transformations of Oregon Coast Beaches Seasons change and so do beaches, revealing different sides and a variety of eye-popping sights

Staggeringly Cool Ideas for Oregon Coast Romance Be it the season of Valentine's or be it any time of the year, Oregon's coastline has essentially cornered the market for cuddle-inducing possibilities and gushy activities for the hand-holding set

Day or Night Mysteries and Merriment on Oregon Coast It's more than just nightlife that comes to life, but the beaches offer major opportunities

Oregon Coast Travel Site Goes Wireless Provides Lodging Reports - Oregon Coast Beach Connection now has mobile lodging and dining listings, along with weekly lodging availability reports
OR TAKE THE VIRTUAL TOUR

ASTORIA
Where the Columbia meets the Pacific, Land of Lewis & Clark and loads of atmosphere & history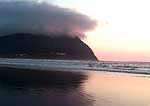 SEASIDE
The Promenade, Tillamook Head, family fun & broad, sandy beaches

CANNON BEACH
A mysterious lighthouse, upscale yet earthy, a huge monolith, fine eateries & an art mecca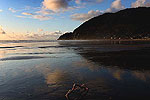 NEHALEM BAY
Manzanita's beaches, Nehalem and Wheeler's quirky beauty; laid back Rockaway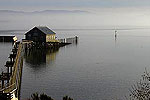 TILLAMOOK BAY
Garibaldi, Barview, Bay City, Tillamook & an oceanfront ghost town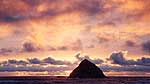 THREE CAPES LOOP
The hidden secret of the coast: Cape Meares, a lighthouse, Oceanside, Netarts and Pacific City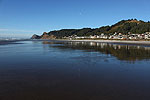 LINCOLN CITY
& THE CORRIDOR OF MYSTERY
Miles & miles of unbroken beaches, Cascade Head, Neskowin and many manmade attractions

DEPOE BAY
A spouting horn downtown, freaky hidden cliffs and whales, whales, whales

NEWPORT
Time-tripping Nye Beach, a bustling bayfront, marine science-central and two lighthouses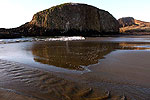 WALDPORT / SEAL ROCK
Pristine, even secretive sands and wild geologic landmarks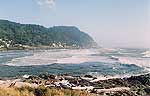 YACHATS
Constantly dramatic wave action, a mix of the rugged & upscale

UPPER LANE COUNTY
25 miles of deserted beaches & oodles of wonders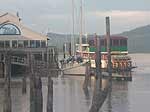 FLORENCE
A lighthouse, ancient bayfront and miles and miles of fluffy dunes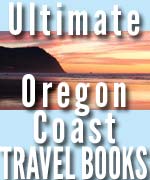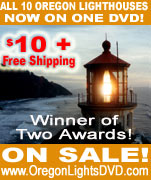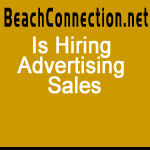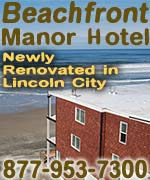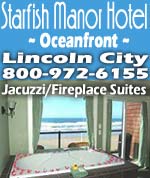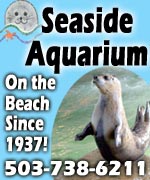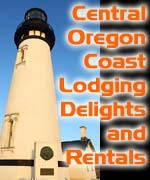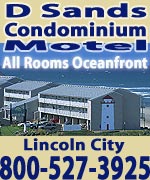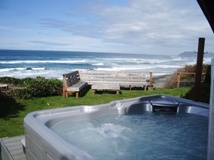 Arch Cape Property Services. Dozens of homes in that dreamy, rugged stretch between Cannon Beach and Manzanita known as Arch Cape. Oceanfront and ocean view , or just a short walk from the sea.
All homes are immaculate and smoke free; some pet friendly (with a fee). Some with broadband, indoor or outdoor hot tubs, fireplaces, decks, and fire pits or barbecues. Call about tempting winter specials that go until March (not valid holidays, however). www.archcaperentals.com 866-436-1607.