Covering 180 miles of Oregon coast travel: Astoria, Seaside, Cannon Beach, Manzanita, Nehalem, Wheeler, Rockaway, Garibaldi, Tillamook, Oceanside, Pacific City, Lincoln City, Depoe Bay, Newport, Waldport, Yachats & Florence.
07/27/07
Alien Worlds of the Oregon Coast
By Andre' Hagestedt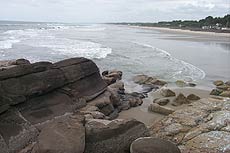 The northern end of Yachats, where the basalt slabs meet the sandy stretches
(Oregon Coast) – Back when I was a kid, I actually hated the Oregon coast. Thanks to my mother yanking us to the same dreary, irritatingly sand dunsey spot, where loose sand constantly scoured our eyeballs. It frankly drove me nuts.
But every once in awhile we'd jet down to Yachats, where the miles of craggy shoreline spread out like some new world to explore, firing up my imagination like no other place. It was about the late 60's and early 70's, and "Star Trek" was on the mind of every kid I knew back then. My brother and I would role-play that series – I believe I was almost always Captain Kirk. We'd run around, pretending we were the landing party, ambling around some brand new planet's freaky landscape, in search of new life (which we inevitably shot at with imaginary phasers).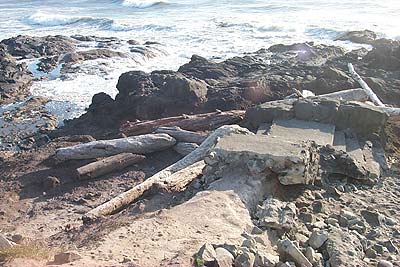 Tidal splendor at Yachats
It wasn't hard to do that in Yachats, where the blobs, slabs and formations of basalt rock stretch out into new and unusual shapes.
It still isn't hard to pretend you're the first on an alien planet while visiting this central Oregon coast wonder. Sometimes, I think I still catch myself doing that while here.
Certainly, while you're in the bars around here, it's not hard to imagine you're in that cantina in "Star Wars" – but that's another article altogether.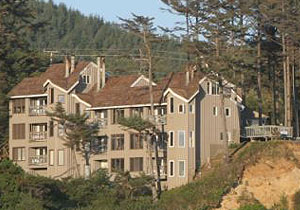 STARFISH POINT Newport - Offers only the finest in luxury condominium lodging. Every unit is focused on the beauty of the sea and the beach.
All units boast two bedrooms, two bathrooms, designer kitchens, wireless broadband Internet, fireplaces, Jacuzzi's and private decks. Friendly staff dedicated to high quality and superb customer service. 140 NW 48th Street, Newport. (541) 265-3751. (800) 870-7795. www.starfishpoint.com
Yachats' strange slabs meander on for miles, and it's the beginning of a whole section of coast that's filled with these wild and wacky wonders. There's nothing like on the Oregon coast. But in this 20-something-mile stretch between Yachats and just north of Florence, there's lots of it.
Other places the coastline present more grand peculiarities – and that out-of-context sense of surprise that borders on a visit to another planet. Here's a few.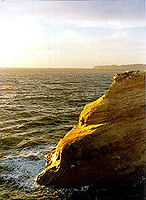 Esoteric Cape Kiwanda
Jutting out from a beach in front of Pacific City, this comparatively small headland is a land loaded with secrets. Its golden, wind chiseled features are craggy and alien in many spots, giving way to one wild discovery after another.
You first walk up a fairly steep incline of about thirty feet of loose sand that makes that climb harder. But at its top lay an abundance of treasures. It starts with the viewpoints on the southern side you've just entered, with the beachfront spreading out forever to the south. Various browns, yellows and shades of gold dot the landscape in increasingly stranger forms up here, including some of the wild delights and otherworldly places that are hidden and take some exploring to find.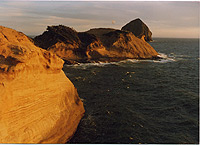 Just below this main part of the headland there's a small cove with some odd surprises, including a small but long crack that occasionally spurts up ocean water out of nowhere.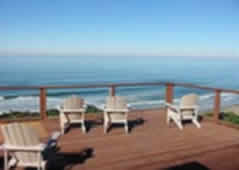 A1 Beach Rentals, Lincoln City. Perfect for large family vacations all the way down to a getaway lodging for two - with over 25 vacation rental homes to choose from. A breathtaking collection of craftsman or traditional beachfront homes, or oceanview houses – from one to seven bedrooms. In various areas of Lincoln City and overlooking the beach, with some in Depoe Bay. All kinds of amenities are available, like hot tubs, decks, BBQ, rock fireplaces, beamed ceilings and more. Some are new, some are historic charmers. Lincoln City, Oregon. 1-(503)-232-5984. www.a1beachrentals.com.
Wander further to the north and you'll find a host of viewpoints where you can see the irregular shapes and colors of the features where you've just been. There are other, numerous coves in view here, where enormous waves slam against the grandiose, gold structures with dramatic intensity no matter what the weather.
Then there's always the top of the enormous dune that hovers of the eastern portion of Cape Kiwanda, where kids of all ages enjoy running up to the top and then sliding down on boards, sleds or even tumbling down with their bodies alone.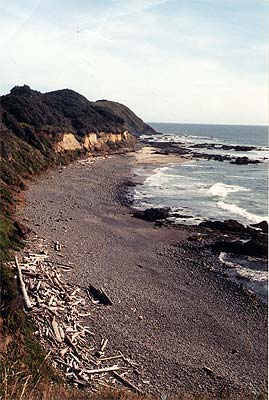 Strawberry Hill's beach access
The Real Thrills of Strawberry Hill
This spot just south of Yachats has a variety of stuff for everyone, from tide pools, bubble-like rock structures for climbing to sandy stretches and stunning high viewpoints.
First, you step out on a rather stately bluff with breathtaking views all around you. To the south, there's a long stretch of cobblestone beach with towering cliffs directly behind you. West and north allows you access to a favorite spot of tide pool hunters, with large and small rocky blobs creating a labyrinth in the sand and providing plenty of places for starfish, mussels and other tide line dwellers to live.
It's as much fun for rough-housing and tide pool hunting as it is for a simple, hand-in-hand walk on the beach.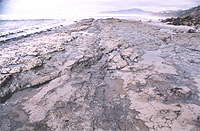 Basalt structures and slabs on the northern face of Yaquina Head
Spacey Place Near Yaquina Head
There's a secret beach at the north end of Newport that is full of all sorts of wonders, especially the crazy slabs of basalt set at odd angles, which protrude from the sand and make for a mesmerizing journey. There are plenty of other kooky rock structures which will never cease to fascinate you. Not to mention the lovely views of the Yaquina Head Lighthouse.
Just north of the entrance to the Yaquina Head Outstanding Natural Area, you'll find 58th Street tucked away behind some trees on the west side of the highway (it's accessible by turning onto 56th St.). At the bottom of 58th, you'll find a hidden beach trail wandering down from this residential neighborhood to a stunning cove area on Yaquina Head's north face.

Black beach on southern face of Yaquina Head
You can't walk very far towards Yaquina Head, but to the north it's at least six miles of clear beach as the path turns from weird rock structures to sand, ending all the way up at the Devil's Punch Bowl.
For another truly alien experience, hit the actual headland itself (there's a state park fee to enter). Walk the long, long staircase down to the blackened beach below the headland, where the dark rocks and large, coarse sands make strange noises as the tide tosses them about.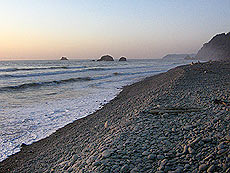 Esoteric beach at the end of Falcon Cove Road
The climb back up is a serious pain in the behind, but worth it. This place is not like any other on Oregon's coast.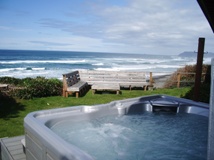 Arch Cape Property Services. Dozens of homes in that dreamy, rugged stretch between Cannon Beach and Manzanita known as Arch Cape. Oceanfront and ocean view , or just a short walk from the sea.
All homes are immaculate and smoke free; some pet friendly (with a fee). Some with broadband, indoor or outdoor hot tubs, fireplaces, decks, and fire pits or barbecues. Call about tempting winter specials that go until March (not valid holidays, however). www.archcaperentals.com 866-436-1607.
Freaky Falcon Cove Road
This secret strand just north of Manzanita is one of the more unusual spots on the coast. Here, the beach is mostly comprised of large, polished cobblestones. It's a strange place: essentially you're walking on a huge pile of rocks, sometimes carved into odd tiers, making it hard to traverse in places. The water crashes loudly on the steep shore, dissipates quickly, then it makes a weird noise as the waves recede and pull on the rocks.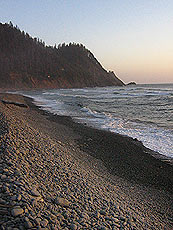 Because of this odd action, it's nicknamed "Magic Rocks Beach."
On the south side, it's covered in large boulders and big, often pointy rocks, which all dead-ends in a weird jumble of rocks and big logs. There's an arch here as well, along with a few other unusual shapes.
This is not a safe area to go during anything but calm, summer conditions, however. Stick to the area with polished stones – and that isn't even traversable at higher tides. It's sometimes a beach only for watching from above.

You'll find Falcon Cove Road immediately south of the Arch Cape Tunnel and a set of stunning viewpoints. It's a residential district, so you'll want to be respectful here as you park near a somewhat slippery, muddy beach access.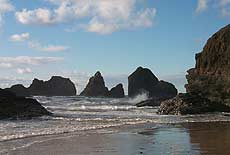 Where the arch was at Oceanside
Otherworldly in Oceanside
This diminutive gem sits west of Tillamook, stuck in another time, it seems. Not much more exists here than a cluster of homes on the steep hillside, a couple restaurants, a couple motels, and a few vacation rentals in those homes on the hills.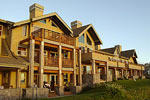 The Ocean Lodge. There will not be another property built like this in Cannon Beach in our lifetimes. Rare, premiere ocean front location; handsome, dramatic architecture and tasteful, fun (nostalgic) beach interiors. Overlooks Haystack Rock. 100 percent smoke free. Imaginative special occasion packages. Massive wood burning lobby fireplace. Library w/ fireplace, stocked with impressive book collection. Pet and family friendly. Lavish continental buffet breakfast. In-room fireplaces, mini-kitchens. Jacuzzi tubs in select rooms. DVD players, complimentary movies. Morning paper. Warm cookies. 888-777-4047. 503-436-2241. 2864 Pacific Street. Cannon Beach, Oregon. www.theoceanlodge.com
Beyond the little headland called Maxwell Point sit dozens of oddball delights, behind a tunnel that's not always accessible. Actually, for a couple decades, until the late 80's, it was all covered by a landslide. But now – except during rather inclement weather, when it's inadvisable to enter – you can get out to the other side and enjoy a spot that may remind you of the old "Star Trek" series.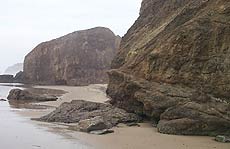 Basalt ramps and other structures, like Hatbox Rock in the background
A smattering of slabs and odd sea caves inhabit this intriguing beach, some of which look like that episode where Kirk was chased by that lizard guy who sounded all wheezy and a little pervy.
At the extreme northern end sit a series of basalt blobs, one of which was an arch until a recent winter. It's now broken at the top, so it looks more like two separate spires in the surf. But it still slightly resembles that mysterious arch where Kirk, Spock and McCoy jumped into the void to go back in time to 1930's USA.
In actuality, this former arch does contain a bunch of alien-looking life: its base is covered with all sorts of starfish and weird sea goo – visible when the tide is extremely low.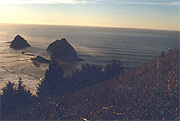 Above Oceanside
Above Oceanside, you can get an unforgettable panoramic perspective of the Pacific. Here, you're essentially atop the highest point in the area. You actually have to look down to see the gargantuan Three Arch Rocks, and it certainly appears as if you're slightly above the mountainous hills to the east, if not neck-to-neck with them.
It's a favorite spot for hang gliders to launch themselves off from - and for good reason. This fairly large, flat gravel area allows plenty of room for taking that big running jump.
You can reach this amazing crest by heading uphill on the road just above the motel that sits on top of Maxwell Point and following it to its end. You can also reach this area by taking one of the gravel roads off Meares Loop Road.
Part of Seal Rock State Park
Surrealism of Seal Rock
This tiny dot of a village began its days as a budding resort town back in the last century, but various failed deals and a railroad line from the valley that never happened resulted in it becoming surrounded by wondrous, unspoiled natural attractions.
The state park is a dynamic and enchanting spot, offering a variety of few winding paths and a lot of basalt or sandstone to frolic on and ascend, including a few structures which provide some beautiful views of an often wild surf. Clambering up and down these is some of the most amusement you can have on Oregon's coast.

Tradewinds Motel, Rockaway Beach. All rooms are immaculate and have TV's, VCR's and in-room phones w/ data ports. Oceanfronts have queen bed, a double hide-a-bed, kitchen, cozy firelog fireplace and private deck. Both types sleep up to four people. Others are appointed for a two-person romantic getaway, yet still perfect for those on a budget. Elaborate oceanfront Jacuzzi suite has two bedrooms, kitchen, double hide-a-bed, fireplace and private deck, sleeping as many as six. For family reunions or large gatherings such as weddings, some rooms can connect to create two-room and three-room suites. Some rooms pet friendly. 523 N. Pacific St., Rockaway Beach. (503) 355-2112 - 1-800-824-0938. www.tradewinds-motel.com
Part of the rocks here at Seal Rock is a bird sanctuary, so stay away from the signs that designate it as such. The most obvious of which is the massive Elephant Rock – the most dominating sight around Seal Rock. Contrary to popular misconception, this bulbous formation is not called Seal Rock.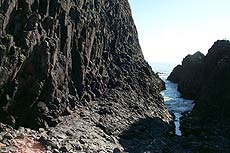 Giant split in the rocks that channels the tide
One section of the sea stack forms a narrow split, which is climbable and full of fun in calmer conditions. It channels the tide inward farther than the beachy spots here, and yet allows you to amble around and above the tidal melee, offering you a somewhat unusual little viewpoint from which to watch the action.
At low tides, interesting marine gardens pop up inside a small maze of rocky structures between Elephant Rock and the split.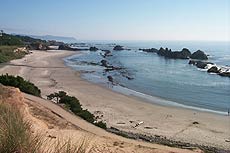 The entire place is one big geologic palace of fun. Look for the large grooves – or simply the patterns of diagonal lines made by rocks slightly separated from other rocks - these are the product of exposed fault lines once active.
This whole basalt area was created by a massive lava flow that came from what is now eastern Idaho, traveling and burning hundreds of miles some 17 million years ago. Over time, it was covered by ocean and more sediment. As more millennium passed, this area rose out of the sea. The sediment was eventually eroded away over more thousands of years, leaving these basalt knobs and such. Over the centuries, these too have been rounded out more by the ocean waves.
Another overlook just south of here provides great views of the large, weird grooves.

D Sands Condominium Motel, Lincoln City. Free, fresh baked cookie upon check-in is just the start. All rooms beachfront and up against Lincoln City's most famous stretch of beach: the D River. Each room comes as a suite or mini-suite, and has a kitchen and balcony or patio. Some w/ gas fireplaces, while all have a DVD Players; movies to rent come with free popcorn. Heated indoor pool, a spa, and this fabulous beach is lit at night. Rooms sleep from two, four to six - including a deluxe fireplace suite. Gift certificates orspecial occasion packages. www.dsandsmotel.com. 171 S.W. Highway 101. 800-527-3925.
Weiss' Paradise Suites & Vacation Rentals - Seaside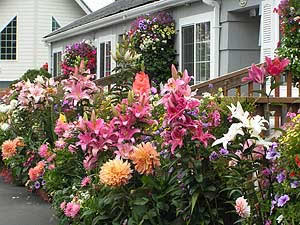 Unique Luxury Accommodations in Seaside. 1BR Suites, 1BR & 2BR Duplex Units and 3BR Houses, units for 2-8 people. Rent entire property for 20-26. Close to beach, river and Broadway St.
Suites are designed for two adults; vacation rental units for families. All units have kitchen and many have fireplace, deck and jetted tub. Comfy robes, slippers, luxury bath amenities, quality linens and more. 741 S. Downing St., Seaside. 800-738-6691. www.SeasideSuites.com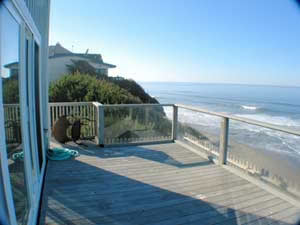 Lincoln City Vacation Homes Something for everyone: smaller homes with a view to a large house that sleeps 15. All are either oceanfront or just a few steps away – all with a low bank access and fantastic views. Most are in the Nelscott area; one is close to the casino. You'll find a variety of goodies: fireplaces, multiple bedrooms, dishwashers, Jacuzzis, washer/dryers, hot tubs, cable TV, VCR, barbecues; there's a loft in one, and another sprawling home has two apartments. Pets allowed in some homes – ask first. Each comes with complete kitchens. Most have seventh night free. Prices range from winter $85 to summer $230 per night. www.getaway2thecoast.com. 541-994-8778.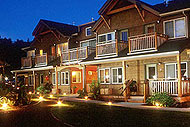 Inn at Cannon Beach. Beautifully wooded natural setting at quiet south end of Cannon Beach. Great during winter storms with a new book by the fireplace – or when the sun is out for family fun and beach strolling. Handsome beach cottage-style architecture. Lush flowering gardens and naturalized courtyard pond. Warm, inviting guest rooms. Continental buffet breakfast. Warm Cookies. Family and Pet Friendly. Welcome gifts. Smoke-free. Complimentary Wireless Connectivity. Wine and book signing events. 800-321-6304 or 503-436-9085. Hemlock At Surfcrest, Cannon Beach, Oregon. www.atcannonbeach.com.
RELATED STORIES
OREGON COAST VIRTUAL TOURS
Explore Every Beach Spot