A Stunning Oregon Coast Hotel, Ghosts and Talk Show Hosts
By Andre' Hagestedt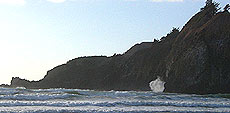 Winter waves coming on in October
(Newport, Oregon) – It's a hard job, but someone has to do it. Someone has to travel up and down the Oregon coast, in what is surely the most beautiful commute in the world, hang out in really cool hotels with incredible views, get fed unforgettable cuisine and innovative cocktails – and then write about it all.
Life is, after all, a beach.
The purpose of this coastal tourism adventure was to do a story on a jaw-dropping bit of lodging excellence in Newport called Starfish Point – but it turned into a much broader tale that sweeps 140 miles of coastline, involved appearing on national radio and meant mind-boggling views.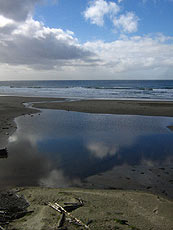 View of Agate Beach from the hotel
This is the weekend I'm supposed to not only review cushy, gorgeous Starfish Point, but I'm giving little talks in Newport and Seaside on Oregon coast ghostie tales. This odd performance of mine meant I got myself in just about every newspaper on the coast between Astoria and Newport and a few in Portland.
Upon check in, I'm literally stunned by my surroundings. I knew this place was nice, but it was really quite grand, yet with an interesting touch of the rustic provided by the big wooden beams jutting through the two and a half levels of this cavernous, condo-like room.
Even more stunning was to find that Danielle, manager of Starfish Point, has more than assisted me with a couple of special business requests. I had emailed her a copy of my notes for my ghost lectures, and asked if she would print them out for me. Not only did she do that, but she made a little notebook of press clippings about me from the coastal papers, and left it waiting for me in the hotel. Also greeting me on the table is a bottle of red wine and two glasses.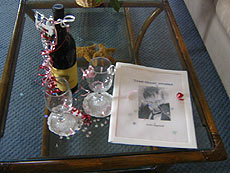 Fun and practical goodies awaiting for me
The term "extra mile" not only applies but is given new dimension. I've also seen her assist guests with incoming faxes.
My beautiful friend Melissa joined me on this adventure: she shows up at the hotel a little while after me, bringing fabulous Thai Talay to-go in tow. I feel so spoiled and pampered by everyone around me.
Our room is this spacious, two-bedroom unit with a massive window to the south, facing the northern cliffs of Yaquina Head and the close-in cove it forms. There are two floors: the top is open to the rest, with a large bed and the hot tub with a skylight tucked away at one end. There is also a large window to the world of the sea up here as well.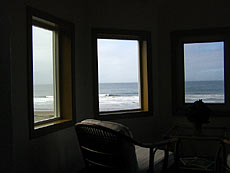 In between the two floors there's a small landing with four windows slanted slightly different directions – called a "captain's deck." These allow you to view south, straight out west and northward. Melissa and I took advantage of this often, lounging in the little chairs which provide an intimate and romantic experience, and simply soaking in the ocean drama. One time, we simply sat for an hour, cuddling, watching surfers engage in this and that bit of adventure along the rolling waves, and sometimes laughing or wowing at their exploits.
DIVE INTO LUXURY, HISTORY AT THE TIDES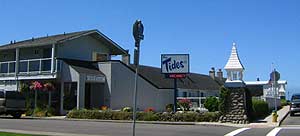 THE TIDES BY THE SEA, Seaside. For over 80 years, The Tides has been a favorite of Seaside visitors. History meets modern luxury here. 51 oceanfront condos, individually owned and decorated. Find suites for couples, small apartments with fireplaces and kitchenettes, one or two bedroom family units with fireplaces, kitchens and dining rooms. There are wonderful oceanview cottages that sleep anywhere from two to eight people, with two bedrooms, some with lofts, fireplaces and kitchens.
Meanwhile, the heated outdoor pool, enormous grounds with picnic tables and location at the quiet southern end of Seaside make for some memorable means of play and repose. 2316 Beach Drive. 800-548-2846. www.thetidesbythesea.com.
The dining area sits next to the big window towards the headland, where a balcony also lets you walk outside and take in the grandeur of this magnificent place. Like everything in Starfish Point, handsome details abound, and the décor was exceptionally lovely, right down to the place settings. Even the delish little chocolates in the shapes of starfish caught my eye – and the attention of my mouth. I sucked'em down like Halloween candy. I also coveted them furiously, and I admittedly sort of hid them from Melissa, even though there were some on her pillow as well.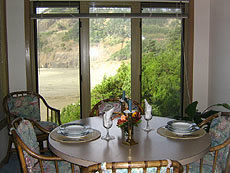 All the units here have two floors, two bedrooms and two baths, coming with full kitchens, seriously cool, modern appliances, hot tubs, gas fireplace, balconies, stereos, cable TV, DVD players (as well as the old school VCR's), and broadband wireless in the rooms.
I have a dialup account with local numbers all up and down the coast, so I'm able to actually get a little serious work done while kicking back here.
On Saturday night, shortly after Melissa brought me Thai cuisine, it was show time. I had my gig at the Oregon Coast Aquarium, sitting in a gothic-like chair, with sharks swimming in the background and their eyes catching a creepy glow by the aquarium's nighttime lights. Even Danielle and her husband Roy pop in to watch me, and Danielle even chimes in to share her ghost tale about how the innkeeper's residence at the hotel is supposedly haunted. She's never seen anything, however, and clearly the rooms themselves have no hint of anything but romance and scenic giddiness.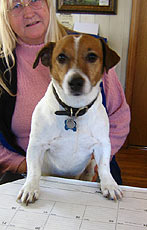 At this pet friendly hotel, rumor has it that house dog Niles believes he's the boss (Danielle Emerick, manager, is in background)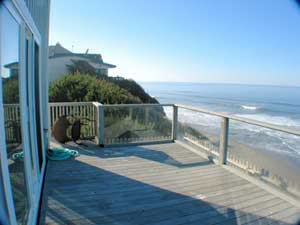 Lincoln City Vacation Homes There's something for everyone among this selection of wondrous homes: smaller homes with a view to a large house that sleeps 15. All the homes are either oceanfront or just a few steps away from the sand – all with a low bank access and fantastic views. Most are in the Nelscott area; one is close to the casino. You'll find a variety of goodies, depending on the home: fireplaces, multiple bedrooms, dishwashers, Jacuzzis, washer/dryers, hot tubs, cable TV, VCR, barbecues; there's a loft in one, and another sprawling home has two apartments. Pets are allowed in some homes – ask ahead. Each comes with complete kitchens so you'll have a home away from home. Most have the seventh night free. Prices range from winter $85 to summer $230 per night. www.getaway2thecoast.com. 541-994-8778.
The remainder of the evening was spent goofing around Blu Cork Wine Bar and the Sand Bar, celebrating my triumphant debut as a paranormal investigator. Actually, I only play one on the public stage. However, I did find some reference to me on the Internet as an "Oregon paranormal investigator," in regards to one of my articles on the subject. Oh, the journalist badge of dishonor I now must wear.
The next morning, the sun is threatening to stay out, yet the waves are wild. It's the first hint of storm season, by the look of the waves at the headland (see the top photo). Melissa makes use of the kitchen and creates for me an incredible gourmet breakfast in the way that she only can.
Around noon, I get some stunning news via email: national radio talk show host Stephanie Abrams wants to interview me on the air today about coastal ghost stories. The excitement mounts throughout the day as arrangements are shot back and forth between Newport and Massachusetts via email, and I realize more and more completely I'll soon be on national radio.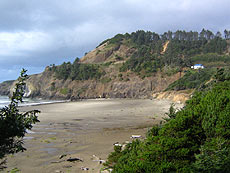 Yaquina Head and Agate Beach from the balcony
Finally, it's about an hour or so before airtime. Melissa and I have a little time to kill, and we utilize the hotel's private path and stairway to head down to Agate Beach. There, we go beachcombing in the chilly fall air, coats on, but still barefoot in the water, and with the sun keeping us warmed up in spite of a slight wind. It may be late October, but it is gorgeous and rather warm here. I curse to Melissa, something about "why the hell aren't more tourists out here at this time of year."
Interview time rolls around, and in spite of everyone's best efforts, connecting up with Abrams' studio is no day at the beach. I'm on hold forever, as is par for the course for these national on-air things. And then I get disconnected.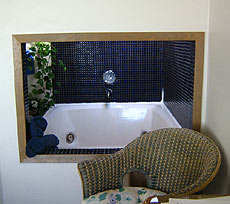 Hot tub, with a view to the upstairs window
I immediately dart to Danielle's office and ask if I can wait there for the studio's return call. Indeed, she not only lets me wait but essentially hands over her office to me until I'm done with the interview.

D Sands Condominium Motel, Lincoln City. Getting a free, fresh baked cookie upon check-in is just the beginning. Every room is beachfront, and it's all right up against Lincoln City's most famous stretch of beach, next to the D River. Each room, comes as a suite or mini-suite, and has a kitchen and balcony or patio. Some have gas fireplaces, while all have a DVD Players with movies available for renting (and movie rentals come with free popcorn). There's a heated indoor pool, a spa, and this fabulous beach is lit at night. Rooms sleep anywhere from two, four to six - including a deluxe fireplace suite. Gift certificates are available, and they offer special occasion packages as well. To make a reservation and see a virtual tour of the rooms, visit our website at www.dsandsmotel.com. 171 S.W. Highway 101. 800-527-3925.
Lesson learned: if you're staying at Starfish Point and you're scheduled to be on-air on a national program, this place will assist you. "It's the hotel preferred by national media guests," should be its slogan.
Later, Melissa and I head down to Yachats for an excruciatingly fabulous Italian dinner at the Landmark. I can't say this enough: co-owner Marilyn Olson's old world, New York/Italian family recipes create what is truly the central Oregon coast's most exquisite Italian fare.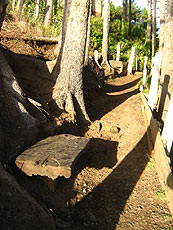 Walkway, with bench
The next day, a Monday, Melissa goes back to her day job; I sleep in, like the beach bum that I am, and then I must hightail it north for my little ghost talk in Seaside. On the way, the vistas and views are mind blowing, with warm weather and blue skies following me the entire way. Tierra Del Mar is a pristine skyline of pure blue, traces of clouds and white beaches, all coming together at the dark figure of Cape Lookout, which caps the northern end of this scene.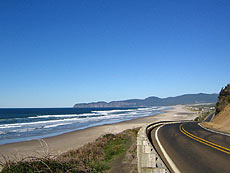 Tierra Del Mar on this day in late October
The waters of Wheeler are placid and breathtaking, but the temperature has turned chilly now, while the sun weakly beats down on the Nehalem Bay. This is also apparently my little Italian cuisine tour, as I greedily scarf down my other favorite pasta on the coast, at Cannon Beach's Fultano's Pizza. This is the stuff legends are made of.
At 5 p.m., I speak to a charming group of about 25 people at Beach Books in Seaside, who are thoroughly rapt in my barrage of weird tales of paranormal goings on and strange coastal science. Some, in turn, have some freaky tales of their own, which ranged from just plain goofy to really intriguing. Still, the experience was priceless, the bookstore a serious charmer, and the resident kitty cat a bigger hit than I was.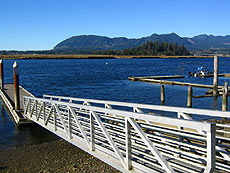 Nehalem Bay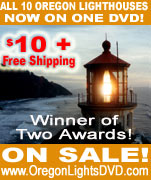 This evening ends with me wandering the cold, barefoot, in a suit, and taking in the freeze of the waves on a Seaside beach. Sure, this scenario sounds kooky and off kilter, but the truth is: who cares what you're wearing or how cold the temperature if you're communing with the beach? The real question is, why aren't more people out here doing this at this time of year?
Why the hell aren't you on the Oregon coast right now, instead of reading someone else's demented, manic adventure?
You can find Starfish Point at the north end of Newport. 140 NW 48th Street, Newport. 800-870-7795.