Covering 180 miles of Oregon coast travel: Astoria, Seaside, Cannon Beach, Manzanita, Nehalem, Wheeler, Rockaway, Garibaldi, Tillamook, Oceanside, Pacific City, Lincoln City, Depoe Bay, Newport, Wadport, Yachats & Florence.
12/04/06
The Freaky Truth About Oregon Coast Weather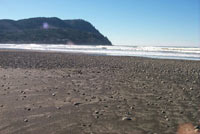 Seaside on a particularly balmy February day in 2004
(Oregon Coast) – The real shocker in Oregon's tourism industry is that winter on the coast isn't all it seems, even with its crazed storms and such. There are at least a few fairly nice days in between the stormy squalls and near-gale force winds. Weather statistics bring out the truth, and it's stranger than fiction.
These runs of goopy slorp either chase valley visitors away or draw them in to watch the tidal drama. But there's often more than a sprinkling of blue skies and nice vibes in the winter than you're probably aware of. On top of it all, meteorologists will admit you don't get the full picture when it comes to coastal forecasts, and there is even a kind of secret miniature summer tucked away near the end of winter.
Pleasant, even sunny, slightly balmy days do exist with some regularity on these shores between December and February – more than you know.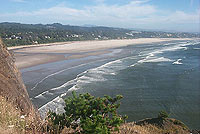 Newport from above
The Truth About Weather Is Out There
Lorna Davis, Director of Tourism Development for the Newport Chamber of Commerce, said she definitely sees runs of nice weather on the coast in winter, and it's not uncommon to find extraordinarily warm days popping up out of the blue. "Every month brings really different weather," she said. "It's not just storms during winter and fall, but there are instances of glorious weather.
"It's as typical as it is not typical, if that makes any sense. These days do happen. You just don't know when."
Just as in the I-5 corridor, sunny days pop up in winter. But there's a big difference between those clear winter days in the valley and those on the coast.
Rod Hill, meteorologist with KATU TV (channel 2) in Portland, said the moderate climate of the coast keeps those nicer days even nicer than those in the valley.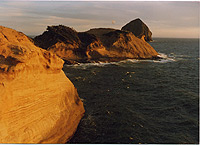 Cape Kiwanda
When those clear days happen – and it's not all the time, that's for certain – they're colder in the valley because of the east winds bringing colder air. "Cold air settles here," Hill said. "On the coast you don't get that cold air vection. It's more moderate because it's next to the ocean, which is about 50 degrees. So on the coast it can be around 50, 52 or 53 degrees, while in the valley it's 42 or 44."
Hill adds that the coast range blocks the cold air dynamics from the east, helping to keep the moderate temps by the seashore.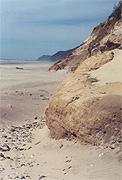 Just north of Florence
Talk to locals, and you'll often hear how December can yield days warmer than some days in June. In fact, to this day, many still talk about those stunning, unforgettable few days in late December 1993 when it was windless, a clear blue sky and temperatures were around 65.
Davis noted the balmy Christmas day in 2001 when temperatures were around 68 in Gleneden Beach. "We get that – and maybe more than people in the valley know."
Even Hill admits that valley residents may not be getting the full picture on just how pleasant conditions really can be on the coast in winter.
"The coast has more of these nice days than is typically forecast," Hill said. "I will say that. It's forecast as being worse than it really is quite often, I will admit that. We are trying to improve upon that."

Tradewinds Motel, Rockaway Beach
If expansive ocean views, close proximity to golfing, fishing tours and quick access to seven miles of pristine beaches is your thing, then this quintessential beauty in Rockaway Beach is your ticket to vacation fun for families, couples or large groups. Some rooms are pet friendly. All rooms at the Tradewinds Motel are immaculate and have TV's, VCR's and in-room phones with data ports. The oceanfronts all have a queen bed, a double hide-a-bed, kitchen, cozy firelog fireplace and a private deck. Some oceanfront units come with all those amenities but the kitchens. Both types sleep up to four people. The non-oceanfront rooms are appointed with a queen bed, small fridge, and coffee maker – sizable for a two-person romantic getaway, yet still perfect for those on a budget. There is an elaborate oceanfront Jacuzzi suite that has two bedrooms, coming with a kitchen, double hide-a-bed, fireplace and private deck, sleeping as many as six. For those wanting bigger accommodations for family reunions or large gatherings such as weddings, some rooms can connect to create two-room and three-room suites. 523 N. Pacific St., Rockaway Beach. (503) 355-2112 - 1-800-824-0938. www.tradewinds-motel.com
Statistics Can Speak Louder Than Words
Hill noted statistics in the almanacs will back this up as well. According to one of his sources, the average percentage of cloudy days in Astoria in the month of January is 66 percent – meaning 66 percent of days in January were cloudy and not so nice in Astoria. Yet in Portland, the average is 68 percent of days in January were cloudy.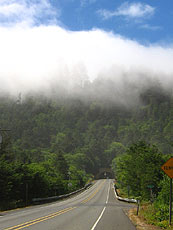 Moody weather of Arch Cape
The average for Portland in December was 70 percent cloudy conditions through the month, while the north coast experience only 64 percent of those kinds of days. February was a dead tie at 63 percent, Hill said.
Those were averages of those months over a selected number of years. But it shows the general trend.
Weather data collected over the years by the Hatfield Marine Science Center also backs this up. It fortifies another bit of local wisdom about weather trends as well: things tend to get a little drier and nicer in winter until you get a host of really nice days in February.
According to the Hatfield's web site, http://hmsc.oregonstate.edu/weather/summaries/index.html, you can see an increase of pleasant days over the three months.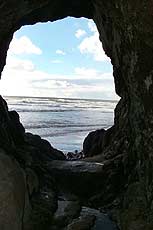 Oceanside on a brisk, sunny but stormy day
If you look at December 2001, there were five days where there was zero precipitation, and a total of five days where there was only about a tenth of an inch of rain. Temperatures were usually in the low 40's and winds were around 28 mph. While none of the data indicated anything about whether it was sunny or not, it's a safe assumption that there was at least some sun among those dry days. Only two days rained over an inch, and temperatures throughout that month ranged from 47 to 54 degrees.
The following month, January of 2002, had a total of seven days that had a tenth of an inch of precipitation or none at all. Two days were at 60 degrees, but these had winds of around 50 mph and precipitation of two inches, however.
In February 2002, a total of eleven days had zero rain, and four had .02 inches or less. Highest wind gusts on those days ranged from 19 to 30 mph, and temperatures on these days were generally in the low- to mid-50's. Half the month was less than .02 inches of rain or less.

D Sands Condominium Motel, Lincoln City. Getting a free, fresh baked cookie upon check-in is just the beginning. Every room is beachfront, and it's all right up against Lincoln City's most famous stretch of beach, next to the D River. Each room, comes as a suite or mini-suite, and has a kitchen and balcony or patio. Some have gas fireplaces, while all have a DVD Players with movies available for renting (and movie rentals come with free popcorn). There's a heated indoor pool, a spa, and this fabulous beach is lit at night. Rooms sleep anywhere from two, four to six - including a deluxe fireplace suite. Gift certificates are available, and they offer special occasion packages as well. To make a reservation and see a virtual tour of the rooms, visit our website at www.dsandsmotel.com. 171 S.W. Highway 101. 800-527-3925.
Fast forward a year. According to the Hatfield site, six days in December of 2003 had either zero precipitation or less than .02 inches (nearly nothing). All these happened after the 15th, and were in the 40 and 50 degree ranges.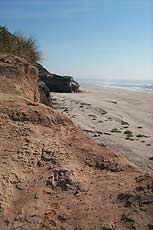 Near Seal Rock
In January of 2004, only four days were .02 inches of rain or less, with most days in the low 50's. Three days of the months rained more than three inches, so it wasn't a banner month for sunbathing, and lower in pleasant periods than other Januaries on record. But February of that year continued the legend, with ten days mostly in the low 50's and less than .02 inches of rain. Winds were 20 mph or less on these days. Two days were about 60 degrees, however. Most of the other days had half an inch or less of rain.
In short, it means most years have the same pattern: about a week or slightly more of absolutely dry days - or almost completely dry days - in December and January, with temperatures floating around the 50's. By February, you've often got almost two weeks of no rain and somewhat spring-like temperatures that beat that stereotype of nasty coastal weather.
Slightly warmer than winter in the valley? You bet. And the data from these years - and other years - seems to show a general tendency that corroborates the locals.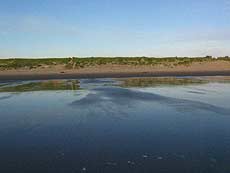 Gearhart
The data on the Hatfield's site doesn't even address those days when it was a mix of weather, with sunny, warm temperatures alternating with rainstorms. These are quite typical, and probably raises the occurrence of really nice days that are waiting for you (even if the whole day may not be super swell).
That Strange, Mini-Summer at Winter's End
Then, come February, the real shockers begin. There's what is nicknamed the "mini-summer" in the middle of the month, with something close to 10 days – on average – of exceptionally warm, sun-filled weather that mimics nice summer days.
Davis said that "mini-summer" of February is really spectacular. "It's always really weird," she said. "It's so warm. There's always about six days of really banner, balmy weather in February. Then you can turn around and have a half a foot of snow in early March."
Weiss' Paradise Suites & Vacation Rentals - Seaside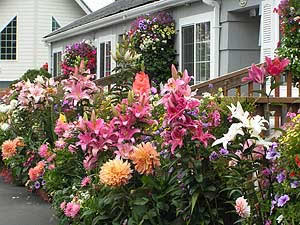 Unique Luxury Accommodations in Seaside. 1BR Suites, 1BR & 2BR Duplex Units and 3BR Houses, units for 2-8 people. Rent our entire property for 20-26. All units close to beach, river and Broadway St.
Suites are designed for two adults; vacation rental units for families. All units have kitchen and many have fireplace, deck and jetted tub. Enjoy comfy robes & slippers, luxury bath amenities, quality linens and more. See us on The Travel Channel's "Great Escapes" show in August 2006. 741 S. Downing St., Seaside. 800-738-6691. www.SeasideSuites.com
Hill said this is not all that unusual, except that on the coast, the moderate climate element can heighten the glorious weather factor.
"In fact, a lot of areas of the country have that," Hill said. "By this time, you've gone through the early sunsets, dark days and the wettest three months of the year. February is over that hump.
"The days are have been getting longer for five weeks and you've added enough daylight hours so that the weather is warmer. You get that much daylight increase and you start to get a climate shift."
Beware The Laws of Averages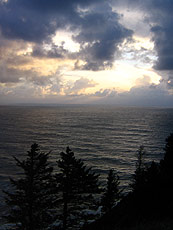 Moody winter weather near Manzanita
Then there was the unforgettable run of extremely warm weather in early 2005, which saw temps on the coast in the high 60's and low 70's from January through to March. That was, of course, a freakish fluke, but notable nonetheless.
However, this year has not been typical and the averages are probably not going to apply. Hill and many other meteorologists predicted this year would be wetter than usual, and it has wound up that way. "Using Portland as a barometer, if there's eleven inches rain or more in November, then it's going to be wetter on the whole. And we've definitely had more than eleven inches."
Hill offered another caution about the average trends of coastal temperatures as well. "Keep in mind, in the northwest, especially here on the west side, we're coming off an unusually quiet eight-year period," Hill said.
It May Not Be Second Summer, But….
Still, between the valley meteorologists' admittedly not-so-completely accurate forecasts and your decent chances of finding lovely atmospheric conditions on certain surprise days, Davis said these days of offer a lot.
"It's full of incredible opportunities," Davis said. "Like whale watching in winter. It might be crisp and cool, but it will be blue skies and the coast will be clear. You'll have unencumbered travel. If there's great weather predicted in summer, Newport's population of 10,000 jumps to 30,000. But if the weather is nice in winter, you'll just get some traffic. Tourists are looking for an authentic experience, and the coast has it this time of year. Besides, you'll want to scoop up the lodging discounts and two-for-one specials."

DIVE INTO LUXURY, HISTORY AT THE TIDES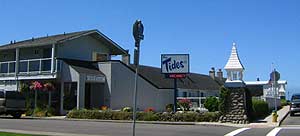 THE TIDES BY THE SEA, Seaside. For over 80 years, The Tides has been a favorite of Seaside visitors. History meets modern luxury here. 51 oceanfront condos, individually owned and decorated. Find suites for couples, small apartments with fireplaces and kitchenettes, one or two bedroom family units with fireplaces, kitchens and dining rooms. There are wonderful oceanview cottages that sleep anywhere from two to eight people, with two bedrooms, some with lofts, fireplaces and kitchens.
Meanwhile, the heated outdoor pool, enormous grounds with picnic tables and location at the quiet southern end of Seaside make for some memorable means of play and repose. 2316 Beach Drive. 800-548-2846. www.thetidesbythesea.com.
BREATHTAKING CLIFFTOP IN NEWPORT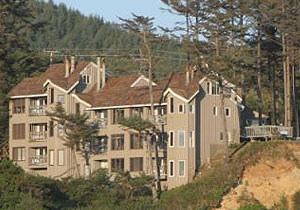 STARFISH POINT is located on the Central Oregon Coast - in Newport - and offers only the finest in luxury condominium lodging. At Starfish Point, every unit is focused on the beauty of the sea and the beach.
All of the units boast two bedrooms, two bathrooms, designer kitchens, wireless broadband Internet, fireplaces, Jacuzzi's and private decks - surrounding you in soothing relaxation. We have a friendly staff dedicated to high quality and superb customer service. 140 NW 48th Street, Newport. (541) 265-3751. (800) 870-7795. www.starfishpoint.com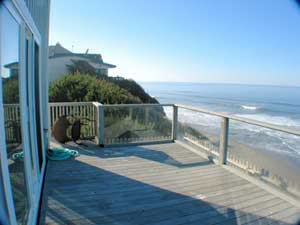 Lincoln City Vacation Homes There's something for everyone among this selection of wondrous homes: smaller homes with a view to a large house that sleeps 15. All the homes are either oceanfront or just a few steps away from the sand – all with a low bank access and fantastic views. Most are in the Nelscott area; one is close to the casino. You'll find a variety of goodies, depending on the home: fireplaces, multiple bedrooms, dishwashers, Jacuzzis, washer/dryers, hot tubs, cable TV, VCR, barbecues; there's a loft in one, and another sprawling home has two apartments. Pets are allowed in some homes – ask ahead. Each comes with complete kitchens so you'll have a home away from home. Most have the seventh night free. Prices range from winter $85 to summer $230 per night. www.getaway2thecoast.com. 541-994-8778.
RELATED STORIES
SPECIAL SECTIONS
oregon coast weather
oregon coast mileage chart & map
day trips, suggested itineraries
Search BeachConection.net's 800 pages
OR TAKE THE VIRTUAL TOUR

ASTORIA
Where the Columbia meets the Pacific, Land of Lewis & Clark and loads of atmosphere & history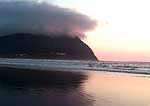 SEASIDE
The Promenade, Tillamook Head, family fun & broad, sandy beaches

CANNON BEACH
A mysterious lighthouse, upscale yet earthy, a huge monolith, fine eateries & an art mecca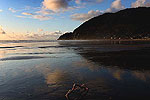 NEHALEM BAY
Manzanita's beaches, Nehalem and Wheeler's quirky beauty; laid back Rockaway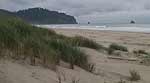 TILLAMOOK BAY
Garibaldi, Barview, Bay City, Tillamook & an oceanfront ghost town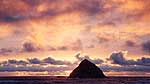 THREE CAPES LOOP
The hidden secret of the coast: Cape Meares, a lighthouse, Oceanside, Netarts and Pacific City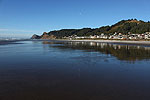 LINCOLN CITY
& THE CORRIDOR OF MYSTERY
Miles & miles of unbroken beaches, Cascade Head, Neskowin and many manmade attractions

DEPOE BAY
A spouting horn downtown, freaky hidden cliffs and whales, whales, whales

NEWPORT
Time-tripping Nye Beach, a bustling bayfront, marine science-central and two lighthouses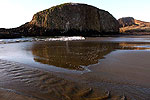 WALDPORT / SEAL ROCK
Pristine, even secretive sands and wild geologic landmarks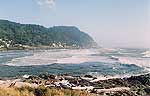 YACHATS
Constantly dramatic wave action, a mix of the rugged & upscale

UPPER LANE COUNTY
25 miles of deserted beaches & oodles of wonders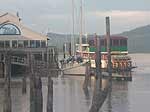 FLORENCE
A lighthouse, ancient bayfront and miles and miles of fluffy dunes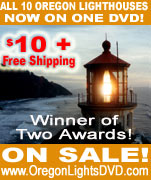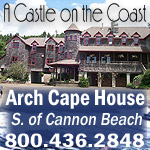 For weekly updated info on lodgings and accomodation reviews, see the Travel News section