70 Insanely Cool Reasons to Winter at the Oregon Coast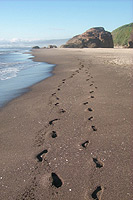 Find yourself alone - and other suprises - up and down the coast
(Oregon Coast) - There's more to winter on Oregon's Coast than storms and nasty weather. It's a whole other world to explore at this time of year, with major events, weather secrets you didn't know of and other aspects that will surprise you: you're in for a Lewis & Clark-sized set of discoveries.
The revelations are huge in number. BeachConnection.net found 70 interesting, compelling and even unusual reasons to come visit the beaches of the Oregon coast in winter. From the holidays, Valentine's Day, weather shockers, various events and festivals, paranormal rumors, insane lodging specials, strange science wonders, different activities and odd sports, there's a plethora of wild wonders to see here you can't find any other time of the year.
If you're not visiting these beaches this season and do a bit of exploring, you are seriously missing out.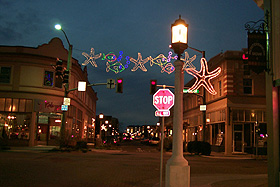 1 - Yuletide by The Tide
Where else but the Oregon coast can you find that warm, cozy feeling for the holidays? Numerous events make the coast simply glow with the holiday spirit. Then, for Christmas, you may consider leaving the feast for the fine chefs of coastal eateries, like at Lincoln City's Salishan or Chinook Winds Casino, the Mill Casino in Coos Bay; Stephanie Inn in Cannon Beach, Embarcadero in Newport, among hordes of others. Like many revelers, you may opt to spend the holiday on the beach with your family. But call around to your favorite eatery to see what they're doing (they may not be open), and call well ahead of time to make your hotel reservations.
2 - Serious Lack of Crowds
Perhaps this reason is among the most important for loitering around the coast in wintertime. Sure, it's a little windier or stormier than usual, but the beaches are often completely deserted, lodging prices are way down and there's no line at your favorite restaurant. Less traffic on the road is a big plus as well. But don't let the weather aspects deter you, either. There are more weather surprises lurking in the coast, especially in February. Keep reading.
3 - First Saturday Art Walk, Seaside
Every first Saturday, the north coast resort town of Seaside hosts this little celebration, featuring artists and/or artworks. Look for the red, blue, and yellow balloons outside the business. Walking maps available at www.seasidechamber.com. 5 p.m. – 8 p.m. 503-738-6391.
4 -Christmas Shopping Nirvana
Think about it: it's a perfect excuse to get away from it all while still shopping 'til you drop. Between large outlet malls like those in Lincoln City or Seaside, to the myriad of small, special shops that dot the shoreline, you have some very unique shopping opportunities.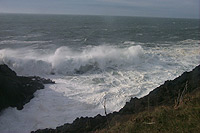 Wild storm scenes near Depoe Bay
5 - Storm Watch Season
Really, someone out there kind of jumped the gun when they decided to single out one season as "Storm Watch Season." In actuality, you can catch incredible storms pounding the surf or cliffs anywhere from November through to the spring. Grab a motel room near the ocean, curl up by a cozy fire and watch the oceanic fireworks. Or, sit in your car at a viewpoint like those above Manzanita, Cape Meares (by Tillamook), the turn-offs near Cannon Beach, Newport or just north of Florence, and you'll see more drama than a week's worth of Jerry Springer episodes.
6 - Plum Pudding in Astoria.
A celebration in Astoria's Flavel House with lots o' plum pudding and demonstrations. Dec. 17 & 18, with demos at 11 a.m. and 2 p.m. 503-325-2203.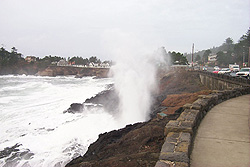 7 - Depoe Bay's Spouting Horn Kicks Into High Gear
In any weather - just dependent on the tides - Depoe Bay's Spouting Horn can just go bonkers. A crevice in the rocks near the seawall compresses the tidal action into one massive spout, which can shoot 40 feet into the air - and sometimes soaks cars driving by. The same action occurs just south of Yachats, at around the Lane County/Lincoln County line, at Cook's Chasm. It also happens in rocky spots around downtown Yachats, near the mouth of the bay, and at Yachats' 804 Trail. It doesn't take stormy weather, however. If the breakers are feeling a little nutty that day, it happens on nice, warm, sunny days as well.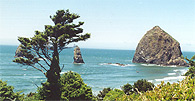 8 - Cannon Beach Holidays
It begins on November 25 with "Make Your Own Wreath" at the Chamber, 11 a.m. – 4 p.m. Cost is $10. December 1 brings the "Lamplighting in Sandpiper Square" to town at 4 p.m. Refreshments at the Chamber afterwards.
December 1 & 2 is the "Victorian Christmas Tea," with volunteers dressed in Dickens era costumes providing silver service, homemade cookies, traditional Christmas tea and cider for children. 503-436-1391
December 2 features "Child's Play," where you can make your crafts and get pictures with Santa. The Cannon Beach Chorus performs holiday music with guest soloists on December 8 at the Community Presbyterian Church (312 E. Washington). 7 p.m. $10.
9 - Whale Watch Week
It always happens on the last week of the year. Hang out on one of the Oregon Coast's 28 vantage points that have a Whale Watch Spoken Here volunteer to help you spot one of the great behemoths on their twice-yearly migration going north to south. See www.whalewatchspokenhere.org, or (541) 765-3304.


10 - New Year's Eve
There's nothing like counting down to midnight at a bar with a lighted view of the waves. Then, maybe for that delayed New Years Eve kiss, hit the nocturnal beach for a wallop of romantic atmosphere. The beach is a popular place with partiers as well as families, and the energy is high and exhilarating. Coastal eateries make for unforgettable last meals of the year.
11 – Pleasant Weather Surprises
Don't be surprised to be surprised by the weather. This is also one of the more compelling reasons to visit in winter - and one of the most rewarding. The coast is a very temperate climate (in spite of its raging storms), and it's not uncommon to find winter weather here warmer than in the valley. While it's not a constant, neither is it too unusual to find it sunny and fairly warm, while it's freezing in the valley. There are more weather shockers ahead: keep reading.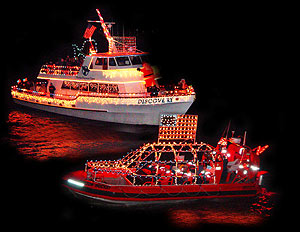 12 – Lighted Boat Parade, Newport
In the first few days of December, Newport's Yaquina Bay hosts the Lighted Boat Parade, which features a small armada of boats all gussied up in colors and lights, creating quite the holiday display. Watchers line the docks and fill the restaurants and shops on the historic Bayfront to watch the glowing display, although you won't find parking or overcrowding a problem, because this time of year isn't as jam packed as the summer season. It's the right mix of energetic, holiday frivolity and easy access for the visitor.
The number of lights and designs have varied greatly over the years. The Oregon Rocket had a surprise burst of lights as the passengers aboard pulled illuminated oars through the water. Other highlights have included live bands on board, tall, masted saiboats with stars sparkling in the rigging, and a spouting whale on top of the Discovery. www.discoverytours.com
13 – Winter Lodging Packages, Price Drops
Mid-week prices at moderately or lower priced accommodations can often be found for dirt-cheap. This is the case from December through to early March. About mid-March, lodging prices start to rise to summer rates, usually beginning with Spring Break. In the meantime, almost everyone offers some interesting winter package or another. From lower rates for two or three days, extra freebies, a night free after one or two paid nights or other surprises, great deals await. Call your favorite lodging, or keep checking www.beachconnection.net for lodging specials what will astound you.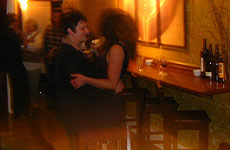 Romance at Blu Cork Wine Bar, Newport
14 – Valentine's Day
What IS'NT perfect about the coast on this most tingly of holidays? The waves, the unbelievably delicious and atmospheric restaurants, an ocean view room with a Jacuzzi - and it isn't uncommon that the weather mellows out and lingers on the dry side this time of year. It's becoming one of Oregon's biggest attractions on this holiday, so make sure you reserve your hotel and restaurant at least a week in advance.
15 – Barbershop Fest in Seaside
Seaside's Barbershop Cabaret Show happens on January 19th & 20th, with numerous groups performing both nights, and causing the town to swell with a few thousand extra guests. $15. Seaside Civic and Convention Center, 415 1st Avenue. 800-394-3303. www.seasideor.com.
16 – Presidents Weekend
It's a long weekend in February, kids. For some it's a three-day weekend, for others it may be more. Get thee out to the coast. What else are you going to do? Mow the lawn? Get real.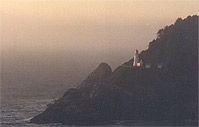 17 – Winter Tours of the Heceta Head Lighthouse
Tour the lighthouse beginning at 11 a.m. on weekends, subject to weather. (800) 551-6949.
18 – Yachats Winter Celebration
So begins about a month worth of holiday frivolity in the Yachats. It starts on December 8 with the opening ceremonies at the Little Log Church. From 7 p.m. - 7:30 p.m. From 7:30 p.m. - 8:00 p.m., the Yachats Ladies Club features holiday tunes by The Sweet Adelines. December 9 & 10 and 16 & 17 features the Victorian Christmas Open House at the Heceta Lightkeepers' House, 12 miles north of Florence. 3 p.m. - 7 p.m. www.yachats.org
19 – Newport Seafood and Wine Festival
On Feb 23 - 27, Newport will swell to about 15,000 more people, as this famous fest brings in more than 120 exhibitors, including about 60 wineries from the Northwest. Grab grub like local oysters, Dungeness crab, shrimp and salmon, as well as hordes of other delicacies are for the partaking. Local artisans will be featured too. 1-800-COAST44 or www.newportchamber.org/swf.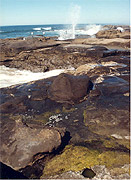 Yachats is full of surprises
20 – Yachats Lions Crab Feed
January 27 means it's time again for this delicious old-fashioned crab feed that sells out every year. For $20, you can get All-You-Can-Eat crab with French bread, cole slaw, baked beans and a beverage. Tickets available at Clark's Market in downtown Yachats, (541) 547-3625. Yachats Lions Hall, W 4th and Pontiac; and at the Yachats Commons, W 4th and Hwy 101. www.yachats.org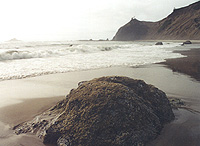 Agates found in hidden beach spots, like this one in Lincoln City
21 – Agate Hunting Season
Check out the beach after storms or even on one of its calmer days. Agates are stirred up by the storms, and you'll find them in greater abundance at this time of year. An interesting secret about agate hunting (thanks to our own Guy DiTorrice): the stones aren't actually washed up by the storms - the waves wash away the sand, revealing more stones.
22 – St. Valentine's Wedding Vow Renewal
February 14. It happens at the Little Log Church Museum. W 3rd and Pontiac, Yachats. (541) 547-3976.
23 - Glass Float Giveaway, Newport
Jan. 31, 2007, visit one of the businesses listed at www.newportchamber.org, or on a map available from the Greater Newport Chamber of Commerce (800-262-7844). Fill out an entry form and return it to the float display at the business; enter at any – or all – of the merchants. Weekly drawings will be held throughout the winter, with the remainder of the floats given away Jan. 31, when each business will select two names from its entry pool. Winners will be notified by mail.
24 – Oregon Coast Chamber Orchestra Season
Classical music and the coast just seem to go together. The Oregon Coast Chamber Orchestra has released its roster for the season. Find out more at http://www.occo.ws/.
December 1, 7 p.m. Yachats Commons
December 3, 2 p.m. Florence Events Center
February 18, 2 p.m. Southwestern Oregon Community College, Coos Bay
February 23, 7 p.m. Yachats Commons,
February 25, 2 p.m. Florence Events Center
May 6, 2 p.m. Pacific Auditorium, Reedsport
May 11, 7 p.m. Yachats Commons
May 13, 2 p.m. Florence Events Center
25 – Antique Week in Lincoln City
February 9 - 19. This year, Antique Week means Appraise-a-thons, city-wide antique sales, historic tours of Lincoln City, display at the museum, and much more. For a map or schedule of events contact 800-452-2151.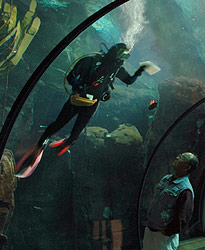 Imagine getting married in here (Oregon Coast Aquarium)
26 – Get Hitched on the Coast
If you're thinking about a winter nuptial, forget the valley. Weddings take on a whole new dimension of when done on our shoreline. There are some incredible options, such as the Oregon Coast Aquarium, especially in its 360-degree view tube known as "Passages of the Deep." Imagine a ceremony as sharks and stingrays swim around you. The Heceta Head Lighthouse allows ceremonies as well. There's also an enormous industry hidden a little beneath the surface to help with weddings, including caterers, florists, and wedding planners who will find a perfect beach for your vows. Many large hotels provide perfect facilities for ceremonies, receptions or whatever, like the Shilo Inns in Seaside and Newport, Embarcadero and Hallmark in Newport, Best Western Oceanview Seaside, and various ones in Cannon Beach, like The Ocean Lodge, Surfsand Resort or Stephanie Inn. They all provide incredible views as well. Lincoln City provides some extensive information in a booklet and on their website, www.oregoncoast.org.
27 – Dive Into Art
The coast has a very distinctive art scene that rivals that of Portland's. From the art mecca of Cannon Beach (practically stuffed with galleries), the cozy, downhome art shops of the Central Coast, and the impressive art scene of tiny Pacific City, the region is chock full of a different kind of treasure.
28 – Rain Soaked Adventures
Don't be a scaredy-cat and shy from the wintry beaches. It's actually more fun than you may imagine to just wander the outdoors during one of those notorious squalls. You'll have to dress appropriately, of course, but you'll have the beach to yourself and see wonders you won't normally see. Besides, few things are more romantic than finding a bit of temporary shelter from the storm with your relevant other and having to cuddle for warmth and comfort.
29 – Hold Your Biz Meetings at the Beach
There is also an enormous industry on the coast geared to this, and places like the Seaside Convention Center or Chinook Winds in Lincoln City are just the beginning. Numerous hotels, like the ones listed in the wedding planning section of this article, also have grand facilities for setting up a large gathering.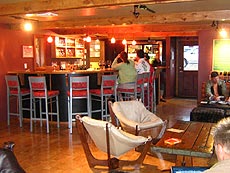 Yachats Wine Trader
30 – Wonders of Wine on the Coast
More and more, wine is becoming a major staple for the coastal visitor. Possibilities like this abound in Newport, with Blu Cork Wine Bar, Village Market & Deli's specials events, wine tasting at Nye Beach Gallery, and monthly wine dinners at Swafford's Champagne Patio. In Yachats, The Wine Place features specials all the time, while Cannon Beach's Wine Shack is a staple for anyone in-the-know for a wine destination, including wine tastings every Saturday. There is always the Flying Dutchman Winery near Depoe Bay, and the Depoe Bay Winery and Nehalem Bay Winery.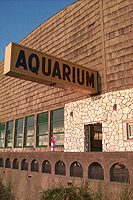 31 – Indoor Attractions
Winter is a perfect time to check out the myriad of manmade wonders that feature nature. Indulge in the Seaside Aquarium, Oregon Coast Aquarium and Hatfield Marine Science Center - the latter two are in Newport. Also in Newport, you'll find the Undersea Gardens, Wax Museum and the Ripley's Believe It Or Not. In Tillamook, get cheesy at the Tillamook Cheese Factory or check out the large variety of vintage aircraft at the Tillamook Air Museum. Down near Florence, you'll find the Sea Lion Caves and its various wonders. In many cities, like Astoria, Seaside, Tillamook, Newport and Florence, there are often more than one historical museum where you can get lost in time.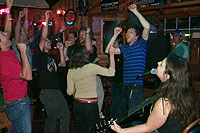 Beth Willis rocks Roadhouse 101
32 – Dig the Vibes of the Coast's Live Music Scene
From bluegrass, Celtic, jazz, classical, reggae and blues to rock 'n' roll of various genres, the entire coast has a burgeoning live music scene that's actually more interesting than many places inland. The Newport Performing Arts Center is a shining beacon of wondrous classical options, often featuring the Newport Symphony Orchestra (and sometimes with locally-based celebrity David Ogden Stiers behind the baton). The Yachats Commons is host to monthly visits by the Yachats Big Band as well as various musical acts, while down the street, the Landmark provides a steady stream of great bands every weekend. In Lincoln City, Chinook Winds regularly brings big names to the coast, Eden Hall occasionally features smaller national and international names, and Roadhouse 101 is a firmly thriving live hotspot boasting greats from around Oregon. The San Dune in Manzanita and Lil' Bayou in Seaside carry many regional favorites as well, such as The Crackpots or Norman Sylvester.
33 – Oregon Dixieland Jubilee in Seaside
February 23 - 25, the Oregon Dixieland Jubilee takes over the town as well. This year, see Titan Hot Seven, High Sietta, Cornet Chop Suey and Night Blooming Jazzmen, among others. Venues include the Seaside Civic and Convention Center, Elks Lodge and Best Western. 800-394-3303. www.jazzseaside.com

34 – Wine Country Nirvana In The Coast Range
On any of the routes to the coast you'll find a nearly endless supply of wineries to indulge in. Yamhill County, especially along Highway 18 between Portland and Grand Ronde, has almost 100 wineries to explore. Towns like Dundee, McMinnville, Gaston and Newberg are surrounded by some of the state's finest. Just off Highways 20, 26 and 22, you'll find many as well while en route to the beach. See www.willamettewines.com for more.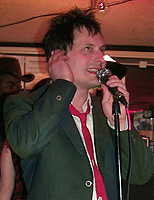 Crazed karaoke by the shore
35 – Koo Koo For Coastal Karaoke
If you dig "Karaoke from Hell" in Portland - singing behind a live band - you'll enjoy karaoke nights at Girtle's in Seaside, where one-man band Bucky runs the KJ machine and sometimes jams on guitar right there with you. Other hotspots on the coast for this on weekends are Snug Harbor and Maxwell's (also on weekdays) in Lincoln City. For certain nights it's all the rage at Moby Dick's in Newport and dozens of other bars up and down the coast.
36 – Winter Steelhead Fishing
Hotspots for this are the Rogue River, Devil's Lake (Lincoln City), Tillamook Bay and the Wilson River.
37 - Jazz for the Holidays
This year, Newport hosts the mother of all New Years Eve parties, stretching over four days, from December 29 – January 1, with the Jazz for the Holidays festival. This event is anticipated to be a regular one. It features dozens of musicians and singers over the four days, climaxing with gigs by Nancy King and Bobby Torres on New Year's Eve and on New Year's Day. www.jazzatnewport.org.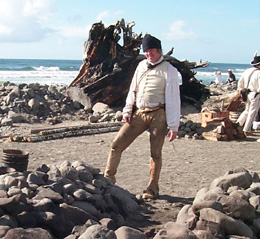 Lewis and Clark events every February in Seaside
38 – Lewis & Clark Tour
It's been a little over two hundred years since the Corps of Discovery walked this area, and the whole north coast is still celebrating. There are continued smaller events around the area and the lower Washington coast, but there are always sites like the Fort Clatsop facility, Astoria, Cannon Beach and other southern Washington landmarks that allow you to walk in their footsteps.
39 – Pacific City's Birding & Blues Festival
It happens every February, although the dates for the 2007 festival have not been announced. This three-day community festival all over town combines the rhythms of nature with the rhythms of great blues. Take in lectures by experts, workshops, tours, nature hikes and children's programs - all about the natural and the bird-oriented of the area. Meanwhile, the many local galleries and restaurants provide art programs and music. Headliner of the event in the past often included Portland's phenomenal Paul DeLay. www.birdingandblues.com. (503) 965-6994.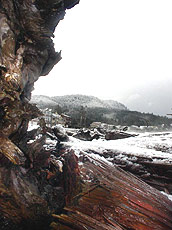 Snow in Seaside
40 – That Rarest of Discoveries
Snow on the beach. That's right. Snow. It's really quite rare on the beach, but it's one of the most beautiful and yet surreal sights you can catch. The highways to the coast are a bit on the scary side during this weather, but on the beach, it's an unforgettable moment.
41 – Hunt Down Glass Floats
Through Memorial Day 2007, hundreds of handcrafted glass floats await discovery on the beaches of Lincoln City. Each is numbered and signed, and if you find one, bring it to the Lincoln City Visitors Center for a certificate of authenticity. 800-452-2151.
42 – Crabbing and Clamming Secrets
Get in on the fact there's hardly anyone else doing it and snag a bigger, better catch. For clamming, minus tides and lesser sands (because of storms) make that a little easier. Crabbing has an extra nice touch in winter because shells are harder, making for more compacted and better meat in your catch. (Thanks to Guy DiTorrice on this.)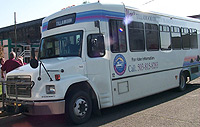 Bus system in Tillamook County
43 – Explore Via the Bus
Chinook Winds Casino has shuttles from many inland cities and towns - big and small - to Lincoln City and the casino. 1-877-594-4627. Public buses run throughout Lincoln County, all the way down to Yachats. (541) 265-4900. Porter Stagelines will get you from Bend or Eugene to Florence and Reedsport (541-267-4436). AMTRAK buses and Greyhound also get you to Florence, and AMTRAK buses will get you to Lincoln City as well. Caravan Airport Transportation will get you from Portland's airport to Lincoln City (541-994 9645). Tillamook County's "The Wave" has runs from Pacific City all the way up to Manzanita, as well as between Tillamook and Portland (503-815-8283). AMTRAK buses run from Portland to Cannon Beach, Seaside, Warrenton or Astoria. Greyhound can get you from I-5 towns to the coast and up and down the coast, but often you have to get to Portland or Corvallis first. Or simply let the bus drive you up or down the coast on its coverage area. Call for route details.
44 – Pacific City's Dory Fleet
These unique flat bottom boats are a generations-long tradition in the area, and they're fascinating to watch. They launch from the land at the foot of Cape Kiwanda. They then land by practically crashing themselves onshore, looking a bit like lemmings going the opposite way. It's a bit disconcerting to be on the beach and see one apparently making a beeline for you. They're well trained and are simply heading for a spot on the shore. You can also book a charter from one of them at Haystack Fishing Club: (503) 965-7555.
45 – Indoor Windless Kite Flying
Every March. Lincoln City holds its Indoor Windless Kite Festival at various points around town. Learn how to fly a kite without wind - indoors. It's a jaw-dropping, physics-defying festival that ends with a windless kite competition. 800-452-2151.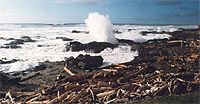 Crazed conditions, Yachats
46 – Extreme Coastal Photography
The coast puts on a wild and weird show during winter - and not just in storms. If you're out here on one of those sunny (perhaps even balmy) days, sunsets can be especially intense and provide some particularly interesting photographic opportunities. Storms themselves can be highly photogenic. Special effects can be achieved in fog or other conditions. Or simply cruise the beach just after a storm and shoot all the natural oddities that have been thrown up on shore.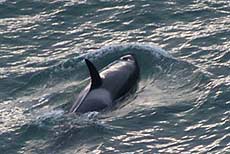 Orcas near Florence (courtesy Seaside Aquarium)
47 – Wildlife In Abundance
Winter means elk, deer and other wildlife tend to wander out of the coastal forests more often, partially to search for food and partially because of a lack of humans. Four-footed mammals descend from the hills because it's warmer and some kinds of food are more plentiful below rather than above. Seals and sea lions are more apt to be seen along beaches and spits because they prefer the land to the tumultuous sea. You'll often spot more of these beauties this time of year - that's almost guaranteed.
"The elk actually wander into towns and state parks, especially Cannon Beach, Nehalem Bay and Ecola State Parks during hunting seasons," said Nehalem resident Nadia Gardner. "Of course, we always have them here at Alder Creek Farm and Wildlife Refuge near Nehalem."
Tourists and locals have reported seeing elk swim all the way across Alsea Bay in Waldport, up to the spit, and deer trotting alongside cars in Oceanside going for a leisurely winter drive through hilly neighborhoods above the beach.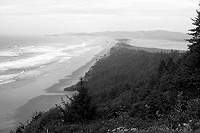 Bayocean Spit in the distance
48 – Winter Hiking Secrets
According to hiking author Doug Lorain, his favorite time for heading to the coast is this time of year. Lack of crowds on the beaches is one of the high points for him. While the rest of the hiking trails along headlands like Tillamook Head and mountains above the coastline are muddy and fall inducing, beach spits or any long stretch of sand are easier to walk long distances. The sands are wetter, which means dunes-like spots like the Nehalem Spit, Waldport or Bayocean are not so hard on the knees.
49 – Oregon Coast Explorer Train
During winter, there are no regularly scheduled trips, but your group can charter the train for a unique view of the coast in northern Tillamook County and the Coast Range mountains. (800) 685-1719.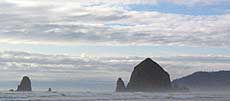 50 – Midwinter Mystery Weekend, Cannon Beach
This year's whodunit event features Ann Rule, Donna Anders, Deborah Donnelly, Robert Dugoni, Carola Dunn, Ron Lovell, Jack Remick, Robert J. Ray and Leslie Rule, happening January 26 – 28. There are various dinner and lunch events where you can cozy up to the authors, workshops, book signings and a Q&A session with the writers. Costs vary from free to as much as $65 to $150 for some events. Various locations throughout Cannon Beach. Call 800-436-0906 or 503-436-1301, or see www.cannonbeach.org.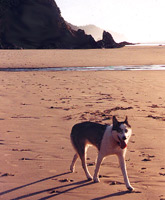 51 – Strut Your Mutt
Dogs love freedom, and a deserted beach (unless it has specific leash laws) is perfect for letting the hound go bonkers. They usually don't care what the weather is like, either. Plus, there are an increasingly larger number of stores on the coast that cater to the pup, and more lodgings than ever are pet friendly.
52 – Bird Watching Paradise
Numerous things happen in winter that make birding a distinctive thing on the coast. Less people means more gutsy wildlife. Storms push seabirds closer to shore for easier viewing, such as Short-tailed Shearwater, Ancient Murrelet, Black-legged Kittiwake, and Red Phalarope. Winter can bring surprises and glimpses of rarities like the Snowy Owl, Long-tailed Duck, Palm Warbler, Lapland Longspur and the Snow Bunting. You'll find a whole new set of northern-dwelling birds you don't at other times of the year. See www.wildbirdshop.com/Birding/brdbeach.html for other tips.
53 – Winter Surfing Paradise
Believe it or not, it's still a popular activity in winter. Perhaps even more so because of wilder than normal waves (major storms excluded, of course). Ocean kayaking is also a hot one in the cold months.
54 – Cooking Classes in Cannon Beach
Check out EVOO (that's for Extra Virgin Olive Oil). Engaging, educational, excellent local seasonal ingredients and great eats. Don't let the concept of school spook you: classes are more like wine dinners or play time for foodies than learning institutions. 188 S. Hemlock Street, Cannon Beach. 877-436-EVOO.
55 - The Wonders of Coastal Bookstores
Another little known tidbit about shopping on the coast is its plethora of rather clandestine, but exceptionally endearing bookshops. They're often tiny little wonders tucked away in some hard-to-find corner. Three rather famous ones are Beach Books (Seaside), Ekahni Books (Wheeler) and Cloud and Leaf (Manzanita). These and others are notorious for their charm and ability to snag rarities, causing plenty of bibliophiles (and serious bookstore snobs) from the valley to become hooked on these tiny little gems.
56 – Kite Bikes Powered by the Wind
This may well be peculiar to Oregon's North Coast, since the only pics we found of this on the Internet were apparently from Manzanita. Some locals in the Arch Cape area have made their own. Basically, they are specially made bikes, steered by the legs, and powered by a large kite.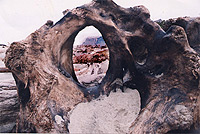 57 – Storms Wash Up the Darnedest Things
Those beach clean-ups every year bring up plenty of examples: they've dug up refrigerators, cars and even kitchen sinks. Your own treasure hunt will undoubtedly yield some oddities too. Mike Exinger of Zinger's Ice Cream Parlor in Seaside, said beachcombing is a favorite pastime of his family. "Our best was a tube of caulk - from Korea," he said.
Danielle Emerick of Newport hotel Starfish Point has made some remarkable discoveries as well. "Last year I found glass floats, and over 50 other floats with Asian and Russian writing on the them," she said.
Big storms dump hordes of driftwood onto the beaches. Afterwards, you'll often find a city of driftwood all over the beach (as in this shot of Lincoln City in winter of 1999).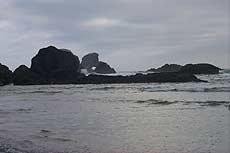 Goonies Rock in Cannon Beach
58 – Movie Sites of Astoria
The Astoria Chamber of Commerce has some material on places in town you can take a movie tour. The place nearly gets one film project a year now. You can check out sites featured in films like "Short Circuit," "Free Willy," "Kindergarten Cop," "The Ring 2," and of course that big cult favorite, "Goonies." There are plenty of others.

59 – Slower Pace
Here's an insider tip from one of the locals in Seaside (Mr. Exinger again, from Zinger's Homemade Ice Cream): "There's camaraderie amongst the tourists - everyone knows that everyone else is 'getting away' with getting the best the coast has to offer in the off-season. Folks are friendlier. It's a slower pace, too."
60 – Antiquing Until You Drop
The Oregon coast manages to dig up an unbelievable array of antique treasures, showing up at the enormous variety of such shops all along the coast - and not just during Lincoln City's Antique Week. The Nehalem Bay area, Seaside, Lincoln City and Newport are a treasure hunter's paradise. The little town of Wheeler has four such shops alone, making that the town's biggest industry.
61 – Gaming To Your Heart's Delight
Some of the most popular destinations on the coast have video gaming machines, craps tables and loads of betting possibilities. Spirit Mountain Casino, between Lincoln City and Salem, is one of the state's largest and comes complete with a hotel and all-night gas station, as well as live music and big name entertainment. Chinook Winds Casino Resort now features a hotel on top of its massive roster of entertainment. The new kid on the block is Three Rivers Casino in Florence, with some cutting-edge technology and ergonomic video machine chairs. Down in Coos Bay, you'll find the Mill Casino. You can also indulge your gambling urges at the Shilo Lounge in Tillamook.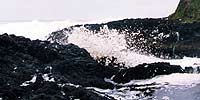 Wild surf and foam near Yachats
62 - Weird and Subtle Wonders of the Ocean
The oddball things you can see during winter, according to one Cannon Beach resident, happen probably because you've got the time and solitude to catch some slightly unusual sights.
Chef John Newman, of Newman's at 988 in Cannon Beach, noted just such wonders he's seen, and claims you can too. "See a seagull with a starfish half way in his mouth," he said. "Witness a rescue by the coastguard of some novice surfer. See your dog fetch a stick from the ocean. See what you're missing out on with the real estate sky rocketing by the minute out here."
63 – Four Wheelin' Fun
If you're an ATV aficionado, you'll love the deserted sands of the National Dunes Recreation Area south of Florence, or the Sandlake area near Tillamook. On some beaches that allow automobiles, like around Cape Kiwanda, Tierra Del Mar or Warrenton, sands are harder because of rain, and you're less likely to get stuck.
64 - Golfing on the Oregon Coast
"It's huge," says Diane Haworth, General Manager of Sandpines Golf Links in Florence. "There's Gearhart, Salishan, Sandpines and many smaller, great local courses as well. Sandpines is particularly a great place to golf in the winter because we are built on sand and drain incredibly fast. Rates are cheaper for all the courses and many of them offer lodging and dining experiences as well."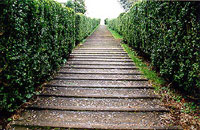 65 - Dive Into History In Astoria.
It's the oldest settlement west of the Mississippi, so it's no wonder the place is brimming over with history. Some of it as old as you can get on the west coast; other times it's history reinvented for you to hop on.
Explore the history of firefighting in Astoria at the Uppertown Firefighters Museum and learn about the disastrous fire that leveled the city in 1922. You can ride the Astoria Riverfront Trolley. Take a boat ride on the Columbus River. Visit the Maritime Museum and walk aboard the Columbus Light ship – an actual Coast Guard ship that served as a floating lighthouse. Coxcomb Hill was where they invented cable TV, and atop it sits the historical Astoria Tower. At Pier 39, there's the restoration of the Cannery from the 1800's, there's the ancient Fort Astoria at 14th St. that dates back to 1811, the first U.S. Custom House and the Flavel Mansion, built in 1885. www.oldoregon.com.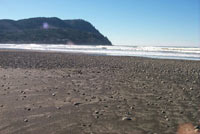 Warm and sunny Seaside, February of 2004
66 - Secret Mini-Summer of February
That's right, you read correctly. There's a little mini-summer in February every year on the coast, where the region gets about 14 days worth of sunny, warm weather spread throughout the month. It doesn't happen all in one burst. But it does mean exceptionally warm, dry and windless weather that will surprise you at this time of year, usually coinciding with some of the big events in the month or Valentine's Day. Meanwhile, the valley is much colder, even at freezing. It's a shocker, but absolutely glorious.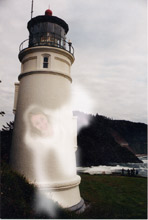 Heceta Head Lighthouse
67 – Good Oregon Coast Ghost Hunting
Whether or not you even believe in ghosts, the paranormal legends of the area is one aspect that's a lot of fun to explore. Astoria has numerous rumors, some of the lighthouses have their kooky lore, various spots in Lincoln City are purportedly haunted, as are a variety of buildings in Seaside and Cannon Beach.
It's as if there's a whole new realm to tourism growing on the coast: those who are looking for something a little beyond the normal. Read more here about Oregon coastal ghost stories, and then go ghost-busting yourself.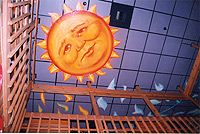 Lighthouse Brew Pub, Lincoln City
68 - Coastal Microbrew Tour
If you love microbrews (and you should), Oregon's coast has some delicious varieties floating around out there. Starting up north, Astoria's Wet Dog Café brews its own brewsky. In Cannon Beach, Bill's Tavern has become famous for their sudsy concoctions, which you can also find in abundance at its sister restaurant, the Warren House Pub, as well as in local eateries like Fultano's Pizza. In Pacific City, the Pelican Pub has a set of microbrews that have become monsters on the market: they recently expanded their brewing facilities to keep up with the demand. In Lincoln City, the Lighthouse Pub is one of those fine McMenamins brew houses that have so graced the entire state. Some of their microbrews are made there. The newcomer on the block is a real stunner: the Siletz Brewing Company, located just outside Newport, and showing up in various Lincoln County restaurants, pubs and stores. Finally, Rogue - on the bayfront, in South Beach and now in Astoria - is still the reigning king on the coast.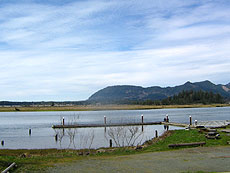 Mystical Wheeler
69 – Make a Wish at Mystical Spot
Then there are those kooky, paranormal rumors in the Wheeler area, where, supposedly, you can make a wish and it just may happen – or some aspect of it may come real. It's called the "Wheeler Moment," and it's a kick in the pants. There are actually quite a few who vouch for it. Loiter in the area for part of the day and you'll most likely have some odd coincidence you'll find delightful, or hard to explain. (Read more about the legend here).
70 – Weird Science of the Beaches
Whale burps, ocean burps, green flash at sunset, singing sands, glowing sands and much more. Real science is often freakier than science fiction, and much of the coast is proof of that.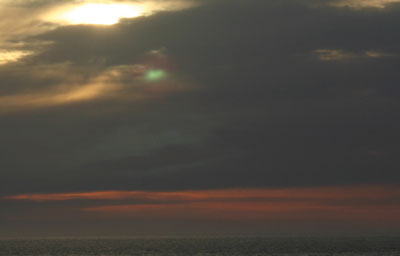 Green flash at sunset: look at the green blob near the top (photo: Bob Trusty, Newport)
Ocean burps happen when it's stormy on the coast, with little bundles of oddities washing up onshore, hosting something different each time (like unhatched eggs, strange skeletons, etc). The green flash at sunset means a greenish blob hovering just above the sun just before it descends below the horizon, given the right conditions. Singing sands are a freakish rarity where the sand makes an odd violin or singing noise, and glowing sand comes from bioluminescent little critters from the phytoplankton family. Search this site's almost 900 pages for more on these items.
It's yet another reason to hit the beach and simply explore, explore and explore some more.