A Nifty Last-Minute Gift Trick from Oregon Coast Lodgings
Published 12/22/2013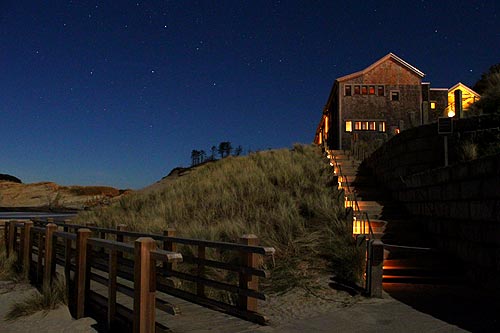 (Oregon Coast) – For the ultimate procrastinator in Christmas gifts, there is still a way to get a gift certificate from the Oregon coast and have it to your intended recipient by Christmas Day. It's all done from the comfort of your home – or cellphone – and without treading into crazed, road rage-inducing last minute holiday traffic.
A nifty little trick is to get the certificate from an Oregon coast lodging over the phone and have the notice sent via email from the lodging. That way, even though the gift certificate won't physically arrive until later in the week, your present will still be known about in time. It works for vacation rentals, bed and breakfasts, hotels and motels.
Not every place will do it, and some take a bit of coaxing. But for most lodgings and rentals it's a no-brainer. All you need do is ask, and as long as the certificate is paid for this won't be an issue.
In fact, it's a rather stunning surprise to have show up in your email inbox.
Places like Trollers Lodge in Depoe Bay will gladly send an email after you've bought a gift certificate for someone, and it will show up in their digital Christmas stocking in time for holiday unwrapping – or at least their email box. Again, you have to purchase over the phone.
Jeremy Strober is in charge of several properties in Pacific City, including the famed Inn at Cape Kiwanda. He said gift certificates have been selling like hotcakes this season there and at the other businesses under the Kiwanda Hospitality banner.
"We are happy to do that," Strober said. "It's really easy for us to do that."
Strober said they will even hold a gift certificate under someone's name if they are coming out within a few days.
Other lodgings may have that feature as well. It's worth it to ask.
With some hotels or motels it could be a little more complex. At the Tolovan Inn in Cannon Beach, for example, a manager needs to scan in the gift certificate and then it can be sent off via email. So this can only be done during regular businesses hours, unless the person behind the counter taking the order can send off a preliminary email to your intended.
Others, like the San Dune Inn in Manzanita only send gift certificates via email – and they do not get sent via snail mail.
Brian Hines, owner of the motel, said this will be perfect for the ultimate procrastinators.
"You could still buy them on Christmas eve, or even Christmas Day, for that matter," Hines said.
You purchase these over the phone as well.
Check out the Seaside, Oregon Lodging and Rentals for places in that town that can honor this request. For Cannon Beach, there's the Cannon Beach Lodging, Motels and Rentals section which includes numerous oceanfront spots.
Manzanita, Wheeler and Rockaway Beach lodging gift certificates are found here, while those in places along the Three Capes Tour like Oceanside, Netarts and Pacific City provide stunning overnight stays there.
On the central Oregon coast, look to the Lincoln City Lodging and Rentals section, the Depoe Bay Lodging and Rentals page and the Newport Lodgings page. The Yachats Rentals and Lodging section features numerous options in that area. Some larger firms like Vacasa and Oregon Beach Vacations have vacation rentals all over the coast and can be found in those pages.
See the full Oregon coast lodging listings below: