Covering 180 miles of Oregon coast travel: Astoria, Seaside, Cannon Beach, Manzanita, Nehalem, Wheeler, Rockaway, Garibaldi, Tillamook, Oceanside, Pacific City, Lincoln City, Depoe Bay, Newport, Wadport, Yachats & Florence.
3/5/07
It's Balmy on the Oregon Coast, So Where the Hell Are All the Tourists
By Andre' Hagestedt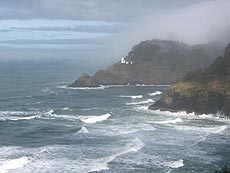 Heceta Head and its lighthouse in the mist
(Oregon Coast) – When it's nice in the valley, it's crummy on the Oregon coast. And vice versa.
That is a load of bull, and the weathermen and other knowledgeable folk know better, in spite of this bit of backwards country legend being something we all grew up with here in Oregon. It's an old wives tale of sorts, for regulars to the beach, perhaps designed by uptight coastal residents who didn't want any more tourists bounding around their hidden beaches and coveted secretive eateries and such – some 30 years ago.
BREATHTAKING CLIFFTOP IN NEWPORT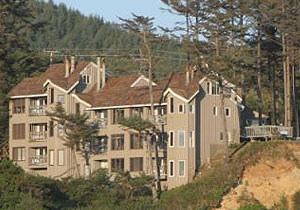 STARFISH POINT is located on the Central Oregon Coast - in Newport - and offers only the finest in luxury condominium lodging. At Starfish Point, every unit is focused on the beauty of the sea and the beach.
All of the units boast two bedrooms, two bathrooms, designer kitchens, wireless broadband Internet, fireplaces, Jacuzzi's and private decks - surrounding you in soothing relaxation. We have a friendly staff dedicated to high quality and superb customer service. 140 NW 48th Street, Newport. (541) 265-3751. (800) 870-7795. www.starfishpoint.com
This misnomer of meteorology no longer applies, and the truth – to paraphrase a famous TV show – is out on the coast. The reality is the metro meteorologists of P-town have even admitted to BeachConnection.net that they get the coastal forecasts wrong an awful lot. They've told us they predict the weather worse than it actually will be more often than not. It's a matter of direct access to information about coastal conditions, they've confessed.
Well, they were half right today – a Saturday in early March. The forecasts were for the gloom and doom of drenching skies, then an OK break on Sunday. Appropriately, I wake to such drizzle and nozzle-letting in Newport on this somewhat bleak-looking Saturday, with the mission to zip down to Florence and take in a talk on coastal geology by the rather famous Roger Hart.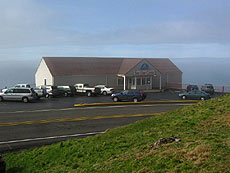 Sea Lion Caves in a slightly foggy mood
From Newport through Waldport, it pours. But it's rather warm: warmer than it would be if I were in Portland. I notice my windshield wiper is coming loose, apparently trying to escape the bonds of its metallic home, with one stretch of black rubber squirming and squiggling like a snake across the rain-soaked windshield.
By the time I'm in Yachats, some 35 miles south of Newport, the air has turned to misty with occasional stabs of sunlight. Once I'm just outside of Yachats, the world has taken on this curious, swirling mix of sun and vapor.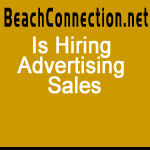 It's about 11:30 a.m. The ocean is roaring wild, with enormous waves pounding in from every vantage point. Not an inch of beach in that 25 miles between Yachats and Florence is left untouched by manic breakers.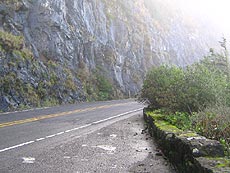 A slightly nebulous 101 makes for interesting sights, along this stretch just north of Florence that boasts waterfalls bouncing off basalt,which lie in back of grandiose viewpoints
The Sea Lion Caves is becoming busy, as the nebulous mists of the early day give way to sunnier surroundings. A light blue horizon stretches as far as the eye can see.
About noon, I hit Florence, and the sun is bright and warm. The town is basking in this cozy, diffuse glow that's somewhat dreamlike. Lodgings and other buildings on the north end of town look like the "old Oregon coast," as it's been described, reminiscent of a more rustic time when beach towns tried to be more commercial but couldn't really muster the marketing to the masses in the way many towns now do quite well. It's a time I'm old enough to remember. It was the early 70's: before the casinos, big malls, and glitzy, upscale designs of many lodgings we all know well. It was a simpler time before the cedar shingles or big, ornate constructs of bigger budget companies that now loom over Seaside, Lincoln City, Rockaway and Newport.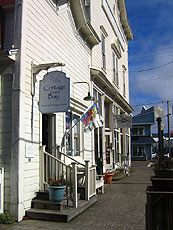 Florence's Old Town catches fire in the daylight
Roger's talk – put on by the folks at CoastWatch - was more than slightly intriguing, showing how sands have been eroding along the entire coast in the last decade, and what this possibly means in terms of global warming. They move in mysterious ways, disappearing from most areas at alarming rates and piling up in a handful of others. It's way more complex than it seems, and the history of this kind of action goes back tens of thousands of years, with some shocking revelations.
It turns out, Hart imparts, that the gargantuan headland of Yaquina Head in Newport was once part of an enormous sand dune, one which allowed native Americans a kind of ramp down to the shoreline. This enabled them to pick up shellfish, then drag them up to the hills overlooking the headland – shellfish that have been carbon dated to around 4000 years ago. Some 2000 years ago, these dunes disappeared, leaving the headland exposed in its current state.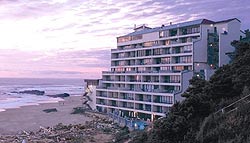 Inn At Spanish Head, Lincoln City. Lincoln City's only resort hotel built right on the beach with all oceanfront rooms - nestled against a rugged cliffside overlooking a soft, sandy beach. Dine in the penthouse restaurant and bar - for a casual meal or a candlelight dinner. An array of seafood specialties, juicy steaks and other Northwest favorites, including a decadent Sunday buffet. Rooms range from bedrooms to studios to one-bedroom suites with microwaves and refrigerators to full kitchens. Hotel include wi-fi, spa, saunas, exercise room and a year-round heated swimming pool. Kids will love the game room and easy beach access. Full-service conference/meeting rooms for that inspirational retreat; extensive, gorgeous wedding possibilities. 4009 SW Highway 101, Lincoln City. 1-800-452-8127 or 541-996-2161. www.spanishhead.com
It's amazing the stuff that will smack you in the head about your surroundings, if you just take a few minutes to glance into the science of it.
He then – rather graphically and disturbingly – shows the kind of ever increasing erosion that's happening on essentially Oregon coast beaches. Some places have eroded 50 feet or more in a five-year period. The future doesn't look good for some beachfront homes, and it seems others may become beachfront in the next 20 years or less.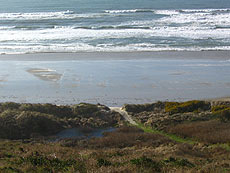 Trail that ends on a beach near Florence
I emerge from the conference to joyful sunlight. I spend the rest of the afternoon armed with my camera and wielding it with reckless abandon at the natural elements.
There's a new hidden trail to the beach I hadn't spotted before, found on one of the last turnouts above Florence, where the last of the giant cliffs overlooks the dunes and lakes on the northern edge of town. This one traverses hundreds of yards down a grassy slope, starting at the paved turnout and ending up in a soft dune that dumps you onto this beach that dead ends at the bottom of the last cliff.
Along the way north, I notice a chunk of headland here is still for sale – a good nine years after I spotted it for sale the first time. Someone is selling some prime real estate here: eight acres of clifftop magic that overlooks some of the most spectacular scenery on the entire coast. For some unfathomable reason, it hasn't sold in eight years or more.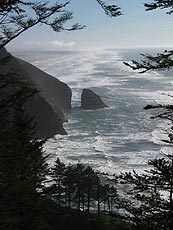 Scenic splendor near Sea Lion Caves
Not that I want it to, mind you. These mini-headlands should remain untouched by human hands.

It's somewhere around here I notice something unusual. It's downright balmy, windless and almost completely cloudless. I remember the weather reports calling for anything but this. Then, in my haste to run around from beach spot to beach spot, I neglected to remember it's a Saturday. It's here I realize there's hardly ANY traffic! Where the hell are all the tourists??
Well, it's not exactly dead out here on the central Oregon coast. There are a good helping of cars and traffic. It's not bad for a Saturday, I suppose – if you were just counting on running into locals recreating on the roads. Instead, there are not many touristas scurrying about this area. For a Saturday that feels like late spring and should be crammed with motorists - it is dead.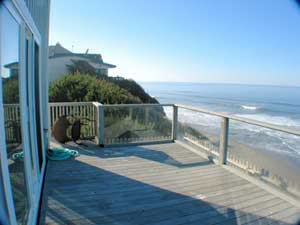 Lincoln City Vacation Homes There's something for everyone among this selection of wondrous homes: smaller homes with a view to a large house that sleeps 15. All the homes are either oceanfront or just a few steps away from the sand – all with a low bank access and fantastic views. Most are in the Nelscott area; one is close to the casino. You'll find a variety of goodies, depending on the home: fireplaces, multiple bedrooms, dishwashers, Jacuzzis, washer/dryers, hot tubs, cable TV, VCR, barbecues; there's a loft in one, and another sprawling home has two apartments. Pets are allowed in some homes – ask ahead. Each comes with complete kitchens so you'll have a home away from home. Most have the seventh night free. Prices range from winter $85 to summer $230 per night. www.getaway2thecoast.com. 541-994-8778.
The weather reports killed things. There's a sort of conspiratorial, accusatory opinion of the weathermen and women of the Portland area by coastal locals, who sometimes actually believe just a little bit that the meteorologists might have it out for the Oregon coast. Perhaps they want to keep the region to themselves on their day off, some residents will say. This kind of getting it all wrong doesn't help that viewpoint.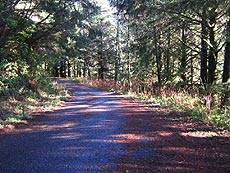 At BeachConnection.net, mysterious roads and trails R us.
I continue my sojourn northward back to Newport. Spots I'd zipped past before that had plenty of mist surrounding them now have stark sunlight beating down on them. Heceta Head is bathed in the bright and blue beneath it. Sea Lion Caves still has a somewhat deserted parking lot, but it is basking in the sun. Ocean Beach Picnic Area, with its little blob of a headland and a large dent that is almost a sea cave, is deserted but in pleasant conditions. A handful of people are wandering the beaches around Big Creek, with its small but raging stream and mix of stones and fluffy dunes.
Near Heceta Head, I wander up some mysterious, unexpected road that has a sign about a horse trail. Apparently this trail must start at the top, as I traverse some two or three miles of winding, twisting road cloistered by a tightly woven, somewhat primeval forest. I never actually hit the top. I don't care. I'm just exploring – and somewhat hurriedly.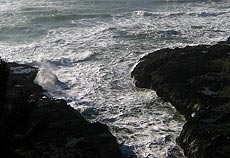 Cape Perpetua's tempestous disposition is always on display, whatever the season
Just before Yachats, Cape Perpetua and its Devil's Churn are especially alluring. The blue sky and lack of clouds belie the tidal conditions, which are causing a definite raucous below.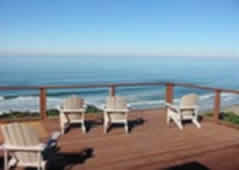 A1 Beach Rentals, Lincoln City. Perfect for large family vacations all the way down to a getaway lodging for two - with over 25 vacation rental homes to choose from. A breathtaking collection of craftsman or traditional beachfront homes, or oceanview houses – from one to seven bedrooms. In various areas of Lincoln City and overlooking the beach, with some in Depoe Bay. All kinds of amenities are available, like hot tubs, decks, BBQ, rock fireplaces, beamed ceilings and more. Some are new, some are historic charmers. Lincoln City, Oregon. 1-(503)-232-5984. www.a1beachrentals.com.
By the time I'm in Yachats, I'm starved and on the verge of fainting. I stop in for a quick late lunch at Yachats Wine Trader, which provides me with an incredible gourmet experience with its antipasto plate. Pieces of tender smoked salmon come with a red onion confit that is pickled and intriguing. Artichoke hearts are accompanied by two different kind of charred mushrooms that send my mouth into heavenly territory.
From there, it's back to Newport, a fab dinner at Mazatlan, and a whole host of crazy partying that goes well into the wee hours for some.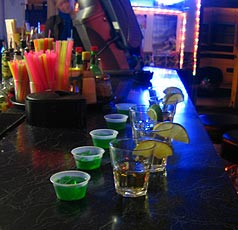 The root of all evil? Lines of tequila and jello shots waiting to corrupt people at a bar in Newport
Not me. I get to bed relatively early – 2 a.m. – so I can explore some more the next day.
Indeed, this Sunday is around 60 degrees, windless and feels and smells like spring. This has to be the first day of spring on the coast – if not officially or scientifically, then certainly symbolically.
My beautiful friend Melissa and I spend the day exploring weird sea caves and other geologic oddities at Fogarty Creek State Park. We explore the hidden beach accesses behind the neighborhoods of Gleneden Beach, just south of Lincoln City. There, we see firsthand the kind of erosion and depletion of sand levels Hart talked about the day before. One poignant example was an access I remember eight years ago as having a long sand dune ramp from the road down to the beach. Sand levels are so low and the sea has taken such a bit out of things that a sheer four-foot drop exists now where before there was only sand.
| | |
| --- | --- |
| | |
| Freaky caves at Fogarty | Wild sea foam and crazed waves at Gleneden Beach |
It was, to say the least, disheartening.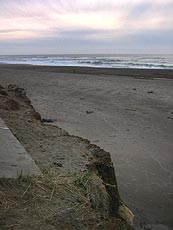 Eroded beach at Gleneden Beach
Yet with Hart's talk I was able to walk around these beach spots and recognize more features than before. I could see the history written in the cliffs a little more clearly: the thousands of years of recorded geologic conditions and situations embedded in the rocks.
Sadly, I was also one step closer to understanding the standing distrust my fellow coasties have for the weather pundits. It is, after all, my job to get the tourists out here. It doesn't help if the weather reports are shooting out gloom, doom and pounding rain willy nilly.
I often look around me at these coastal surroundings, empty roads and deserted beaches, at all times of the year, and I think "Where the hell are you inlanders? Don't you have a clue what you're missing?"
Still, I guess I take some solace at the mere existence of these vacant sands: it is nice to be in on a little secret, or have the whole place to yourself.
| | |
| --- | --- |
| | |
| Secret Beach at Fogarty, seen only at lower tides | Look closely at the myriad of shell fossils embedded in this rock at Fogarty |

D Sands Condominium Motel, Lincoln City. Free, fresh baked cookie upon check-in is just the start. All rooms beachfront and up against Lincoln City's most famous stretch of beach: the D River. Each room comes as a suite or mini-suite, and has a kitchen and balcony or patio. Some w/ gas fireplaces, while all have a DVD Players; movies to rent come with free popcorn. Heated indoor pool, a spa, and this fabulous beach is lit at night. Rooms sleep from two, four to six - including a deluxe fireplace suite. Gift certificates orspecial occasion packages. www.dsandsmotel.com. 171 S.W. Highway 101. 800-527-3925.
Weiss' Paradise Suites & Vacation Rentals - Seaside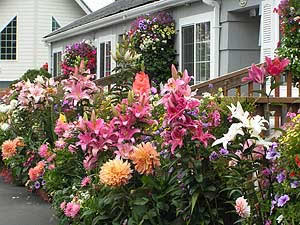 Unique Luxury Accommodations in Seaside. 1BR Suites, 1BR & 2BR Duplex Units and 3BR Houses, units for 2-8 people. Rent entire property for 20-26. Close to beach, river and Broadway St.
Suites are designed for two adults; vacation rental units for families. All units have kitchen and many have fireplace, deck and jetted tub. Comfy robes, slippers, luxury bath amenities, quality linens and more. 741 S. Downing St., Seaside. 800-738-6691. www.SeasideSuites.com

Tradewinds Motel, Rockaway Beach. All rooms are immaculate and have TV's, VCR's and in-room phones with data ports. Oceanfronts all have a queen bed, a double hide-a-bed, kitchen, cozy firelog fireplace and a private deck. Both types sleep up to four people. Others are appointed for a two-person romantic getaway, yet still perfect for those on a budget. Elaborate oceanfront Jacuzzi suite has two bedrooms, kitchen, double hide-a-bed, fireplace and private deck, sleeping as many as six. For family reunions or large gatherings such as weddings, some rooms can connect to create two-room and three-room suites. Some rooms are pet friendly.523 N. Pacific St., Rockaway Beach. (503) 355-2112 - 1-800-824-0938. www.tradewinds-motel.com
RELATED STORIES
SPECIAL SECTIONS
oregon coast weather
oregon coast mileage chart & map
day trips, suggested itineraries
Oregon Coast Lodging Specials
Search BeachConection.net's 800 pages
Oregon Coast Real Estate
OR TAKE THE VIRTUAL TOUR

ASTORIA
Where the Columbia meets the Pacific, Land of Lewis & Clark and loads of atmosphere & history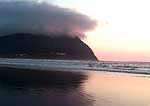 SEASIDE
The Promenade, Tillamook Head, family fun & broad, sandy beaches

CANNON BEACH
A mysterious lighthouse, upscale yet earthy, a huge monolith, fine eateries & an art mecca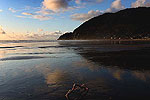 NEHALEM BAY
Manzanita's beaches, Nehalem and Wheeler's quirky beauty; laid back Rockaway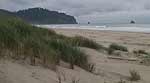 TILLAMOOK BAY
Garibaldi, Barview, Bay City, Tillamook & an oceanfront ghost town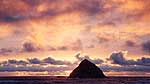 THREE CAPES LOOP
The hidden secret of the coast: Cape Meares, a lighthouse, Oceanside, Netarts and Pacific City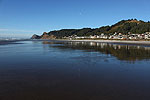 LINCOLN CITY
& THE CORRIDOR OF MYSTERY
Miles & miles of unbroken beaches, Cascade Head, Neskowin and many manmade attractions

DEPOE BAY
A spouting horn downtown, freaky hidden cliffs and whales, whales, whales

NEWPORT
Time-tripping Nye Beach, a bustling bayfront, marine science-central and two lighthouses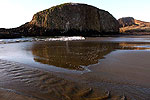 WALDPORT / SEAL ROCK
Pristine, even secretive sands and wild geologic landmarks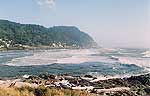 YACHATS
Constantly dramatic wave action, a mix of the rugged & upscale

UPPER LANE COUNTY
25 miles of deserted beaches & oodles of wonders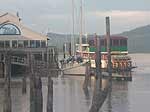 FLORENCE
A lighthouse, ancient bayfront and miles and miles of fluffy dunes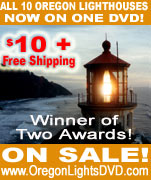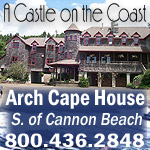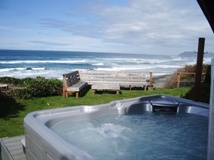 Arch Cape Property Services. Dozens of homes in that dreamy, rugged stretch between Cannon Beach and Manzanita known as Arch Cape. Oceanfront and ocean view , or just a short walk from the sea.
All homes are immaculate and smoke free; some pet friendly (with a fee). Some with broadband, indoor or outdoor hot tubs, fireplaces, decks, and fire pits or barbecues. Call about tempting winter specials that go until March (not valid holidays, however). www.archcaperentals.com 866-436-1607.
For weekly updated info on lodgings and accomodation reviews, see the Travel News section
For weekly Oregon travel picks and lodging secrets, see the Travel News section
DIVE INTO LUXURY, HISTORY AT THE TIDES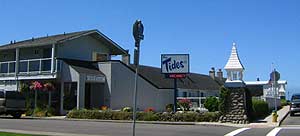 THE TIDES BY THE SEA, Seaside. For over 80 years a favorite of Seaside visitors. 51 oceanfront condos, individually owned and decorated. Suites for couples, small apartments with fireplaces and kitchenettes, one or two bed family units with fireplaces, kitchens and dining rooms. Oceanview cottages sleep anywhere from two to eight, w/ two bedrooms, some with lofts, fireplaces and kitchens. Heated outdoor pool, enormous grounds w/ picnic tables - all at quiet southern end of Seaside. 2316 Beach Drive. 800-548-2846. www.thetidesbythesea.com.