Covering 180 miles of Oregon coast travel: Astoria, Seaside, Cannon Beach, Manzanita, Nehalem, Wheeler, Rockaway, Garibaldi, Tillamook, Oceanside, Pacific City, Lincoln City, Depoe Bay, Newport, Wadport, Yachats & Florence.
4/04/07
Nearly a Week of Oregon Coast Waves, Whales and Culinary Wonders
By Andre' Hagestedt
(Oregon Coast) - It's Saturday, 1:30 a.m. I'm finally rolling into the coast in the wee hours of the night. No wind or rain. In fact, it's been a pleasantly clear trip the whole way through the coast range. In Depoe Bay, a fog is enveloping the area, causing the ocean to become blurred and the large yellow lamps just west of the wall and bridge taking on these larger dimensions, as they are fuzzied and distorted by the fog. They become these mysterious, bright yellow ovals of haze with indistinct borders.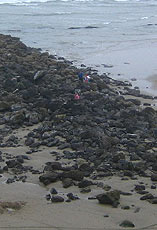 Volunteers cleaning the beach
Sat 11 a.m.
The Great Oregon Beach Cleanup is in full swing, and dozens of little SOLV robots are running around Nye Beach with their little green bags, scouring the beaches of goofy stuff. I take a quick jaunt down to the beach, with my part time dog in tow (Charly, this adorable chocolate lab-looking beastie). She bounds about the beach with great excitement, frothing at the mouth with such enthusiasm that she looks perhaps rabid to the untrained observer. She's having a ball, and it warms my heart to see her so happy.
Some cute alt-culture chick wandering about the beach wants desperately to pet her, but Charly has her own doggie agenda as she races from one edge of 100 yards to another. I even tell the girl the dog's name, but Charly only momentarily pays attention to her, then darts off.
For breakfast, I down an exceptional sandwich at Village Market & Deli, just above Nye Beach.
When the evening rolls around, the wind and rain kick in and we have your basic coastal storm to contend with. It's annoying to drive in, but fabulous nonetheless. Sure it's late March, but who can resist the allure of such weather?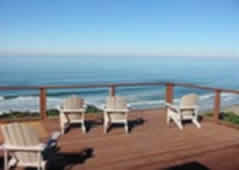 A1 Beach Rentals, Lincoln City. Perfect for large family vacations all the way down to a getaway lodging for two - with over 25 vacation rental homes to choose from. A breathtaking collection of craftsman or traditional beachfront homes, or oceanview houses – from one to seven bedrooms. In various areas of Lincoln City and overlooking the beach, with some in Depoe Bay. All kinds of amenities are available, like hot tubs, decks, BBQ, rock fireplaces, beamed ceilings and more. Some are new, some are historic charmers. Lincoln City, Oregon. 1-(503)-232-5984. www.a1beachrentals.com.
About this time, my girlfriend and I head down to Yachats, driving in the full grown soupy slop. We have a mind-bendingly wonderful dinner at the Landmark, with their always unforgettable pasta (made from co-owner Marilyn's real Italian, family recipe.)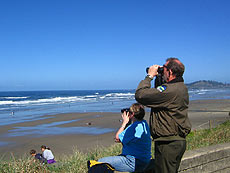 Morris Grover, head of the Whale Watch Week
Sun. 12 p.m.
It's Whale Watching Spoken Here time, and unbeknownst to us locals, the weather decided to turn nice. It's a brilliant, sunny day – even warm at times.
I drift down to Nye Beach again, and check out the volunteers who are trying to point out the whales to tourists. Interestingly, I finally get to meet Morris Grover, the head of Oregon coast's Whale Watching Spoken Here program, whom I've conversed with on and off for about ten years via phone and email.
You know you've entered weird nerdy territory when your heroes are coastal science experts like Morris or some of the big name geologists I've recently became acquainted with. Meeting them and Morris was a bit like meeting some of my fave rock stars in the last 15 years, back when I was a music writer. Yes, I'm a serious nerd. This is what gives me glee these days.
Shortly after, it's time to head north to Manzanita. A two-hour ride brings me that 100 miles or so, with nothing but blue skies and sunshine accompanying me the whole way. Lincoln City is hopping mad with motorists and tourists. Pacific City's Cape Kiwanda is aglow with the glaring sun. Bay City and Tillamook Bay light up especially lovely as I pass this crescent-shaped geographical landmark. I am ecstatic as I get into Rockaway, because I know my beloved Wheeler and Manzanita are just around the corner.
Sunsets in Seaside, taken from "the cove"
Sun. 3:30 p.m.
I make it into Manzanita, with just a bit of cloud cover, and I'm so happy I could cry. This tiny town is manic with people buzzing about, and there's nary a parking place along Laneda. That's fine. I'm staying at the San Dune Inn, just off the main drag, which now has wireless Net access. I'm in heaven here, with the best of both worlds: complete connectivity from my laptop and the sound of the surf in the distance.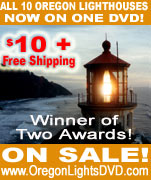 After an especially scrumptious pasta dinner at Cannon Beach Fultano's, I gorge myself further on that most stunning of all ice creams: Zinger's Homemade Ice Cream in Seaside. It's been months since I've been able to indulge in this bit of frozen, gourmet heaven, and it's a religious experience. The strawberry has tasty chunks of real strawberries floating around in it. It's so good it's spiritual.
Sunset in Seaside is particularly intense today, with shapes of logs at the "cove" providing plenty of fascinating subject matter for photographs. Driving southward again, those intense colors still remain at Cape Falcon.
Later, I get completely schnockered at Warren House in Cannon Beach, in my opinion, the coolest bar in the state.
I've driven more than 140 miles at this point.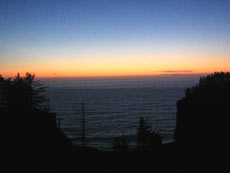 Colors explode at Cape Falcon
Mon. Noon
I finally wake up. I'm sick with some sort of sore throat and minor cold. Ick.
On top of it, the weather pundits have claimed today was supposed to be lovely and bright as well, but no go. It's overcast and chilly, and it only gets worse over the day, resulting in bouts of rain.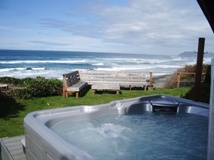 Arch Cape Property Services. Dozens of homes in that dreamy, rugged stretch between Cannon Beach and Manzanita known as Arch Cape. Oceanfront and ocean view , or just a short walk from the sea.
All homes are immaculate and smoke free; some pet friendly (with a fee). Some with broadband, indoor or outdoor hot tubs, fireplaces, decks, and fire pits or barbecues. Call about tempting winter specials that go until March (not valid holidays, however). www.archcaperentals.com 866-436-1607.
The north coast is moody the whole day, with squalls filing in one after the other, amidst occasional spots of dark, billowing clouds that periodically give way to a few moments of sunlight. It's exhilarating and part of the reason many of us live on the coast. It's even addicting. Some of us live for these brooding, magnificent moments.
The area south of Cannon Beach, for example, has an ominous atmosphere about it. From one of the overlooks outside town, the mountains and headlands of Arch Cape and Cape Falcon are draped in silky mists, underneath a sky that can't decide if it's in a serious mood or upbeat.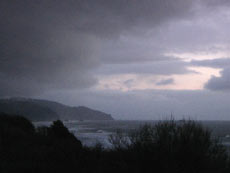 Moody skies south of Cannon Beach
Mon. 4 p.m.
I've gotten little done today, thanks to this cold, aside from dropping in on the Seaside Aquarium, where manager Keith is playing chef for the day. It's another one of those kooky, laidback, surprise moments you live for by living on the edge of the continent.
He's in the back of the facility, in the middle of a kind of impromptu seafood barbecue. He wants to show off his culinary skills and has breaded about a dozen chunks of clams, and will soon deep-fry them in a small fryer he has set up. At first I thought he was holding some sort of science experiment on a tray. But it turned out to be real food.
And delicious too. Keith has quite the secret recipe for breaded clam fritters. Wow.
Moments later, he and other employees show me how they feed their octopus. As we approach the tank, one employee has her hand in the water and appears to be shaking hands with the freaky beast. It has a tentacle tentatively wrapped around her hand, as if in a greeting rather than a "I think you're food" stance.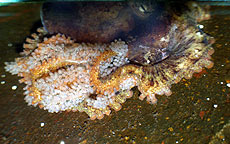 Octopus at Seaside Aquarium
A funny story: apparently, the big guy has tried to climb out several times. Keith explains he finally stopped pushing him back in and just let him fall on the floor. After a while, he picked him back up and returned him to his watery home. The octopus never did it again. "Sometimes you just have to let that toddler put his hand on the hot stove to teach him not to do it," he joked.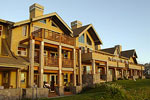 The Ocean Lodge. There will not be another property built like this in Cannon Beach in our lifetimes. Rare, premiere ocean front location; handsome, dramatic architecture and tasteful, fun (nostalgic) beach interiors. Overlooks Haystack Rock. 100 percent smoke free. Imaginative special occasion packages. Massive wood burning lobby fireplace. Library w/ fireplace, stocked with impressive book collection. Pet and family friendly. Lavish continental buffet breakfast. In-room fireplaces, mini-kitchens. Jacuzzi tubs in select rooms. DVD players, complimentary movies. Morning paper. Warm cookies. 888-777-4047. 503-436-2241. 2864 Pacific Street. Cannon Beach, Oregon. www.theoceanlodge.com
I figure I can cheer myself up with a fat (or phat) dinner at The Bistro in Cannon Beach. Their spaghetti and meatballs (not officially on the menu, but available for the asking), is a hidden wonder that must be experienced to explain.
It works. I'm happier – for a while. I spend the remainder of the night glued to the Sci Fi Channel, working on my computer, and feeling sorry for myself I have a cold.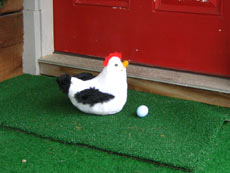 Kooky chicken prank outside my motel door
Tues. 11 a.m.
Yet another goofy prank by one of the San Dune employees is sitting outside my door. It's a long story why, but some there have nicknamed me "chicken man," and this has become a running joke for the last year. The morning before, Valerie left a small, stuffed chicken, with an Easter egg, outside my door (the same chicken, it must be noted, that she left in my room in a previous stay back in January). This morning, there's a sign on the door that reads "Fresh Eggs Inside – Please Knock." I didn't know whether to laugh hard or strangle her.
Around 1 p.m., it's a meeting with Kim Bosse, the head of the Cannon Beach Chamber. Her dog, Emma, is one of my favorite attractions on the coast. This bundle of fun, in the form of a large, black lab, actually has a fan club: I'm not the only two-legger who comes in off the street to regularly visit this canine ambassador for the city. They've actually nicknamed me "Emma's boyfriend."
The rest of the day is spent on business errands, driving back and forth between Manzanita and Seaside. The clouds remain, making the day kind of dreary. Moments of heavy to moderate rain punctuate the pleasant temperatures. I'm in a great mood in spite of it. After all, I got to play with my favorite north coast dog today.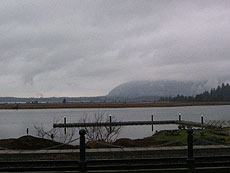 View from Guido's, with Neahkahnie Mt. looming over the bay in the distance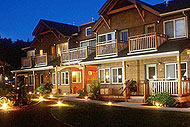 Inn at Cannon Beach. Beautifully wooded natural setting at quiet south end of Cannon Beach. Great during winter storms with a new book by the fireplace – or when the sun is out for family fun and beach strolling. Handsome beach cottage-style architecture. Lush flowering gardens and naturalized courtyard pond. Warm, inviting guest rooms. Continental buffet breakfast. Warm Cookies. Family and Pet Friendly. Welcome gifts. Smoke-free. Complimentary Wireless Connectivity. Wine and book signing events. 800-321-6304 or 503-436-9085. Hemlock At Surfcrest, Cannon Beach, Oregon. www.atcannonbeach.com.
Dinnertime arrives, and I venture into the new Guido's in Wheeler, unsure of what I'll find. This place was a wondrous haven of culinary inventiveness back before it shut down last June. Now, with new owners, I've heard good things, but was so spoiled by the brilliant pizza wizardry of former manager Phil Kaufman, I've never thought of pizza the same.
So I decide to have the calzone, which should show me what both the pizza and the pasta are like. Indeed, it is delicious. Everything has a homemade sense about it, as if made by someone's grandma. Owners Bud and Louise are about grandparent age, and obviously put a lot of care into their work. The crust was magnificent, and the sauce: hearty, thick and rich in taste.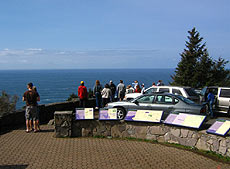 Whale watchers above Manzanita
The same stunning view is there, of course, with the bay spread out in all its glory.
Tues. Midnight
I get antsy after working all night on the computer. I drive down a half-mile to Manzanita's beach and peer into the darkness a little while. The ocean roars softly in the distance. It's almost a low tide, so it's practically a quarter mile away. The cloud cover has numerous holes in it, and I can see stars twinkling brightly in the cold night air. With part of a moon somewhere beyond those clouds, they allow some soft light to hit the waves. It's calming and captivating.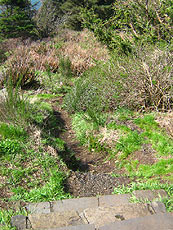 Secret steps in front of hidden trail
Wed. 11 a.m.
Breakfast is lunch for me, obtained at the outstanding Sea Shack in Wheeler. I've heard exceptional things about the food there these days, with the most recent owners having infused a new energy into the place. Indeed, the deep fried halibut sandwich was by far and away the best fish I've ever had. I was literally blown away.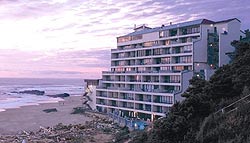 Inn At Spanish Head, Lincoln City. Lincoln City's only resort hotel built right on the beach with all oceanfront rooms - nestled against a rugged cliffside overlooking a soft, sandy beach. Dine in penthouse restaurant and bar, for casual meal or candlelight dinner. An array of seafood specialties, juicy steaks and other Northwest favorites, including decadent Sunday buffet. Rooms range from bedrooms to studios to 1-bedroom suites with microwaves and refrigerators to full kitchens. Also, wi-fi, spa, saunas, exercise room and year-round heated swimming pool. Kids will love the game room and easy beach access. Full-service conference/meeting rooms for that inspirational retreat; extensive wedding possibilities. 4009 SW Highway 101, Lincoln City. 1-800-452-8127 or 541-996-2161. www.spanishhead.com
The sun has returned to the coast – most of the time, anyway. There are dozens of people at the Neahkahnie overlook, above Manzanita, gathered to badger the Whale Watch Spoken Here volunteer with questions, all hopeful to spot a great cetacean on its trek.
The pullout here is bordered by a large, rock wall, the kind of stony creation that always reminds me of a castle. Just beyond that wall, I spot something unusual. It looks as if there was once an old trail that wandered around the cliffs, with a small stairway leading down to it. The stairway is blocked off by the wall now, but the trail looks as if it's still being used occasionally.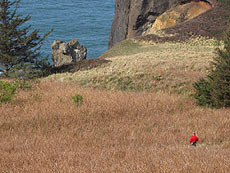 The scene near Cape Falcon on Wednesday
The cliffs of Cape Falcon, just to the south, take on a new vibrancy in the sun. The field of long grass is an intense yellow. A hiker wearing red in the distance is a conspicuous red dot in the middle. I see some craggy rock structure jutting up from the sea, a single column that looks like something out of a fantasy book cover.
I've never noticed this oddity before. Again, no matter how times I wander some of Oregon coast's myriad of beaches and features, I can still spot something new.
The rest of the day is spent running a couple sporadic errands, but mostly just screwing off. I run into old friends in Manzanita, chatting with them at their shops or at the San Dune Pub (not to be confused with my motel for this fortnight).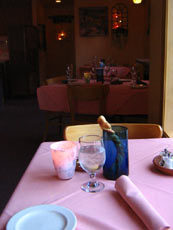 Inside Terra Cotta Cafe'
By early evening, the clouds have stayed away but the air is becoming chilly. I saunter into the Terra Cotta Café in Manzanita. Heaven doth await here. The breadsticks are a fabulous creation: moist, tender and full of life. The artichoke and tomato soup, a personal recipe of co-owner Sandy, is a cup full of some higher existence. The New York steak is probably the best specimen of steak I've ever come across: a perfect blend of charred tastes on the outside and rich, juicy meat on the inside.
The romantic interior here is also not to be missed.
The next step, unfortunately, is to head to our Portland office for a while. I have car repairs to attend to, and various other business concerns, before returning to Newport. While it is cold, it is clear. The drive over Hwy. 26 is smooth and beautiful, with the forests illuminated in the faint, last rays of the day.

D Sands Condominium Motel, Lincoln City. Free, fresh baked cookie upon check-in is just the start. All rooms beachfront and up against Lincoln City's most famous stretch of beach: the D River. Each room comes as a suite or mini-suite, and has a kitchen and balcony or patio. Some w/ gas fireplaces, while all have a DVD Players; movies to rent come with free popcorn. Heated indoor pool, a spa, and this fabulous beach is lit at night. Rooms sleep from two, four to six - including a deluxe fireplace suite. Gift certificates orspecial occasion packages. www.dsandsmotel.com. 171 S.W. Highway 101. 800-527-3925.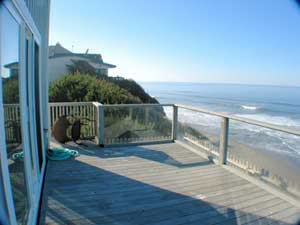 Lincoln City Vacation Homes There's something for everyone among this selection of wondrous homes: smaller homes with a view to a large house that sleeps 15. All the homes are either oceanfront or just a few steps away from the sand – all with a low bank access and fantastic views. Most are in the Nelscott area; one is close to the casino. You'll find a variety of goodies, depending on the home: fireplaces, multiple bedrooms, dishwashers, Jacuzzis, washer/dryers, hot tubs, cable TV, VCR, barbecues; there's a loft in one, and another sprawling home has two apartments. Pets are allowed in some homes – ask ahead. Each comes with complete kitchens so you'll have a home away from home. Most have the seventh night free. Prices range from winter $85 to summer $230 per night. www.getaway2thecoast.com. 541-994-8778.

Tradewinds Motel, Rockaway Beach. All rooms are immaculate and have TV's, VCR's and in-room phones with data ports. Oceanfronts all have a queen bed, a double hide-a-bed, kitchen, cozy firelog fireplace and a private deck. Both types sleep up to four people. Others are appointed for a two-person romantic getaway, yet still perfect for those on a budget. Elaborate oceanfront Jacuzzi suite has two bedrooms, kitchen, double hide-a-bed, fireplace and private deck, sleeping as many as six. For family reunions or large gatherings such as weddings, some rooms can connect to create two-room and three-room suites. Some rooms are pet friendly.523 N. Pacific St., Rockaway Beach. (503) 355-2112 - 1-800-824-0938. www.tradewinds-motel.com
RELATED STORIES
SPECIAL SECTIONS
oregon coast weather
oregon coast mileage chart & map
day trips, suggested itineraries
Oregon Coast Lodging Specials
Search BeachConnection.net's 1,000 pages
Oregon Coast Real Estate
OR TAKE THE VIRTUAL TOUR

ASTORIA
Where the Columbia meets the Pacific, Land of Lewis & Clark and loads of atmosphere & history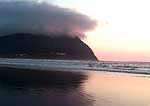 SEASIDE
The Promenade, Tillamook Head, family fun & broad, sandy beaches

CANNON BEACH
A mysterious lighthouse, upscale yet earthy, a huge monolith, fine eateries & an art mecca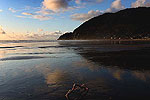 NEHALEM BAY
Manzanita's beaches, Nehalem and Wheeler's quirky beauty; laid back Rockaway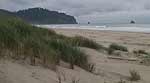 TILLAMOOK BAY
Garibaldi, Barview, Bay City, Tillamook & an oceanfront ghost town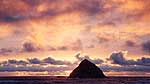 THREE CAPES LOOP
The hidden secret of the coast: Cape Meares, a lighthouse, Oceanside, Netarts and Pacific City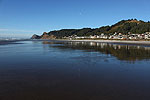 LINCOLN CITY
& THE CORRIDOR OF MYSTERY
Miles & miles of unbroken beaches, Cascade Head, Neskowin and many manmade attractions

DEPOE BAY
A spouting horn downtown, freaky hidden cliffs and whales, whales, whales

NEWPORT
Time-tripping Nye Beach, a bustling bayfront, marine science-central and two lighthouses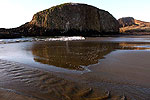 WALDPORT / SEAL ROCK
Pristine, even secretive sands and wild geologic landmarks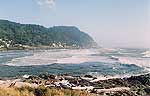 YACHATS
Constantly dramatic wave action, a mix of the rugged & upscale

UPPER LANE COUNTY
25 miles of deserted beaches & oodles of wonders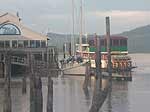 FLORENCE
A lighthouse, ancient bayfront and miles and miles of fluffy dunes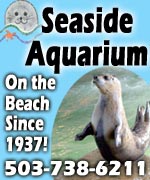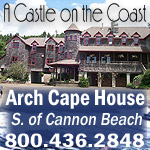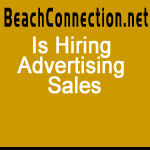 DIVE INTO LUXURY, HISTORY AT THE TIDES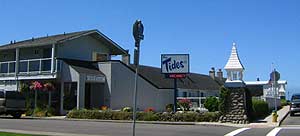 THE TIDES BY THE SEA, Seaside. For over 80 years a favorite of Seaside visitors. 51 oceanfront condos, individually owned and decorated. Suites for couples, small apartments with fireplaces and kitchenettes, one or two bed family units with fireplaces, kitchens and dining rooms. Oceanview cottages sleep anywhere from two to eight, w/ two bedrooms, some with lofts, fireplaces and kitchens. Heated outdoor pool, enormous grounds w/ picnic tables - all at quiet southern end of Seaside. 2316 Beach Drive. 800-548-2846. www.thetidesbythesea.com.
BREATHTAKING CLIFFTOP IN NEWPORT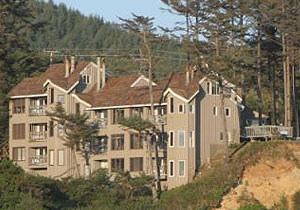 STARFISH POINT Newport - Offers only the finest in luxury condominium lodging. Every unit is focused on the beauty of the sea and the beach.
All units boast two bedrooms, two bathrooms, designer kitchens, wireless broadband Internet, fireplaces, Jacuzzi's and private decks. Friendly staff dedicated to high quality and superb customer service. 140 NW 48th Street, Newport. (541) 265-3751. (800) 870-7795. www.starfishpoint.com
For weekly updated info on lodgings and accomodation reviews, see the Travel News section
Weiss' Paradise Suites & Vacation Rentals - Seaside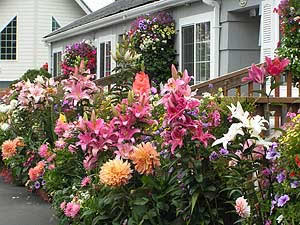 Unique Luxury Accommodations in Seaside. 1BR Suites, 1BR & 2BR Duplex Units and 3BR Houses, units for 2-8 people. Rent entire property for 20-26. Close to beach, river and Broadway St.
Suites are designed for two adults; vacation rental units for families. All units have kitchen and many have fireplace, deck and jetted tub. Comfy robes, slippers, luxury bath amenities, quality linens and more. 741 S. Downing St., Seaside. 800-738-6691. www.SeasideSuites.com