Oregon Coast Holidays, Winter Travel and Paranormal Given New Twists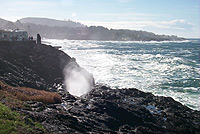 Spouting Horn at Depoe Bay
(Manzanita, Oregon) – Oregon Coast Beach Connection, otherwise known as BeachConnection.net, will soon give the holidays, winter travel tips, paranormal tales and funky factoids about the coast a bit of a twist and a little boost in profile. Several new features are spotlighting the season in various ways, offering travel advice for the coast with a few different angles, and providing a rush of useful information for visitors.
DIVE INTO LUXURY, HISTORY AT THE TIDES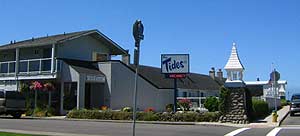 THE TIDES BY THE SEA, Seaside. For over 80 years, The Tides has been a favorite of Seaside visitors. History meets modern luxury here. 51 oceanfront condos, individually owned and decorated. Find suites for couples, small apartments with fireplaces and kitchenettes, one or two bedroom family units with fireplaces, kitchens and dining rooms. There are wonderful oceanview cottages that sleep anywhere from two to eight people, with two bedrooms, some with lofts, fireplaces and kitchens.
Meanwhile, the heated outdoor pool, enormous grounds with picnic tables and location at the quiet southern end of Seaside make for some memorable means of play and repose. 2316 Beach Drive. 800-548-2846. www.thetidesbythesea.com.
One gigantic section coming soon to the website will provide "As Many As 70 Reasons to Come to the Oregon Coast in Winter." Another special story will assist travelers this Thanksgiving weekend who are heading to the coastal region. There are previews of winter and storm watching fun, festivals and events, and other hidden nuggets about the region during this season. There'll be a comprehensive roundup of holiday events as well as travel advice for Christmas and New Year's. Then, to finish the year off as well as start the new one, BeachConnection.net will embark on a massive project that will last two months, releasing odd and unusual facts about the coast every week through December and January.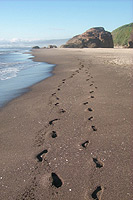 One of numerous hidden spots on the coast
"It's going to be a lot of fun," said BeachConnection.net editor Andre' Hagestedt. "It will be rather unusual in spots too, as well as extremely useful and informative. There's a lot of interesting stuff coming down the pike that will keep people glued to what we're doing. There will be more than a few surprises."
Already live is the Fall/Winter Preview section, which archives tons of seasonal information from BeachConnection.net onto one web page. "You'll find everything from seasonal holiday stuff coming up, secrets about storm watching and all sorts of travel advice," said Hagestedt. "It's like a one-stop shopping place for seasonal coast information."

D Sands Condominium Motel, Lincoln City. Getting a free, fresh baked cookie upon check-in is just the beginning. Every room is beachfront, and it's all right up against Lincoln City's most famous stretch of beach, next to the D River. Each room, comes as a suite or mini-suite, and has a kitchen and balcony or patio. Some have gas fireplaces, while all have a DVD Players with movies available for renting (and movie rentals come with free popcorn). There's a heated indoor pool, a spa, and this fabulous beach is lit at night. Rooms sleep anywhere from two, four to six - including a deluxe fireplace suite. Gift certificates are available, and they offer special occasion packages as well. To make a reservation and see a virtual tour of the rooms, visit our website at www.dsandsmotel.com. 171 S.W. Highway 101. 800-527-3925.
Coming by Monday, November 20 is the Thanksgiving Weekend Lodging Availability update. Lorna Davis, Director of Tourism Development for the Newport Chamber of Commerce, said this weekend usually finds most hotels maxing out on rooms, so it may be hard for those who haven't made reservations well ahead of time. Visitors often make their lodging plans for Thanksgiving on the coast months in advance. Many lodgings are already completely booked.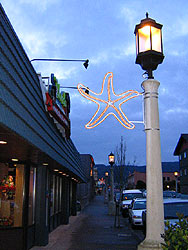 Seaside in the holidays
"This is going to be very useful," Hagestedt said. "What I'm hearing out there is that you haven't made arrangements ahead of time, you probably won't find a room out there. Plus, we'll have info on which restaurants are open for the holiday in most towns, from Astoria down to Florence."
A large story on holiday happenin's on the coast is coming to the website soon, which includes massive information about New Year's Eve celebrations and lodging specials. Considerable information on lodging availability for that holiday will also be featured later in December, as it too is a madhouse on the coast.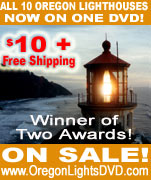 One of the more significant features for the upcoming season will be the expansive "Reasons to Come to the Oregon Coast in Winter," filled with around 70 reasons to visit the area. "I haven't done the exact count yet, but I believe we now have at least 70 reasons to visit the coast during this season," Hagestedt said. "Last year's reasons article was insanely popular, and it still gets sizable hits. There are some amazing travel ideas in here, like little known bits about storm watching, weird, funky sports you can do during winter, interesting events – just a ton of stuff about the winter season on the coast you probably wouldn't have guessed. I'm delighted every year I do one of these stories.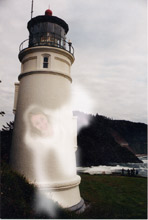 Haunted legends are half the funof the odd stuff on Oregon's coast
"We asked dozens of people on the coast about this, wanting tips, and we got a huge response. It's impressive. I promise you'll be blown away."

Tradewinds Motel, Rockaway Beach
If expansive ocean views, close proximity to golfing, fishing tours and quick access to seven miles of pristine beaches is your thing, then this quintessential beauty in Rockaway Beach is your ticket to vacation fun for families, couples or large groups. Some rooms are pet friendly. All rooms at the Tradewinds Motel are immaculate and have TV's, VCR's and in-room phones with data ports. The oceanfronts all have a queen bed, a double hide-a-bed, kitchen, cozy firelog fireplace and a private deck. Some oceanfront units come with all those amenities but the kitchens. Both types sleep up to four people. The non-oceanfront rooms are appointed with a queen bed, small fridge, and coffee maker – sizable for a two-person romantic getaway, yet still perfect for those on a budget. There is an elaborate oceanfront Jacuzzi suite that has two bedrooms, coming with a kitchen, double hide-a-bed, fireplace and private deck, sleeping as many as six. For those wanting bigger accommodations for family reunions or large gatherings such as weddings, some rooms can connect to create two-room and three-room suites. 523 N. Pacific St., Rockaway Beach. (503) 355-2112 - 1-800-824-0938. www.tradewinds-motel.com
Finally, all through December and January, BeachConnection.net will provide a series of really unusual angles and a constant stream of surprises about the Oregon coast, called "Freaky Oregon Coast Facts." Each week, dozens of odd and mind-blowing factoids and trivia about the area will be released onto the web, covering coastal shockers about its history, beach spots, weird science, weather, entertainment and of course tons about haunted places on the coast and other paranormal legends.
"The stuff we're collecting right now is downright freaky at times," Hagestedt said. "I believe we'll have some 200 really trippy things to talk about over those two months."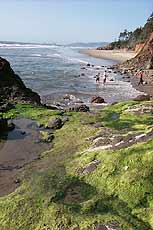 What is that green sea goo that gets all wet and slippery on rocks? That question will be answered
Items that will appear include celebrities currently living on the coast, strange, even rogue, theories about historical events, the discovery of a new reef for surfers, the brutal practice of getting shanghaied, the "mini summer" in the middle of February, why are there so many sea lions in Newport's bay, bizarre ways jetties have changed nearby beaches over the last 100 years, an eerie legend of buried treasure, where to find sand that glows or sand that sings, a castle on the coast, secret shipwrecks, where can you find more whole sand dollars than anywhere else, and how lava flows hundreds of feet high helped create what we see on the coast these days. Also featured will be many wild facts about marine life and beach science, and why things are the way they are on the coast.
"If you really get into science, you start to realize the real stuff is way weirder than science fiction," Hagestedt. "That's the interesting delight about marine science. One good example is that this certain species of octopus at the Seaside Aquarium recently laid about 3,000 eggs, and they're all expected to hatch little octopuses. That's going to be very freaky, and you'll see that all over the news soon.
"There's a lot more to the Oregon coast than meets the eye. I've always said that. And here will be proof."
All upcoming winter, holidays and other features can be seen at BeachConnection.net, released over the winter months at various times.