Covering 180 miles of Oregon coast travel: Astoria, Seaside, Cannon Beach, Manzanita, Nehalem, Wheeler, Rockaway, Garibaldi, Tillamook, Oceanside, Pacific City, Lincoln City, Depoe Bay, Newport, Wadport, Yachats & Florence.
2/11/07
Into the Mists and Mysteries of the Oregon Coast
By Andre' Hagestedt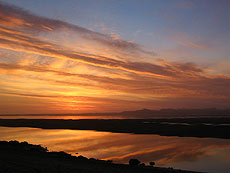 Sunset in Waldport
(Oregon Coast) – Again, February brings its interesting mix of warm, clear day surprises and the typical rainy moments the area is known for. It's in this mishmash of weather that I begin wandering the coast on another lengthy trip that takes me from Waldport to Seaside, spread over about a week's time. It's another journey of abundant, brilliant sunsets, gloriously odd and comical moments at bars, unusual, natural wonders that only few get to glimpse, exceptional culinary discoveries and beaches and attractions that seem to change with every day.
In Waldport, my beautiful friend Melissa and I witness a wondrous sunset that shoots wild colors across the sky via all manner of cloud formations, and is then reflected in the Alsea Bay to create some remarkable shapes.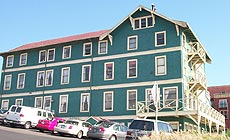 Sylvia Beach Hotel in sunlight (Newport)
Weiss' Paradise Suites & Vacation Rentals - Seaside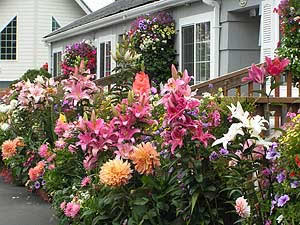 Unique Luxury Accommodations in Seaside. 1BR Suites, 1BR & 2BR Duplex Units and 3BR Houses, units for 2-8 people. Rent entire property for 20-26. Close to beach, river and Broadway St.
Suites are designed for two adults; vacation rental units for families. All units have kitchen and many have fireplace, deck and jetted tub. Comfy robes, slippers, luxury bath amenities, quality linens and more. 741 S. Downing St., Seaside. 800-738-6691. www.SeasideSuites.com
After a scrumptious pizza dinner at The Rogue brewery on Newport's bayfront (which contains an intriguing array of spices), we take part in the Saturday night karaoke madness at Moby Dick's – an unabashedly kooky bar that gives the term "local color" new dimensions. This place is always an adventure. We witness a myriad of barfly mating behaviors. Some wacky pair of tourists for some reason gives us a glimpse of the inner turmoil in their relationship when the woman – a total stranger - walks past me and mumbles to me some truly odd and slightly nonsensical insult about her boyfriend.
Sunday winds up fairly sunny and nice, but it's a workday and I'm stuck doing domestic stuff at our little cottage in Nye Beach. Breakfast that morning consists of scrumptious Indian leftovers from Swagat in Beaverton – a most delicious form of cuisine you unfortunately can't get on the coast.
Monday begins with a healthy dose of rays and an amazing breakfast at Café Stephanie in Newport's charm-o-rama Nye Beach district. Owner Scott Doll's special on this day is a "chicken cordon bleu" sandwich, deceptively simple with its prosciutto ham, fine chicken, Dijon mustard and gobs of delectable cheese. It's a mini masterpiece.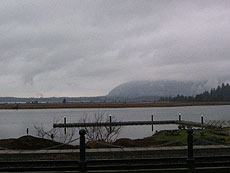 Wheeler with Neahkahnie enshrouded in mists in the background
By early afternoon, a billowing, rippling fog has enveloped the town, giving the place a delightful coastal vibe. Just after dark, I hit the beach at the Nye Beach Turnaround, and the lighthouse is barely visible through the thick air mass. The tide is far out there and has disappeared in the distance. On the cliffs above, the lights of the stately old Sylvia Beach Hotel glow fuzzy and large in the mists, creating a decidedly otherworldly, if not spooky, vibe.
DIVE INTO LUXURY, HISTORY AT THE TIDES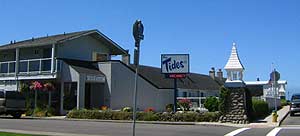 THE TIDES BY THE SEA, Seaside. For over 80 years a favorite of Seaside visitors. 51 oceanfront condos, individually owned and decorated. Suites for couples, small apartments with fireplaces and kitchenettes, one or two bed family units with fireplaces, kitchens and dining rooms. Oceanview cottages sleep anywhere from two to eight, w/ two bedrooms, some with lofts, fireplaces and kitchens. Heated outdoor pool, enormous grounds w/ picnic tables - all at quiet southern end of Seaside. 2316 Beach Drive. 800-548-2846. www.thetidesbythesea.com.
If it's Tuesday, it must be the north Oregon coast – and that's just where I'm heading. The rains have come, and I embark on a more-than-two-hour drive to Cannon Beach (some 115 miles). About 100 miles later, I hit that strangely spiritual spot called Wheeler, and Neahkahnie Mountain is enshrouded in mists, looking as mystical and mysterious as ever. It keeps a watchful eye over Wheeler and the entire Nehalem Bay, but it apparently can't control the weather.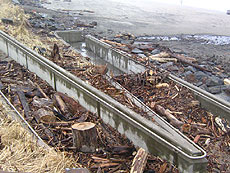 Tolovana access at Cannon Beach, smothered in storm debris
Or maybe it just doesn't want to.
Cannon Beach, too, is covered in misty rain and hints of fog. In the Tolovana area, at the southern end of town, you'll find a playground of sand and beach accesses, especially in the hidden neighborhoods just south of the main park, where Mo's and the Tolovana Inn cajole hordes of tourists year-round.
The main access here was also been attacked pretty hard by recent big storms. Last year, big waves did quite a number on the zigzagging, concrete ramp that is the handicapped access to the beach. It was half filled with logs and debris.

Tradewinds Motel, Rockaway Beach. All rooms are immaculate and have TV's, VCR's and in-room phones with data ports. Oceanfronts all have a queen bed, a double hide-a-bed, kitchen, cozy firelog fireplace and a private deck. Both types sleep up to four people. Others are appointed for a two-person romantic getaway, yet still perfect for those on a budget. Elaborate oceanfront Jacuzzi suite has two bedrooms, kitchen, double hide-a-bed, fireplace and private deck, sleeping as many as six. For family reunions or large gatherings such as weddings, some rooms can connect to create two-room and three-room suites. Some rooms are pet friendly.523 N. Pacific St., Rockaway Beach. (503) 355-2112 - 1-800-824-0938. www.tradewinds-motel.com
This year, it was totally filled up with sea junk, cramming practically every inch of the rather long ramp. It was astounding.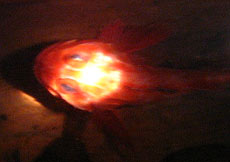 The 'idiot fish' under a spotlight
In Seaside, I wander into the lair of the Seaside Aquarium, and chat with my pals there. This slightly crusty stalwart of tourism is the oldest aquarium in the western half of the U.S., having run continuously since 1934. Nothing ever stays the same here, in spite of the facility's limited space. This time, manager Keith Chandler and assistant Tiffany Boothe show me the "Idiot Fish" they recently acquired from a fisherman who accidentally snagged a few in his net. This form of rockfish is a rare find so far from the deep, as it lives so far below the surface, where light can't penetrate, that they must keep the poor little idiots in very low light.
One example of the species they had was about three feet long – a giant. They are pink and jagged on the outside, and weren't expected to live long because their current environment was so different from that of their regular one.
All this hanging around fish in a tank made me hungry for seafood. I was starved, and watching these guys swim around made me wish one was on a plate already. But first I scarfed down a couple delectable beef burritos at Muchas Gracias, where fast Mexican food becomes a culinary treasure. It makes the other chains seem like dumpster diving eats.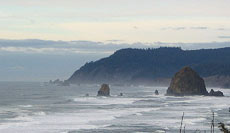 Cannon Beach with dancing mists
Soon after, I'm joined by my pal Bob, and we have dinner at The Lumberyard Rotisserie and Grill in Cannon Beach, where they make this exquisite orange martini I can never get enough of. I thoroughly enjoyed the halibut fish and chips as well. While that may not sound very imaginative, the fish chunks were large and extremely tasty – and I am not even that fond of fish.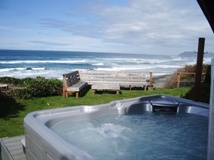 Arch Cape Property Services. Dozens of homes in that dreamy, rugged stretch between Cannon Beach and Manzanita known as Arch Cape. Oceanfront and ocean view , or just a short walk from the sea.
All homes are immaculate and smoke free; some pet friendly (with a fee). Some with broadband, indoor or outdoor hot tubs, fireplaces, decks, and fire pits or barbecues. Call about tempting winter specials that go until March (not valid holidays, however). www.archcaperentals.com 866-436-1607.
Nighttime is in full swing by now, which means I must hit the bars again. Warren House, in Cannon Beach is without a doubt my favorite bar in the whole state, and Julie the bartender makes a ravishing strawberry concoction that's a lot like a martini, but juicier. Yum.
Next up, it's goofy time at Pudgy's in Seaside, where pleasant conversation and fun was had by all. This bar is always one of my favorites, with its retro décor so loungy it has been nicknamed the "Star Trek bar" in the past.
I then meander just down the street to Girtle's Lounge for their intriguing karaoke night, which usually means one-man band Bucky may join in behind you, jamming with you on guitar as you sing your dignity away on stage. This is certainly something different in the karaoke world.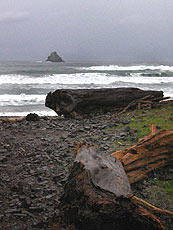 Arch Cape's 'Castle Rock,' surrounded by monstrous waves
Lately, owner Bob Girtle occasionally makes a surreal entrance by zipping in on a segway. This time, I find out he has more than one, as two sit against the back of the bar charging up. I discover he's collecting a small fleet of them and hopes to rent them out later in the year when the tourist season kicks in. This is also something more than a little different.
Bob chats with me briefly, then rides away into what would be the sunset if it weren't for the fact it was pitch black out. He did, in fact, ride off into a blaze of neon lights that surrounded his doorway. Same effect.
The next morning, I awake in Arch Cape to wild wave action and a host of mists drifting around northern landmarks like Hug Point and Cannon Beach's Haystack Rock. While getting gas in Cannon Beach's only station, I realize the owner here also has his own art gallery of interesting north coast photographs. Cannon Beach is known as an artist's hangout (having once hosted an actual artists colony), so it's sort of the epicenter of this kind of aesthetic on the whole Oregon coast. It's rather amusing to note that even the local gas station gets in on it – and with outstanding results. Check out Gary D. Moon's works here.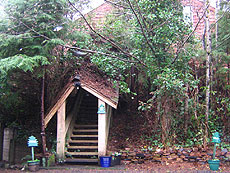 Entrance to Turk's main house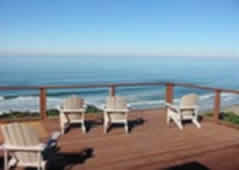 A1 Beach Rentals, Lincoln City. Perfect for large family vacations all the way down to a getaway lodging for two - with over 25 vacation rental homes to choose from. A breathtaking collection of craftsman or traditional beachfront homes, or oceanview houses – from one to seven bedrooms. In various areas of Lincoln City and overlooking the beach, with some in Depoe Bay. All kinds of amenities are available, like hot tubs, decks, BBQ, rock fireplaces, beamed ceilings and more. Some are new, some are historic charmers. Lincoln City, Oregon. 1-(503)-232-5984. www.a1beachrentals.com.
I then have an encounter with Middle Earth. I have a meeting with the folks who run Turk's Lodgings, a small collection of vacation rentals hidden in a primeval forest just south of Cannon Beach. Here, you expect gnomes or naves to come rushing out to meet you. The exterior of the main house (actually a mansion) is decidedly medieval, with moss and vines growing all over this massive cedar shingled home and its quaint little covered stairway. Even the clandestine forest road leading up to this hideout screams "Frodo was here" in some way. Inside, the house is part rustic but heavy on the breathtaking.
Later in the day, I'm interviewing the people who run the Coastal Natural History Center in Seaside, which is up against the marshland neighboring the river mouth. This secret little stunner provides a bevy of outdoor information about the area which will allow you to further appreciate what you're doing on the beaches or trails around here.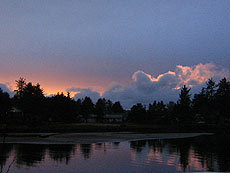 Sunset boldly breaks out from behind thick cloud cover by the estuary
During the interview, the clouds give way to an esoteric sunset scene, which is then reflected on the water of the marsh with dazzling results.
Dinner means exploring the famous Driftwood Inn in Cannon Beach, a Tudor-like structure with bulky wood furniture reminiscent of some of the homier, more woodsy eateries I'd visited in France or Germany. Again, I opted for the fish route, with a creamy, buttery salmon that melted in your mouth, a robust rice pilaf and fresh baked bread that was simply stunning.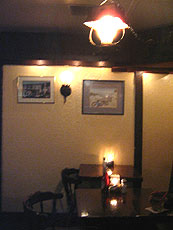 Driftwood Inn
My jaunt into coastal nightlife meant heading down to Nehalem to The Watering Hole, where my good pal Abby-Normal and I gawked at the strange denizens there, including a middle-aged couple whose faces distorted in funny ways because of loads of missing teeth. Coastal nightlife is nothing if not inadvertently entertaining at times.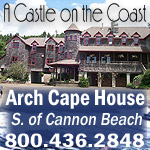 Thursday and Friday was a mishmash of weather conditions and workdays that were so packed they're pretty much a blur. I visit a charming but thoroughly modern little lodging called Ocean Point Inn in Arch Cape, snap pics of that beach in various kinds of weather (including a vibrant sunset) and chow down on goodies like the exceptional, even dreamy pasta of Fultano's in Cannon Beach.
On Thursday, my fave restaurant, Cannon Beach's The Bistro, is open again (after being closed most of the week), and I sit and inhale their wondrous pasta at the bar, while engaging in that always interesting conversation you can count on here.
Then I make a fatal mistake.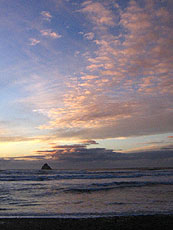 Arch Cape, this time with a sunny end to the day
I'm now late to get to my TV set back in Portland for – yes, I'm addicted to – "The Office." It's a white-knuckle drive back through rainy coast range hills, and I miss all but 20 minutes of this show that I consider a religion and not mere entertainment.
But when I arrive, I discover I've left some important components of my laptop in Arch Cape at my friend's house. I am absolutely inundated with work, and have no choice but to zoom back in the middle of the night, through fog, periodic rain storms, and those dark, gloomy stretches of Highway 26 that don't usually spook me unless I'm already stressed out.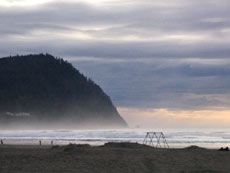 Seaside's Tillamook Head on that Friday
Friday morning brings better moments, however, and I take the time to stare at the beauty of the northern end of Cannon Beach, where hints of mist are trying to veil the small parade of basalt structures that march silently away from the headland.
In Seaside, on the other side of Tillamook Head, it's largely the same look around sunset, but this time the banks of misty stuff are making a slightly eerie display of the tip of the headland.
It may be February, but it looks and feels like fall on the beach.
The edge of the continent is a dynamic place, one where things really don't look the same from month to month, even day to day. That kind of change in scenery is one constant you can depend on.

D Sands Condominium Motel, Lincoln City. Free, fresh baked cookie upon check-in is just the start. All rooms beachfront and up against Lincoln City's most famous stretch of beach: the D River. Each room comes as a suite or mini-suite, and has a kitchen and balcony or patio. Some w/ gas fireplaces, while all have a DVD Players; movies to rent come with free popcorn. Heated indoor pool, a spa, and this fabulous beach is lit at night. Rooms sleep from two, four to six - including a deluxe fireplace suite. Gift certificates orspecial occasion packages. www.dsandsmotel.com. 171 S.W. Highway 101. 800-527-3925.
RELATED STORIES
SPECIAL SECTIONS
oregon coast weather
oregon coast mileage chart & map
day trips, suggested itineraries
Oregon Coast Lodging Specials
Search BeachConection.net's 800 pages
Oregon Coast Real Estate
OR TAKE THE VIRTUAL TOUR

ASTORIA
Where the Columbia meets the Pacific, Land of Lewis & Clark and loads of atmosphere & history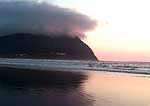 SEASIDE
The Promenade, Tillamook Head, family fun & broad, sandy beaches

CANNON BEACH
A mysterious lighthouse, upscale yet earthy, a huge monolith, fine eateries & an art mecca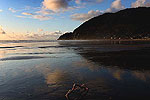 NEHALEM BAY
Manzanita's beaches, Nehalem and Wheeler's quirky beauty; laid back Rockaway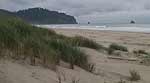 TILLAMOOK BAY
Garibaldi, Barview, Bay City, Tillamook & an oceanfront ghost town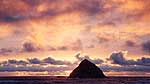 THREE CAPES LOOP
The hidden secret of the coast: Cape Meares, a lighthouse, Oceanside, Netarts and Pacific City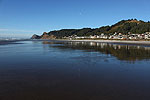 LINCOLN CITY
& THE CORRIDOR OF MYSTERY
Miles & miles of unbroken beaches, Cascade Head, Neskowin and many manmade attractions

DEPOE BAY
A spouting horn downtown, freaky hidden cliffs and whales, whales, whales

NEWPORT
Time-tripping Nye Beach, a bustling bayfront, marine science-central and two lighthouses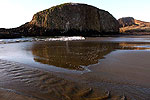 WALDPORT / SEAL ROCK
Pristine, even secretive sands and wild geologic landmarks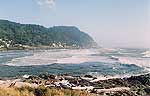 YACHATS
Constantly dramatic wave action, a mix of the rugged & upscale

UPPER LANE COUNTY
25 miles of deserted beaches & oodles of wonders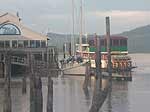 FLORENCE
A lighthouse, ancient bayfront and miles and miles of fluffy dunes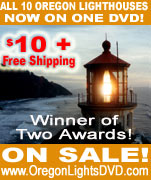 BREATHTAKING CLIFFTOP IN NEWPORT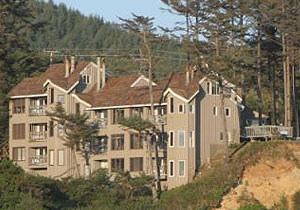 STARFISH POINT Newport - Offers only the finest in luxury condominium lodging. Every unit is focused on the beauty of the sea and the beach.
All units boast two bedrooms, two bathrooms, designer kitchens, wireless broadband Internet, fireplaces, Jacuzzi's and private decks. Friendly staff dedicated to high quality and superb customer service. 140 NW 48th Street, Newport. (541) 265-3751. (800) 870-7795. www.starfishpoint.com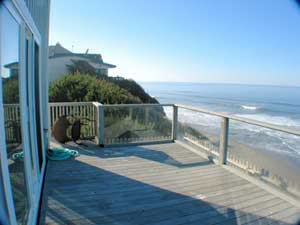 Lincoln City Vacation Homes There's something for everyone among this selection of wondrous homes: smaller homes with a view to a large house that sleeps 15. All the homes are either oceanfront or just a few steps away from the sand – all with a low bank access and fantastic views. Most are in the Nelscott area; one is close to the casino. You'll find a variety of goodies, depending on the home: fireplaces, multiple bedrooms, dishwashers, Jacuzzis, washer/dryers, hot tubs, cable TV, VCR, barbecues; there's a loft in one, and another sprawling home has two apartments. Pets are allowed in some homes – ask ahead. Each comes with complete kitchens so you'll have a home away from home. Most have the seventh night free. Prices range from winter $85 to summer $230 per night. www.getaway2thecoast.com. 541-994-8778.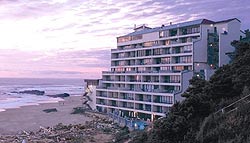 Inn At Spanish Head, Lincoln City. Lincoln City's only resort hotel built right on the beach with all oceanfront rooms - nestled against a rugged cliffside overlooking a soft, sandy beach. Dine in the penthouse restaurant and bar - for a casual meal or a candlelight dinner. An array of seafood specialties, juicy steaks and other Northwest favorites, including a decadent Sunday buffet. Rooms range from bedrooms to studios to one-bedroom suites with microwaves and refrigerators to full kitchens. Hotel include wi-fi, spa, saunas, exercise room and a year-round heated swimming pool. Kids will love the game room and easy beach access. Full-service conference/meeting rooms for that inspirational retreat; extensive, gorgeous wedding possibilities. 4009 SW Highway 101, Lincoln City. 1-800-452-8127 or 541-996-2161. www.spanishhead.com