Towering Vantage Points for Oregon Coast Winter Action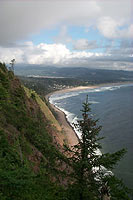 Viewpoints above Manzanita
(Oregon Coast) – If storm watching is your favorite game on the coast, then the coming weeks are perfect for getting your game on.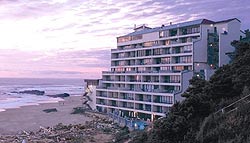 Inn At Spanish Head, Lincoln City. It's Lincoln City's only resort hotel built right on the beach with all oceanfront rooms - nestled against a rugged cliffside overlooking a soft, sandy beach. Enjoy dining in the penthouse restaurant and bar - whether you're in the mood for a casual meal or a candlelight dinner. They offer an array of seafood specialties, juicy steaks and other Northwest favorites, including a decadent Sunday buffet. Rooms range from bedrooms to studios to one-bedroom suites with microwaves and refrigerators to full kitchens. Hotel amenities include wi-fi, spa, saunas, exercise room and a year-round heated swimming pool. Kids will love the game room and easy beach access. Full-service conference and meeting rooms for that inspirational retreat; extensive, gorgeous wedding possibilities. Near the south end of Lincoln City at 4009 SW Highway 101. 1-800-452-8127 or 541-996-2161. www.spanishhead.com
Some of the best hot spots for observing the madness are the high vantage points on the coast, those towering cliffs and rocky bluffs that hover over the waves and create a sense of sweeping grandeur.
Granted, it's here where the wind can be at its worst, pounding and smacking at you and your car from anywhere from 40 feet to 200 feet above the sea. There are plenty of times you just don't want to get out of the safety of your cozy set of wheels. If the wind isn't too bad, and the rain doesn't come at you like a bat out of hell, these high spots yield some of the most fascinating action.
Then, as often happens during storms, things will let up and these ocean vistas will come alive with brief glimpses of sky and moody clouds. Meanwhile, you get this nearly birds' eye view of mind boggling, enormous waves, whose tingle-inducing size actually become more apparent from this height.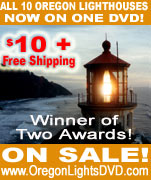 It's awe-inspiring and chilling at the same time - and it's by far one of the biggest tourist attractions in the state.
Then, sometimes these places have a completely different side to them when it's not stormy.
Fiery Sights Around Depoe Bay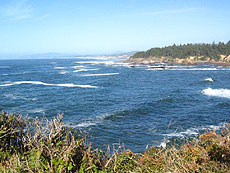 Boiler Bay in a calmer mood
Near Depoe Bay, you'll find Boiler Bay. Don't blink or you'll miss this delicious spot for catching incredible monster waves, which is also haunted by the boiler from a long ago wrecked ship.
The bay is named after its ancient, ragged resident: the boiler from the shipwrecked J. Marhoffer, which settled here after catching fire at sea. The boiler is all that remains, and it becomes visible at somewhat lower tides. In fairly rare circumstances, the tide gets low enough to get near the boiler or maybe even touch its encrusted corpse.

D Sands Condominium Motel, Lincoln City. Getting a free, fresh baked cookie upon check-in is just the beginning. Every room is beachfront, and it's all right up against Lincoln City's most famous stretch of beach, next to the D River. Each room, comes as a suite or mini-suite, and has a kitchen and balcony or patio. Some have gas fireplaces, while all have a DVD Players with movies available for renting (and movie rentals come with free popcorn). There's a heated indoor pool, a spa, and this fabulous beach is lit at night. Rooms sleep anywhere from two, four to six - including a deluxe fireplace suite. Gift certificates are available, and they offer special occasion packages as well. To make a reservation and see a virtual tour of the rooms, visit our website at www.dsandsmotel.com. 171 S.W. Highway 101. 800-527-3925.
When the wave action really gets going, you can see the drama from here, big time. Just to the north, Depoe Bay State Scenic Viewpoint offers more incredible glimpses of this stunning oceanic madness. Kodak moments abound here, where you can view the bay from a bit more of a distance. Watch – and get hypnotized by – the endless waves that come wandering past here, one by one, then crash into the cove.
During calm moments, you can amble down the cliff face into Boiler Bay and find much to explore – but ONLY in placid times. A pair of teens tried entering this maelstrom a few years ago and were never seen again.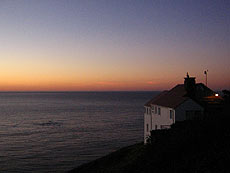 Cape Foulweather with a sunnier disposition
Between Depoe Bay and Newport sits Cape Foulweather. Here, you won't need to bring your binoculars - just bring 50 cents. They've got those coin-operated thing-a-ma-bobs up there, allowing you to zoom in on whales sailing by or some of the nearby cliffs from this 500-foot-high vantage point.
To the south, you can check out the ragged, rocky shoreline that zigzags around sea stacks and large cliffs, creating secret beaches with black sands that are shut off from human touch. Above them, lies the sprawling Inn at Otter Crest complex, and just south of that you can see the brilliant sandstone of the angry Devil's Punchbowl.
To the north, there's high cliffs covered by patches of grass and untouched forest which are perfect for the coin-op binoculars. They are nothing short of mesmerizing, especially as waves crash headlong into these.
There's also a gift shop on top of Cape Foulweather and plenty of parking.
This spot is not only wondrous during the day or during storms, but on a clear night with a full moon, it's like entering some enchanted netherworld.

Tradewinds Motel, Rockaway Beach
If expansive ocean views, close proximity to golfing, fishing tours and quick access to seven miles of pristine beaches is your thing, then this quintessential beauty in Rockaway Beach is your ticket to vacation fun for families, couples or large groups. Some rooms are pet friendly. All rooms at the Tradewinds Motel are immaculate and have TV's, VCR's and in-room phones with data ports. The oceanfronts all have a queen bed, a double hide-a-bed, kitchen, cozy firelog fireplace and a private deck. Some oceanfront units come with all those amenities but the kitchens. Both types sleep up to four people. The non-oceanfront rooms are appointed with a queen bed, small fridge, and coffee maker – sizable for a two-person romantic getaway, yet still perfect for those on a budget. There is an elaborate oceanfront Jacuzzi suite that has two bedrooms, coming with a kitchen, double hide-a-bed, fireplace and private deck, sleeping as many as six. For those wanting bigger accommodations for family reunions or large gatherings such as weddings, some rooms can connect to create two-room and three-room suites. 523 N. Pacific St., Rockaway Beach. (503) 355-2112 - 1-800-824-0938. www.tradewinds-motel.com
Delicious Oceanic Eye Candy of Manzanita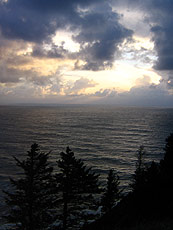 Freakish yet beautiful, moody storm skies as seen from above Manzanita
As you drive above Manzanita, on the curvy, lofty part of Highway 101 that stand hundreds of feet above the surf and yet a few hundred feet below the tip of Neahkahnie Mountain, you will be awed.
One after the other, these rather famous viewpoints pop into existence as you round the turns towards Manzanita - all with rather charming little basalt rock walls surrounding them.
During stormier weather, this cliff top is the target of high winds, and it's not uncommon to feel them quite sternly while driving in your car. They knock you about a bit.
It's near this viewpoint where you'll find the entrance to the hiking path up Neahkahnie Mountain, where more aerial views of this area are to be had.
Along one of the pullouts, a pyramid-like rock is one of the more recognizable features of the Manzanita area – and one of the more often photographed structures on the coast. It's even briefly featured in an RV commercial on TV.
One of the lookouts lets you look southward as well as straight out west to the vast ocean. Unbelievable sights are regularly spotted while looking way into the ocean.
As you stand above all this wondrous spectacle, you don't need massive storm systems to make some massive waves below. Wintertime is a perfect time to catch these monsters of the surface plodding in towards the beach. It doesn't have to be uncomfortably windy on the viewpoints to see these.
Vistas South of Cannon Beach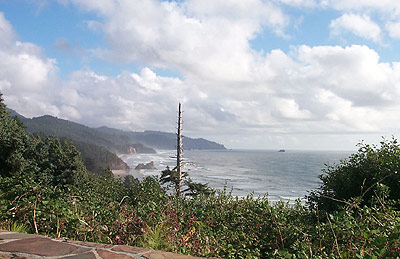 Viewpoint near Cannon Beach
Just south of this north coast charmer, dozens of ocean vistas pop into existence – some farther up than others. After a few winding turns in the road and some forestland that blocks the ocean view, you'll come to a couple of pullouts featuring dramatic views. The northern one is huge and comes in three sections, allowing views north and south. The second one, only 3/10's of a mile away, provides beautiful views of interesting sea stacks offshore and a sandy beach below.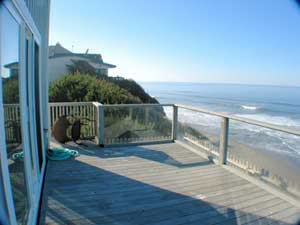 Lincoln City Vacation Homes There's something for everyone among this selection of wondrous homes: smaller homes with a view to a large house that sleeps 15. All the homes are either oceanfront or just a few steps away from the sand – all with a low bank access and fantastic views. Most are in the Nelscott area; one is close to the casino. You'll find a variety of goodies, depending on the home: fireplaces, multiple bedrooms, dishwashers, Jacuzzis, washer/dryers, hot tubs, cable TV, VCR, barbecues; there's a loft in one, and another sprawling home has two apartments. Pets are allowed in some homes – ask ahead. Each comes with complete kitchens so you'll have a home away from home. Most have the seventh night free. Prices range from winter $85 to summer $230 per night. www.getaway2thecoast.com. 541-994-8778.
Keep on moving south along the twisting, winding road, and more ocean glimpses appear. You'll eventually come to Arcadia Beach and its beautiful parking overlooking this pristine, slightly magical beach. This is also a great place to catch the waves at a distance while do their crazed smacking of the basalt structures jutting out into the ocean.
Thrilling Along the Three Capes Loop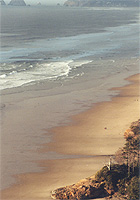 Between Oceanside and Pacific City, you'll find the famous Anderson's Viewpoint. If this doesn't fit your definition of a Kodak moment, nothing will.
At approximately MP 1, look for this favorite spot for hang gliders to launch themselves off of. Vast views of the ocean spread out here, and ample parking is provided by surrounding gravel areas.
There are a couple other unmarked viewpoints along the loop that are perfect for big views, including one rather unstable one overlook Tillamook Bay and the spit, just north of Cape Meares. Parking here isn't recommended, however.
Just north of Pacific City and just immediately south of Tierra Del Mar, the road does a monster rise above the surf, and there's much to see from this somewhat hidden vantage point.
Florence's High Points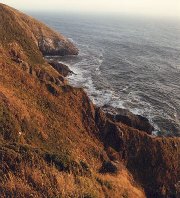 A few miles north of Florence, and just south of the glorious Heceta Head Lighthouse, the highway becomes a non-stop attention grabber. More of this road is winding and twisting after the Sea Lion Caves, sometimes dotted with various viewpoints and small waterfalls tumbling off the basalt rocks on the landward side of the highway.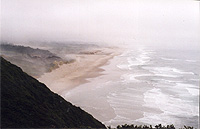 These viewpoints are bordered by black rock walls which give them a slight Gothic castle vibe – especially if you stop by on a stormy night. Below them can be spotted various kinds of wildlife, from birds to sea lions. But mostly they provide opportunistic views of the Heceta Head lighthouse, which help make it among the most photographed lighthouses in the world.

Watch yourself here, this part of the road is winding and twisty, and rubbernecking at the greats vistas is easy while driving. Plenty of viewpoints lurk along the side of the road, allowing you dramatic views of the ocean – and eventually a great aerial shot of the expanse of Baker Beach (Look for MP 181).